Happy New Year 2021!!
50 fun things for professors t...
50 fun things for professors to do on the first day of class...
1.Wear a hood with one eye hole. Periodically make strange gurgling noises.
2.After confirming everyone's names on the roll, thank the class for attending "Advanced Astrodynamics 690" and mention that yesterday was the last day to drop.
3.After turning on the overhead projector, clutch your chest and scream "MY PACEMAKER!"
4.wear a pointed Kaiser helmet and a monocle and carry a riding crop.
5.Gradually speak softer and softer and then suddenly point to a student and scream "YOU! WHAT DID I JUST SAY?"
6.Deliver your lecture through a hand puppet. If a student asks you a question directly, say in a high-pitched voice, "The Professor can't hear you, you'll have to ask 'me', Winky Willy."
7.If someone asks a question, walk silently over to their seat, hand them your piece of chalk, and ask, "Would YOU like to give the lecture, Mr. Smartypants?"
8.Pick out random students, ask them questions, and time their responses with a stop watch. Record their times in you grade book while muttering "tsk, tsk."
9.Ask students to call you "Tinkerbell" or "Surfin' Bird."
10.Stop in mid-lecture, frown for a moment, and then ask the class whether your butt looks fat.
11.Play "Kumbaya" on the banjo.
12.Show a video on medieval torture implements to your calculus class. Giggle throughout it.
13.Announce "you'll need this," and write the suicide prevention hotline number on the board.
14.Wear mirrored sunglasses and speak only in Turkish. Ignore all questions.
15.Start the lecture by dancing and lip-synching to James Brown's "Sex Machine."
16.Ask occasional questions, but mutter "as if you gibbering simps would know" and move on before anyone can answer.
17.Ask the class to read Jenkins through Johnson of the local phone book by the next lecture. Vaguely imply that there will be a quiz.
18.Have one of your graduate students sprinkle flower petals ahead of you as you pace back and forth.
19.Address students as "worm."
20.Announce to students that their entire grades will be based on a single-question oral final exam. Imply that this could happen at any moment.
21.Turn off the lights, play a tape of crickets chirping, and begin singing spirituals.
22.Ask for a volunteer for a demonstration. Ask them to fill out a waiver as you put on a lead apron and light a blowtorch.
23.Point the overhead projector at the class. Demand each student's name, rank, and serial number.
24.Begin class by smashing the neck off a bottle of vodka, and announce that the lecture's over when the bottle's done.
25.Have a band waiting in the corner of the room. When anyone asks a question, have the band start playing and sing an Elvis song.
26.Every so often, freeze in mid sentence and stare off into space for several minutes. After a long, awkward silence, resume your sentence and proceed normally.
27.Wear a "virtual reality" helmet and strange gloves. When someone asks a question, turn in their direction and make throttling motions with your hands.
28.Mention in passing that you're wearing rubber underwear.
29.Growl constantly and address students as "matey."
30.Devote your math lecture to free verse about your favorite numbers and ask students to "sit back and groove."
31.Announce that last year's students have almost finished their class projects.
32.Inform your English class that they need to know Fortran and code all their essays. Deliver a lecture on output format statements.
33.Bring a small dog to class. Tell the class he's named "Boogers McGee" and is your "mascot." Whenever someone asks a question, walk over to the dog and ask it, "What'll be, McGee?"
34.Wear a feather boa and ask students to call you "Snuggles."
35.Tell your math students that they must do all their work in a base 11 number system. use a complicated symbol you've named after yourself in place of the number 10 and threaten to fail students who don't use it.
36.Claim to be a chicken. Squat, cluck, and produce eggs at irregular intervals.
37.Bring a CPR dummy to class and announce that it will be the teaching assistant for the semester. Assign it an office and office hours.
38.Have a grad student in a black beret pluck at the bass while you lecture.
39.Sprint from the room in a panic if you hear sirens outside.
40.Give an opening monologue. Take two minute "commercial breaks" every ten minutes.
41.Tell students that you'll fail them if they cheat on exams or "fake the funk."
42.Announce that you need to deliver two lectures that day, and deliver them in rapid-fire auctioneer style.
43.Pass out dental floss to students floss to students and devote the lecture to oral hygiene.
44.Announce that the entire 32-volume Encyclopedia Britannica will be required reading for you class. Assign a report on Volume 1, Aardvark through Armenia, for next class.
45.Ask students to list their favorite show tunes on a sign-up sheet. Criticize their choices and make notes in you grade book.
46.Sneeze on students in the front row and wipe your nose on your tie.
47.Warn students that they should being a snack lunch to exams.
48.Refer frequently to students who died while taking your class.
49.Show up to lecture in a ventilated clean suit. Advise students to keep their distance for their own safety and mutter something about "that bug I picked up in the field."
50.Jog into class, rip the textbook in half, and scream, "Are you pumped? ARE YOU PUMPED? I CAN'T HEEEEEAR YOU!"
#joke
Food
A woman asks her husband if he'd like some breakfast. "Would you like bacon and eggs, perhaps? A slice of toast and maybe some grapefruit and coffee?" she asks.
Three Wishes for Three Priests
Three priests died and came up to St. Peter at the Pearly Gates. St. Peter looked up the priests and informed them there had been a mistake; they were not supposed to die for another 10 years or so.
The priests were upset about this and asked St. Peter what could be done. St. Peter said that he would send them back to earth in any form they wanted until the problem was fixed.
St Peter asks the first priest, " What do you want to become?" and the first priest replies," I always wanted to be an eagle and see all of God's creation from above."
"Done." St. Peter snaps his fingers and the first priest disappears.
St. Peter asks the second priest, "What do you want to become?" and the second priest replies, "I always wanted to be a dolphin and see all of God's creation from under the sea."
"Done." St Peter snaps his fingers and the second priest disappears like the first.
St. Peter asks the third priest, "What do you want to become?"" and the third priest shyly says, ""Well... my wish is kind of sinful."
"No matter. You can choose any form you want." St. Peter says and the third priest replies, "Well, I always wanted to be a...stud, you know?"
St .Peter replies, "I don't see a problem with that." St. Peter snaps his fingers and the third priest disappears.
Later, Jesus asked St. Peter, " I heard there was a problem with three priests being here before their time. Where are they?"
St. Peter explained, "One is soaring high above the Grand Canyon. The second is swimming in the North Atlantic. The third is on the left rear tire of a Chevy Blazer."
- Joke shared on Beliefnet's Religious Humor page
#joke
A man who has been un-decided ...
A man who has been un-decided about his sexuality all his life finally decides he is going to try sex with another man.
He goes to the local gay bar, and orders a drink.
The barman says "You look nervous, first time?"
"Yes" Says the man.
"Not to worry, I will take you back to my house and have sex with you. If you don't like it make the noise of an animal, and if you do like it, just sing a song."
The man agrees and goes home with the barman at the end of his shift. They go into his bedroom, and the barman strips him off and starts giving him one in the arse. He hears his new friend screaming "Moooo , moooo, MOON RIVER."
#joke
Discontinued Jelly Bean Flavors
1. Gangrene 2. New Car 3. Burn Victim 4. Dimetapp 5. Sand 6. Taxi 7. Grandma 8. WD-40 9. Substitute Teacher 10. Cigarette
Putt...
A teacher was taking her first golf lesson.
"Is the word spelled 'put' or 'putt'?" she asked the instructor.
"'Putt' is correct," he replied.
"'Put' means to place a thing where you want it. 'Putt' means a klutzy but unsuccessful attempt to do the same thing."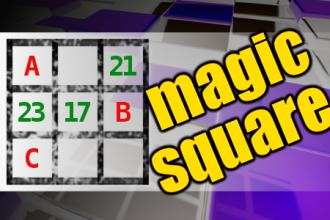 MAGIC SQUARE: Calculate A*B*C
The aim is to place the some numbers from the list (10, 17, 19, 20, 21, 22, 23, 33, 36, 37, 49) into the empty squares and squares marked with A, B an C. Sum of each row and column should be equal. All the numbers of the magic square must be different. Find values for A, B, and C. Solution is A*B*C.
Top Ten Things Not To Say On Your Anniversary
10. I stopped caring about anniversaries when you stopped caring about cooking.
9. Today is our what?
8. Okay, let's celebrate, but do we have to celebrate together?
7. I thought we only celebrated important events?
6. You can celebrate anniversaries with your next husband.
5. You don't like what I pick out, so I thought why bother.
4. I got you a present worth a dollar for every time you were nice to me this year. Here's a $5 gift certificate for McDonald's.
3. If you want me to pretend like I care about our anniversary, I will.
2. You want to go out to dinner? Okay, okay, I'll take you to Pizza Hut if it'll shut ya up.
1. I thought you only had to celebrate anniversaries while you were still in love.
#joke
Question and answer animal jokes
Q: Why did the chicken cross the road?
A: To show the armadillo that it was possible.
Q: Why did the chicken cross the road?
A: To get away from Colonel Sanders!
Q: Why did the chicken cross the road twice?
A: Because it was a double-crosser.
Q: Why did the Iraqi chicken cross the road?
A: To take over the other side.
Q: Why did the chicken cross the playground?
A: To get to the other slide.
Q: Why did the chicken cross the beach?
A: To get to the other tide.
Q: Why did the dinosaur cross the road?
A: Chickens hadn't evolved yet.
#joke
What do you call a man who mar...
What do you call a man who marries another man?

A minister!

THE SENILITY PRAYER :
Gran...
THE SENILITY PRAYER :
Grant me the senility to forget the people
I never liked anyway,
The good fortune to run into the ones I do, and
The eyesight to tell the difference
The Hid...
The Hidden Meaning of Recruitment Ads:
"Competitive salary rate" - We remain competitive by paying less than our competitors.
"Duties will vary" - Anyone in the office can boss you around.
"Join our dynamic company" - We have no time to train you.
"Casual working environment" - We don't pay enough to expect that you will dress up.
"Must be deadline oriented" - You will be 6 months behind on your first day.
"Some overtime required" - Some time each night, some time each weekend.
"Must have an eye for detail" - We have no quality control.
"Seeking wide experience" - You will need to replace three people who just left.
"Good communication skills" - Management communicates poorly, so you have to figure out what they want and do it.
"Problem solving skills needed" - You are walking into a company in continual chaos.
"Requires team leadership skills" - You will have the responsibilities of a manager without the pay or respect.
#joke
>Dear Abby:
I am forty... >Dear Abby:
I am forty-four years old and I would like to meet a man my age with no bad habits.
>Rose

---
>Dear Rose:
So would I.
Abby
Redneck been here?
Ways to tell if a redneck has been working on a computer
10. The monitor is up on blocks.
9. Outgoing faxes have tobacco stains on them.
8. The six front keys have rotted out.
7. The extra RAM slots have Dodge truck parts installed in them.
6. The numeric keypad only goes up to six.
5. The password is "Bubba".
4. The CPU has a gun rack mount.
3. There is a Skoal can in the CD-ROM drive.
2. The keyboard is camouflaged.
And, The Number One Way To Tell If A Redneck Has Been Working On A Computer...
The mouse is referred to as a "critter".
#joke
i work in a busy office ...
i work in a busy office where a computer going down causes quite an inconvenience. Recently one of our computers not only crashed, it made a noise that sounded like a heart monitor. "This computer has flat-lined," a co-worker called out with mock horror.
"Does anyone here know how to do mouse-to-mouse?"
#joke
An elderly woman walked into t...
An elderly woman walked into the main branch of Chase Manhattan Bank building holding a large paper bag in her hand. She told the young man at the window that she wished to take the 3 million dollars she had in the bag and open an account with the bank. She said that first, though, she wished to meet the President of Chase Manhattan Bank due to the large amount of money involved.
The teller seemed to think that was a reasonable request and, after opening the bag and seeing the bundles of $1,000 bills which amounted to $3 million, he phoned the President to make the appointment for the woman.
The woman was escorted upstairs to the President's office. Introductions were made and she said that she liked to get to know the people she did business with on a more personal level. The bank President then asked how did she come into such a large sum of money.
"Was it an inheritance?" he asked.
"No" she answered
"Was it from playing the Stock Market?" he inquired.
"No", She replied
He was quiet for a moment, trying to figure out how the elderly lady came into such a large sum of money.
"I won it by betting" she stated.
"As in horses?"
"No", she replied, "I bet on people."
Seeing his confusion, she explained that she would bet on different things with people. All of a sudden she said, "I'll bet you $25,000 that by 10 o'clock tomorrow morning your balls will be square."
The bank President figured that she must be off her rocker and decided to taker her up on the bet. He didn't see how he could lose. For the rest of the day, he was very careful. He decided to stay home that evening and take no chances, since there was $25,000 at stake.
When he got up in the morning and took his shower, he checked to make sure everything was okay. There was no difference in his scrotal appearance. He looked the same as he always had. He went to work and waited for the woman to come in at 10 o'clock, humming as he went. He knew, this would be a lucky day-how often did he get handed $25,000 for doing nothing?
At 10 o'clock sharp the woman was shown into his office. With her was a man. Then the bank President asked what the other man was doing in the office with her, and she explained to the President that he was her Lawyer and she always took him along on bets when large sums of money was at stake.
"Well", she asked, "What about our bet?"
"I don't know how to tell you this", he answered with a smile, "But I'm the same as I've always have been, only $25,000 richer."
The lady seemed to accept this, but requested that she be able to see for herself. The bank President thought that this was a reasonable request and dropped his trousers. She instructed him to bend over, and she grabbed a hold of him. Sure enough, everything was fine. His balls were not square.
The bank President then looked up and saw the Lawyer standing across the room banging his head against the wall.
"What's wrong with him?", he asked.
"Oh, him", She answered, "I bet him $100,000 that by 10:30 this morning I'd have the President of the Chase Manhattan Bank by the balls."