The economy is getting so bad;...
The economy is getting so bad; the other day my ATM gave me an IOU.
Hero and the Media
A Harley rider is passing the zoo, when he sees a little girl leaning into the lion's cage. Suddenly, the lion grabs her by the cuff of her jacket and tries to pull her inside to slaughter her, under the eyes of her screaming parents. The biker jumps off his bike, runs to the cage, and hits the lion square on the nose with a powerful punch.
#joke
How Many Witches. . .
Q: How many witches does it take to change a lightbulb?
A: Into what?
While I was "flying down ...
While I was "flying down the road yesterday, at a measly 4 miles over the limit, I passed over a bridge only to find a cop with a radar gun on the other side laying in wait.
The traffic officer pulled me over, walked up to the car, and with that classic patronizing smirk we all know and love, asked, "What's your hurry?"
To which I replied, "I'm late for work."
"Oh yeah" said the cop, "what do you do?"
"I'm a rectum stretcher," I responded.
The officer stammered, "What? A rectum stretcher? And just what does a rectum stretcher do?"
"Well," I said, " I start by inserting one finger, then I work my way up to two fingers, then three, then four, then my whole hand into a rectum. Then, I work side to side until I can get both hands in, and then I slowly but surely stretch, until it's about six feet wide."
"And what the hell do you do with a six foot ass hole?" asked the cop.
I politely replied, "You give him a radar gun and park him behind a bridge."
Traffic Ticket: $95.00
Court Costs: $45.00
The look on the Cop's Face: PRICELESS!
#joke
Under the kilt...
The American tourist stood staring at the highland sentry standing guard outside Edinburgh Castle.
After a few minutes she went up to the sentry and asked 'I've always wanted to find out what's worn under the kilt'.
The sentry replied: 'There is nothing worn, Ma'am, its all in perfect working order'.
#joke
Silence
Sister Mary Katherine entered the Monastery of Silence.
The Priest said, "Sister, this is a silent monastery. You are welcome here as long as you like, but you may not speak until I direct you to do so."
Sister Mary Katherine lived in the monastery for 5 years before the Priest said to her, "Sister Mary Katherine, you have been here for 5 years. You can speak two words."
Sister Mary Katherine said, "Hard bed."
"I'm sorry to hear that," the Priest said, "We will get you a better bed."
After another 5 years, Sister Mary Katherine was called by the Priest. "You may say another two words, Sister Mary Katherine.
"Cold food," said Sister Mary Katherine, and the Priest assured her that the food would be better in the future.
On her 15th anniversary at the monastery, the Priest again called Sister Mary Katherine into his office. "You may say two words today."
"I quit," said Sister Mary Katherine.
"It's probably best", said the Priest, "You've done nothing but moan since you've been here."
Submitted by Calamjo
Edited by Curtis
#joke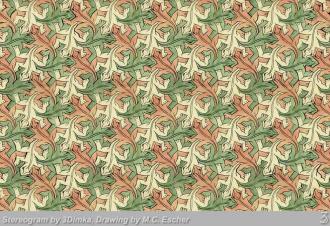 What hides this stereogram?
Stereogram - 3D Image
Pea Soup vs. Roast Beef
Q: Whats the difference between pea soup and roast beef?
A: Anyone can roast beef.
Answering Machine Message 53
This is Walter Cronkite. Bren's not here right now. He's out on a date. The idea of Bren entertaining a girl with his basketball theories and computer knowledge over dinner at Taco Bell should scare the hell out of you. He'll probably be home soon, so leave your name and number and he'll call you back. Deal with it.
#joke
THREE tortoises, Jim, Ray and ...
THREE tortoises, Jim, Ray and Geoff, go for a picnic ten miles from home. It takes ten days to get there, and they find they've forgotten the bottle opener. Jim and Ray ask Geoff to fetch it. "No way!" says Geoff. "When I go you'll eat my sandwiches."
They promise not to, so off Geoff goes.
Ten days pass, and he's not back. 20 days pass, and he's stll not back . . . Jim and Ray are starving, but still don't eat the sandwiches . . .
25 days pass and Ray says: "We'll starve if we dont eat!" So they start to eat the sandwiches.
Geoff jumps out from behind a rock and shouts: "I knew it, you liars! I'm not going now!"
#joke
How do you sink an Australian ...
How do you sink an Australian submarine?
Knock on the window
Did you hear about the Australian shoplifter?
He was found crushed beneath the local supermarket.
An Australian was asked to donate to the church reroofing fund. So he gave some of the lead back
More to come!
Confucius say: Woman wear thr...
Confucius say: Woman wear three kinds of ring . . . the engagement ring, the wedding ring, and the suffeRing.
Bad Drivers
There's a senior citizen driving on the highway. His wife calls him on his cell phone and in a worried voice says, ''Herman, be careful! I just heard on the radio that there was a madman driving the wrong way on Route 280!''
Herman says, ''I know, but there isn't just one, there are hundreds!''
#joke
A Very Special Cow

Q. Have you heard of the dyslexic cow who attained enlightenment?

A. It kept on repeating OOOOMMM!

Relatives of yours?
A young couple drove several miles down a country road, not saying a word. An earlier discussion had led to an argument, and neither wanted to concede their position.
As they passed a barnyard of mules and pigs, the husband sarcastically asked, "Are they relatives of yours?"
"Yes," his wife replied. "I married into the family."
#joke
Sitting ...
Sitting round a small coffee table in a room of an international insurance company, a group of 4 people waited for a job interview. There was an Englishman, a Frenchman, a spectacular looking blonde and an awful looking fat lady.
After 15 minutes in complete silence, and avoiding each other's eye contact, there was a power cut. The unmistakable sound of a slap was heard. Two minutes later the power came on again and the Frenchman had a big red slap mark on his cheek.
The blonde thought - "That French son of a bitch wanted to touch me and by mistake must have put his hand on the fat lady who slapped his face"
The fat lady thought - "This dirty old Frenchman laid his hands on the blonde and she smacked him".
The Frenchman thought - "That damned Englishman put his hand on that blonde and by mistake she slapped me".
The Englishman thought - "I hope there's another power cut soon so I can smack that French twat again".