Be rady for Thanksgiving
, check out our latest
Thanksgiving jokes of 2021
on:
Thanksgiving jokes collection
Medicare Coverage In a Nutshell
The phone rings and the lady of the house answers, 'Hello.'
How Do You Get To Heaven?
"If I sold my house and my car, had a big garage sale, and gave all my money to the church, would that get me into heaven?" I asked the children in my Sunday school class.
"NO!" the children all answered.
"If I cleaned the church every day, mowed the yard, and kept everything neat and tidy, would that get me into heaven?"
Again the answer was, "NO!""Well, then, if I was kind to animals and gave candy to all the children and loved my wife, would that get me into heaven?" I asked them again.
Once more they all answered, "NO!"
"Well," I continued, thinking they were a good bit more theologically sophisticated than I had given them credit for, "then how can I get into heaven?"
A five-year-old boy shouted out, "You gotta be dead!"
#joke
On the way home from the chris...
On the way home from the christening of his baby brother in church, Little Johnny sat in the back seat, unusually quiet and sad. His father noticed him crying and asked,
"What's wrong, little Johnny?"
Between sniffles little Johnny replied, "That priest said he wanted us brought up in a Christian home, and I want to stay with you!!"
#joke
Attitude toward whiskey...
A Congressman was once asked about his attitude toward whiskey. "If you mean the demon drink that poisons the mind, pollutes the body, desecrates family life, and inflames sinners, then I'm against it.
But if you mean the elixir of Christmas cheer, the shield against winter chill, the taxable potion that puts needed funds into public coffers to comfort little crippled children, then I'm for it. This is my position, and I will not compromise."
The Penguin
A penguin was driving his car down the highway when steam began to pour out of the hood. He pulled into a repair shop and asked the mechanic to fix his car. The man said to come back in half an hour. So while he waited the penguin went across the street to the bar, and ordered a glass of milk. Since penguins dont have hands to hold glasses, he spilled some milk on his beak. When he returned to the mechanic, he asked what was wrong with his car. The mechanic said it looked like he blew a seal.
#joke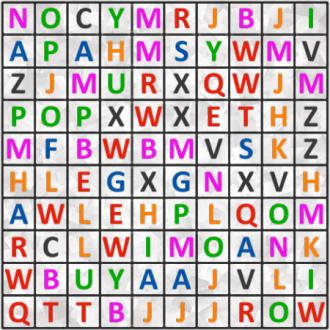 Find a famous person
Find the first and the last name of a famous person. Text may go in all 8 directions. Length of words in solution: 5,8.
A football team was short of a...
A football team was short of a goalkeeper, so the captain asked a cow grazing in the next field to join the team. The cow agreed. Later, the local cricket team needed a wicket keeper, so the same cow was asked to do the job. The cow replied: "Who ever heard of a cow playing cricket?"
"I'd like to order a bar piz...
"I'd like to order a bar pizza," the idiot says.
"Shall I ask them to cut it into six or twelve slices," the barmaid asks.
"Six, please. I could never eat twelve pieces.
A man called his mother in Flo...
A man called his mother in Florida. "Mom, how are you?"
"Not too good," said the mother. "I've been very weak."
The son said, "Why are you so weak?"
She said, "Because I haven't eaten in 38 days."
The man said, "That's terrible. Why haven't you eaten in 38 days?"
The mother answers, "Because I didn't want my mouth to be filled with food if you should call."
#joke
Simplified Income Taxes

REVENUE CANADA *T1-SIMPLIFIED TAX FORM
New Simplified Tax Form for 2000 Taxes
1. How much money did you make in 2000?
2. Send it to us.


Next time someone asks you if ...
Next time someone asks you if they can "sneak by you," ask them how the hell they plan to do that when you know they are going by.
Tell them that next time they should not warn you, and maybe, just maybe, they could sneak by.
Writing letters to son
The following is supposedly a true story. To be included, besides being true, the story is most likely strange, weird, surprising, or funny.
One student fell into a cycle of classes, studying, working and sleeping.
Didn't realize how long he had neglected writing home until he received the following note:
"Dear Son, Your mother and I enjoyed your last letter. Of course, we were much younger then, and more impressionable. Love, Dad."
#joke
Who Is the Real Virgin?

A ten-year-old, under the tutelage of her grandmother, was becoming knowledgeable about the Bible.

But one day, she surprised her grandmother by asking, "Which virgin was the mother of Jesus? The Virgin Mary or the King James Virgin?"

Two fraternity brothers...
Two fraternity brothers decide to go sailing one afternoon and become lost. After twenty hours with nothing to eat or drink, one of them spots a lamp floating by. He picks it up and a genie pops out. The genie notices the poor condition of the brothers and grants them one wish between the two of them.
After a lot of arguing over who gets the wish, one of them blurts out, "I wish the ocean was made of beer."
Magically, the ocean turns to beer.
Infuriated, the other guy yells, "You idiot! Now we have to piss in the boat!"
A Collection Of Insults
You must have gotten up on the wrong side of the cage this morning.
I would ask you how old you are, but I know you can't count that high.
In the next life, you'll blaze a way for us.
You are master in your own house -- the doghouse!
When you die, I'd like to go to your funeral, but I'll probably have to go to work that day. I believe in business before pleasure.
You make me believe in reincarnation. Nobody can be as stupid as you in one lifetime.
Believe me, I don't want to make a monkey out of you. Why should I take all the credit?
I hear you are very kind to animals, so please give that face back to the gorilla.
Keep talking. I always yawn when I'm interested.
Some day you will find yourself -- and wish that you hadn't.
People clap when they see you -- their hands over their eyes or ears.
Whatever is eating you -- must be suffering horribly.
#joke
A priest and a rabbi operated ...
A priest and a rabbi operated a church and a synagogue across the street from each other. Since their schedules intertwined, they decided to go in together to buy a car. So they did. They drove it home and parked it in the street between their establishments.
A few minutes later, the rabbi looked out and saw the priest sprinkling water on their new car. It didn't need a wash, so he ran out and asked the priest what he was doing. "I'm blessing it" the priest replied.
The rabbi replied "Oh," then he ran back into the synagogue. He reappeared a few minutes later with a hack saw, ran to the car and cut off the last 2 inches of the tailpipe.
#joke