Rooster at the Gym
Why did the rooster cross the Gym? He heard that the referee was blowing fouls.
How Yodelling Began
Have you ever wondered where and how yodelling began?
A couple was celebrating their...
A couple was celebrating their golden wedding anniversary. Their domestic tranquility had long been the talk of the town. A local newspaper reporter was inquiring as to the secret of their long and happy marriage.
"Well, it dates back to our honeymoon," explained the husband. "We visited the Grand Canyon and took a trip down to the bottom of the canyon by pack mule.
"We hadn't gone too far when my wife's mule stumbled.
My wife quietly said 'That's once.'
We proceeded a little farther when the mule stumbled again. Once more my wife quietly said, 'That's twice.'
We hadn't gone a half-mile when the mule stumbled a third time. My wife, a redhead, promptly removed a revolver from her purse and shot the mule.
I started to protest over her treatment of the mule when she looked at me and quietly said, 'That's once'."
#joke
Church members...
Three couples went in to see the minister about becoming new members of his church. The minister said that they would have to go without sex for two weeks and then come back and tell him how it went.
The first couple was retired, the second couple was middle aged and the third couple was newly married.
Two weeks went by, and the couples returned to the minister.
The retired couple said it was no problem at all.
The middle-aged couple said it was tough for the first week, but after that it was no problem.
The newlyweds said it was fine until she dropped the can of paint.
"Can of PAINT!" exclaimed the minister.
"Yeah," said the newlywed man. "She dropped the can and when she bent over to pick it up I had to have her right there and then. Lust took over."
The minister just shook his head and said that they were not welcome in the church.
"That's okay," said the man. "We're not welcome in Home Depot either."
#joke
New Miranda Rights
1. You have the right to remain motionless, or you may elect to run away from me.
2. Should you decide to run, I shall direct my K-9 to chase you down to the ends of the earth.
3. You have the right to have your lawyer run with you. Should he refuse, a recent Law School graduate will be appointed by the court to jog along with you.
4. If while running, you suddenly decide to end the race, beware that my K-9 may or may not understand your intentions, and may continue his persuit of you in full stride.
5. You may stop running at any time, at your own risk.
6. Good luck. On your mark, get set....GO!!!!!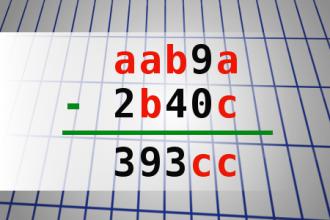 Find number abc
If aab9a - 2b40c = 393cc find number abc. Multiple solutions may exist.
A Recently Spotted Bumper Sticker:
"If you talk to God, it's prayer. If God talks to you, it's schizophrenia."
A football team was short of a...
A football team was short of a goalkeeper, so the captain asked a cow grazing in the next field to join the team. The cow agreed. Later, the local cricket team needed a wicket keeper, so the same cow was asked to do the job. The cow replied: "Who ever heard of a cow playing cricket?"
"I'd like to order a bar piz...
"I'd like to order a bar pizza," the idiot says.
"Shall I ask them to cut it into six or twelve slices," the barmaid asks.
"Six, please. I could never eat twelve pieces.
A sad-faced Doug walked into a...
A sad-faced Doug walked into a flower shop early one morning.
The clerk was ready to take his order for a funeral piece, based on the look on Doug's face, but soon realized his assumption was wrong as Doug asked for a basket of flowers sent to his wife for their anniversary.
"And what day will that be?" the clerk asked.
Glumly he replied, "Yesterday".
#joke
A guy got on a bus one day and...
A guy got on a bus one day and sat in the aisle seat beside an elderly lady. A few minutes later, he couldn't control himself and had to let loose a big noisy fart.
Embarrassed, he tried to make conversation with the lady and asked her "Do you by any chance have today's paper"?
The lady looked at him and said "No, but the next time we pass by a tree I'll grab you a handful of leaves."
#joke
Tooth Pulling
A man and his wife entered a dentist's office.
The wife said, "I want a tooth pulled. I don't want gas or Novocain because I'm in a terrible hurry. Just pull the tooth as quickly as possible."
"You're a brave woman," said the dentist. "Now, show me which tooth it is."
The wife turns to her husband and says: "Open your mouth and show the dentist which tooth it is, dear."
#joke
Emergency Kit
Josh was helping Sally, the blonde, clean out the trunk of her car. Inside, he noticed a bag labeled "Emergency Repair Kit". Looking at it a little closer, he noticed a stick of dynamite inside.
Thinking that was a bit strange, he asked Sally what it was for.
She said, "It's part of my emergency repair kit."
Josh said, "I can see that, but why?"
Sally replied, "In case I have a flat and need to blow up one of my tires."
This Tells Me That I Must Be Drunk
A man walks into a bar and orders one shot. Then he looks into his shirt pocket and orders another shot. After he finishes, he looks into his shirt pocket again and orders another shot. The bartender is curious and askes him "every time you order a shot, you look in your shirt pocket. Why?" The man replies, "I have a picture of my wife in my pocket and when she starts to look good, I go home."
#joke #walksintoabar
The Statues
For deca... The Statues
For decades, two heroic statues, one male and one female, faced each other in a city park, until one day an angel came down from heaven.
You've been such exemplary statues, he announced to them, "That I'm going to give you a special gift. I'm going to bring you both to life for thirty minutes, in which you can do anything you want." And with a clap of his hands, the angel brought the statues to life.
The two approached each other a bit shyly, but soon dashed for the bushes, from which shortly emerged a good deal of giggling, laughter, and shaking of branches. Fifteen minutes later, the two statues emerged from the bushes, wide grins on their faces.
You still have fifteen more minutes, said the angel, winking at them.
Grinning even more widely the female statue turned to the male statue and said, "Great! Only this time you hold the pigeon down and I'll crap on it's head."
#joke
Conversation between hus...
Conversation between husband and wife:
-----------------------------------------------------
WIFE: "What would you do if I died? Would you get married again?"
HUSBAND: "Definitely not!"
WIFE: "Why not - don't you like being married?"
HUSBAND: "Of course I do."
WIFE: "Then why wouldn't you remarry?"
HUSBAND: "Okay, I'd get married again."
WIFE: "You would? (with a hurtful look on her face).
HUSBAND: (makes audible groan).
WIFE: "Would you live in our house?"
HUSBAND: "Sure, it's a great house."
WIFE: "Would you sleep with her in our bed?"
HUSBAND: "Where else would we sleep?"
WIFE: "Would you let her drive my car?"
HUSBAND: "Probably, it is almost new."
WIFE: "Would you replace my pictures with hers?"
HUSBAND: "That would seem like the proper thing to do."
WIFE: "Would she use my golf clubs?"
HUSBAND: "No, she's left-handed."
WIFE: - - - silence - -
HUSBAND: "S**t"
#joke