The Minister and the Taxi Driver
A minister dies and is waiting in line at the Pearly Gates. Ahead of him is a guy who's dressed in sunglasses, a loud shirt, leather jacket, and jeans.
Switching Grooms
Little Mary was at her first wedding and gaped at the entire ceremony. When it was over, she asked her mother, "Why did the lady change her mind?"
Her mother asked, "What do you mean?"
"Well, she went down the aisle with one man and came back with another one."
This joke was reprinted from "Laugh Yourself Healthy" by Charles and Frances Hunter, with permission of Strang Communications. Copyright 2008. All rights reserved.
#joke
Delivery....
In the back woods, Mr. Stewart's wife went into labor in the middle of the night, and the doctor was called out to assist in the delivery.
To keep the nervous father-to-be busy, the doctor handed him a lantern and said, "Here, you hold this high so I can see what I'm doing." Soon, a wee baby boy was brought into the world.
"Whoa there Scotty!" said the doctor. "Don't be in a rush to put the lantern down... I think there's yet another wee one to come." Sure enough, within minutes he had delivered another little baby.
"No, no, don't be in a great hurry to be putting down that lantern, young man... It seems there's yet another one besides!" cried the doctor.
The new father scratched his head in bewilderment, and asked the doctor. "Do ye think it's the light that's attractin' them?"
A Collection Of Insults
A brief synopsis... When you're at a loss for words but want to tell someone that he or she is stupid, remember some these quips from our collection here at Aha! Jokes.
---
Batteries not included.
Been napping in front of the ion shield again.
Been playing with his wand too much.
Been playing with the pharmacy section again.
Been short on oxygen one time too many.
Been using her head as a mass driver.
Blew his O-rings.
Blew the hatch before the lock sealed.
Blocked one too many hockey pucks / soccer balls / punches with his head.
Blown/leaking head gasket.
Born a day late and like that ever since.
Born during low tide in the gene pool / swimming in the shallow end of the gene pool.
Born ugly and built to last.
Both oars in the water, but on the same side of the boat.
Brain is running on empty.
#joke
The Male Stages of Life
Age - Favorite Drink
17 Beer
25 Beer
35 Vodka
48 Double Vodka
66 Maalox
Age - Best Seduction Line
17 My parents are away for the weekend.
25 My girlfriend is away for the weekend.
35 My fiancee is away for the weekend.
48 My wife is away for the weekend.
66 My second wife is dead.
Age - Favorite Sport
17 Sex
25 Sex
35 Sex
48 Sex
66 Napping
Age - Definition of a Successful Date
17 Tongue
25 Breakfast
35 She didn't set back my therapy.
48 I didn't have to meet her kids.
66 Got home alive.
Age - Favorite Fantasy
17 Getting to third
25 Airplane Sex
35 Menage a Trois
48 Taking the Company Public
66 Swiss Maid / Nazi Love Slave
Age - House Pet
17 Roaches
25 Stoned-out College Roommate
35 Irish Setter
48 Children from his first marriage
66 Barbie
Age - What's the Ideal Age to Get Married?
17 25
25 35
35 48
48 66
66 17
Age - Ideal Date
17 Triple Stephen King feature at a drive-in
25 Split the check before we go back to my place.
35 Just come over.
48 Just come over and cook.
66 Sex in the company jet on the way to Vegas.
Baseball Field
What goes all the way around a baseball field but never moves? The fence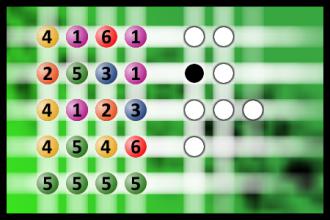 Which is a winning combination of digits?
The computer chose a secret code (sequence of 4 digits from 1 to 6). Your goal is to find that code. Black circles indicate the number of hits on the right spot. White circles indicate the number of hits on the wrong spot.
A football team was short of a...
A football team was short of a goalkeeper, so the captain asked a cow grazing in the next field to join the team. The cow agreed. Later, the local cricket team needed a wicket keeper, so the same cow was asked to do the job. The cow replied: "Who ever heard of a cow playing cricket?"
"I'd like to order a bar piz...
"I'd like to order a bar pizza," the idiot says.
"Shall I ask them to cut it into six or twelve slices," the barmaid asks.
"Six, please. I could never eat twelve pieces.
A seaman meets a pirate in a b...
A seaman meets a pirate in a bar, and they take turns to tell their adventures on the seas. The seaman notes that the pirate has a peg-leg, hook, and an eye patch. Curious, the seaman asks "So, how did you end up with the peg-leg?"
The pirate replies "I was swept overboard into a school of sharks. Just as my men were pulling me out, a shark bit my leg off".
"Wow!" said the seaman. "What about the hook"?
"Well...", replied the pirate, "We were boarding an enemy ship and were battling the other sailors with swords. One of the enemy cut my hand clean off."
"Incredible!" remarked the seaman. "How did you get the eye patch"?
"A seagull dropping fell into my eye", replied the pirate.
"You lost your eye to a seagull dropping?" the sailor asked.
"Well..." said the pirate, "That was my first day with this hook."
#joke
One day the preacher's wife we...
One day the preacher's wife went to the local butcher shop looking for the family dinner. She walked in and asked the butcher what was his choice of the day. The butcher replied " I recommend the "God Damn Ham"!! The preacher's wife turned bright red and replied "I am the preachers wife, how can you say such things to me!! "No No replied the butcher, The name of the ham is "God Damn Ham." Oh, well then said the preacher's wife, I'll take a nice big piece.
The preacher arrives home and says "Honey, what's for dinner?" The wife promptly replies "God Damn Ham." The preacher in turn (praying for his wife's soul) "Oh dear, how can you say such a thing when your a preacher's wife?" "No! No! my dear," replies the wife, "the name of the ham is "God Damn Ham." The preacher then calms down and prepares for the family dinner.
At dinner time the preacher, wife, son, & daughter sit down for the family dinner. The preacher says a blessing for the evening meal and proceeds to say "AMEN. Honey pass me the God Damn Ham."... At that the teenage son's eyes light up and he slaps the preacher on the back and says " THAT'S THE SPIRIT DAD, PASS THE F#%$KEN POTATOES!!"
#joke
Bankers do it risk-free.
Ba...
Bankers do it risk-free.
Bankers do it just for money.
Bankers charge a fee each time they do it.
Bankers do it with varying rates of interest.
Bankers do it with a penalty for early withdrawal.

What Did You Learn?
Susie came home from her first day at school.
Her mother said, "Well, Honey, what did you learn today?"
"Not enough, I guess....They want me to come back again tomorrow."
Drinking Politics
A man wearing a Democratic pin walks into a bar and sees a picture of President Bush hanging behind the bartender. He calls the bartender over and says, "You should take that picture down. George Bush is a blight upon this nation. He should be impeached."
The bartender, a life-long Republican, is completely offended. "Why you liberal piece of garbage. How dare you come into my bar and tell me how to run my business!"
"Listen, I'm the customer, so I'm always right." the man says. "That picture offends me, so I want you to take it down."
"That tears it," the bartender says, "How would you like it if I came into your bar and told you what to do?"
"Well, you'd be the customer, so you'd be right," the man says.
"Fine, then let's switch places," the bartender says.
So, they do. The man takes the bartender's place behind the bar, and the bartender walks outside, waits a moment, and then comes back inside. The bartender sits at the bar and says to the bar, "You should take that pin off. The Democrats are destroying our country with their liberal agenda."
"Sorry," the man says, "but we don't serve Republicans here."
#joke #walksintoabar
A fellow is looking for someth...
A fellow is looking for something in his wife's jewelry box. He finds an envelope containing 3 kernels of corn and $15. Curious, he calls to his wife, "Honey, what are these kernels of corn doing in this envelope in your jewelry box?." His wife replies, "Well, Dear, I haven't always been faithful to you. To remind me of the commitment I made when we said our marriage vows, I put a kernel of corn in that envelope every time I've been unfaithful." The husband finds his wife's efforts at staying faithful touching and says he forgives her. But what about the fifteen dollars?, he asks. "Well," she explains, "when corn gets to five dollars a bushel, I sell it!."
#joke
A gang of robbers broke into a...
A gang of robbers broke into a lawyer's club by mistake. The old legal lions gave them a fight for their life and their money. The gang was very happy to escape.
'It ain't so bad,' one crook noted. 'We got $25 between us.'
The boss screamed: 'I warned you to stay clear of lawyers--we had $100 when we broke in!'
Truth in Marriage
<...
Truth in Marriage
A man met a beautiful lady and he decided he wanted to marry her right away. She said, "But we don't know anything about each other." He said, "That's all right, we'll learn about each other as we go along." So she consented, and they were married, and went on a honeymoon to a very nice resort.
So one morning they were lying by the pool, when he got up off of his towel, climbed up to the 10 Meter board and did a two and a half-tuck gainer, this was followed by a three rotations in jack-knife position, where he straightened out and cut the water like a knife. After a few more demonstrations, he came back and lay down on the towel.
She said, "That was incredible!"
He said, "I used to be an Olympic diving champion. You see, I told you we'd learn more about each other as we went along."
So she got up, jumped in the pool, and started doing laps. After about thirty laps she climbed back out and lay down on her towel hardly out of breath.
He said, "That was incredible! Were you an Olympic endurance swimmer?"
"No," she said. "I was a hooker in Venice and I worked both sides of the Grand Canal."
#joke