Sunday Morning Church Service
At the Sunday morning church service, the minister asked if anyone in the congregation would like to express praise for answered prayers.
Dating a Nun
Did you hear about the guy who tried to date a nun?
He wanted to take her to the county fair, but she declined on account of she had taken a vow abstaining from Carnival pleasures.
- Joke shared by Beliefnet member BeerLover
A highway patrolman pulled alo...
A highway patrolman pulled alongside a speeding car.

Glancing at the car, he was astounded to see that the blonde behind the wheel was knitting.

The trooper cranked down his window and yelled to the driver--"PULL OVER!"

"NO!" the blonde yelled back, "SCARF!"
Sunday school lesson...
The Sunday school lesson for the day was about Noah's Ark, so the teacher decided to get her small pupils involved by playing a game in which they identified animals.
"I'm going to describe something to you. Let's see if you can guess what it is.
First: I'm furry with a bushy tail and I like to climb trees."
The children looked at her blankly.
"I also like to eat nuts, especially acorns."
No response. This wasn't going well at all!
Finally a kid volunteered:
"Well, I know the answer has to be Jesus....but it sure sounds like a squirrel to me!"
#joke
Marriage Quotes 04
A man must marry only a very pretty woman in case he should ever want some other man to take her off his hands. -- Guitry
Ah Mozart! He was happily married - but his wife wasn't. -- Borge
Always talk to your wife while you're making love... if there's a phone handy.
An archaeologist is the best husband a woman can have; the older she gets, the more interested he is in her. -- Agatha Christie
And I shall love thee still my dear, Until my wife is wise.
Bachelor: the only man who has never told his wife a lie.
Bride: A woman with a fine prospect of happiness behind her.
By all means marry. If you get a good wife, you'll be happy. If you get a bad one, you'll become a philosopher. -- Socrates
Correction: Instead of being arrested, as we stated, for kicking his wife down a flight of stairs and hurling a lighted kerosene lamp after her, the Rev. James P. Wellman died unmarried four years ago.
#joke
N*dist camp visit
A young boy had been taken for his first visit to a n*dist camp by his parents. He was surprised at the different sizes of the male organs and mentioned it to his father. The father, being rather well endowed, explained that it was a measure of intelligence, the big ones being smart and the small ones being dumb.
That afternoon the father was looking for his wife and asked his son if he had seen his mother.
"I saw her about ten minutes ago, She was with a real dumb man, but he seemed to be getting smarter all the time. "
#joke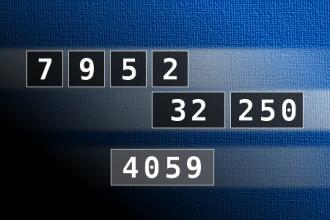 Calculate the number 4059
NUMBERMANIA: Calculate the number 4059 using numbers [7, 9, 5, 2, 32, 250] and basic arithmetic operations (+, -, *, /). Each of the numbers can be used only once.
West Virginia State Flower
Whats the state flower of West Virginia? A satellite dish.
A man was driving a horse and ...
A man was driving a horse and cart along a country road at an angle of 45 degrees. After three miles like this, he asked a passer-by: "How long does this blasted hill last?" "This isn't a hill," came the reply. "Your back wheels are off!"
#joke
"I'd like to order a bar piz...
"I'd like to order a bar pizza," the idiot says.
"Shall I ask them to cut it into six or twelve slices," the barmaid asks.
"Six, please. I could never eat twelve pieces.
Intimate Cellmates
These two men were cellmates at state penitentiary for nine years. One day Larry said to Joe, "You know man its been a long time since we had some sex so you oughta let me fuck you."
Joe replied.
"Are you crazy?!!" Larry went on to say, "I promise you that it won't hurt and we'll flip a coin and see who fucks, who first. So, Joe thought about it for a minute and finally agreed. They flipped a coin and Larry won. Still having strong reservation Joe asked, "How will you tell if it hurts or not?"
Larry told Joe, "If it hurts you start making animal noises, and I'll stop. But if it feels good start singing."
Larry started the insertion and Joe screamed, Moooooooo.... Moooooo... Mooooon River...
#joke
A Recently Spotted Bumper Sticker:

"When the Church ruled the World it was called the Dark Ages."

Miracle worker...
Two guys and a union worker were fishing on a lake one day, when Jesus walked across the water and joined them in the boat. When the three astonished men had settled down enough to speak, the first guy asked, humbly, "Jesus, I've suffered from back pain ever since I took shrapnel in the Vietnam War...could you help me?"
"Of course, my son," Jesus said, and when he touched the man's back, he felt relief for the first time in years.
The second man, who wore very thick glasses and had a hard time reading and driving, asked if Jesus could do anything about his eyesight.
Jesus smiled, removed the man's glasses and tossed them in the lake. When they hit the water, the man's eyes cleared, and he could see everything distinctly.
When Jesus turned to heal the union worker, the guy put his hands up and cried, defensively, "DON'T TOUCH ME! I'm on long-term disability!"
#joke
Who's ya daddy...
<...
Who's ya daddy...
A father put his daughter to bed and listened to her prayers. She ended by saying: "God Bless mommy, God bless daddy, God bless grandma and good-bye grandpa."
The father asked: "Why did you say good-bye grandpa?"
The little girl said: "I donÂ't know daddy, it just seemed like the thing to do."
The next day, grandpa died. The father thought it was a strange coincidence.
A few months later, the father put the girl to bed and listened to her prayers, which went like this: "God bless mommy, God bless daddy and good-bye grandma."
The next day, the grandmother died. Oh my gosh, thought the father, this kid is in contact with the other side.
Several weeks later, the father heard his daughter say: "God bless mommy and good-bye daddy." He practically went into shock. He couldnÂ't sleep all night and got up at the crack of dawn to go to his office. He was nervous as a cat all day, had lunch sent in, and watched the clock. He figured if he could get by until midnight he would be okay. He felt safe in the office, so instead of going home at the end of the day he stayed there, drinking coffee, looking at his watch and jumping at every sound. Finally, when midnight arrived, he breathed a sigh of relief and went home.
When he got home his wife said: "IÂ've never seen you work so late, what's the matter?" He said: "I donÂ't want to talk about it, I've just spent the worst day of my life."
She said: "You think you had a bad day? You'll never believe what happened to me! This morning, the milkman dropped dead on our porch!"
#joke