Have a great time for
Christmas
, check out our latest
Christmas jokes of 2021
on:
Christmas jokes collection
After her conviction of murder...
After her conviction of murder in the second degree, the District Attorney, during her sentencing hearing said, "Mrs. Grey – after you put the arsenic in the stew and served it to your husband, didn't you feel even a little remorse for what you were doing?" "I did," she said calmly. "And when was that?" quipped the D.A. "When he asked for seconds!" she replied.
#joke
A Yogi Goes to the Dentist...
Did you hear about the Hindu yogi who was having a filling put in a tooth? When the dentist asked him if he wanted novocaine, the yogi said, "No. I can transcend dental medication."
A Father, his Son and his own ...
A Father, his Son and his own father all go to a strip bar. They sit down and a lady comes over and starts shaking her ass in their faces. "I know exactly what to do" said the younger father and removed a £20 note licked it and stuck it to one of her arse cheeks.
"Me too" said the son and licked a £20 and stuck it to the other cheek of her arse "Now you granddad"
So granddad said "I'm not stupid I know exactly what to do". So he reached in his wallet pulled out his visa card swiped her arse and took the two twenties
#joke
The Dead Dog
A lady awoke one morning and discovered her dog was not moving. She called her vet who asked her to bring the dog in. After a brief examination, the vet pronounced the dog dead.
"Are you sure", the distraught woman asked? "He was a great family pet. Isn't there anything else you can do?"
The vet paused for a moment and said, "There is one more thing we can do." He left the room for a moment and came back carrying a large cage with a cat in it. The vet opened the cage door and the cat walked over to the dog. The cat sniffed the dog from head to toe and walked back to the cage.
"Well, that confirms it", the vet announced, "your dog is dead."
Satisfied that the vet had done everything he possibly could, the woman sighed, "How much do I owe you?"
"That will be $1,330", the vet replied.
"I don't believe it", screamed the woman! "What did you do that cost $1,330????"
"Well", the vet replied, "it's $30 for the office visit and $1,300 for the CAT scan."
#joke
A woman walked up to a little ...
A woman walked up to a little old man rocking in a chair on his porch. "I couldn't help noticing how happy you look," she said. "What's your secret for a long happy life?"

"I smoke three packs of cigarettes a day," he said. "I also drink a case of whisky a week, eat fatty foods, and never exercise."

"That's amazing," said the woman, "how old are you?"

"Twenty-six," he said.

#joke
Shopping For Goods
A woman meant to call a record store but dialed the wrong number and got a private home instead.
"Do you have 'Eyes of Blue' and 'A Love Supreme'?" she asked.
"Well, no," answered the puzzled homeowner. "But I have a wife and eleven children."
"Is that a record?" she inquired.
"I don't think so," replied the man, "but it's as close as I want to get."
#joke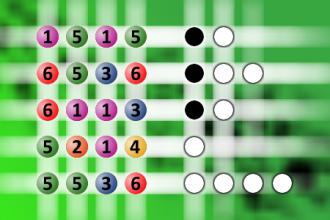 Which is a winning combination of digits?
The computer chose a secret code (sequence of 4 digits from 1 to 6). Your goal is to find that code. Black circles indicate the number of hits on the right spot. White circles indicate the number of hits on the wrong spot.
Blonde quickies 13
Q: What do you call 10 blondes standing ear to ear?
A: A wind tunnel.
Q: What do you call 15 blondes in a circle?
A: A dope ring.
Q: What do you call a blond with a bag of sugar on her head ?
A: Sweet Fuck All...
Q: What do you call 20 blondes in a freezer?
A: Frosted Flakes.
Q: What do you call a blonde skeleton in the closet?
A: Last year's hide-and-seek champ.
Q: What do you call a fly buzzing inside a blonde's head?
A: A Space Invader.
Q: What do you call a blonde in a tree with a brief case?
A: Branch Manager.
Q: What do you call a smart blond?
A: A labrador.
Q: How does a blonde interpret 6.9?
: A 69 interrupted by a period.
Falling Sign
One day, a man walks into a whorehouse and says, Give me your most dangerous whore.
The clerk says, Shes in room 3A.
The man goes to room 3A and sees a woman with a black leather suit, whips and chains. The whore says she wants to have sex on the peak of the roof. The man quickly agrees. They go to the roof and go at it for a while, and then they both fall off the roof, still together. They land on the sidewalk and die.
A drunk man walks by, sees them together, and walks into the whorehouse. The desk clerk says, Hey! I thought I told you never to come back here again! Get out, now!
To this, the drunk replies, I just came in here to tell you that your sign fell down.
#joke
GREAT TRUTHS THAT LITTLE CHILD...
GREAT TRUTHS THAT LITTLE CHILDREN HAVE LEARNED:
1) No matter how hard you try, you can't baptise cats.
2) When your Mum is mad at your Dad, don't let her brush your hair.
3) If your sister hits you, don't hit her back. They always catch the second person.
4) Never ask your 3-year old brother to hold a tomato.
5) You can't trust dogs to watch your food.
6) Don't sneeze when someone is cutting your hair.
7) Never hold a Dust-Buster and a cat at the same time.
8) You can't hide a piece of broccoli in a glass of milk.
9) Don't wear polka-dot underwear under white shorts.
10) The best place to be when you're sad is Grandpa's lap.
#joke
What do you call a woman with ...
What do you call a woman with one leg shorter than the other?


Eileen

Sean Edwards, Leith

If you have a joke you would like to share with us e-mail: letters_en@edinburgh news.com



The full article contains 40 words and appears in Edinburgh Evening News newspaper.