A Swiss man, looking for direc...
A Swiss man, looking for directions, pulls up at a bus stop where two Americans are waiting. "Entschuldigung, koennen Sie Deutsch sprechen?" he asks. The two Americans just stare at him. "Excusez-moi, parlez vous Fracais?" he tries. The two continue to stare. "Parlare Italiano?" No response. "Hablan ustedes Espanol?" Still nothing. The Swiss guy drives off, extremely disgusted. The first American turns to the second and says, "Y'know, maybe we should learn a foreign language." "Why?" says the other. "That guy knew four languages, and it didn't do him any good."
#joke
Catholic Priest and a Rabbi we...
Catholic Priest and a Rabbi were chatting one day when the conversation turned to a discussion of job descriptions and promotion. "What do you have to look forward to in way of a promotion in your job?" asked the Rabbi.
"Well, I'm next in line for the Monsignor's job." replied the Priest.
"Yes, and then what?" asked the Rabbi.
"Well, next I can become Bishop." said the Priest.
"Yes, and then?" asked the Rabbi.
"If I work real hard and do a good job as Bishop, it's possible for me to become an Archbishop." said the Priest.
"O.K., then what?" asked the Rabbi.
The Priest, beginning to get a bit exasperated replied, "With some luck and real hard work, maybe I can become a Cardinal."
"And then?" asked the Rabbi.
The Priest is really starting to get mad now and replies, "With lots and lots of luck and some real difficult work and if I'm in the right places at the right times and play my political games just right, maybe, just maybe, I can get elected Pope."
"Yes, and then what?" asked the Rabbi.
"Good grief!" shouted the Priest. "What do you expect me to become, GOD?"
"Well," said the Rabbi, "One of our boys made it!"
#joke
No talking...
Six-year-old Angie and her four-year-old brother Joel were sitting together in church. Joel giggled, sang, and talked out loud. Finally, his big sister had enough. "You're not supposed to talk out loud in church."
"Why? Who's going to stop me?" Joel asked.
Angie pointed to the back of the church and said, "See those two men standing by the door? They're hushers."
#joke
Signs Technology Took Over Your Life
by Joe Mullich, AmericanWay Magazine, November 15, 1994
1. Your stationery is more cluttered than Warren Beatty's address book. The letterhead lists a fax number, e-mail addresses for two on-line services, and your Internet address, which spreads across the breadth of the letterhead and continues to the back. In essence, you have conceded that the first page of any letter you write is letterhead.
2. You have never sat through an entire movie without having at least one device on your body beep or buzz.
3. You need to fill out a form that must be typewritten, but you can't because there isn't one typewriter in your house, only computers with laser printers.
4. You think of the gadgets in your office as "friends," but you forget to send your father a birthday card.
5. You disdain people who use low baud rates.
6. When you go into a computer store, you eavesdrop on a salesperson talking with customers, and you butt in to correct him and spend the next twenty minutes answering the customers' questions, while the salesperson stands by silently, nodding his head.
7. You use the phrase "digital compression" in a conversation without thinking how strange your mouth feels when you say it.
8. You constantly find yourself in groups of people to whom you say the phrase "digital compression." Everyone understands what you mean, and you are not surprised or disappointed that you don't have to explain it.
9. You know Bill Gates' e-mail address, but you have to look up your own social security number.
10. You stop saying "phone number" and replace it with "voice number," since we all know the majority of phone lines in any house are plugged into contraptions that talk to other contraptions.
11. You sign Christmas cards by putting :-) next to your signature.
12. Off the top of your head, you can think of nineteen keystroke symbols that are far more clever than :-).
13. You back up your data every day.
14. You know more about the computer than about all of your friends.
15. You think jokes about being unable to program a VCR are stupid.
16. On vacation, you are reading a computer manual and turning the pages faster than everyone else who is reading John Grisham novels.
17. The thought that a CD could refer to finance or music rarely enters your mind.
18. You are able to argue persuasively the Ross Perot's phrase "electronic town hall" makes more sense than the term "information superhighway," but you don't because, after all, the man still uses hand-drawn pie charts.
19. You go to computer trade shows and map out your path of the exhibit hall in advance. But you cannot give someone directions to your house without looking up the street names.
20. You would rather get more dots per inch than miles per gallon.
21. You become upset when a person calls you on the phone to sell you something, but you think it's okay for a computer to call and demand that you start pushing buttons on your telephone to receive more information about the product it is selling.
22. You know without a doubt that disks come in five-and-a-quarter and three-and-a-half-inch sizes.
23. Al Gore strikes you as an "intriguing" fellow.
24. You own a set of itty-bitty screw-drivers and you actually know where they are.
25. While contemporaries swap stories about their recent hernia surgeries, you compare mouse-induced index-finger strain with a nine-year-old.
26. You are so knowledgeable about technology that you feel secure enough to say "I don't know" when someone asks you a technology question instead of feeling compelled to make something up.
27. You rotate your screen savers more frequently than your automobile tires.
28. You have a functioning home copier machine, but every toaster you own turns bread into charcoal.
29. You have ended friendships because of irreconcilably different opinions about which is better, the track ball or the track pad.
30. You understand all the jokes in this message. If so, my friend, technology has taken over your life. We suggest, for your own good, that you go lie under a tree and write a haiku. And don't use a laptop.
31. You email this message to your friends over the net. You'd never get around to showing it to them in person or reading it to them on the phone. In fact, you have probably never met most of these people face-to-face.
32. You don't even read magazine articles anymore, unless someone's keyed them into e-mail and forwarded it to you.
33. You print the itinerary of your vacation from a scheduler software.
34. You pack the laptop computer first for any trip.
35. While you're away from home, the first three numbers you call are your voicenet, a bulletin board, and one of your e-mail accounts.
36. You are reading this from a screen.
Jack Schitt
Who is Jack Schitt you ask?
The lineage is finally revealed. Many people are at a loss for a response when someone says " you don't know jack schitt."
Now you can intellectually handle the situation. Jack is the only son of Awe Schitt and O Schitt.
Awe Schitt, the fertilizer magnate, married O Schitt, the owner of kneedeep N. Schitt, Inc.
In turn, Jack Schitt married Noe Schitt, and the deeply religious couple produced six children: Holie Schitt, Fulla Schitt,Giva Schitt,Bull Schitt, and the twins, Deep Schitt and Dip Schitt.
Against her parents' wishes, Deep Schitt married Dumb Schitt, a high school dropout. After being married 15 years, Jack and Noe Schitt divorced.
Noe Schitt later married Mr. Sherlock, and because her kids were living with them, she wanted to keep her previous name. She was then known as Noe Schitt-Sherlock.
Dip Schitt married Loda Schitt and they produced a nervous son, Chicken Schitt.
Fulla Schitt and Giva Schitt were inseparable throughout their childhood and subsequently married the Happens brothers in a dual ceremony.
The wedding announcement in the newspaper announced the Schitt-Happens wedding.
The Schitt-Happens children are Dawg,Byrd, and Horse.
Bull Schitt, the prodigal son left home to tour the world, and recently returned from Italy with his new bride, Pisa Schitt.
So now when someone says, "you don't know Jack Schitt", you can correct them.
#joke
FLEX WORDLE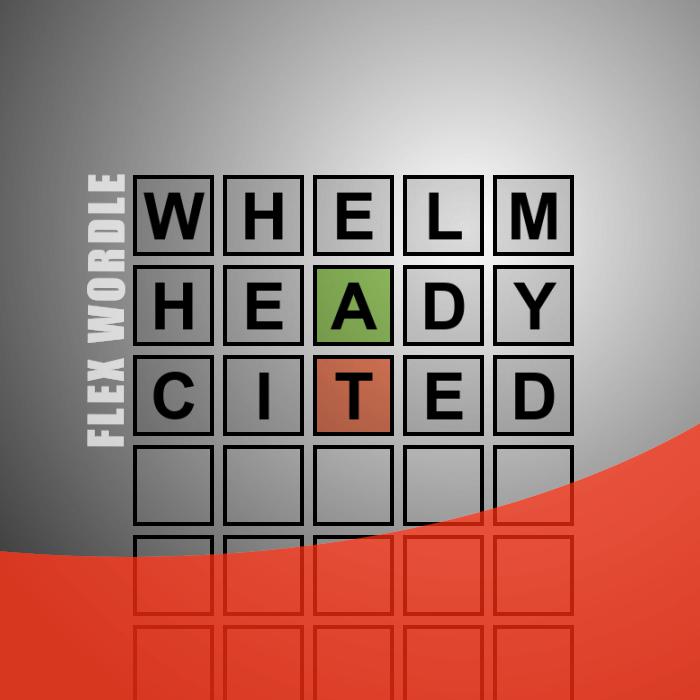 Guess the
WORDLE
in 3 tries. After each guess, the color of the tiles will change to show how close your guess was to the solution.
Fall-Down Drunk
A man, whose level of drunkenness was bordering on the absurd, stood up to leave a bar and fell flat on his face. Maybe all I need is some fresh air, thought the man as he crawled outside. He tried to stand up again, but fell face first into the mud.
Screw it, he thought. Ill just crawl home. The next morning, his wife found him on the doorstep asleep. You went out drinking last night, didnt you? she said. Uh, yes, he said sheepishly. How did you know? You left your wheelchair at the bar again.
#joke
A woman walked up to a little ...
A woman walked up to a little old man rocking in a chair on his porch. "I couldn't help noticing how happy you look," she said. "What's your secret for a long happy life?"

"I smoke three packs of cigarettes a day," he said. "I also drink a case of whisky a week, eat fatty foods, and never exercise."

"That's amazing," said the woman, "how old are you?"

"Twenty-six," he said.

#joke
Bibles to Boats
A young man from Nebraska moves to Florida and goes to a big "everything under one roof" department store looking for a job. The manager asks, "Do you have any sales experience?" The kid replies, "Yeah, I was one of the best Bible salesman back in Omaha."
The boss liked the kid and gave him the job. "You can start tomorrow. I'll come down after we close and see how you did."
His first day on the job was rough, but he got through it. After the store was locked up, the boss came down. "How many customers bought something from you today?" The kid responds, "One."
The boss says, "Just one? Our sales people average 20 to 30 customers a day. How much was the sale for?"
"$101,237.65."
"$101,237.65? Holy Mother Mary! What did you sell to him?"
"First, I sold him a small fish hook. Then, I sold him a medium fish hook. Then, I sold him a larger fish hook. Then, I sold him a new fishing rod. Then, I asked him where he was going fishing and he said down the coast. I told him he was going to need a boat, so we went down to the boat department, and I sold him a twin engine Boston Whaler. Then, he said he didn't think his car would pull it, so I took him down to the automobile department and sold him a 4x4 truck with all the bells and whistles."
"A guy came in here to buy a fish hook, and you sold him a boat and a truck?!"
"No, the guy came in here to buy feminine products for his wife, and I said, 'Dude, your weekend's shot. You should go fishing.'"
- Joke shared by Beliefnet member socaliflady
#joke
THE FOUR STAGES OF LIFE:
THE FOUR STAGES OF LIFE:
1) You believe in Santa Claus.
2) You don't believe in Santa Claus.
3) You are Santa Claus.
4) You look like Santa Claus.
Because he was going to inheri...
Because he was going to inherit a fortune when his sickly widowed father died, Charles decided he needed a woman to enjoy it with. Going to a singles' bar, he spotted a woman whose beauty took his breath away.
"I'm just an ordinary man," he said, walking up to her, "but in just a week or two, my father will die and I'll inherit 20 million dollars and would like to have someone to share it with."
The woman went home with Charles, and the next day she became his stepmother.
Men will never learn.
#joke
Strangers on a Train
A scientist gets on a train to go to New York. His cabin also has a poor farmer in it. To pass the time the scientist decides to play a game with the guy.
"I will ask you a question and if you get it wrong, you have to pay me one dollar. Then you ask me a question, and if I get it wrong, you get ten dollars. You ask me a question first." The farmer thinks for a while.
"I know. What has three legs, takes ten hours to climb up a palm tree, and ten seconds to get back down?" The scientist is confused and thinks long and hard about the question. Finally, the train ride is coming to an end. As it pulls into the station, the scientist takes out ten dollars and gives it to the farmer.
"I don''t know. What has three legs, takes ten hours to get up a palm tree and ten seconds to get back down?"
The farmer takes the ten dollars and puts it into his pocket. He then takes out one dollar and hands it to the scientist.
"I don''t know."
#joke
Vatican Fried Chicken
During a Papal audience, a business man approached the Pope and made this offer: Change the last line of the Lord's prayer from "Give us this day our daily bread" to "Give us this day our daily chicken," and Kentucky Fried Chicken will donate $10,000,000 to Catholic charities. The Pope declined.
Two weeks later, the man approached the Pope again - this time with a $50,000,000 offer. Again, the Pope declined. A month later, the man upped the price to $100,000,000, and this time the Pope accepted.
At a meeting of the Cardinals, the Pope announced his decision in the good news/bad news format. "The good news is: We have $100,000,000 for charities. The bad news: We lost the Wonder Bread account."
#joke
Drunken argument...
Two drunks are walking along. One drunk says to the other, "What a beautiful night. Look at that moon!"
The other drunk stops and looks at his drunk friend. "You are wrong. That's not the moon; that's the sun!"
Both continued arguing for awhile when they came upon another drunk walking along. So they stopped him and said, "Sir, could you please help settle our argument? Tell us what that thing is up in the sky that's shining. Is it the moon or the sun?"
The third drunk look at the sky and then looked at them and said, "Sorry, I don't live around here."
#joke
Rude Drunk
A woman walked into a bar carrying a duck under her arm. The local drunk saw this and asked, "Hey, whatcha doin' with that pig?"
"That's not a pig, you stupid ass!" she said coldly. "That's a duck."
The drunk replied. "I was talking to the duck."
Join us on WhatsApp