Have a great time for
Christmas
, check out our latest
Christmas jokes of 2021
on:
Christmas jokes collection
Most newspaper editors have Most newspaper editors have typo-negative blood.
A property manager of single-f...
A property manager of single-family residence was showing a unit to prospective tenants and asking the usual questions.
"Professionally employed?" he asked.
"We're a military family," the wife answered.
"Children?"
"Oh, yes, ages nine and twelve," she answered proudly.
"Animals?"
"Oh, no," she said earnestly. "They're very well behaved."
#joke
Q: How do you get a Democrat t...
Q: How do you get a Democrat to pay taxes?
A: Give them "Change" and "Hope"
Two Women at the Pearly Gates
Two women are new arrivals at the pearly gates and are comparing stories on how they died.
Woman #1: I froze to death.
Woman #2: How horrible!
Woman #1: It wasn't so bad. After I quit shaking from the cold, I began to get warm and sleepy, and finally died a peaceful death. What about you?
Woman #2: I died of a massive heart attack. I suspected that my husband was cheating, so I came home early to catch him in the act. But instead, I found him all by himself in the den watching TV.
Woman #1: So what happened?
Woman #2: I was so sure there was another woman there somewhere that I started running all over the house looking. I ran up into the attic and searched, and down into the basement. Then I went through every closet and checked under all the beds. I kept this up until I had looked everywhere, and finally I became so exhausted that I just keeled over with a heart attack and died!
Woman #1: Too bad you didn't look in the freezer. We'd both still be alive.
#joke
George and Lenny decide to cro...
George and Lenny decide to cross North America in a hot air balloon. However, neither were particularly experienced balloonists, and Lenny's mind quickly drifted from navigation to thoughts of how clouds look like cuddly little bunny rabbits. Upon realizing that they were lost, George declared, 'Lenny -- we are going to have to lose some altitude so we can figure out where we are.'
George lets some hot air out of the balloon, which slowly descended below the clouds, but he still couldn't tell where they were. Far below, they could see a man on the ground. George lowered the balloon, to ask the man their location.
When they were low enough, George called down to the man, 'Hey, can you tell us where we are?' The man on the ground yelled back, 'You're in a balloon, about 100 feet up in the air.'
George Called down to the man, 'You must be a lawyer.'
'Gee, George,' Lenny replied, 'How can you tell?'
George answered, 'Because the advice he gave us is 100% accurate, and is completely useless'.
The man called back up to the balloon, 'You must be a client.'
George yelled back, 'Why do you say that?'
'Well,' the man replied, 'you don't know where you are, or where you are going. You got into your predicament through a lack of planning, and could have avoided it by asking for help before you acted. You expect me to provide an instant remedy. The fact is you are in the exact same position you were in before we met, but now it is somehow my fault.'
Top ten signs your Amish teen is in trouble...
10. Sometimes stays in bed until after 5 a.m.
9. In his sock drawer, you find pictures of women without bonnets.
8. Shows up at barn raisings in full 'KISS' makeup.
7. When you criticize him, he yells, 'Thou sucketh.'
6. His name is Jebediah, but he goes by 'Jeb Daddy.'
5. Defiantly says, 'If I had a radio, I'd listen to rap.'
4. You come upon his secret stash of colored socks.
3. Uses slang expression, 'Talk to the hand, 'cause the beard ain't listening.'
2. Was recently pulled over for driving under the influence of cottage cheese.
1. He's wearing his big black hat backwards.
#joke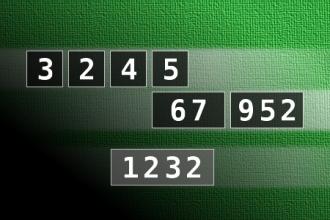 Calculate the number 1232
NUMBERMANIA: Calculate the number 1232 using numbers [3, 2, 4, 5, 67, 952] and basic arithmetic operations (+, -, *, /). Each of the numbers can be used only once.
Answering Machine Message 37

This is not an answering machine--this is a telepathic thought-recording device. After the tone, think about your name, your reason for calling, and a number where I can reach you, and I'll think about returning your call.


Viagra/Gore
What's the difference between Viagra and Al Gore.....Viagra
really works !
Orange
Why did the orange stop rolling down the hill?
Because it ran out of juice!
Child Support
A blond man frantically calls 911 and says, "Help...my wife has gone into labor and her contractions are 10 minutes apart".
The 911 operator asks, "is this her first child?"
To which the blond replies, "Of course not, you idiot...this is her husband".
What happened when the...
What happened when the hyena swallowed an Oxo cube? He became a laughing stock!
Hilary Rae
How do young wizards and witches correct their homework?
They use a spell-checker.
#joke
ATTORNEY: So the date of con...
ATTORNEY: So the date of conception (of the baby) was August 8th?
WITNESS: Yes.
ATTORNEY: And what were you doing at that time?
WITNESS: Uh.... I was gettin' laid!

Sleeping Beauty, Tom Thumb and...
Sleeping Beauty, Tom Thumb and Don Juan were having a terrible fight.
"I am the most beautiful person in the world," proclaimed Sleeping Beauty.
"No, you're not," answered Don Juan and Tom Thumb.
"I am the smallest person in the world," shouted Tom Thumb.
"No, you're not," said Sleeping Beauty and Don Juan
"I have had more lovers than any person in the world," announced Don Juan.
"No, you haven't" replied Tom Thumb and Sleeping Beauty.
Well, they decided that if the three were to get along, they needed a mediator, and decided that Merlin, clearly the smartest person in the world, would be ideal. Merlin agreed and summoned them all to his palace, where he announced he would meet with them one at a time.
Sleeping Beauty went in first and not a minute later came out beaming.
"I am the most beautiful person in the world, Merlin said so."
In went Tom Thumb and out he came as quickly as had Sleeping Beauty.
"I am the smallest person in the world. Merlin agrees."
In goes Don Juan and in he stays, a half hour, an hour, an hour and a half later. Finally, he emerges distraught, muttering, "Who the hell is Bill Clinton"
#joke
Panda In A Bar
A panda walks into a bar, sits down and orders a sandwich.
He eats the sandwich, pulls out a gun and shoots the waiter dead.
As the panda stands up to go, the bartender shouts, "Hey, Where are you going? You just shot my waiter and you didn't pay for your sandwich!"
The panda yells back at the bartender, "Hey man, I'm a Panda! Look it up!"
The bartender opens his dictionary and sees the following definition for panda: "A tree-dwelling marsupial of Asian origin, characterized by distinct black and white coloring. Eats shoots and leaves."
#joke #walksintoabar
Name That Animal, Kids
Eddie's first-grade class was having a game of Name That Animal. The teacher held up a picture of a cat and asked, "What animal is this?"
"A cat!" said Suzy.
"Good job! Now, what's this animal?"
"A dog!" said Ricky.
"Good! Now what animal is this?" she asked, holding up a picture of a deer.
The class fell silent. After a couple of minutes, the teacher said, "It's what your mom calls your dad."
"A horny bastard!" called out Eddie.
#joke
Cooking class...
One day during cooking class, the teacher, Mrs. Jones, was extolling her secrets for preparing perfect sauces. When she ordered us to the stoves to prepare our assignments, she said, "Now don't forget to use wooden spoons."
As I stirred my sauce, I contempleted the physics behind the mystery of the wooden spoon and decided it must have something to do with heat conduction. I approached Mrs. Jones to test my theory. "Why wooden spoons?" I asked.
"Because, she replied, "if I have to sit here listening to all your metal spoons banging against metal pots, I'd go nuts!"
#joke
Knock Knock Collection 177
Knock Knock
Who's there?
Thumb!
Thumb who?
Thumb like it hot and thumb like it cold!
Knock Knock
Who's there?
Thumpin!
Thumping who?
Thumping green and slimy is climbing up your back!
Knock Knock
Who's there?
Thurston!
Thurston who?
Thurston and hungerin'!
Knock Knock
Who's there?
Tibet!
Tibet who?
Early Tibet and early to rise!
Knock Knock
Who's there?
Tinker Bell!
Tinker Bell who?
Tinker Bell is out of order!
#joke