Doctors Friend Visit
A young mother paying a visit to a doctor friend and his wife made no attempt to restrain her five-year-old son, who was ransacking an adjoining room.
But finally, an extra loud clatter of bottles did prompt her to say, "I hope, doctor, you don't mind Johnny being in there."
"No," said the doctor calmly, "He'll be quiet when he gets to the poisons."
A sweet little boy surprised h...
A sweet little boy surprised his grandmother one morning and brought her a cup of coffee. He made it himself and he was so proud. Anxiously, he waited to hear the verdict. The grandmother in all her life had never had such a bad cup of coffee. As she forced down the last sip, his grandmother noticed three of those little green army guys were in the bottom of the cup.
She asked, "Honey, why would three of your little army men be in the bottom of my cup?"
Her grandson replied, "You know grandma, it's like on TV. 'The best part of waking up is soldiers in your cup'."
#joke
Do duck hunters use ca...
Do duck hunters use call wading? If so, do authors use call foreword? And do sports broadcasters use called his play?
Jim was annoyed when his blond...
Jim was annoyed when his blonde wife told him that a car had backed into her, damaging a fender, and that she hadn't gotten the license number.
"What kind of car was he driving?" he asked.
"I don't know," she said. "I never can tell one car from another."
At that, Jim decided the time had come for a learning course, and for the next few days, whenever they were driving, he made her name each car they passed until he was satisfied that she could recognize every make.
It worked. About a week later she bounded in with a pleased expression on her face. "Darling," she said. "I hit a Buick!"
"How was your game, dear?" ask...
"How was your game, dear?" asked Jack's wife Tracy. 
"Well, I was hitting pretty well, but my eyesight's gotten so bad I couldn't see where the ball went," he answered. 
"But you're 75 years old, Jack!" admonished his wife, "Why don't you take my brother Scott along?"Â 
"But he's 85 and doesn't play golf anymore," protested Jack. 
"But he's got perfect eyesight. He would watch the ball for you," Tracy pointed out. 
The next day Jack teed off with Scott looking on. Jack swung and the ball disappeared down the middle of the fairway. "Do you see it?" asked Jack. 
"Yup," Scott answered. 
"Well, where is it?" yelled Jack, peering off into the distance. 
"I forgot."
#joke
Button Up
A man lost two buttons from his shirt and put them in his pants pocket. But the pocket had a hole, so the buttons fell into his shoe. Unfortunately, the shoe sole also had a hole, so he lost the buttons.
As pockets with holes, holes without buttons, and shoe soles with holes are useless, the man ripped the buttonholes out of his shirt and the pocked from his pants and tossed them in the trash along with the soles of his shoes.
A police officer who was observing the man asked him for some identification. The man gave the officer a document that shoed he was an ordained minister of the gospel.
When the officer began to escort him to a mental institution, the minister protested violently, asking why he was receiving such unjust treatment.
"Look, we both know it's the best place for you now," the officer replied. "Anyone claiming to be a preacher who doesn't save souls or wear holy clothes has probably lost his buttons."
From "The Book of Church Jokes," published by Barbour Publishing, Inc., Uhrichsville, Ohio. Copyright 2009. Used by permission of Barbour Publishing, Inc.
#joke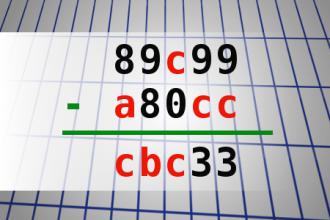 Find number abc
If 89c99 - a80cc = cbc33 find number abc. Multiple solutions may exist.
Three Texas plastic surgeons w...
Three Texas plastic surgeons were playing golf together and discussing surgeries they had performed.
One of them said, "I'm the best plastic surgeon in Texas. A concert pianist lost 7 fingers in an accident, I reattached them, and 8 months later he performed a private concert for the Queen of England."
One of the others said. "That's nothing. A young man lost both arms and legs in an accident, I reattached them, and 2 years later he won a gold medal in 5 field events in the Olympics."
The third surgeon said, "You guys are amateurs. Several years ago a cowboy who was high on cocaine and alcohol rode a horse head-on into a train traveling 80 miles an hour. All I had left to work with was the horse's ass and a cowboy hat.
Now he's President of the United States."
#joke
Fish TV
What is a fishs favorite game show? Name that Tuna.
The avid golfer....
Bill, an avid golfer, contacts a "Medium" and asks if there is a Golf Course in Heaven. The Medium says that his request is a big order, but he will try and find out and get back to Bill in a few days.
After several days go by, Bill finally gets a call from the Medium. "Well," said Bill, "what did ya find out?"
"I've got good news and bad news for you," said the Medium.
"OK," "what's the good news" Bill exclaimed.
"Well," there is a beautiful 36 hole golf course in Heaven, and you'll have 24 hour access with your own personal caddy," blurted out the Medium.
"And the bad news?" asked Bill.
"You're due to tee-off this Sunday at around 10:30 in the morning."
#joke
Yo Mama Is So Nasty
Yo mama so nasty she made speed stick slow down.
Yo mama so nasty she brings crabs to the beach.
Yo mama so nasty she made right guard turn left.
Yo mama so nasty the fishery be paying her to leave
Yo mama so nasty she has to creep up on bathwater.
Yo mama so nasty that pours salt water down her pants to keep her crabs fresh.
Yo mama so nasty I called her to say hello, and she ended up giving me an ear infection.
#joke #yomama
Free beer
Two Aussies a...
Free beer
Two Aussies are adrift in a lifeboat. While rummaging through the boat's provisions one of them finds an old lamp. He rubs the lamp and a genie suddenly appears. This genie tells them that he only grants one wish.
Without giving much thought to the matter, the lamp finder blurts out, "Turn the entire ocean into VB!"
The genie claps his hands with a deafening crash, and immediately the entire sea turns into beer.
The genie disappears and only the gentle lapping of beer on the hull breaks the stillness as the two men considered their circumstances.
The second Aussie turns to the first and says, "Nice going mate! Now we're going to have to pee in the boat."
Family of tomatoes...
A family of three tomatoes were walking downtown one day when the little baby tomato started lagging behind. The big father tomato walks back to the baby tomato, stomps on her, squashing her into a red paste, and says, "Ketchup!"
Budget Cuts
Reso...
Budget Cuts
Resolving to surprise her husband, an executiveÂ's wife stopped by his office.
When she opened the door, she found him with his secretary sitting in his lap.
Without hesitating, he dictated, "...and in conclusion, gentlemen, budget cuts or no budget cuts, I cannot continue to operate this office with just one chair."
#joke
Top ten things you don't ...
Top ten things you don't want to hear from your real estate agent when you go to settlement on your new home:
1. "I think unexplained crop circles add a unique flair to any home's garden."
2. "Actually, it's only the rear portion of the yard that overlaps the ancient Indian burial ground."
3. "Yes, the last owner did donate the house to the Hell's Angels, but I'm told that the judge has ordered them not to come within 50 feet of it."
4. "One bleeding toilet doesn't necessarily mean it's haunted."
5. "Your neighbor has assured me that, technically, they're not 'killer' bees."
6. "Even if there was a full-scale mudslide, it's unlikely that it would reach as far back as your property."
7. "It's quite common for roaches to grow that big even when not in the presence of radioactivity."
8. "Did you know that the band Grave Raper holds their practice sessions right next door?"
9. "It's true that they died in the house, but the prosecutor was never actually able to prove it was murder."
10. "You can barely hear the sheet metal factory at night."
#joke
He Was a Saint
There were two evil brothers. They were rich and used their
money to keep their ways from the public eye. They even
attended the same church and looked to be perfect
Christians.
Then, their pastor retired and a new one was hired. Not
only could he see right through the brothers' deception, but
he also spoke well and true, and the church started to swell
in numbers.
A fund-raising campaign was started to build a new
assembly.
All of a sudden, one of the brothers died. The remaining
brother sought out the new pastor the day before the funeral
and handed him a check for the amount needed to finish paying
for the new building.
"I have only one condition," he said. "At his funeral, you
must say my brother was a saint."
The pastor gave his word and deposited the check.
The next day at the funeral, the pastor did not hold back.
"He was an evil man," he said. "He cheated on his wife and
abused his family." After going on in this vein for a small
time, he concluded with, "But, compared to his brother, he
was a saint."
#joke
Stewed Tomatoes
A guy is going on an ocean cruise, and he tells his doctor that he's worry about getting seasick.
The doctor suggests, ''Eat two pounds of stewed tomatoes before you leave the dock.''
The guy replies, ''Would that keep me from getting sick, Doc?''
The doctor says, ''No, but it'll look real pretty in the water.''