One Froggy Evening
An old man was walking in the forest when he heard by his feet a very weak voice.
He bent down to look and saw that the voice came from a little frog: "I'm a beautiful, erotic and sensual princess, skilled in all the carnal pleasures of love. An evil queen, envious of my charms, turned me into a frog, but if you kiss me I will once again be a fair maiden, and I will provide you with all the joys and delights of my voluptuous temperament and my ardent lust.
The old man picked up the little frog and put her into his pocket.
Bewildered, the frog looked out and asked:
"What, you're not going to kiss me?"
"Nope," replied the old man. "At my age it's more fun to have a talking frog than a sex maniac."
#joke
A dentist was getting ready to...
A dentist was getting ready to clean an elderly lady's teeth. He noticed that she was a little nervous, so he began to tell her a story as he was putting on his surgical gloves...
"Do you know how they make these rubber gloves?" She said, "No?"
"Well", he spoofed, "down in Mexico they have this big building set up with a large tank of latex, and the workers are all picked according to hand size. Each individual walks up to the tank, dips their hands in, and then walk around for a bit while the latex sets up and dries right onto their hands! Then they peel off the gloves and throw them into the big 'Finished Goods Crate' and start the process all over again."
And she didn't laugh a bit!!! Five minutes later, during the procedure, he had to stop cleaning her teeth because she burst out laughing.
The old woman blushed and exclaimed, "I just suddenly thought about how they must make condoms!"
#joke
What do vegetarian zombies scr...
What do vegetarian zombies scream for?
A wife was making a breakfast ...
A wife was making a breakfast of fried eggs for her husband. Suddenly, her husband burst into the kitchen.
"Careful," he said. "Careful! Put in some more butter! Oh my gosh! You're cooking too many at once. Too many! Turn them! Turn them now!
We need more butter. Oh my gosh! Where are we going to get more butter? They're going to stick! Careful. Careful! I said be careful!
You never listen to me when you're cooking! Never! Turn them! Hurry up!
Don't forget to salt them! You know you always forget to salt them. Use the salt. Use the salt! The salt!"
His wife stared at him.
"What in the world is wrong with you? You think I don't know how to fry a couple of eggs?"
The husband calmly replied, "I just wanted to show you what it feels like when I'm driving."
#joke
This farmer had a wife who nag...
This farmer had a wife who nagged him all the time. One day while he was outside plowing the field, she came out and started nagging him. While she was doing this, the mule kicked her and she died. At the funeral, the ladies came up and talked to the farmer. The farmer nodded his head "yes". The men came up and talked to him and the farmer nodded his head "no". Well this other man wondered why he nodded his head "yes" to the ladies and "no" to the men. Then, he went up to the farmer and asked him why. The farmer replied," Well, when the ladies came up, they told me how pretty my wife's dress was and how pretty she looked. When the men came up, they asked,' That mule for sale?'
#joke
Blonde Burglary
Returning home from work, a blonde was shocked to find her house ransacked and burglarized. She telephoned the police at once a nd reported the crime. The police dispatcher broadcast the call on the radio, and a K-9 unit, patrolling nearby, was the first to respond.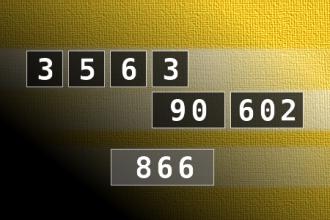 Calculate the number 866
NUMBERMANIA: Calculate the number 866 using numbers [3, 5, 6, 3, 90, 602] and basic arithmetic operations (+, -, *, /). Each of the numbers can be used only once.
A Recently Spotted Bumper Sticker:
"Next time you think you're perfect, try walking on water."
Bobby goes to pick up his date...
Bobby goes to pick up his date, Peggy Sue. Bobby's a pretty hip guy with his own car and a ducktail hairdo. When he goes to the front door, Peggy Sue's father answers and invites him in.
"Peggy Sue's not ready yet, so why don't you have a seat?"
"That's cool." says Bobby.
Peggy Sue's father asks Bobby what they are planning to do.
Bobby replies that they will probably just go to the malt shop or to a drive-in movie.
The father responds, "Why don't you kids go out and screw? I hear all of the kids are doing it."
Naturally this comes as quite a surprise to Bobby and he says "Whaaaat?"
"Yeah," says the dad. "She really likes to screw. She'll screw all night if we let her!"
Bobby's eyes light up and smiles from ear to ear. Immediately, he revises the plans for the evening.
A few minutes later, Peggy Sue comes downstairs in her little poodle skirt with her saddle shoes and announces that she's ready to go.
Almost breathless with anticipation, Bobby escorts his date out the front door while dad is saying, "Have a good evening, kids," with a special wink for Bobby.
Twenty minutes later, a thoroughly disheveled Peggy Sue rushes back into the house, slams the door behind her and screams at her father:
"DAMMIT DADDY! THE TWIST!!! IT'S CALLED THE TWIST!!"
#joke
Dead in His Cornflakes
Q: Did you hear about the guy they found dead with his head in his cornflakes?
A: The police thought it was a cereal killer.
Golf and Skydiving
What is the difference between a golfer and a skydiver?
A golfer says "whack....DAMN!" and a skydiver says " Damn ..... WHACK!!"
Knock Knock Collection 059
Knock Knock
Who's there?
Ellen!
Ellen who?
Ellen-eed is love!
Knock Knock
Who's there?
Elsie!
Elsie who?
Elsie you around!
Knock Knock
Who's there?
Emil!
Emil who?
Emil for the poor!
Knock Knock
Who's there?
Emma!
Emma who?
Emma bit cold out here, can you let me in?
Knock Knock
Who's there?
Emmett!
Emmett who?
Emmett your service!
#joke
Getting Served at a
The landlord of a pub, is just locking up, when there's a ring on the doorbell. He opens the door, and there's a snail sitting there.
"What do you want?"
asks the landlord.
The snail replies that he wants a drink."
Go away, we're closed, and we don't serve snails anyway".
The snail pleads and pleads with the barman to give it a drink, at which the landlord gets fed up, picks the snail up, throws it as far as he can, and then slams the door shut.
..... Exactly one year later, he's locking up again, and there's a ring at the doorbell. The landlord opens the door, and looks down to see a snail sitting there.
"What do you want" says the landlord.
"What did you do that for" says the snail.
#joke
ATTORNEY: Doctor, before you...
ATTORNEY: Doctor, before you performed the autopsy, did you check for a pulse?
WITNESS: No.
ATTORNEY: Did you check for blood pressure?
WITNESS: No.
ATTORNEY: Did you check for breathing?
WITNESS: No.
ATTORNEY: So, then it is possible that the patient was alive when you began the autopsy?
WITNESS: No.
ATTORNEY: How can you be so sure, Doctor?
WITNESS: Because his brain was sitting on my desk in a jar.
ATTORNEY: I see, but could the patient have still been alive, nevertheless?
WITNESS: Yes, it is possible that he could have been alive and practicing law
Dear Fellow Business Owners:
As a business owner who employs 30 people, I have resigned myself to the fact that Barack Obama will be our next president, and that my taxes and fees will go up in a BIG way.
To compensate for these increases, I figure that the Customer will have to see an increase in my fees to them of about 8-10%. I will also have to lay off six of my employees. This really bothered me as I believe we are family here and didn't know how to choose who will have to go. So, this is what I did.
I strolled thru the parking lot and found eight Obama bumper stickers on my employees cars. I have decided these folks will be the first to be laid off.
I can't think of another fair way to approach this problem. If you have a better idea, let me know. I am sending this letter to all business owners that I know.
Sincerely,
Business Owner
#joke
Instrument Flying Guide For Animal Lovers
Having detailed the concept of attitude control, there is another method which you may prefer. For reasons that will become apparent, it is recommended for those pilots whose airplanes have large, easily cleaned cabins. Known as the "Cat and Duck Method" of instrument flight, it has received much publicity and is considered to have a great deal of merit by those who have not tried it. No reports have been received from those who did try it, and none are expected. Pilots are invited to assess its merits objectively.
Basic rules for the C&D Method of instrument flight are fairly well known and are extremely simple. Here's how it's done:
1. Place a live cat on the cockpit floor; because a cat always remains upright. It can be used in lieu of a needle and ball. Merely watch to see which way the cat leans to determine if a wing is low and if so, which one.
2. The duck is used for instrument approach and landing. Because of the fact that any sensible duck will refuse to fly under instrument conditions, it is only necessary to hurl your duck out of the plane and follow it to the ground.
There are some limitations to the Cat and Duck Method, but by rigidly adhering to the following checklist, a degree of success will be achieved which will surely startle you, your passengers, and even an occasional tower operator.
1. Get a wide-awake cat. Most cats do not want to stand up at all. It may be necessary to carry a large dog in the cockpit to keep the cat at attention.
2. Make sure your cat is clean. Dirty cats will spend all their time washing. Trying to follow a washing cat usually results in a tight snap roll followed by an inverted spin.
3. Use old cats only. Young cats have nine lives, but old, used-up cats with only one life left have just as much to lose as you do and will be more dependable.
4. Beware of cowardly ducks. If the duck discovers that you are using the cat to stay upright, it will refuse to leave without the cat. Ducks are no better in IFR conditions than you are.
5. Be sure the duck has good eyesight. Nearsighted ducks sometimes fail to realize that they are on the gauges and go flogging off in the nearest hill. Very nearsighted ducks will not realize that they have been thrown out and will descend to the ground in a sitting position. This maneuver is difficult to follow in an airplane.
6. Use land-loving ducks. It is very discouraging to break out and find yourself on final for a rice paddy, particularly if there are duck hunters around. Duck hunters suffer from temporary insanity while sitting in freezing weather in the blinds and will shoot at anything that flies.
7. Choose your duck carefully. It is easy to confuse ducks with geese because many water birds look alike. While they are very competent instrument flyers, geese seldom want to go in the same direction as you.
Source:
GSP Digest #279
September 16, 1990
#joke
Bus Stop Blondes
Two blondes are waiting at a bus stop.
When a bus pulls up and opens the door, one of the blondes leans inside and asks the bus driver:''Will this bus take me to 5th Avenue?''
The bus driver shakes his head and says,''No, I'm sorry.''
At this the other blonde leans inside, smiles, and twitters: ''Will it take ME?''
Fertilizer...
A farmer was driving along the road with a load of fertilizer. A little boy, playing in front of his house, saw him and called, "What've you got in your truck?"
"Fertilizer," the farmer replied.
"What are you going to do with it?" asked the little boy.
"Put it on strawberries," answered the farmer.
"You ought to live here," the little boy advised him. "We put sugar and cream on ours."
#joke
What have I said!
<...
What have I said!
Have you ever spoken and wished that you could immediately take the words back...or that you could crawl into a hole? Here are the Testimonials of a few people who did....
FIRST TESTIMONY: I walked into a hair salon with my husband and three kids in tow and asked loudly, "How much do you charge for a shampoo and a blow job?" I turned around and walked back out and never went back. My husband didn't say a word...he knew better.
SECOND TESTIMONY: I was at the golf store comparing different kinds of golf balls I was unhappy with the women's type I had been using. After browsing for several minutes, I was approached by one of the good-looking gentlemen who works at the store. He asked if he could help me. Without thinking, I looked at him and said, "I think I like playing with men's balls."
THIRD TESTIMONY: My sister and I were at the mall and passed by a store that sold a variety of candy and nuts. As we were looking at the display case, the boy behind the counter asked if we needed any help I replied, "No, I'm just looking at your nuts.." My sister started to laugh hysterically. The boy grinned...and I turned beet-red and walked away. To this day, my Sister has never let me forget.
FOURTH TESTIMONY: While in line at the bank one afternoon, my toddler decided to release some pent-up energy and ran amok. I was finally able to grab hold of her after receiving looks of disgust and annoyance from other patrons. I told her that if she did not start behaving "right >now" she would be punished. To my horror, she looked me in the eye and said in a voice just as threatening, "If you don't let me go right now, I will tell Grandma that I saw you kissing Daddy's pee-pee last night!" The silence was deafening after this enlightening exchange. Even the tellers stopped what they were doing. I mustered up the last of my dignity and walked out of the bank with my daughter in tow. The last thing I heard when the door closed behind me, were screams of laughter.
FIFTH TESTIMONY: Have you ever asked your child a question too many times? My three-year-old son had a lot of problems with potty training and I was on him constantly. One day we stopped at Taco Bell for a quick lunch in between errands. It was very busy, with a full dining room. While enjoying my taco, I smelled something funny, so of course I checked my seven-month-old daughter, and she was clean. Then I realized that Danny had not asked to go potty in a while, so I asked him if he needed to go, and he said "No". I kept thinking, "Oh Lord, that child has had an accident, and I don't have any clothes with me." Then I said, "Danny, are you SURE you didn't have an accident?" "No," he replied. I just KNEW that he must have had an accident, because the smell was getting worse. Soooooo, I asked one more time, "Danny, did you have an accident?" This time he jumped up, yanked down his pants, bent over and sprea d his cheeks and yelled, "SEE MOM, IT'S JUST FARTS!!" While 30 people nearly choked to death on their tacos laughing, he calmly pulled up his pants and sat down. An old couple made me feel better by thanking me for the best laugh they'd ever had!
LAST TESTIMONY: This had most of the state of Michigan laughing for 2 days and a very embarrassed female news anchor who will, in the future, likely think before she speaks. What happens when you predict snow but don't get any....a true story.. We had a female news anchor who, the day after it was supposed to have snowed and didn't, turned to the weatherman and asked: "So Bob, where's that 8 inches you promised me last night?" Not only did HE have to leave the set, but half the crew did too they were laughing so hard!
#joke