Two Question
Jimmie, an 80-year-old gentleman, retired to Florida after his wife of 58 years had passed away. He was quite alone in the world and longed for companionship. One day, as he was walking through a public park, he spied what he considered to be a very pretty silver-haired lady sitting alone on a park bench. Getting his nerve up, he approached the lady and asked graciously, "Pardon me, ma'am, but may I sit here with you."
The silver-haired Marcia looked up to see a distinguished looking white-haired gentleman and replied, "Why certainly," and scooted over gently to give him room to sit down.
For the next two hours the two sat and talked about everything. They discovered that they came from the same part of the country, liked the same big band music, voted for the same presidential candidates, had long happy marriages and lost their spouses in the last year, and in general agreed about almost everything.
Finally, the old gentleman cleared his throat and asked sheepishly, "Ma' am, may I ask you two questions?"
With great anticipation Marcia replied, "Why certainly!"
The old gentleman removed a handkerchief from his coat pocket and spread it out on the ground before her. He very gingerly got down on one knee and looked her softly in the eyes.
"Marcia, I know we've only known each other for a couple of hours, but we have so much in common. I feel I have known you all my life. Will you marry me and be my wife?"
Marcia grabbed at Jimmie's hands and said, "Why, yes, I will marry you! You have made me so very happy!"
She reached over and kissed him gently on the cheek. Then Marcia said, "You said you had two questions to ask me. What is the second question?"
Jimmie scratched his neck and said, "Will you help me get up?"
#joke
A funeral service is being hel...
A funeral service is being held for a woman who has just passed away. At the end of the service the pall bearers are carrying the casket out when they accidentally bump into a wall, jarring the casket. They hear a faint moan.
They open the casket to find that the woman is actually alive. She lives for ten more years and then dies. A ceremony is again held at the same church and at the end of the ceremony the pall bearers are again carrying out the casket. As they are walking the husband cries out,
"WATCH OUT FOR THE WALL"
#joke
I can sew, knit and cross-stit...
I can sew, knit and cross-stitch. Darn knit all, I'm a triple thread!
A doctor is doing the rounds o...
A doctor is doing the rounds of a maternity ward. "And when is Mrs. Smith's baby due?" he asks the nurse.
"The 5th of September," replies the nurse.
"I see," says the doctor, "And how about Mrs.Jones?"
"She's due on the 5th too," replies the nurse.
"And Mrs.Evans?" says the doctor.
"She's also due on the 5th," says the nurse.
"And, don't tell me Mrs. Brown is due on the 5th as well," says the doctor.
"I don't think so," replies the nurse. "She didn't go to the company picnic."
Dracula was on a night out wit...
Dracula was on a night out with his buddies and after much intoxication decided to call it a night. On his walk home he took a few back streets to shortcut. Upon walking down one such dark alley he was hit in the back of the head by a sausage roll but after looking around could not see whom the culprit was. Once again, in the next dimly lit passage he felt a chicken wrap splat across his back, thrown from behind, but again the perpetrator had hidden.
Finally as Dracula got to his castle gates, he felt a tap on the shoulder... he turned round to a dark figure wielding a sausage on a cocktail stick. No sooner had Dracula spoken than the dark figure plunged the stick into his heart.
Falling to the floor, Dracula uttered his last words... "Who are you?"... To which the dark stranger announced....
"I am Buffet the Vampire Slayer"!
#joke
The Nun and the Cabbie
She gets into the cab, and notices that the VERY handsome cab driver won't stop staring at her.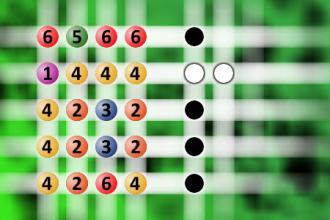 Which is a winning combination of digits?
The computer chose a secret code (sequence of 4 digits from 1 to 6). Your goal is to find that code. Black circles indicate the number of hits on the right spot. White circles indicate the number of hits on the wrong spot.
The Preacher and the Friendly Ghost
A new preacher wanted to rent a house in the country but the only one available was rumored to be haunted. That didn't bother the preacher since he didn't believe in such things. He went ahead and rented the place.
Soon the ghost made its appearance. The preacher told his friends about the ghost, but they didn't believe him. They told him the only way they would believe was if he took a picture of the ghost.
The preacher went home and called for the ghost. When it appeared, the preacher explained the situation and asked the ghost if it would mind having its picture taken. The ghost agreed.
When the picture was developed, the ghost wasn't visible. Feeling disappointed, the preacher called again for the ghost. When it appeared, the preacher showed it the picture and wanted to know why the ghost wasn't in it.
The ghost thought a minute and replied, "Well, I guess the spirit was willing, but the flash was weak."
From "The Book of Church Jokes," published by Barbour Publishing, Inc., Uhrichsville, Ohio. Copyright 2009. Used by permission of Barbour Publishing, Inc.
#joke
The recital....
A soldier stationed in the South Pacific wrote to his wife in the States to please send him a harmonica to occupy his free time and keep his mind off of the local women. The wife complied and sent the best one she could find, along with several dozen lesson & music books.
Rotated back home, he rushed to their home and thru the front door. "Oh darling" he gushed, "Come here... let me look at you... let me hold you ! Let's have a fine dinner out, then make love all night. I've missed your lovin' so much !" The wife, keeping her distance, said, "All in good time lover. First, let's hear you play that harmonica."
#joke
3 guys and a bar by:
3 guyes walk into a bar
2 of them duck
Blonde Avoiding Trees
A State Trooper pulls a car over on a lonely back road and approaches the blonde lady driver.
"Mam, is there a reason that you're weaving all over the road"?
The woman replied, "Oh officer, thank goodness you're here!! I almost had an accident! I looked up and there was a tree right in front of me. I swerved to the left and there was another tree in front of me. I swerved to the right and there was another tree in front of me!"
Reaching through the side window to the rear view mirror, the officer replied, "Ma'am... that's your air freshener."
The seven dwarfs went off to w...
The seven dwarfs went off to work in the mine one day, while Snow White stayed at home to do the housework and cook their lunch.
However when she went to the mine to deliver their lunches, she found there had been a cave-in, and there was no sign of the dwarfs.
Tearfully she yelled in to the mine entrance: "hello - is anyone there. Can anyone hear me".
A voice floated up from the bowels of the mine:
" Australia will win the Rugby World Cup"
"Thank god" said Snow White "at least Dopey's still alive"
#joke
A young woman was about to fin...
A young woman was about to finish her first year of college. Like so many others her age she considered herself to be a very liberal Democrat and was for distribution of all wealth. She felt deeply ashamed that her father was a rather staunch Republican which she expressed openly.
One day she was challenging her father on his beliefs and his opposition to higher taxes on the rich and the addition of more government welfare programs. Based on the lectures that she had participated in and the occasional chat with a professor she felt that for years her father had obviously harbored an evil, even selfish desire to keep what he thought should be his. The self professed objectivity proclaimed by her professors had to be the truth and she indicated so to her father.
He stopped her and asked her point blank, how she was doing in school. She answered rather haughtily that she had a 4.0 GPA, and let him know that it was tough to maintain. That she studied all the time, never had time to go out and party like other people she knew. She didn't even have time for a boyfriend and didn't really have many college friends because of spending all her time studying. That she was taking a more difficult curriculum.
Her father listened and then asked, "How is your good friend Mary doing?"
She replied, "Mary is barely getting by." She continued, "She barely has a 2.0 GPA," adding, "and all she takes are easy classes and she never studies. But Mary is so very popular on campus, college for her is a blast, she goes to all the parties all the time and very often doesn't even show up for classes because she is too hung over."
Her father then asked his daughter, "Why don't you go to the Dean's office and ask him to deduct a 1.0 off your 4.0 GPA and give it to your friend who only has a 2.0." He continued, "That way you will both have a 3.0 GP and certainly that would be a fair and equal distribution of GPA."
The daughter visibly shocked by her father's suggestion angrily fired back, "That wouldn't be fair! I worked really hard for mine, I did without and Mary has done little or nothing, she played while I worked really hard!"
The father slowly smiled, winked and said, "Welcome to the Republican Party."
#joke