The First Fight
Bill and Hillary had just gotten back from the honeymoon, and were having theirfirst fight, and it was a big one.
No matter what Bill tried to say or do, Hillary refused to compromise, or even listen. He started growing exasperated.
After a while, Bill said "When we got married, you promised to love, honor and obey."
Hillary replied, "I know. But I didn't want to start an argument in front of all those people at the wedding."
#joke
A brunette who really hated bl...
A brunette who really hated blondes was walking through the desert when she came across a magic lamp. After rubbing the lamp the genie told her that she got three wishes with one catch: All the blondes in the world would get twice whatever she asked for. So the brunette thought a while and then wished for a million dollars.
'Every blonde in the world will get two million.' The brunette said that was fine and then she asked for an incredibly handsome man.
'Every blonde in the world will get two incredibly handsome men.'
The brunette said that was fine too and the genie granted her wishes. 'Now for your third wish.' said the genie.
'See that stick over there?', asked the brunette, 'I want you to beat me half to death with it.'
The favourite music of menstru...
The favourite music of menstruating women, without a doubt, is rag time. Period. Especially the flowing melodies and  bleed violins of the London Philtamponic, whose works are best played PMSimo.
A man rushed into a bar and or...
A man rushed into a bar and ordered a double martini. The man downed it with one swallow, put a five dollar bill on the bar, and turned and rushed out of the bar. The bartender picked up the five dollar bill, and folded it carefully and tucked it in his vest pocket. Just at that moment he looked up at the boss standing in the doorway staring at him.
Doing a bit of fast thinking he said, "Hi boss, did you see that fellow just now? Came in here, bought a double martini, gave me a five dollar tip, and rushed out without paying."
#joke
Two Musicians' in a major sy...
Two Musicians' in a major symphonic orchestra were discussing who they thought the LEAST talented musician in the band was. One of them said; that's easy. See that guy standing in the back? Well, we just put two sticks in his hands and we call him a Drummer. The other responded; well, if we take one stick away, we call him a Conductor!
#joke
Good Investment
A woman walks into a bank in New York City and asks for the loan officer. She says she's going to Europe on business for two weeks and needs to borrow $5,000. The bank officer tells her that the bank will need some kind of security for such a loan, so the woman hands over the keys to a new Rolls Royce that's parked on the street in front of the bank.
#joke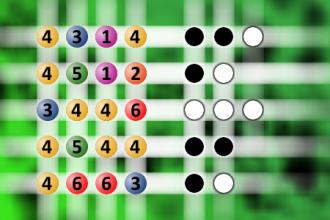 What a winning combination?
The computer chose a secret code (sequence of 4 digits from 1 to 6). Your goal is to find that code. Black circles indicate the number of hits on the right spot. White circles indicate the number of hits on the wrong spot.
Good Question!
And Moses looked upon the Lord and said:
"We are your chosen people and you want us to cut the tips off of our WHAT?"

This elderly couple were sitti...
This elderly couple were sitting in their tiny cold apartment when the husband said, "Doris, we are in bad shape. Inflation has completely eaten up our Social Security check. The next one isn't due for a week and we've got no money left for food."
"Well, just what can we do??" she asked.
"Well, gosh," he said. "I just hate to see you do this but it's the only way. You're going to have to go out and hustle."
"Me??" she said. "At my ripe old age of seventy-five?"
"Yes, it's the only way," he answered. "I can't do anything myself, why with my debilitating arthritis and everything."
Resigned to the situation, the wife hobbled out with her walking cane into the warm night. She came staggering in the next morning.
"How did you do?" asked the husband.
"Here," she said. "I've got four dollars and ten cents."
"Four dollars and ten cents?" he said. "Heck, who gave you ten cents to have sex with him?!?"
"Everybody," she replied.
#joke
Why Karaoke is better than sex...
- With Karaoke, you're always sure you can find someone worse than you are.
- You don't feel obligated to buy someone dinner for singing Karaoke with you.
- When you sing Karaoke, it's OK to have multiple partners.
- It's OK to sing Karaoke with your sister.
- With Karaoke, you never have to be sorry about forgetting your lines.
- It's OK to drink too much and sing Karaoke.
- With Karaoke, no one will complain about the size of your microphone.
- It's OK to sing Karaoke in front of your neighbors.
- You'll never feel uncomfortable knowing your parents still sing Karaoke.
- No one complains about a 3-minute Karaoke performance.
#joke
Answering Machine Message 149

We're not in cause we're out LOOTING! Leave a message and we'll call you back and tell you what we got.


the monkey
a man walks in to a bar with a monkey the monkey started to eat the cherrys once all the cherrys were gone he sat there the man asked for a beer then the monkey jumps on a pool table and ate the cue ball and the bar tender said, "dude your monkey just ate that cue ball!" the man replys o well
a week later he comes in agian and with the monkey agian the monkey picks up a cherry and sticks it up his but pulls it out and ate it the bar tender says, "your monkey just shoved the cherry up his but and ate it!!!!" the man replys after that cue ball came out he is testing everything before he eats it
WE, the People of the broad, b...
WE, the People of the broad, brown land of Oz, wish to be recognized as a free nation of blokes, sheilas and the occasional trannie.
We come from many lands (although a few too many of us come from New Zealand) and, although we live in the best little country in the world, we reserve the right to bitch and moan about it whenever we bloody like.
We are One Nation but we're divided into many States.
First, there's Victoria, named after a queen who didn't believe in lesbians. Victoria is the realm of Mossimo turtlenecks, cafe latte and grand final day. Its capital is Melbourne, whose chief marketing pitch is that it's "livable".
Next, there's NSW. It is the realm of pastel shorts, macchiato with sugar, thin books read quickly and millions of dancing gay-boys. Its mascots are Bondi lifesavers who pull their Speedos up their cracks to keep the left and right sides of their brains separate.
Down south we have Tasmania, a State based on the notion that the family that bonks together stays together. In Tassie, everyone gets an extra chromosome at conception. Maps of the State bring smiles to the sternest faces.
South Australia is the province of half-decent reds, a festival of foreigners and bizarre axe murders. They had the Grand Prix, but lost it when the views of Adelaide sent the Formula One drivers to sleep at the wheel.
Western Australia is too far from anywhere to be relevant in this document.
The Northern Territory is the red heart of our land. Outback plains, sheep stations, kangaroos, jackaroos, emus, Ulurus and dusty kids with big smiles. Although the Territory is the centrepiece of our national culture, few of us live there and the rest prefer to fly over it on our way to Bali.
And there's Queensland. While any mention of God seems silly in a document defining a nation of half-arsed agnostics, it is worth noting that God probably made Queensland. Why he filled it with dickheads remains a mystery.
We, the Lullaby League of Oz, are united, primarily by the Pacific Highway, whose treacherous twists and turns kill more of us each year than die by murder.
We are united in our lust for international recognition, so desperate for praise we leap in joy when a ragtag gaggle of corrupt IOC officials tells us Sydney is better than Beijing.
We are united by a democracy so flawed that a political party, albeit a redneck gun-toting one, can get a million votes and still not win one seat in Federal Parliament. Desirable, sure. But fair? Not when you consider Brian Harradine can get 24,000 votes and runs the bloody country. Not that we're whingeing.
We've chucked out the concept of "fair go" in the downsized '90s. Instead, we want to make "no worries" our national phrase.
We love sport so much our newsreaders can read the death toll from a sailing race and still tell us who's winning, in the same breath.
We treasure our politicians, who talk about listening with such persistence it's hard to get a word in. We tolerate our Prime Minister, who is not only short but a Methodist, hanging offences in decent countries. And we like watching Parliament on TV because Natasha Stott Despoja is a total spunkrat.
We, the wicked witches of the land of Oz, want to make it clear this continent is ours and always has been. Mind you, Liberal Party polling shows that there were some people here before Captain Cook so we should address the issue once and for all.
While possession is nine-tenths of the law, our ancestors were fortunate enough to discover that genocide, cultural extinguishment, baby theft and flour poisoning make up the other tenth.
So Oz is now ours and that's that. Our midget Methodist master says we have no reason to feel sorry for killing more Aborigines per capita than the Nazis did Jews and Liberal Party polling says we're OK with that.
Why don't we say sorry? In the words of our PM - because, because, because, because, because. Now, can we just drop the whole thing before the Olympics start?
Phew, with that nasty bit out of the way, we the Brain, the Heart and the Nerve of Oz, want the world to know we have the biggest rock, the tastiest pies and the worst-dressed Olympians in the known universe.
We don't know much about art but we know we hate the people who make it. We shoot, we vote. We are girt by sea and pissed by lunchtime. And even though we might seem a racist, closed-minded, sports-obsessed little People, at least we're better than the Kiwis.
#joke
Join us on WhatsApp