Thanksgiving Clean Jokes #jokes #thanksgiving
Here are some more Thanksgiving One-Liner Jokes for some holiday season humor!
Why did the Indian chief wear so many feathers?
To keep his wigwam.
Why do turkeys always go, "gobble, gobble"?
Because they never learned good table manners!
Why did the turkey cross the road?
It was the chicken's day off.
If April showers bring May flowers what do May flowers bring?
Pilgrims!
What kind of music did the Pilgrims like?
Plymouth Rock
How did the Mayflower show that it liked America?
It hugged the shore
We noticed that all the waiter...
We noticed that all the waiters in this New York restaurant carried two spoons in their vest pocket. Naturally, we were curious. We asked a waiter why.
'Sir, as a result of an efficiency study by the management, it was determined that the most frequently dropped silverware item was a spoon. Therefore, all the waiters carry two spoons so that the item can be instantly replaced.' As he was explaining that we noticed a string hanging out of the fly of his pants. So, we asked about that.
'Sir, that's another efficiency study result. When we have to go to the bathroom, we use the string to pull ourselves out and aim. Therefore, we do not have to stop to wash our hands.' We replied, 'I understand how you can get yourself out and aim, but how do you get yourself back in.' 'Well,' replied the waiter, 'I don't know about the other guys, but I use the two spoons!'
#joke
A time-traveler was arrested. ...
A time-traveler was arrested. His defence: he was temporally insane.
Mr. Schwartz was the oldest of...
Mr. Schwartz was the oldest of 7 children, so he had to quit school and work to help support his younger brothers and sisters. He never learned to read, so when he married and started a checking account, he signed his checks simply "XX".
Eventually he started his own business, which immediately prospered. He soon was a very rich man.
One day, he got a call from his bank. "Mr. Schwartz," said the banker, "I need to ask you about this check. We weren't sure you had really signed it. All these years you've been signing your checks 'XX', but we just got one that was signed with three XXX's..."
Mr. Schwartz answered, "No problem, my friend. It's just that since I've become so wealthy, my wife thought I ought to have a middle name."
#joke
This young man was elated when...
This young man was elated when he turned eighteen in a state where curfew is 11:00 p.m. for any one under seventeen years of age. He told his Dad how happy he was that now he could stay out until 3:00 a.m. if he wanted. "Yes you can stay out as late as you want, but the car is under seventeen and it has to be in the garage by eleven." His father said.
#joke
The Bear
Two campers where hiking in the forest when all of a sudden a bear jumps out of a bush and starts chasing them.
Both campers start running for their lives when one of them stops and starts to put on his running shoes.
His partner says, "What are you doing? You can't outrun a bear!"
His friend replies, "I don't have to outrun the bear, I only have to outrun you!"
#joke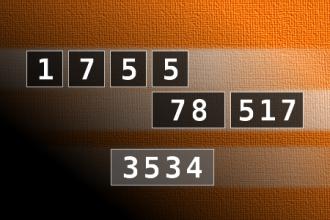 Calculate the number 3534
NUMBERMANIA: Calculate the number 3534 using numbers [1, 7, 5, 5, 78, 517] and basic arithmetic operations (+, -, *, /). Each of the numbers can be used only once.
Thanksgiving Blessings
All the grandkids were visiting for Thanksgiving. Before dinner, Grandma made a lengthy speech about being thankful for her extra-special blessings, her four grandchildren.
Two seconds after she stopped speaking, all hell broke loose and the kids were yelling and grabbing for the home-made rolls.Grandma sat there, eyes closed with a tight squint on her face.
When asked what was the matter, she replied, "I'm just praying for a little patience to handle all these blessings."
"What I don't unders...
"What I don't understand about this whole thing is that the guy who got shot, this is his statement today, he said my family and I are deeply sorry (his face got in the way) for everything the vice president and his family had to go through this weekend. Wow, that is one loyal Republican. He also referred to the buckshot wound in his face as 1,000 points of light." -- Bill Maher
#joke
Slogans....
A class professor was giving a lecture on company slogans and was asking his students if they were familiar with them.
"Joe," he asked, "which company has the slogan, 'come fly the friendly skies'?"
Joe answered the correct airline.
"Brenda, can you tell me which company has the slogan, "Don't leave home without it?"
Brenda answered the correct credit card company with no difficulty.
"Now John, Tell me which company bears the slogan, 'Just do it'?"
And John answered, "Mom...."
#joke
Answering Machine Message 108

Hello, this is the Computer Music Research Institute of Portland, Oregon. We can't take your call at the moment, but we would like you to leave a critique of one of our current works in progress. BEEP


Business one-liners 15
As the economy gets better, everything else gets worse.
As they say in Beirut, Shiite happens.
Asking dumb questions is easier than correcting dumb mistakes.
Assumption is the mother of all foul-ups.
At any level of traffic, any delay is intolerable.
Automatic simply means that you can't repair it yourself.
Bad news drives good news out of the media.
Bare feet magnetize sharp metal objects so they always point upward from the floor.
Batman is the hero any of us could be, given determination, exercise, and deep psychological trauma. - Chris Jarocha-Ernst
Be content with what you've got, but be sure you've got plenty.
#joke
Take Off My Clothes
My wife came home the other night and told me to take off her blouse.
Then she told me to take off her skirt.
Then she told me not to wear her clothes anymore.
"Doctor, my son thinks he's a ...
"Doctor, my son thinks he's a chicken."

A Bad Wish
Two happily...
A Bad Wish
Two happily married 60 year olds were on vacation when they came across a magic lamp. They rubbed it three times and a Jeanie came out. The Jeanie was willing to grant each person a single wish. The wife wished to travel around the world. Then "poof" a bunch of airline tickets showed up in her hands. The man thought about what he wanted to wish for.
He said to the Jeanie, "I wish my wife was thirty years younger than me." Then "poof" he turned into a 90 year old man.
What's the moral of the story?
-Be careful what you wish for.
#joke
A drunk at the bar...
A man walks into the front door of a bar. He is obviously drunk and staggers up to the bar, seats himself on a stool and, with a belch, asks the bartender for a drink. The bartender politely informs the man that it appears he has already had plenty to drink and that he could not be served additional liquor. The bartender offers to call a cab for him.
The drunk is briefly surprised, then softly scoffs, grumbles, climbs down from the bar stool and staggers out the front door. A few minutes later, the same drunk stumbles in the side door of the bar. He wobbles up to the bar and hollers for a drink. The bartender comes over and - still politely if not more firmly - refuses service to the man and again offers to call a cab. The drunk looks at the bartender for a moment angrily, curses, and shows himself out the side door, all the while grumbling and shaking his head.
A few minutes later, the same drunk bursts in through the back door of the bar. He plops himself up on a bar stool, gathers his wits, and belligerently orders a drink. The bartender comes over and emphatically reminds the man that he is drunk and will be served no drinks. He then tells him that he can either call a cab or the police immediately.
The surprised drunk looks at the bartender and in hopeless anguish cries, "Man! How many bars do you work at?"
#joke
The bus station is where a bus...
The bus station is where a bus stops. The train station is where a train stops. At the office, I have a work station.
Top 10 Reasons You know you ar...
Top 10 Reasons You know you are too old to Trick or Treat when:
10. You get winded from knocking on the door.
9. You have to have another kid chew the candy for you.
8. You ask for high fiber candy only.
7. When someone drops a candy bar in your bag, you lose your Balance and fall over.
6. People say: "Great Boris Karloff Mask," And you're not wearing a mask.
5. When the door opens you yell, "Trick or..." And you can't remember the rest.
4. By the end of the night, you have a bag full of restraining orders
3. You have to carefully choose a costume that won't dislodge your hairpiece.
2. You're the only Power Ranger in the neighborhood with a walker.
And the number one reason you know you are too old to go Trick Or Treating...
1. You have to go home to pee after every other house.
#joke
Nice to Know
A v...
Nice to Know
A very elderly gentleman, (mid nineties) very well dressed, hair well groomed, great looking suit, flower in his lapel, smelling slightly of a good after shave, presenting a well looked after image, walks into an upscale cocktail lounge. Seated at the bar is an elderly looking lady, (mid eighties). The gentleman walks over, sits along side of her, orders a drink, takes a sip, turns to her and says, "So tell me, do I come here often?"
#joke
Do not disturb!
An airline captain was breaking in a new blonde stewardess. The route they were flying had a layover in another city.
Upon their arrival, the captain showed the stewardess the best place for airline personnel to eat, shop and stay overnight.
The next morning, as the pilot was preparing the crew for the day's route, he noticed the new stewardess was missing.
He knew which room she was in at the hotel and called her up wondering what happened. She answered the phone, crying, and said she couldn't get out of her room.
"You can't get out of your room?" the captain asked, "Why not?"
The stewardess replied: "There are only three doors in here," she sobbed, "one is the bathroom, one is the closet, and one has a sign on it that says 'Do Not Disturb'!"
Submitted by Calamjo
Edited by Glaci