Password
A female computer consultant was helping a smug male set up his computer and she asked him what word he would like to use as a password to log in with.
Wanting to embarrass the female he told her to enter "PENIS".
Without blinking or saying a word she entered the password.
She almost died laughing at the computer's response:
PASSWORD REJECTED. NOT LONG ENOUGH.
#joke
Anger and Exasperation
A young girl who was writing a paper for school came to her father and asked, "Dad, what is the difference between anger and exasperation?"
The father replied, "It is mostly a matter of degree. Let me show you what I mean."
With that the father went to the telephone and dialled a number at random. To the man who answered the phone, he said, "Hello, is Melvin there?" The man answered, "There is no one living here named Melvin. Why don't you learn to look up numbers before you dial them?"
"See," said the father to his daughter . "That man was not a bit happy with our call. He was probably very busy with something and we annoyed him. Now watch...."
The father dialled the number again. "Hello, is Melvin there?" asked the father.
"Now look here!" came the heated reply. "You just called this number and I told you that there is no Melvin here! You've got a lot of nerve calling again!" The receiver slammed down hard.
The father turned to his daughter and said, "You see, that was anger. Now I'll show you what exasperation means."
He dialed the same number and when a violent voice roared 'Hello!' in answer, the father calmly said, "Hello, this is Melvin. Have there been any calls for me?"
#joke
A Lesson About Blood Flow and Circulation
A teacher was giving a lesson on the circulation of the blood. Trying to make the matter clearer, he said: "Now, students, if I stood on my head the blood, as you know, would run into it, and I should turn red in the face."
"Yes, sir," the boys said.
"Then why is it that while I am standing upright in the ordinary position the blood doesn't run into my feet?"
A little fellow shouted, "'It's because yer feet ain't empty."
#joke
Two girlfriends were speeding ...
Two girlfriends were speeding down the highway at well over 90 mph.
"Hey," asked the brunette at the wheel, "see any cops following us?"
The blonde turned around for a long look. "As a matter of fact, I do."
"Fuck!" cursed the brunette. "Are his flashers on?
The blonde turned around again. "Yup...nope...yup...nope....yup....."
When MJ's hair caught fi...
When MJ's hair caught fire, was he a Jacko Lantern?
A man really loved a woman, bu...
A man really loved a woman, but he was just too shy to propose to her. They dated about once a week for the past six years, but he was so timid he just never got around to suggesting marriage.
But one day, he became determined to ask her the question. So he calls her on the phone, "June."
"Yes, this is June."
"Will you marry me?"
"Of course I will! Who's this?"
#joke
FLEX WORDLE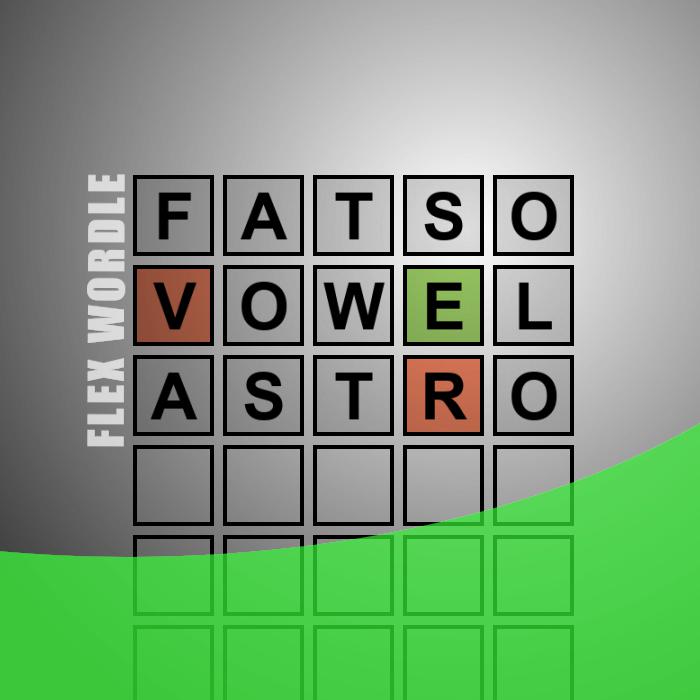 Guess the
WORDLE
in 3 tries. After each guess, the color of the tiles will change to show how close your guess was to the solution.
Mary goes to her first show at...
Mary goes to her first show at an art gallery and is looking at the paintings. One is a huge canvas that has black with yellow blobs of paint splattered all over it. The next painting is a murky gray color that has drips of purple paint streaked across it. Mary walks over to the artist and says, "I don't understand your paintings."
"I paint what I feel inside me," explains the artist.
"Have you ever tried Alka-Seltzer?"
#joke
Prayer Before Meals
A hungry little boy was beginning to eat his dinner when his father reminded him that they hadn't prayed.
"We don't have to," said the little boy. "Mommy is a good cook!"
Chinese Proverbs

Pant...
Chinese Proverbs
Panties not best thing on earth but next to best thing on earth.
War not determine who right, war determine who left.
Wife who put husband in doghouse soon find him in cat house.
Man who fight with wife all day get no piece at night.
It take many nails to build crib but one screw to fill it.
Man who drive like hell bound to get there.
Man who stand on toilet is high on pot.
Man who lives in glass house should change clothes in basement.
Man who fishes in other man's well often catches crabs.
Man who farts in church sits in own pew.
Man who lay woman on ground get piece on earth.
#joke
Ever seen anything like this before?
A man decided to paint the toilet while his wife was away. His wife came home sooner than he expected, used the toilet, and got the seat stuck to her rear. She was understandably distraught about this and asked her husband to drive her to the doctor. She put a large overcoat on to cover the seat before they went. When they got to the doctor's office, the man lifted his wife's coat to show him their predicament.
The man asked, "Doctor, have you ever seen anything like this before?"
"Well, yes," the doctor replied, "but never framed."
Answering Machine Message 167

When the caller calls your number, as Steven Wright suggested, simply have your message be a busy signal!


No God
Not only is there no God, but try finding a plumber on Sunday.
Funny Apple
Q: What did the apple say to the orange? A: I despise you for being different from me.
"Doctor, my son thinks he's a ...
"Doctor, my son thinks he's a chicken."

The Silent Treatment
A...
The Silent Treatment
A man and his wife were having some problems at home and were giving each other the silent treatment. Suddenly, the man realized that the next day, he would need his wife to wake him at 5:00 AM for an early
morning business flight.
Not wanting to be the first to break the silence (and LOSE), he wrote on a piece of paper,
"Please wake me at 5:00 AM." He left it where he knew she would find it. The next morning, the man woke up, only to discover it was 9:00 AM and he had missed his flight. Furious, he was about to go and see as to why his wife hadn't woken him, when he noticed a piece of paper by the bed. The paper said, "It is 5:00 AM. Wake up."
#joke
GRATEFUL MARRIAGE
An elderly couple, Minnie and Max, sit down to their Thanksgiving dinner. Before eating, his wife speaks up. "Can I ask you a question, Max?"
"Sure Minnie," Max says, waiting to dig into his meal.
"Has our 50 years of marriage made you grateful?"
"Yes, indeed!" Max replied. "For the twenty years I was a bachelor!"
What are they doing?
A woman and her little boy were walking through a park in New York and they pass two squirrels having sex.
The little boy asks his mom, "Mommy, mommy, what are they doing?"
The lady responded, "They're making a sandwich."
Then they pass two dogs having sex and the little boy again asks what they were doing.
His mother again replied they were making a sandwich.
A couple of days later the little boy walks in on his mother and father and said "Mommy, Daddy, you must be making a sandwich because, Mommy has mayonnaise all over her mouth!!!"
#joke
Southern University Psychology
At a southern university, students in the psychology program were attending their first class on emotional extremes.
"Just to establish some parameters," said the professor to the student from Arkansas, "what is the opposite of joy?"
"Sadness," said the student.
"And the opposite of depression?" he asked of the young lady from Oklahoma.
"Elation," she said.
"And you sir," he said to the young man from Texas, "what about the opposite of woe?"
The Texan replied, "Sir, I believe that would be 'giddy up' ."
#joke
What did you say?
<...
What did you say?
An elderly gentleman had serious hearing problems for a number of years. He went to the doctor and the doctor was able to have him fitted for a set of hearing aids that allowed the gentleman to hear 100%. The elderly gentleman went back in a month to the doctor and the doctor said, "Your hearing is perfect. Your family must be really pleased that you can hear again." The gentleman replied, "Oh, I haven't told my family yet. I just sit around and listen to the conversations. I've changed my will three times!"
Exemplary Insult #37: I think,...
Exemplary Insult #37: I think, therefore, I am ... not related to you.
Join us on WhatsApp