An Irishman is walking along t...
An Irishman is walking along the beach one day, and he sees a bottle laying in the sand. He picks it up and starts to brush it off, and out pops a genie.
The genie says, "Since you have freed me from the bottle, I will grant you three wishes."
The Irishman thinks for a moment and says, "I'm feeling a might thirsty, I think I'll be wishing for a pint of stout."
POOF! There is a pint of stout in his hand. He drinks it down, and starts to throw the bottle, when the genie says, "I'd look at that bottle again before I threw it if I were you." So he looks at the bottle, and it is magicaly filling back up with stout. The genie told him, "That is a magic bottle, and it will always fill back up after you finish it." The genie then asked, "What other two wishes can I grant for you?"
The Irishman looks at the bottle in his hand and says, "I'll be taking two more of these."
#joke
I broke my leg dancing. My new...
I broke my leg dancing. My new nickname is Saturday Night Femur.
The stockbroker's secretary an...
The stockbroker's secretary answered his phone one morning. "I'm sorry," she said, "Mr. Bradford's on another line."
"This is Mr. Ingram's office," the caller said. "We'd like to know if he's bullish or bearish right now."
"He's talking to his wife," the secretary replied. "Right now I'd say he's sheepish."
#joke
Ready… Aim...
A bishop, a priest, and a deacon, were about to be executed for preaching the Gospel in a foreign land.
They bring out the bishop first and the guard shots, "Ready… aim…" and suddenly the bishop yells, "EARTHQUAKE!" When everyone looks around, the bishop runs off.
Next they bring out the priest. They guard shouts, "Ready… aim…" and suddenly the priest yells, "TORNADO!" When everyone ducks, the priest runs off.
This joke was reprinted from "The Book of Catholic Jokes" by Deacon Tom Sheridan, with permission of ACTA Publications. Copyright 2008. All rights reserved.
By then, of course, the deacon had it figured out. They bring him out and when the guard shouts, "Ready… aim…," suddenly the deacon yells, "FIRE!"
#joke
"The rumor is that Cheney...
"The rumor is that Cheney may have been drinking and he wanted to wait until he sobered up. So he may have been drinking and then he shot a guy. And you know what's really scary about all of this -- what if it turns out all this time Bush was the smart one?" -- Jay Leno

The Hotel Lobby
A man, his wife, and his son from waaaay out in the mountains go to the "big city" to a major hotel. When they get into the lobby, they are directed to the front desk to check in. While the wife is takin' care of "the paper work," the man is looking all around at the amazing things they have. One that catches his eyes is a recess in the wall with a crack down the middle. Just then, an elderly woman walks up, pushes a button next to the recess, and the wall opens up to a small room! She walks in and the wall closes, while lights above the secret doors flash along the top. They begin flashing in the other direction, and moments later the wall opens up and a shapely young lady, vougly dressed, sachays out, walking by the man and his son whos eyes and dropped jaws follow her by.
The man looks back at the doors in the wall. "Boooyyy", says the man to his son... "Go get your mother!"
#joke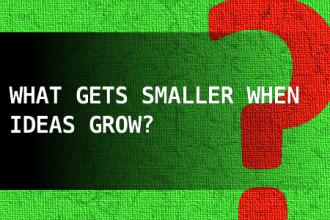 What gets smaller when ideas g...
What gets smaller when ideas grow?
I Get So Drunk That I Imagine Things
The drunk was floundering down the alley carrying a box with holes on the side. He bumped into a friend who asked, "What do you have in there, pal?"
"A mongoose."
"What for?"
"Well, you know how drunk I can get. When I get drunk I see snakes, and I'm scared to death of snakes. That's why I got this mongoose, for protection."
"But," the friend said, "you idiot! Those are imaginary snakes."
"That's okay," said the drunk, showing his friend the interior of the box, "So is the mongoose."
#joke
Better sex
Who enjoys sex more, males or females?
Females do.
Look at it this way: Think about when your ear itches and you scratch it with your finger. When you pull your finger out, what feels better, your finger or your ear?
Password
A female computer consultant was helping a smug male set up his computer and she asked him what word he would like to use as a password to log in with.
Wanting to embarrass the female he told her to enter "PENIS".
Without blinking or saying a word she entered the password.
She almost died laughing at the computer's response:
PASSWORD REJECTED. NOT LONG ENOUGH.
#joke
Anger and Exasperation
A young girl who was writing a paper for school came to her father and asked, "Dad, what is the difference between anger and exasperation?"
The father replied, "It is mostly a matter of degree. Let me show you what I mean."
With that the father went to the telephone and dialled a number at random. To the man who answered the phone, he said, "Hello, is Melvin there?" The man answered, "There is no one living here named Melvin. Why don't you learn to look up numbers before you dial them?"
"See," said the father to his daughter . "That man was not a bit happy with our call. He was probably very busy with something and we annoyed him. Now watch...."
The father dialled the number again. "Hello, is Melvin there?" asked the father.
"Now look here!" came the heated reply. "You just called this number and I told you that there is no Melvin here! You've got a lot of nerve calling again!" The receiver slammed down hard.
The father turned to his daughter and said, "You see, that was anger. Now I'll show you what exasperation means."
He dialed the same number and when a violent voice roared 'Hello!' in answer, the father calmly said, "Hello, this is Melvin. Have there been any calls for me?"
#joke
Mary goes to her first show at...
Mary goes to her first show at an art gallery and is looking at the paintings. One is a huge canvas that has black with yellow blobs of paint splattered all over it. The next painting is a murky gray color that has drips of purple paint streaked across it. Mary walks over to the artist and says, "I don't understand your paintings."
"I paint what I feel inside me," explains the artist.
"Have you ever tried Alka-Seltzer?"
#joke
"Doctor, my son thinks he's a ...
"Doctor, my son thinks he's a chicken."

Pea Soup vs. Roast Beef
Q: Whats the difference between pea soup and roast beef?
A: Anyone can roast beef.
An Englishman wanted to become...
An Englishman wanted to become an Irishman, so he visited a doctor to find out how to go about this. "Well" said the doctor, "this is a very delicate operation and there is a lot that can go wrong. I will have to remove half your brain". "That's OK" said the Englishman. "I've always wanted to be Irish and I'm prepared to take the risk".
The operation went ahead but the Englishman woke to find a look of horror on the face of the doctor. "I'm so terribly sorry!!" the doctor said. "Instead of removing half the brain, I've taken the whole brain out". The patient replied, "No worries, mate!!"
Exemplary Insult #52: Everyone...
Exemplary Insult #52: Everyone is entitled to be stupid, but you should avoid abusing the privilege.
The Joy of Christmas Cards
A woman walks into the Post Office to buy stamps for her Christmas cards.
"What denomination?" asks the clerk.
"Oh, good heavens! Have we come to this?" said the woman. "Well, give me 50 Baptist and 50 Catholic and one Methodist."
Feeling Great
Tw...
Feeling Great
Two elderly gentlemen from a retirement center were sitting on a bench under a tree when one turns to the other and says... "Slim, I'm 83 years old now and I'm just full of aches and pains. I know you' re about my age.
How do you feel?"
Slim says, "I feel just like a new-born baby."
"Really!? Like a new-born baby?"
"Yep. No hair, no teeth, and I think I just wet my pants.
#joke
Tell the whole truth
Mr. Dewey was briefing his client, who was about to testify in his own defense.
"You must swear to tell the complete truth. Do you understand?"
The client replied that he did.
Then lawyer then asked, "Do you know what will happen if you don't tell the truth?"
The client looked back and said, "I imagine that our side will win."
Baptism....
Before performing a baptism, the priest approached the young father and said solemnly, "Baptism is a serious step. Are you prepared for it?"
"I think so," the man replied. "My wife has made appetizers and we have a caterer coming to provide plenty of cookies and cakes for all of our guests."
"I don't mean that," the priest responded. "I mean, are you prepared spiritually?"
"Oh, sure," came the reply. "I've got a keg of beer and a case of whiskey."