Wake up!
Linda was with her mother while her older sister was being examined by a dentist. Linda kept herself busy playing with toys in the waiting room until she noticed that her mom was resting, her eyes closed.
With about six other patients waiting, Linda marched up to her mother, looked her straight in the face and shook her shoulder.
"Mommy," she yelled, "wake up! This is not church!"
#joke
War Veterans
Fred mistakenly gets on a bus full of war veterans, but upon discovering it is going his way, decides to stay on for the ride.
He sits down next to a guy that jerks his arm to the left every few seconds, accidentally hitting Fred over and over. This really starts to get on Fred's nerves, so he asks "What the heck is wrong with you?"
The reply is, "I got this in the war."
Fred finds this pretty annoying so he switches seats.
The next guy he sits by has uncontrollable spastic twitches in his right leg, causing him to kick the seat in front of him, and even kicks Fred a few times. So Fred asks him, "What the heck is wrong with you?"
Again the answer is, "I got this in the war."
Fred moves again.
The next guy poor Fred sits by begins erratically flailing his left hand. Fred says, "Let me guess, you got that in the war."
The reply was, "No, I got it out of my nose. I can't get it off of my hand."
#joke
Microsoft: The Problem is at Your End #jokes
One of Microsoft's finest technicans was drafted and sent to boot camp. At the rifle range, he was given some instruction, a rifle, and bullets. He fired several shots at the target. The report came from the target area that all attempts had completely missed the target.
The technician looked at his rifle, and then at the target. He looked at the rifle again, and then at the target again. He put his finger over the end of the rifle barrel and squeezed the trigger with his other hand. The end of his finger was blown off, whereupon he yelled toward the target area, "It's leaving here just fine, the trouble must be at your end!"
#joke
A woman goes into Wal-Mart...
A woman goes into Wal-Mart to buy a rod and reel. She doesn't know which one to get so she just grabs one and goes over to the register. There is a Wal-Mart "associate" standing there with dark shades on. She says, "Excuse me sir...can you tell me anything about this rod and reel?" He says, "Ma'am I'm blind but if you will drop it on the counter I can tell you everything you need to know about it from the sound that it makes." She didn't believe him, but dropped it on the counter anyway. He said, "That's a 6' graphite rod with a Zebco 202 reel and 10 lb. test line...It's a good all around rod and reel and it's $20.00". She says, "Thats amazing that you can tell all that just by the sound Of it dropping on the counter. I think it's what I'm looking for so I'll take it." He walks behind the counter to the register, and in the meantime the woman farts. At first she is embarrassed but then realizes that there is no way he could tell it was her..being blind he wouldn't know that she was the only person around. He rings up the sale and says, "That will be $25.50." She says, "But didn't you say it was $20.00?" He says, "Yes ma'am, the rod and reel is $20.00, the duck call is $3.00, and the stink bait is$2.50."
#joke
The man who could sit for hour...
The man who could sit for hours in the steam room, outlasting all others, was crowned swelter wait champion of the world. A real tough saunafabitch.
The caterer was consulting wit...
The caterer was consulting with a woman about throwing a birthday party for her 72-year-old husband.

"Is it a surprise?" the caterer asked.

"Oh, no," answered the woman. "My husband knows he's going to be 72."

FLEX WORDLE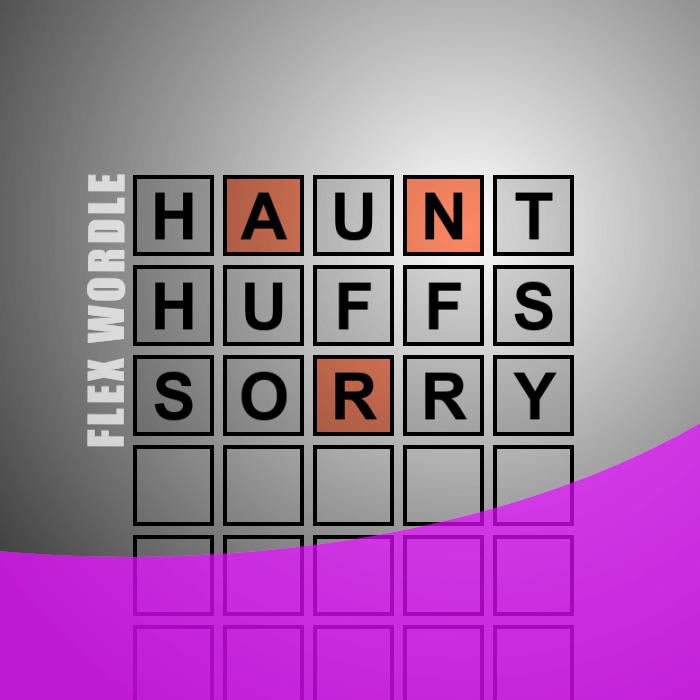 Guess the
WORDLE
in 3 tries. After each guess, the color of the tiles will change to show how close your guess was to the solution.
Goofy Fred took a friend drivi...
Goofy Fred took a friend driving on a narrow mountain road. After a while the friend said, "I feel very scared whenever you go around one of those sharp bends."
"Then do what I do," said Fred, "close your eyes."

Now What? (world's funniest joke)
Two hunters are out in the woods when one of them collapses. He doesn't seem to be breathing and his eyes are glazed. The other guy whips out his phone and calls the emergency services. .
He gasps, "My friend is dead! What can I do?". .
The operator says "Calm down. I can help. First, let's make sure he's dead." .
There is a silence, then a shot is heard. .
Back on the phone, the guy says "OK, now what?" .
This is The "world's funniest joke", as by the THE SCIENTIFIC SEARCH FOR THE WORLD'S FUNNIEST JOKE by Richard Wiseman, of the University of Hertfordshire in 2002
The Winning joke, which was later found is based on a 1951 Goon Show sketch by Spike Milligan
Photo by Rhett Noonan on Unsplash
Happy International Joke Day July the first!
#joke
Wisdom or Wealth?
An angel appeared at a faculty meeting and told the dean that in return for his unselfish and exemplary behavior, the Lord would reward him for his choice of infinite wealth, wisdom, or beauty. Without hesitating, the dean selected infinite wisdom.
Done!" said the angel and disappeared in a cloud of smoke and a bolt of lightning. Then all heads turned toward the dean who sat surrounded by a faint halo of light. He seemed stunned and shocked as a cloud of silence encompassed the room.
One of his colleagues leaned over and whispered to him, "Say something."
The dean, now filled with infinite wisdom said, "I should have taken the money."
#joke
Originally told by Bob Hope. Originally told by Bob Hope.

"Getting older is FUN. I love it... life is BETTER. EVERYTHING is better. Even
sex. Yeah, that's right, even sex is better... ESPECIALLY the one in the Fall."
$20 Hooker
This guy is walking down the boardwalk in Atlantic City and he runs into a hooker.
He says, "How much?"
She says, "Twenty bucks."
He says, "All right."
They climb down under the boardwalk, and he bangs her. The next night, he runs into the same hooker. They go under the boardwalk, only this time while he's banging her, she blasts two incredible farts. When they get done, he hands her twenty-FIVE dollars.
She says, "What the extra five?"
He says, "That's for blowing the sand off my balls."
#joke
Give or Take a Gazillion
The Secretary of Defense is briefing President Bush on Iraq. Yesterday, 3 Brazilian soldiers were killed. Oh no! exclaims the president, Thats terrible! His staff is stunned at this unprecedented display of emotion, watching as Bush sits, head in hands. Finally, he looks up and asks, How many is a brazillion?
#joke
"Doctor, my son thinks he's a ...
"Doctor, my son thinks he's a chicken."

Standing in front of a shredde...
Standing in front of a shredder with a piece of paper in his hand,
"Listen," said the CEO, "this is a very sensitive and important document,
and my secretary has left. Can you make this thing work?"
"Certainly," said the young executive.
He turned the machine on, inserted the paper, and pressed the start button.
"Excellent, excellent!" said the CEO as his paper disappeared inside the
shredder machine. "I just need one copy."
LESSON II: "NEVER, NEVER ASSUME THAT YOUR BOSS KNOWS EVERYTHING"
#joke
Get Me An Ambulence Now

A man, after being hurt, calls 911 for help.
Man: Operator, operator, call me an ambulance!
Operator: Okay, sir, you're an ambulance!


You got me!
A customer walks into a restaurant and notices a large sign on the wall, "$500 IF WE FAIL TO FILL YOUR ORDER!"
When his waitress arrives, he orders elephant tail on rye. She calmly writes down his order and walks into the kitchen where all hell breaks loose!
The restaurant owner comes storming out of the kitchen. He runs up to the customer's table, slaps five $100 bills down on it and says, "You got me that time buddy, but I want you to know that's the first time in ten years we've been out of rye bread!"
#joke
Avoid the Ducks
...
Avoid the Ducks
Three women die together in an accident and go to heaven. When they get there, St. Peter says, "We only have one rule here in heaven: don't step on the ducks!"
So they enter heaven, and sure enough, there are ducks all over the place. It is almost impossible not to step on a duck, and although they try their best to avoid them, the first woman accidentally steps on one. Along comes St.. Peter with the ugliest man she ever saw. St. Peter chains them together and says, "Your punishment for stepping on a duck is to spend eternity chained to this ugly man!"
The next day, the second woman steps accidentally on a duck and along comes St. Peter, who doesn't miss a thing. With him is another extremely ugly man. He chains them together with the same admonishment as for the first woman.
The third woman has observed all this and, not wanting to be chained for all eternity to an ugly man, is very, VERY careful where she steps. She manages to go months without stepping on any ducks, but one day St. Peter comes up to her with the most handsome man she has ever laid eyes on .... very tall, long eyelashes, muscular, and thin. St. Peter chains them together without saying a word.
The happy woman says, "I wonder what I did to deserve being chained to you for all of eternity?" The guy says, "I don't know about you, but I stepped on a duck!"
#joke
Bingo
What has a whole bunch of little balls and screws old ladies?
A bingo machine.
What Not To Tell A Friend: You...
What Not To Tell A Friend: You are such a good friend that if we were on a sinking ship and there was only one life jacket, I'd really, really miss you and think of you often.
Vat Vas Dat Agin?
Helga was hanging the wash out to dry, and then went downtown to pick up some dry cleaning.
''''''''Gootness, iss hot,'''''''' she mused to herself as the sun beat down on her. She passed by a tavern and said, ''''''''Vy nought?'''''''' So she walked into the air conditioning and took a seat at the bar.
"Bartender," she said. "I vill have unt cold beer, please.''''''''
The bartender asked, ''''''''Anheuser Busch?''''''''
''''''''Vell, fine, tanks," she said, "Just unt leetle svetty.''''''''