The boss was very exasperated ...
The boss was very exasperated with his new secretary. She ignored the telephone when it rang.

"You must answer the telephone," he told her irritably.

"All right," she replied, "but it seems so silly. Nine times out of ten, it's for you!"

A man was walking down the bea...
A man was walking down the beach when he noticed a cave. He walked in and looked around only to discover a magic lamp buried in the sand.
He rubbed it and a genie came out and said, " You may have 3 wishes but whatever u wish for all the lawyers in the world will get double." The man agreed and said, " i want a million dollers." He got that and the lawyers got 2 million.
Next he said, " i want a ferrari." So he got one and all the lawyers got 2. Next, being his last wish, he took a minute and thought about it carefully.
Finnally he said," Well i've allways wanted to give a kidney."
Attractive Young Lady
Whilst enjoying a drink at the bar a guy decided to try his luck with an attractive young girl sitting alone. To his surprise, she asked him to join her for a drink and eventually asked if he'd like to come back to her place. The pair jumped into a taxi and went back to her house.
Later, the young man pulled out a cigarette from his jeans and searched for his lighter. Unable to find it, he asked the girl if she had one at hand. "There might be some matches in the top drawer," she replied.
Opening the drawer of the bedside table, he found a box of matches sitting neatly on top of a framed picture of another man. Naturally, the guy began to worry.
"Is this your husband?" he inquired nervously.
"No, silly," she replied, snuggling up to him.
"Your boyfriend then?"
"No, don't be silly," she said, nibbling away at his ear.
"Well, who is he then?" demanded the bewildered fellow.
Calmly, the girl took a match, struck it across the side of her face and replied, "That's me, before the operation."
#joke
Do computer-controlled urinals...
Do computer-controlled urinals have their own I pee address?
Q: What did the traffic light ...
Q: What did the traffic light say to the car?
A: Don't look I'm changing!

Church Bulletin Bloopers: Carpets and Choir Robes
A new loudspeaker system has been installed in the church. It was given by one of our members in honor of his wife.
Next Sunday, a special collection will be taken to defray the cost of the new carpet. All those wishing to do something on the new carpet will come forward and get a piece of paper.
Eight new choir robes are currently needed, due to the addition of several new members and to the deterioration of some older ones.
Scouts are saving aluminum cans, bottles, and other items to be recycled. Proceeds will be used to cripple children.
The outreach committee has enlisted 25 visitors to make calls on people who are not afflicted with any church.
Please place your donation in the envelope along with the deceased person you want remembered.
The ladies of the Church have cast off clothing of every kind. They may be seen in the basement on Friday afternoon.
On the main page of the Internet web site for the Evangelical Lutheran Church in Canada: "In a show of near anonymity, the convention approved full communion with the Anglican Church of Canada."
Father is on vacation. Massages can be given to church secretary.
The audience is asked to remain seated until the end of the recession.
Announcement: "The cost for attending the Fasting and Prayer Conference includes meals."
The agenda was adopted. The minutes were approved. The financial secretary gave a grief report.
Stewardship Offertory: "Jesus Paid It All."
- Joke shared on Beliefnet's Religious Humor page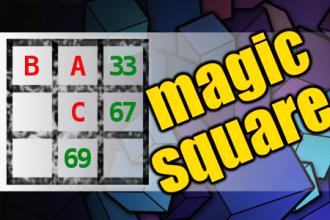 MAGIC SQUARE: Calculate A+B*C
The aim is to place the some numbers from the list (10, 12, 13, 24, 31, 33, 34, 67, 69, 70) into the empty squares and squares marked with A, B an C. Sum of each row and column should be equal. All the numbers of the magic square must be different. Find values for A, B, and C. Solution is A+B*C.
An Amish boy and his father we...
An Amish boy and his father were visiting a nearby mall. They were amazed by almost everything they saw, but especially by two shiny silver walls that moved apart and back together again by themselves.
The lad asked, "What is this, father?"
The father (having never seen an elevator) responded, "I have no idea what it is."
While the boy and his father were watching wide-eyed, an old lady in a wheelchair rolled up to the moving walls and pressed a button. The walls opened and the lady rolled between them into a small room. The walls closed and the boy and his father watched as small circles lit up above the walls.
The walls opened up again and a beautiful twenty-four-year-old woman stepped out.
The father looked at his son anxiously and said, "Go get your mother."
#joke
The Invisible Man
A psychiatrist's secretary walks into his study and says, "There's a gentleman in the waiting room asking to see you. Claims he's invisible."
The psychiatrist responds, "Tell him I can't see him."
Mad cow disease
Two cows are lying in a field.
One of them says to the other, "So what do you think about this whole mad cow disease thing?"
The other says, "What do I care? I'm a helicopter."
Submitted by Curtis
Edited by Calamjo
#joke
A FARMER and his wife decided ...
A FARMER and his wife decided to hold a talent show for their animals in which each contestant would recite a passage from Shakespeare. The prize would be a big marquee with a glitter ball inside. The pig performed a piece from Hamlet; the cow chose Richard III and the sheep picked MacBeth. After much deliberation the farmer and his wife picked the best entry, announcing: "Cow is the winner of our disco tent."
#joke
News Headlines 01
Lansing Residents Can Drop Off Trees
Farmer Bill Dies in House
Police Begin Campaign to Run Down Jaywalkers
Iraqi Head Seeks Arms
Panda Mating Fails; Veterinarian Takes Over
Survivor of Siamese Twins Joins Parents
Soviet Virgin Lands Short of Goal Again
Drunk Gets Nine Months in Violin Case
Prostitutes Appeal to Pope
Lung Cancer in Women Mushrooms
#joke
The organs of the body were ha...
The organs of the body were having a meeting, trying to decide who was In
charge. Each organ took a turn to speak up:
Brain....... .. I should be in charge because I run all body functions.
Blood....... . I should be in charge because I circulate oxygen for the
brain.
Stomach... I should be in charge because I process food to the brain.
Legs........ . I should be in charge because I take the brain where it
Wants to go.
Eyes........ I should be in charge because I let the brain see where it's
going.
A - - hole..... I should be in charge because I get rid of your waste.
All the other parts laughed so hard and this made the a - -hole very mad.
To prove his point, the a - -hole immediately slammed tightly closed and
Stayed that way for 6 days, refusing to rid the body of any waste
whatsoever.
Day 1 - Brain got a terrible headache and cried out for relief
Day 2 - Stomach got bloated and began to ache terribly
Day 3 - Legs got cramps and became unstable
Day 4 - Eyes became watery and vision became blurred
Day 5 - Blood became toxic and poisoned the body
Day 6 -The other organs agreed to let the a - - hole be in charge.
#joke
I've been in love with the sam...
I've been in love with the same woman for many years. I hope my wife doesn't find out or she'll kill me!
Did you hear about the dyslexic devil...
Did you hear about the dyslexic devil worshipper?
He sold his soul to Santa.
Over 40
"Women over 40 are at their best, but men over 30 are too old to recognize it."