Your husband gets it double!
A woman found out that her husband was cheating on her. The woman and her husband got a divorce and the woman went on with her life hating her ex-husband. O ne day she found a beautiful lamp lying on the sidewalk. She picked it up and rubbed it a little bit. Suddenly, a genie popped out of the lamp! The genie said that it would grant her 3 wishes and that with every wish her husband it get the same thing only double!
So, the woman thinks of a first wish...
"I want to be rich!!!"
So, the woman became rich, and the husband became twice as rich!
The woman then thought of a second wish...
"I want to be beautiful!!"
So, the woman became beautiful, and the husband became twice as beautiful.
"Okay", the genie says. "This is your last wish so be careful what you wish for!"
The woman thought real hard and finally came to a decision....
"I Want You To Scare me HALF To Death!!"
#joke
Your Son
Teacher: Well, at least there's one thing I can say about your son.
Parent: What's that?
Teacher: With grades like these, he couldn't be cheating.
The Smiths were proud of their...
The Smiths were proud of their family tradition. Their ancestors had come to America on the Mayflower and their descendants included senators and Wall Street wizards.
They decided to compile a family history, a legacy for their children and grandchildren. They hired a fine author. Only one problem arose, how to handle great-uncle George, the criminal, who was executed in the electric chair.
The author said he could handle the story tactfully.
The book appeared. It said, "Great-uncle George occupied a chair of applied electronics at an important government institution, was attached to his position by the strongest of ties, and his death came as a great shock."
#joke
The new minister's wife had a ...
The new minister's wife had a baby. The minister appealed to the congregation for a salary increase to cover the addition to the family.The congregation agreed that it was only fair, and approved it.
When the next child arrived, the minister appealed again and the congregation approved again.
Several years and five children later, the congregation was a bit upset over the increasing expense. This turned into a rather loud meeting one night with the minister. Finally, the minister stood and shouted out,"Having children is an act of God!!"
An older man in the back stood and shouted back, "Rain and snow are acts of God, too, and we wear rubbers for them."
#joke
An academic who studies satani...
An academic who studies satanism, aka a philucifer.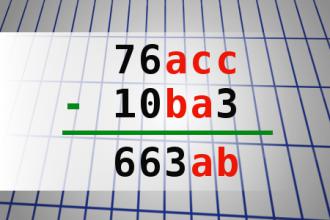 Find number abc
If 76acc - 10ba3 = 663ab find number abc. Multiple solutions may exist.
Christmas Scottish Divorce
A man in Scotland calls his son in Edinburgh the day before Christmas Eve and says, "I hate to ruin your day, but I have to tell you that your mother and I are divorcing; thirty years of misery is enough."
"Dad, what are you talking about?" the son screams.
"We can't stand the sight of each other any longer," the father says. "We're sick of each other, and I'm sick of talking about this, so you can call your sister in Aberdeen and tell her "
Frantic, the son calls his sister, who explodes on the phone. "Like hell they're getting divorced," she shouts. "I'll take care of this."
She calls home immediately, and screams at her father, "You are NOT getting divorced. Don't do a single thing until I get there. I'm calling my brother back, and we'll both be there tomorrow. Until then, don't do a thing, DO YOU HEAR ME?" and hangs up.
The old man hangs up his phone and turns to his wife. "Okay," he says, "they're coming for Christmas - and they're paying their own way."
Where Did She Go?
An elderly woman in her nineties had a visitor from her church come to see her at the nursing home.
"How are you?" the visitor asked.
"Oh," said the elderly woman, "I'm just worried sick!"
"You look like you're in good health. They take good care of you here, don't they?"
"Oh, yes, they take good care of me here."
"Do you have any pain?" the visitor asked.
"No, I can't say I do," the elderly woman replied.
"Then what has you worried sick?" the visitor asked.
The elderly woman leaned in and explained, "All of my closest friends have already died and gone to heaven. I'm sure they are all wondering where I went!"
From "The Book of Church Jokes," published by Barbour Publishing, Inc., Uhrichsville, Ohio. Copyright 2009. Used by permission of Barbour Publishing, Inc.
#joke
The difference between Republi...
The difference between Republicans & Democrats
A Republican and a Democrat were walking down the street when they came to a homeless person.
The republican gave the homeless person his business card and told him come to his business for a job. He then took twenty dollars out of his pocket and gave it to the homeless person.
The Democrat was very impressed, and when they came to another homeless person, He decided to help. He walked over to the homeless person and gave him directions to the welfare office. He then reached into the Republicans pocket and gave him fifty dollars.
#joke
Sweet Talker
On a plane, a man and his wife are offered tea and both accept. The man tries to be sweet to his wife, saying "Pass the sugar, sugar.... Pass the honey, honey." Then he says, "Pass the tea, you old bag."
Business One-liners 17
Beware the fury of a patient man. - John Dryden
Beware the man of one book. - St. Thomas Aquinas
Beware the wrath of a patient person.
Blessed are those who go around in circles, for they shall be known as wheels.
Blessed is he who expects no gratitude, for he shall not be disappointed.
Blessed is he who has reached the point of no return and knows it for he shall enjoy living.
Boldly going forward because we cannot find reverse.
Build a system that even a fool can use, and only a fool will want to use it.
Build something foolproof and every fool will use it.
Bureaucracy: a method for transforming energy into solid waste.
#joke
Business one-liners 04
A good scapegoat is hard to find.
A good slogan can stop analysis for fifty years.
A good solution can be successfully applied to almost any problem.
A lack of leadership is no substitute for inaction.
A little ambiguity never hurt anyone.
A little humility is arrogance.
A little inaccuracy saves a world of explanation.
A little ignorance can go a long way.
A man of quality does not fear a woman seeking equality.
A man should be greater than some of his parts.
#joke
In Wales, after a road acciden...
In Wales, after a road accident, police instruct motorists to drive Caerphilly.
WIFE VS. HUSBAND
A cou...
WIFE VS. HUSBAND
A couple drove down a country road for several miles, not saying a word.
An earlier discussion had led to an argument and neither of them wanted to concede their position. As they passed a barnyard of mules, goats, and pigs, the husband asked sarcastically, "Relatives of yours?"
"Yep," the wife replied, "in-laws"
#joke
Bee in band class...
The summer band class was just getting under way when a large insect flew into the room. The Sixth Graders, eager to play their shiny new instruments, tried to ignore the buzzing intruder, but eventually one student, Tommy, could stand it no longer. He rolled up his music book and swatted the insect, then he stomped on it to ensure its demise.
"Is it a bee?" another student asked.
"Nope," Tommy replied. "Bee flat."
#joke
Two women were sitting in the ...
Two women were sitting in the doctor's waiting room comparing notes on their various disorders.
"I want a baby more than anything in the world," said the first, "But I guess it is impossible."
"I used to feel just the same way," said the second. "But then everything changed. That's why I'm here. I'm going to have a baby in three months."
"You must tell me what you did."
"I went to a faith healer."
"But I've tried that. My husband and I went to one for nearly a year and it didn't help a bit."
The other woman smiled and whispered, "Try going alone, next time, dearie."
Pilot
The chief of staff of the US Air Force decided that he would personally intervene in the recruiting crisis affecting all of our armed services.
He directed that a Air Force base nearby to a Redneck town be opened and that all eligible young men and women be invited to come and see it.
As he and his staff were standing near a brand new F-15 Fighter, a pair of twin brothers who looked like they had just stepped off a Marine Corps recruiting poster walked up to them.
The chief of staff walked up to them, stuck out his hand and introduced himself.
He looked at the first young man and asked, "Son, what skills can you bring to the Air Force?"
The young man looks at him and says, "I'm a pilot!"
The general gets all excited, turns to his aide and says, "Get him in today, all the paper work done, everything, do it!"
The aide hustles the young man off. The general looks at the second young man and asked, "What skills to you bring to the Air Force?"
The young man says, "I chop wood!"
"Son," the general replies, "we don't need wood choppers in the Air Force, what do you know how to do?"
"I chop wood!"
"Young man," huffs the general, "you are not listening to me, we don't need wood choppers, this is the 20th century!"
"Well," the young man says, "you hired my brother!"
"Of course we did," says the general, "he's a pilot!"
The young man rolls his eyes and says, "Dang it, I have to chop it before he can pile it!"
#joke
Husband confesses: Our last fi...
Husband confesses: Our last fight was all my fault. My wife asked me, "What's on the TV?" I said, "Dust!"
Stumping Dear Abbey
...
Stumping Dear Abbey
Dear Abby:
A couple of women moved in across the hall from me. One is a middle-aged gym teacher and the other is a social worker in her mid-twenties. These two women go everywhere together and I've never seen a man go into their apartment or come out. Do you think they could be Lebanese?
Dear Abby:
What can I do about all the sex, nudity, language and violence on my VCR?
Dear Abby:
I have a man I could never trust. He cheats so much I'm not even sure this baby I'm carrying is his.
Dear Abby:
I am a twenty-three-year-old liberated woman who has been on the pill for two years. It's getting expensive and I think my boyfriend should share half the cost, but I don't know him well enough to discuss money with him.
Dear Abby:
I suspected that my husband had been fooling around, and when I confronted him with the evidence he denied everything and said it would never happen again.
Dear Abby:
Our son writes that he is taking Judo. Why would a boy who is raised in a good Christian home turn against his own?
Dear Abby:
I joined the Navy to see the world. I've seen it. Now, how do I get out?
Dear Abby:
My forty-year-old son has been paying a pyschiatrist $50 an hour every week for two-and-a-half years. He must be crazy.
Dear Abby:
I was married to Bill for some three months and I didnt know he drank until one night he came home sober.
Dear Abby:
My mother is mean and short-tempered. I think she is going through her mental pause.
Dear Abby:
You told some woman whose husband had lost all interest in sex to send him to a doctor. Well, my husband lost all interest in sex years ago and he is a doctor.