Happy New Year 2021!!
Two Venerable
Two venerable citizens were talking about King Solomon.
"That old Solomon, he was a mighty wise King," mused one of them. "All those wives and concubines; you know sometimes I wonder how he arranged to provide the necessary food for all those women."
"How he fed all those women doesn't interest me," said the second man, "I just wonder what he was eating himself."
#joke
A Congressman was once asked a...
A Congressman was once asked about his attitude toward whiskey.
"If you mean the demon drink that poisons the mind, pollutes the body, desecrates family life, and inflames sinners, then I'm against it."
"But if you mean the elixir of Christmas cheer, the shield against winter chill, the taxable potion that puts needed funds into public coffers to comfort little crippled children, then I'm for it."
"This is my final position, and I will not compromise!"
Irish Confessional
An Irishman goes into the confessional box after years of being away from the Church.
There's a fully equipped bar with Guinness on tap. On the other wall is a dazzling array of the finest cigars and chocolates.
Then the priest comes in. "Father, forgive me, for it's been a very long time since I've been to confession, but I must first admit that the confessional box is much more inviting than it used to be."
The priest replies: "Get out. You're in my side."
#joke
At NC State University, the...
At NC State University, there were four sophomores taking Organic Chemistry.
They did so well on all the quizzes, midterms and labs, etc., that each had an "A" so far for the semester.
These four friends were so confident, that the weekend before finals, they decided to go up to the University of Virginia and party with some friends there. They had a great time. However, after all the hardy-partying, they slept all day Sunday and didn't make it back to Raleigh until early Monday morning.
Rather than taking the final then, they decided to find their professor after the final and explain to him why they missed it.
They explained that they had gone to UVA for the weekend with the plan to return Sunday to study, but, unfortunately, they had a flat tire on the way back, didn't have a spare, and couldnÂ't get help for a long time. As a result, they missed the final. The Professor thought it over and then agreed they could make up the final the following day. The guys were elated and relieved. They studied that night and went in the next day at the time the professor had told them. He placed them in separate rooms and handed each of them a test booklet, and told them to begin. They looked at the first problem, worth 5 points. It was something simple about free radical formation. "Cool," they thought at the same time, each one in his separate room, "this is going to be easy." Each finished the problem and then turned the page. On the second page was written: For 95 points: Which tire?
When I saw a wicker furniture ...
When I saw a wicker furniture outlet in Copenhagen, I knew there was something ratan in the state of Denmark.
Political Correctness as most ...
Political Correctness as most of us realize is the biggest joke of the century.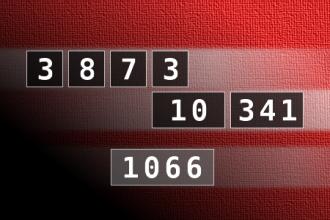 Calculate the number 1066
NUMBERMANIA: Calculate the number 1066 using numbers [3, 8, 7, 3, 10, 341] and basic arithmetic operations (+, -, *, /). Each of the numbers can be used only once.
A Womans Prayer

Dear ...
A Womans Prayer

Dear Lord,

I pray for:
Wisdom, To understand a man.
Love, To forgive him and;
Patience, For his moods.
Because, Lord, if I pray for Strength
I'll just beat him to death
Do you know who I am....
President George W. Bush decides it is time to do some public relations at a local Washington DC nursing home. The President begins his "tour" down the main hallway and passes by a little old man who doesn't seem to notice him.
Sensing this, President Bush backtracks to the resident and asks, "Do you know who I am?"
The little old man looks up from his walker and says, "No, but if you go to the front desk, they will tell you your name."
#joke
Ant And A Grasshopper
THE ORIGINAL VERSION
The ant works hard in the withering heat all summer long, building his house and laying up supplies for the winter. The grasshopper thinks he's a fool and laughs and dances and plays the summer away. Come winter, the ant is warm and well fed. The grasshopper has no food or shelter so he dies out in the cold.
MODERN CANADIAN VERSION
The ant works hard in the withering heat all summer long, building his house and laying up supplies for the winter. The grasshopper thinks he's a fool and laughs and dances and plays the summer away. Come the winter, the shivering grasshopper calls a press conference and demands to know why the ant should be allowed to be warm and well fed while others are cold and starving.
The CBC shows up to provide pictures of the shivering grasshopper next to the ant in his comfortable home with a table filled with food. Canadians are stunned by the sharp contrast. How can it be that, in a country of such wealth, this poor grasshopper is allowed to suffer so?
Then a representative of the NAGB (The national association of green bugs) shows up on The National and charges the ant with green bias, and makes the case that the grasshopper is the victim of 30 million years of greenism. Kermit the Frog appears on the Nature of Things with the grasshopper, and everybody cries when he sings "It's not easy being green.
"Jean Chretien makes a special guest appearance on the CBC Evening News to tell a concerned public that they will do everything they can for the grasshopper who has been denied the prosperity he deserves by those who benefited unfairly during the Reagan/Thatcher summers. Sheila Copps exclaims in an interview with Peter Mansbridge that the ant has gotten rich off the back of the grasshopper, and calls for an immediate tax hike on the ant to make him pay his "fair share."
Finally, the Liberals draft the "Economic Equity and Anti-Greenism Act," retroactive to the beginning of the summer. The ant is fined for failing to hire a proportionate number of green bugs and, having nothing left to pay his retroactive taxes, his home is confiscated by the government. John Turner gets his law firm to represent the grasshopper in a defamation suit against the ant, and the case is tried before a panel of federal hearing officers that Chretien appointed from a list of single-parent welfare moms who can only hear cases on Thursday's between 1:30 and 3 PM.
The ant loses the case.
The story ends as we see the grasshopper finishing up the last bits of the ant's food while the government house he's in, which just happens to be the ant's old house, crumbles around him since he doesn't know how to maintain it.
The ant has disappeared in the snow.
And on the TV, which the grasshopper bought by selling most of the ant's food, they are showing Jean Chretien standing before a wildly applauding group of liberals announcing that a new era of "fairness" has dawned in Canada.
#joke
Religious truths
Remember, there are three religious truths:
1. Jews do not recognize Jesus as the Messiah.
2. Protestants do not recognize the Pope as the leader of the Christian church.
3. Baptists do not recognize each other in the liquor store or at Hooters
In Wales, after a road acciden...
In Wales, after a road accident, police instruct motorists to drive Caerphilly.
CREATION
A man said t ...
CREATION
A man said t o his wife one day, "I don't know how you can be so stupid and so beautiful all at the same time.
" The wife responded, "Allow me to explain.
God made me beautiful so you would be attracted to me; God made me stupid so I would be attracted to you!

Q&A: Why Was Moses Wicked?
Q. Why was Moses the most wicked man?
A. He broke all 10 Commandments at once.
Q. What animal could Noah not trust?
A. The cheetah.
Q. What kind of lights did Noah use on the ark?
A. Flood lights.
Wisdom...
An angel appears at a faculty meeting and tells the dean that in return for his unselfish and exemplary behavior, the Lord will reward him with his choice of infinite wealth, wisdom, or beauty.
Without hesitating, the dean selects infinite wisdom.
"Done!" says the angel, and disappears in a cloud of smoke and a bolt of lightning.
Now, all heads turn toward the dean, who sits surrounded by a faint halo of light.
One of his colleagues whispers, "Say something."
The dean sighs and says, "I should have taken the money."
#joke
Trust
A defense attorney was cross-examining a police officer during a felony trial --it went like this:
Q: Officer, did you see my client fleeing the scene?
A: No sir, but I subsequently observed a person matching the description of the offender running several blocks away.
Q: Officer, who provided this description?
A: The officer who responded to the scene.
Q: A fellow officer provided the description of this so-called offender. Do you trust your fellow officers?
A: Yes sir, with my life.
Q: WITH YOUR LIFE? Let me ask you this then officer--do you have a locker room in the police station--a room where you change your clothes in preparation for your daily duties?
A: Yes sir, we do.
Q: And do you have a locker in that room?
A: Yes sir, I do.
Q: And do you have a lock on your locker?
A: Yes sir.
Q: Now why is it, officer, IF YOU TRUST YOUR FELLOW OFFICERS WITH YOUR LIFE, that you find it necessary to lock your locker in a room you share with those officers?
A: You see sir, we share the building with a court complex, and sometimes defense attorneys have been known to walk through that room.
#joke
A Cut Above The Rest
...
A Cut Above The Rest
A teacher noticed that a little boy at the back of the class was squirming around, scratching his crotch and not paying attention.
She went back to find out what was going on.
He was quite embarrassed and whispered that he had just recently been circumcised and he was quite itchy.
The teacher told him to go down to the principal's office. He was to phone his mother and ask her what he should do.
He returned to his class.
Suddenly, there was a commotion at the back of the room.
The teacher went back to investigate only to find him sitting at his desk with his penis hanging out. "I thought I told you to call your Mum!" she said.
"I did," he said, "And she told me if I could stick it out till noon, she'd come and pick me up!"
#joke
What Will You Do For Golf?
Four married guys go golfing on Sunday. During the 3rd hole the following conversation ensued:
First Guy: "Man, you have no idea what I had to do to be able to come out golfing this weekend. I had to promise my wife that I will paint every room in the house next weekend."
Second Guy: "That's nothing, I had to promise my wife that I will build her a new deck for the pool."
Third Guy: "Man, you both have it easy! I had to promise my wife that I will remodel the kitchen for her."
They continue to play the hole when they realized that the fourth guy has not said a word. So they ask him. "You haven't said anything about what you had to do to be able to come golfing this weekend. What's the deal?"
Fourth Guy: "I don't want to talk about it. Let's just say that the foundation for the new house is being poured next Tuesday."
#joke