At the doctor's office.
<...
At the doctor's office.
- What bothers you?
- I have a bad memory.
- Ok. What else?
- I have a very bad memory.
- What else?!
- And... I have a really bad memory.
- Yes, I understand that you have a bad memory! What else??
- And I have hearing problems.
- What else?
- What did you say?
- What else?!
- Say it again?
- What else?!
- Ah-ah! And I have a bad memory.
Naming Your Child #joke
There was a woman who was pregnant with twins, and shortly before they were due, she had an accident and went into a coma. Her husband was away on business, and unable to be reached. While in the coma, she gave birth to her twins, and the only person around to name her children was her brother.
When the mother came out of her coma to find she had given birth and that her brother had named the twins, she became very worried, because he wasn't a very bright guy. She was sure he had named them something absurd or stupid.
When she saw her brother she asked him about the twins.
He said, "The first one was a girl."
The mother: "What did you name her?!?"
Brother: "Denise!"
The Mom: "Oh, wow, that's not bad! What about the second one?"
Brother: "The second one was a boy."
The Mom: "Oh, and what did you name him?"
Brother: "Denephew."
#joke
A professor of chemistry wante...
A professor of chemistry wanted to teach his 5th grade class a lesson about the evils of liquor, so he produced an experiment that involved a glass of water, a glass of whiskey, and two worms. "Now, class. Observe closely the worms," said the professor putting a worm first into the water. The worm in the water writhed about, happy as a worm in water could be. The second worm, he put into the whiskey. It writhed painfully, and quickly sank to the bottom, dead as a doornail. "Now, what lesson can we derive from this experiment?" the professor asked.
Johnny, who naturally sits in back, raised his hand and wisely, responded, "Drink whiskey and you won't get worms."
#joke
Feminists have high standards....
Feminists have high standards. They're always razing the bra.
A woman sent her son to get a ...
A woman sent her son to get a tin of beans from the store. The boy went and found nobody at the store except the shopkeeper who was up the ladder filling up his shelves.
'Give me a tin of beans for my mother,' said the boy.
The keeper, from up there told him: 'Wait in the line.'
The boy looked around and saw nobody so he said again:
'Give me a tin of beans for my mum.'
The keeper said again: 'I told wait for your turn.'
The boy asked for the third time for the tin of beans.
'Can you see how many people there are before you? I said wait for your turn!'
The boy, who realizes he was being taken for ride, reached for a tin of peas from the lowest shelf and through it at the shopkeeper, hitting him in his forehead.
The Shopkeeper came down bleeding all over and said to the boy:
'See what you have done? You broke my head.'
'Good grief, of all these people you picked up on me?' said the boy and ran away home.
#joke
The Zoo
Little Johnny wanted to go to the zoo and pestered his parents for days. Finally his mother talked his reluctant father into taking him.
"So how was it?" his mother asked when they returned home.
"Great," Little Johnny replied.
"Did you and daddy have a good time?" asked his mother.
"Yeah, daddy really liked it too," exclaimed Little Johnny, "especially when one of the animals came home at 30 to 1!"
#joke
FLEX WORDLE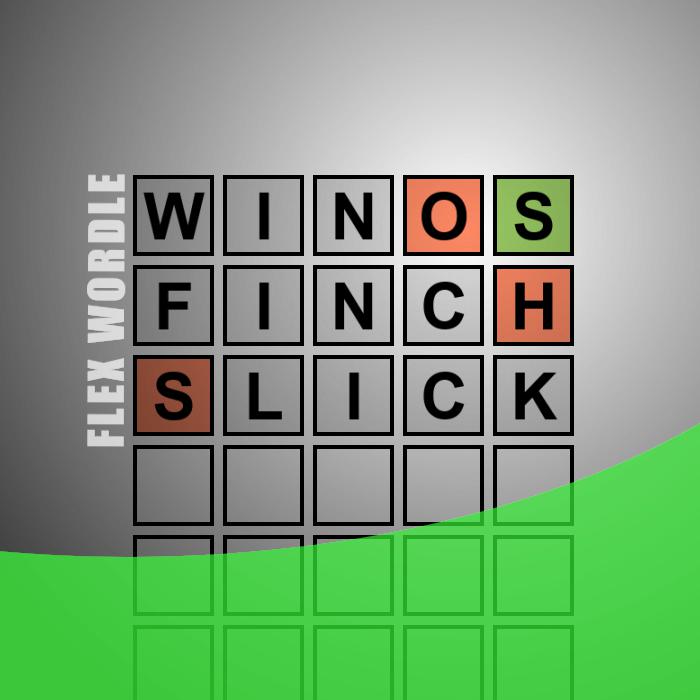 Guess the
WORDLE
in 3 tries. After each guess, the color of the tiles will change to show how close your guess was to the solution.
Letters from Little Boys to God
Dear God,
Why is Sunday School on Sunday? I thought it was supposed to be our day of rest.
Tom L.
Dear God,
I went to this wedding on Sunday and they kissed right in the church! Is that O.K.?
Neil
Dear God,
If you watch me in church on Sunday, I'll show you my new shoes.
Mickey D.
Dear God,
Please send me a pony. I never asked for anything before. You can look it up.
Bruce
Dear God,
If you give me a genie lamp like in Aladdin, I will give you anything you want, except my money or my chess set.
Raphael
Dear God,
Please put another holiday between Christmas and Easter. There is nothing good in there now.
Greg
Dear God,
Please send Dennis Clark to another camp this summer.
Peter
Dear God,
You don't have to worry about me. I look both ways.
Dean
Dear God,
Are you really invisible or is that just a trick?
Doug
Dear God,
I want to be just like my Daddy when I get big but not with so much hair.
Sam
Dear God,
I am American. What are you?
Robert
Dear God,
If you didn't let the dinosaur become extinct, we wouldn't have this country. You did the right thing.
Jonathan
Dear God,
Maybe Cain and Abel would not kill each other if they had their own rooms. It works with my brother.
Larry
Dear God,
I do not think anybody could be a better God. Well, I just want you to know that I am not saying that because you are God already.
Charles
Dear God,
I didn't think orange went with purple until I saw the sunset you made on Thursday. That was cool!
Eugene
- Joke shared on Beliefnet's Religious Humor page
A man went to his doctor and a...
A man went to his doctor and asked him how to prolong the lovemaking experience. The doctor told him that masturbating before sex often helped men last longer, extending the pleasure for them and their partner.
The man decided, "What the hell, I'll try it."
He spent the rest of the day thinking about where to do it. He couldn't do it in his office. He thought about the restroom, but that was too open. He considered an alley, but figured that was too unsafe. Finally, he came up with a plan.
On his way home, he pulled his truck over on the side of the highway. He got out and crawled underneath as if he was examining the truck.
Satisfied with the privacy, he undid his pants and started to masturbate. He closed his eyes and thought of his lover.
As he grew closer to orgasm, he felt a quick tug at the bottom of his pants. Not wanting to lose his mental fantasy or the orgasm, he kept his eyes shut and replied, "What?"
He heard, "This is the police. What's going on down there?"
The man replied, "I'm checking out the rear axle, it's busted."
Came the reply, "Well, you might as well check your brakes too while you're down there, because your truck rolled down the hill five minutes ago."
A new apartment...
Having been married ten years and still living in an apartment, the wife would often complain about anything, as she was tired of saving every penny to buy a "dream home".
Trying to placate her, the husband found a new apartment, within their budget. However, after the first week, she began complaining again.
"Johnatahan," she said, "I don't like this place at all. There are no curtains in the bathroom. The neighbors can see me every time I take a bath."
"Don't worry." replied her husband. "If the neighbors do see you, they'll buy curtains...."
#joke
Real News Headlines 01
These are actual newspaper headlines gathered from papers across the country.
Include your Children when Baking Cookies
Something Went Wrong in Jet Crash, Expert Says
Police Begin Campaign to Run Down Jaywalkers
Safety Experts Say School Bus Passengers Should Be Belted
Drunk Gets Nine Months in Violin Case
Survivor of Siamese Twins Joins Parents
Farmer Bill Dies in House
Iraqi Head Seeks Arms
Is There a Ring of Debris Around Uranus?
#joke
Sexual Sofa
An elderly woman entered a large furniture store and was greeted by a much younger salesman.
"Is there something in particular I can show you?"
he asked.
"Yes, I want to buy a sexual sofa."
"You mean a sectional sofa," he suggested.
"Sectional schmectional," she said shrugging.
"All I want is an occasional piece in the living room!"
#joke
Blonde in a Snowstorm
A blonde gets lost in her car in a snowstorm. She remembers her fathers advice, If you ever get stuck in a snowstorm, wait for a snow plow and follow it. Soon a snow plow comes by, and she follows it for about 45 minutes.
Finally, the driver of the truck gets out and asks her what she is doing. She explains the advice her father had given her. The driver says, Well, Im done with the parking lot here at the mall, now you can follow me over to the bank.
In Wales, after a road acciden...
In Wales, after a road accident, police instruct motorists to drive Caerphilly.
Two Aussie cattle drovers stan...
Two Aussie cattle drovers standing in an Outback bar.
One asked, "What are you up to, Mate?"
Ahh, I'm takin' a mob of 6000 from Goondiwindi to Gympie."
"Oh yeah ... and what route are you takin'?"
"Ah, probably the Missus; after all, she stuck by me durin' the drought."
#joke
The robbery
Two friends, Jim and Paul are in a bank, when, suddenly, armed robbers burst in.
While several of the robbers take the money from the tellers, others line the customers up against a wall and proceed to take their wallets, watches, etc.
While this is going on, Jim slips something into Paul's hand. Without looking down, Paul whispers, "What is this?"
Jim replies, "It's that $50 I owe you."
#joke
On a tropical island
On a beautiful deserted island in the middle of nowhere, the following people are stranded:
Two Italian men and one Italian woman
Two French men and one French woman
Two German men and one German woman
Two Greek men and one Greek woman
Two English men and one English woman
Two Polish men and one Polish woman
Two Japanese men and one Japanese woman
Two American men and one American woman
Two Australian men and one Australian woman
Two New Zealand men and one New Zealand woman
Two Irish men and one Irish woman
One month later the following things have occurred:
One Italian man killed the other Italian man for the Italian woman.
The two French men and the French woman are living happily together having loads of sex.
The two German men have a strict weekly schedule of when they alternate with the German woman.
The two Greek men are sleeping with each other and the Greek woman is cleaning and cooking for them.
The two English men are waiting for someone to introduce them to the English woman.
The two Polish men took a long look at the endless ocean and one look at the Polish woman and they started swimming.
The two American men are contemplating the virtues of suicide, while the American woman keeps on bitching about her body being her own, the true nature of feminism, how she can do everything that they can do, about the necessity of fulfillment, the equal division of household chores, how her last boyfriend
respected her opinion and treated her much nicer and how her relationship with her mother is improving - but at least the taxes are low and it's not raining.
The two Japanese men have faxed Tokyo and are waiting for further instructions.
The two Australian men beat each other senseless for the Australian woman, who is checking out all the other men after calling them both 'bloody wankers'.
Both the New Zealand men are searching the island for sheep.
The Irish began by dividing the island into North and South and by setting up a distillery. They do not remember if sex is in the picture because it gets sort of foggy after the first few bottles of coconut whisky, but they are satisfied in that at least the English are not getting any.
#joke
Reward For Goodness
Three men died in a car accident and met Jesus himself at the Pearly Gates.
The Lord spoke unto them saying, "I will ask you each a simple question. If you tell the truth I will allow you into heaven, but if you lie....Hell is waiting for you.
To the first man the Lord asked, "How many times did you cheat on your wife?" The first man replied, "Lord, I was a good husband. I never cheated on my wife." The Lord replied, "Very good! Not only will I allow you in, but for being faithful to your wife I will give you a huge mansion and a limo for your transportation.
To the second man the Lord asked, "How many times did you cheat on your wife?" The second man replied, "Lord, I cheated on my wife twice." The Lord replied, "I will allow you to come in, but for your unfaithfulness, you will get a four- bedroom house and a BMW.
To the third man the Lord asked, "So, how many times did you cheat on your wife?" The third man replied, "Lord, I cheated on my wife about 8 times." The Lord replied, "I will allow you to come in, but for your unfaithfulness, you will get a one-room apartment, and a Yugo for your transportation.
A couple hours later the second and third men saw the first man crying his eyes out. "Why are you crying?" the two men asked. "You got the mansion and limo!" The first man replied, "I'm crying because I saw my wife a little while ago, and she was riding a skateboard!"
#joke
Happy Women
A gr...
Happy Women
A group of girlfriends is on vacation when they see a 5-story hotel with a sign that reads: "For Women Only." Since they are without their boyfriends and husbands, they decide to go in.
The bouncer, a very attractive guy, explains to them how it works. "We have 5 floors. Go up floor by floor, and once you find what you are looking for, you can stay there. It's easy to decide since each floor has a sign telling you what's inside."
So they start going up and on the first floor the sign reads: "All the men on this floor are short and plain." The friends laugh and without hesitation move on to the next floor.
The sign on the second floor reads: "All the men here are short and handsome." Still, this isn't good enough, so the friends continue on up.
They reach the third floor and the sign reads: "All the men here are tall and plain."
They still want to do better, and so, knowing there are still two floors left, they continued on up.
On the fourth floor, the sign is perfect: "All the men here are tall and handsome." The women get all excited and are going in when they realize that there is still one floor left. Wondering what they are missing, they head on up to the fifth floor.
There they find a sign that reads: "There are no men here. This floor was built only to prove that there is no way to please a woman."
#joke
An out-of-towner drove his car...
An out-of-towner drove his car into a ditch in a desolated area. Luckily, a local farmer came to help with his big strong horse named Buddy. He hitched Buddy up to the car and yelled, "Pull, Nellie, pull!"
Buddy didn't move. Then the farmer hollered, "Pull, Buster, pull!" Buddy didn't respond. Once more the farmer commanded, "Pull, Coco, pull!" Nothing. Then the farmer nonchalantly said, "Pull, Buddy, pull!"
And the horse easily dragged the car out of the ditch.
The motorist was most appreciative and very curious. He asked the farmer why he called his horse by the wrong name three times.
"Well... Buddy is blind and if he thought he was the only one pulling, he wouldn't even try!"
#joke
Join us on WhatsApp