A defendant asked the judge to...
A defendant asked the judge to appoint a new attorney to represent him. "For what reason?" the judge asked.
The defendant said the public defender assigned to him wasn't interested in his case.
The judge addressed the man's attorney, "Do you have any comments on the defendant's motion?"
The attorney replied, "I'm sorry, your honor, I wasn't listening."
#joke
Funny video of the day - Funny video of the day Tuesday, 29 December 2009
Wait Until the Police Arrice
Two men got out of their cars after they collided at an intersection.
One took a flask from his pocket and said to the other, "Here, maybe you'd like a nip to calm your nerves."
"Thanks," he said, and took a long pull from the container.
"Here, you have one, too," he added, handing back the whiskey.
"Well, I'd rather not," said the first. "At least not until after the police have been here."
#joke
It seems a farm boy accide...
It seems a farm boy accidentally overturned his wagon-load of corn. The farmer who lived nearby heard the noise. "Hey Wilmer!" the farmer yelled. "Forget your troubles. Come in and have a bite with us. Then I'll help you get the wagon up."
"That's mighty nice of you," Wilmer answered. "But I don't think Pa would like me to."
"Aw, come on." the farmer insisted.
"Well okay," the boy finally agreed, and added, "But Pa won't like it."
After a hearty dinner, Wilmer thanked his host. "I feel a lot better now, but I know Pa is going to be real upset."
"Don't be foolish!" the neighbor said with a smile. "By the way, where is your Pa?"
Wilmer replied, "Under the wagon."
#joke
Wide men can't j...
Wide men can't jump.
His girlfriend had just learne...
His girlfriend had just learned to drive the car and now they were out in the suburbs racking along over seventy. "Doesn't speeding over the beautiful country make you glad you are alive?" she asked.
"Glad?" He raised an eyebrow. "Glad in not the word for it. I'm amazed."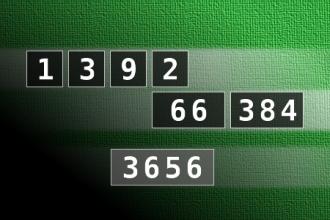 Calculate the number 3656
NUMBERMANIA: Calculate the number 3656 using numbers [1, 3, 9, 2, 66, 384] and basic arithmetic operations (+, -, *, /). Each of the numbers can be used only once.
Psychopath Test
Read this question, come up with an answer and then scroll down to the bottom for the result. This is not a trick question . It is as it reads.
No one I know has gotten it right. Few people do.
A woman, while at the funeral of her own mother, met a guy whom she did not know. She thought this guy was amazing. She believed him to be her dream guy so much that she fell in love with him right there, but never asked for his number and could not find him. A few days later she killed her sister.
Question: What is her motive for killing her sister?
[Give this some thought before you answer, see answer below]
Answer:
She was hoping the guy would appear at the funeral again. If you answered this correctly, you think like a psychopath. This was a test by a famous American Psychologist used to determine if one has the same mentality as a killer. Many arrested serial killers took part in the test and answered the question correctly. If you didn't answer the question correctly, good for you.
If you got the answer correct, please let me know so I can take your crazy ass off my list!
#joke
Three Engineers and three Acco...
Three Engineers and three Accountants are going on a business trip by train.
At the train station, the 3 accountants are ordering 3 tickets while the engineers are only ordering one ticket. The accountants ask "Why only one ticket?", the engineers reply that they have a scheme to save money.
So they all board the train and upon departure, the 3 engineers get into one bathroom. When the Train Controller checks for tickets, he takes the three tickets from the seated accountants and then knocks on the bathroom door asking "Ticket please" - the door opens slightly with a hand giving him one ticket. A couple of minutes later, the engineers come out of the bathroom and sit in empty seats making fun of the accountants.
On the way back, not wanting to be outsmarted, the accountants buy one ticket only but they notice that the engineers do not buy any, so they ask "You think you can ride free now?" - the engineers reply that they now have an even better scheme to save money.
So they all board the train and upon departure, the 3 accountants get into one bathroom and they see the 3 engineers all getting into the other one. Shortly after departure, one of the engineer gets out of its bathroom and knocks on the accountants bathroom door saying "Ticket please"...
#joke
A police officer saw a car speeding...
A police officer saw a car speeding down the highway. He started chasing after the speeder . When he got close hes saw it was a blonde woman who was actually knitting while driving. The cop yelled, Pull over! The blonde shouted back, No! Its a sweater!
The chicken or the egg?
A chicken and an egg are lying in bed. The chicken is smoking a cigarette with a satisfied smile on its face and the egg is frowning and looking a bit pissed off. The egg mutters, to no-one in particular, "Well, I guess we answered THAT question!"
Touring Guide For North
Northerners visiting the South Information for Northerners Visiting the Southern States
If you are from the northern states and planning on visiting or moving to the south, there are a few things you should know that will help you adapt to the difference in life styles:
1. If you run your car into a ditch, don't panic. Four men in a four-wheel-drive pickup truck with a 12-pack of beer and a towchain will be along shortly. Don't try to help them, just stay out of their way. This is what they live for.
2. Don't be surprised to find movie rentals and bait in the same store. Do not buy food at this store.
3. Remember: "Y'all" is singular, "All y'all" is plural, and "All y'alls'" is plural possessive.
4. Get used to hearing "You ain't from around here, are ya?"
5. You may hear a Southerner say "Oughta!" to a dog or child. This is short for "Y'all oughta not do that!" and is the equivalent of saying "No!"
6. Don't be worried about not understanding what people are saying; they can't understand you, either.
7. The first Southern expression to creep into a transplanted Northerner's vocabulary is the adjective "big ol'," as in "big ol' truck " or "big ol' boy." Most Northerners begin their new Southern-influenced dialect this way. All of them are in denial about it.
8. The proper pronunciation you learned in school is no longer proper.
9. Be advised that "He needed killin'" is a valid defense here.
10. If you hear a Southerner exclaim "Hey, y'all, watch this," stay out of the way. These are likely to be the last words he'll ever say.
11. If there is the prediction of the slightest chance of even the smallest accumulation of snow, your presence is required at the local grocery store. It doesn't matter whether you need anything or not. You just have to go there.
12. When you come upon a person driving 15 mph down the middle of the road, remember that most folks here learn to drive on a John Deere, and that this is the proper speed and position for that vehicle.
Dennis Rodman
A woman is picked up by Dennis Rodman in a bar.
They like each other and she goes back with him to his hotel room.
He removes his shirt revealing all his tattoos and she sees that on his arm is one which reads, "Reebok".
She thinks that's a bit odd and asks him about it.
Dennis says, "When I play basketball, the cameras pick up the tattoo and Reebok pays me for advertisement."
A bit later, his pants are off and she sees "Puma" tattooed on his leg.
He gives the same explanation for the unusual tattoo.
Finally, the underwear comes off and she sees the word "AIDS" tattooed on his penis.
She jumps back with shock. "I'm not going to do it with a guy who has AIDS!"
He says, "It's cool baby, in a minute it's going to say "ADIDAS".
#joke
Why is 6 afraid of 7?
... Why is 6 afraid of 7?
Because 7 8 9.