Little Johnny
A first grade teacher was having trouble with one of her students. The teacher asked, "Johnny what is your problem?" Johnny answered, "I'm too smart for the first grade. My sister is in the third grade and I'm smarter than she is! I think I should be in the third grade too!" The teacher had had enough. She took Johnny to the principal's office. The principal told the teacher he would give the boy a test and if he failed to answer any of his questions he was to go back to the first grade and behave. The teacher agreed. Johnny was brought in and the conditions are explained to him and he agrees to take the test.
Principal: "What is 3x3?" Johnny: "9"
Principal: "What is 6x6?" Johnny: "36"
And so it went with every question the principal thought a third grader should know. The principal looks at the teacher and tells her, "I think Johnny can go to the third grade," The teacher says to the principal, "let me ask him some questions?" The principal and Johnny both agree. The teacher asks, "What does a cow have four of that I have only two of?"
Johnny, after a moment, "legs". Teacher: "What is in your pants that you have but I do not have?" The principal' eyes open really wide and before he could stop the answer, Johnny replied," Pockets". The principal breathed a sigh of relief and told the teacher, "Put Johnny in the fifth grade, I missed the last two questions".
#joke
A van carrying a dozen movie s...
A van carrying a dozen movie stuntmen on the way to a film location in the mountains spun out of control on the icy road, crashed through a guard-rail, rolled down a 90-foot embankment, turned over, and burst into flames...

There were no injuries.

Funny video of the day - Funny video of the day Wednesday, 06 January 2010
The Incredible Dogs #joke #humor
Four workers were discussing how smart their dogs were.
The first was an engineer who said his dog could do math calculations. His dog was named "T-Square", and he told him to get some paper and draw a square, a circle and a triangle, which the dog did with no sweat.
The accountant said he thought his dog was better. His dog was named "Slide Rule". He told him to fetch a dozen cookies, bring them back, and divide them into piles of three, which he did with no problem.
The chemist said that was good, but he felt his dog was better. His dog "Measure" was told to get a quart of milk and pour seven ounces into a ten ounce glass. The dog did this with no problem.
All three men agreed this was very good and that their dogs were equally smart. They all turned to the union member and said, "What can your dog do?". The Teamster called his dog whose name was "Coffee Break" and said, "Show the fellows what you can do". Coffee Break went over and ate the cookies, drank the milk, went to the bathroom on the paper, claimed he injured his back while eating, filed a grievance for unsafe working conditions, applied for Workman's Compensation and left for home on sick leave.
#joke
10 Things Men Know About Women
10 Things Men Know About Women
1.)
2.)
3.)
4.)
5.)
6.)
7.)
8.)
9.)
10.) They have breasts.
My constipated friends and I d...
My constipated friends and I decided to get together and have a block potty.
After the telephone was instal...
After the telephone was installed in her home, the lady called the operator.
"My telephone cord is too long," she said. "Would you please pull it a little from your end?"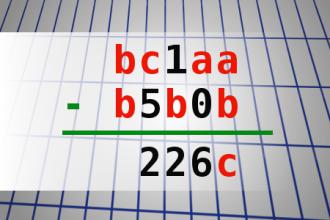 Find number abc
If bc1aa - b5b0b = 226c find number abc. Multiple solutions may exist.
A Texan farmer goes to Austral...
A Texan farmer goes to Australia for a vacation. There he meets an
Aussie farmer and gets talking. The Aussie shows off his big wheat
field and the Texan says, "Oh! We have wheat fields that are at least
twice as large".
Then they walk around the ranch a little and the Aussie shows off his
herd of cattle. The Texan immediately says, " We have longhorns that
are at least twice as large as your cows".
The conversation has, meanwhile, almost died when the Texan sees a
herd of kangaroos hopping through the field. He asks,
"And what are those"?
The Aussie asks with an incredulous look,
"Don't you have any grasshoppers in Texas"?
This joke is from the collection at www.usaone.net/jokenet
#joke
Real Jerk
This guy enters a bar located at the top of the Empire State Building in New York. It looked like a nice place and he then takes a seat at the bar next to another guy. "This is a nice place, I've never been here before," the first guy says.
"Oh really," the other replies, "it's also a very special bar."
"Why is that?" the first guy asks.
"Well, you see that painting on the far wall? That's an original Van Gough, and this stool I'm sitting on was on the Titanic."
"Gee, that's amazing!" the first guy says.
"Not only that, but you see that window over there, fourth from the right? Well, the wind does strange things outside that window. If you jump out, you'll fall about 50 feet before the wind catches you and you're pushed back up."
"No way, that's impossible," the first guy replies.
"Not at all, take a look," the other man replies and walks over to the window, followed closely by the first man. He opens the window, climbs over the sill and falls out. He drops 10...20...30...40...50 feet, comes to a stop, and whoosh! He comes right back up and sails back through the window.
"See, it's fun. You should try it!" he says.
"Try it? I don't even believe I saw it!" the first man shouts.
"It's easy. Watch, I'll do it again." And with that, he falls out the window, again. He drops 10...20...30...40...50 feet, comes to a stop, and whoosh!...he comes right back up and sails back through the window.
"Go ahead, give it a try, it's a blast!" he says.
"Well, what the heck, OK...I'll give it a try," the first man says and proceeds to fall out the window. He falls 10...20...30...40...50...100... 200...300...500...1000 feet and SPLAT!!!!... ends up as road pizza on the sidewalk below.
After calmly watching the first man fall to his death, the other guy casually closes the window and heads back to the bar and orders another drink.
The bartender arrives with the drink and says, "You know, Superman, you're a real jerk when you're drunk!"
#joke
A Recently Spotted Bumper Sticker:
"A lot of kneeling will keep you in good standing."
George W. Bush is visiting a p...
George W. Bush is visiting a primary school and he visits one of the classes. They are in the middle of a discussion related to words and their meanings. The teacher asks the President if he would like to lead the discussion of the word tragedy.
So the illustrious leader asks the class for an example of a tragedy. One little boy stands up and offers: "If my best friend, who lives on a farm, is playing in the field and a runaway tractor comes along and knocks him dead, that would be a tragedy."
"No," says President Bush, "that would be an accident."
A little girl raises her hand: "If a school bus carrying 50 children drove over a cliff, killing everyone inside, that would be a tragedy."
"I'm afraid not," explains the exalted leader. "That's what we would call a great loss." The room goes silent. No other children volunteer. President Bush searches the room. "Isn't there someone here who can give me an example of a tragedy?"
Finally at the back of the room, little Johnny raises his hand. In a quiet voice he says: "If Air Force One carrying you was struck by a missile and blown to smithereens, that would be a tragedy."
"Fantastic!" exclaims President Bush, "That's right. And can you tell me why that would be tragedy?"
"Well," says the boy, "because it sure as hell wouldn't be a great loss and it probably wouldn't be an accident either."
#joke
Screwing the Justice System
Q: How many US Attorney Generals does it take to screw in a light bulb?
A: I cannot recall that particular answer at this time.
Two vampire bats...
Two vampire bats are hanging upside down in a cave. One of the bats feels rather hungry. "Let's go and find some blood", he suggests.
"I don't think you can get any blood this time of the day", says the other bat. "Well, I want some blood and I want it now!", says the first bat and prepares to take off. "Are you coming or what?"
"Don't be stupid, you'll just waste your time", says the second bat. So the first bat flies anyway. After a few minutes he is back with blood smeared all over his face.
"Where did you manage to find blood this time of the day?", asks the second bat. "Well, do you see that tree out there?", says the first bat and points at a tree outside the cave, "Do you see that tree?"
"Yes", says the second bat, "of course I see it".
"Well, I didn't", replies the first.
#joke
Bumper Stickers 15
On the other hand, you have different fingers.
"I love cats...they taste just like chicken"
"Laugh alone and the world thinks you're an idiot."
"Jack Kevorkian for White House Physician"
"I want to die in my sleep like my grandfather.... Not screaming and yelling like the passengers in his car...."
"Your kid may be an honor student but you're still an IDIOT!"
"I souport publik edekasion"
"We are Microsoft. Resistance Is Futile. You Will Be Assimilated."
"Ever stop to think, and forget to start again?"
"Auntie Em: Hate you, Hate Kansas, Taking the dog. -Dorothy."
#joke
Business one-liners 24
Eighty percent of all people consider themselves to be above average.
Enough research will tend to support your theory.
Entropy has us outnumbered.
Error is often more earnest than truth.
Even a stopped clock is right twice a day.
Even if the grass is greener on the other side: they, like you, still have to cut it.
Even paranoids have enemies.
Every silver lining has a cloud around it.
Every solution breeds new problems.
Everybody is somebody else's weirdo.
#joke
What sort of television progra...
What sort of television programmes do ducks like?
Duckumentaries
A husband returns home one nig...
A husband returns home one night to find his wife in bed with a naked man. "What are you doing?" he shouts. The wife turns to her lover and says, "I told you he was stupid!"
"The eight Saddam body do...
"The eight Saddam body doubles are gathered in one of the bunkers in downtown Baghdad. Tariq Aziz, the deputy prime minister, comes in and says, 'I have some good news and some bad news.' They ask for the good news first.
"Aziz says, 'The good news is that Saddam is still alive, so you all still have jobs.'
"And the bad news?" they ask.
Aziz replies, 'He's lost an arm.'"
#joke
Seen in ...
Seen in real CVs:
"The company made me a scapegoat - just like my three previous employers."
"While I am open to the initial nature of an assignment, I am decidedly disposed that it be so oriented as to at least partially incorporate the experience enjoyed heretofore and that it be configured so as to ultimately lead to the application of more rarefied facets of financial management as the major sphere of responsibility."
"Please call me after 5:30 because I am self-employed and my employer does not know I am looking for another job."
"My goal is to be a meteorologist. But since I have no training in meteorology, I suppose I should try stock brokerage."
"Interests: Donating blood. 14 gallons so far."
#joke
Join us on WhatsApp