Happy New Year 2021!!
Lock, Stock and Barrel
An entrepreneur attended an auction at which he won the bid on an old safe. With dreams of a large fortune inside, he was told that the business from which the safe originated was so long defunct, that no one had the combination. Undaunted, he called a locksmith to try to get the safe open.
The first locksmith told the entrepreneur that it would cost forty dollars to open the safe intact. However, tried as he might, he couldn't open it, and told the wealthy man that he had lost his money in buying the safe.
The entrepreneur then contacted another locksmith, a crusty, bent old man with three days' growth of white whiskers, who took a long look at the safe, noted its manufacturer and retired to his truck. Shortly, he returned with a power drill, a ruler, and a small, bent piece of metal.
The locksmith measured a few inches from the dial and marked an "x" at the "two o'clock" mark. It took more than half an hour for the old man to drill through the safe's door. He then took the bent metal, hooked it through the hole and fished around a few moments until a loud "CLICK" was heard. Turning the handle the door swung open slowly.
The safe was empty.
Disappointed, the entrepreneur turned to the locksmith and asked the charge for opening the safe.
"A hundred and twenty dollars," replied the locksmith.
"A hundred and twenty dollars?!" shouted the businessman, "That's outrageous! mThe other man only wanted forty! I want an itemized bill for it!"
"Okay." The locksmith turned on his heel and returned to his truck. A few mminutes later, the entrepreneur was presented with a dirty piece of paper upon which the locksmith had written:
"Charge for drilling hole --- $20
Charge for knowing WHERE to drill hole --- $100."
#joke
A police officer pulls a man o...
A police officer pulls a man over for speeding. As the officer approaches the car he can see that the man is very anxious about something.
"Good afternoon Sir. Do you know why I stopped you?"
"Yes, officer... I know I was speeding -- but it is a matter of life or death."
"Oh, really? How's that?"
"There's a naked woman waiting for me at home."
"I don't see how that is a matter of life or death."
"If I don't get home before my wife does, I'm a dead man."
#joke
Funny video of the day - Funny video of the day Wednesday, 13 January 2010
Slot Machine Winner! #humor #joke
A dumb blonde was standing in front of a soda machine outside of a local store. After putting in sixty cents, a root beer pops out of the machine. She set it on the ground, puts sixty more cents into the machine, and pushes another button; suddenly, a coke comes out the machine!
She continued to do this until a man waiting to use the machine became impatient. "Excuse me, can I get my soda and then you can go back to whatever stupid thing you are doing?"
The blonde turns around and says, "Yeah right! I'm not giving up this machine while I'm still winning!"

Which animals really enjoy loo...
Which animals really enjoy looking at their reflections?
Two old-time political aides a...
Two old-time political aides are walking through a shabby, overgrown cemetery, writing down names from the headstones.
One of the men works very fast, stopping only by upright stones where he can read the names clearly.
The other works deliberately, gone from one stone to the next, kneeling down and clearing away the grass and wiping away the grime in order to see the name clearly.
"Why are you spending so much time doing that?" the first man asked.
"I'll tell you," the second man said. "This is a free country with a Constitution and everything. Each one of the people has as much right as the next to cast his vote."
#joke
A Food Valentine
Cabba...
A Food Valentine
Cabbage always has a heart;
Green beans string along.
You're such a Tomato,
Will you Peas to me belong?
You've been the Apple of my eye,
You know how much I care;
So Lettuce get together,
We'd make a perfect pear.
Now, something's sure to Turnip,
To prove you can't be Beet;
So, if you Carrot all for me
Let's let our tulips meet.
Don't Squash my hopes and dreams now,
Bee my Honey, dear;
Or tears will fill Potato's eyes,
While Sweet Corn lends an ear.
I'll Cauliflower shop and say
Your dreams are Parsley mine.
I'll work and share my Celery,
So be my valentine.
#joke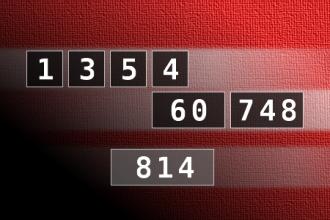 Calculate the number 814
NUMBERMANIA: Calculate the number 814 using numbers [1, 3, 5, 4, 60, 748] and basic arithmetic operations (+, -, *, /). Each of the numbers can be used only once.
Final Exam
A college teacher reminds her class of tomorrow's final exam. 'Now class, I won't tolerate any excuses for you not being here tomorrow. I might consider a nuclear attack or a serious personal injury, illness, or a death in your immediate family, but that's it, no other excuses whatsoever!'
A smart-ass student in the back of the room raised his hand and asked, 'What would you say if tomorrow I said I was suffering from complete and utter sexual exhaustion?'
The entire class is reduced to laughter and snickering. When silence was restored, the teacher smiled knowingly at the student, shook her head and sweetly said, 'Well, I guess you'd have to write the exam with your other hand.'
#joke
Profiting from Mistakes
"Is it proper for a man to profit from the mistakes of another?" a parishioner asked his minister.
"Definitely not," was the preacher's answer.
"Are you absolutely certain?"
"Yes, my son, absolutely."
"Okay. In that case, I wonder if you'd mind returning that $25 I gave you after my wedding last year?"
#joke
Finally, a definition of Marke...
Finally, a definition of Marketing that makes sense....
You see a gorgeous girl at a party. You go up to her and say, "I'm fantastic in bed." That's Direct Marketing.
You're at a party with a bunch of friends and see a gorgeous girl. One of your friends goes up to her and pointing at you says, "He's fantastic in bed." That's Advertising.
You see a gorgeous girl at a party. You go up to her and get her telephone number. The next day you call and say, "Hi, I'm fantastic in bed." That's Telemarketing.
You're at a party and see a gorgeous girl. You get up and straighten your tie, you walk up to her and pour her a drink. You open the door for her, pick up her bag after she drops it, offer her a ride, and then say, "By the way, I'm fantastic in bed." That's Public Relations.
You're at a party and see a gorgeous girl. She walks up to you and says, I hear you're fantastic in bed." That's Brand Recognition.
#joke
Things You Should Never Say To A Police Officer
1. I can't reach my license unless you hold my beer
2. Sorry, Officer, I didn't realize my radar detector wasn't plugged in.
3. Aren't you the guy from the Village People?
4. Hey, you must've been doin' about 125 mph to keep up with me! Good job!
5. I thought you had to be in relatively good physical condition to be a police officer.
6. I was going to be a cop, but I decided to finish high school instead.
7. Bad cop! No doughnut!
8. You're not gonna check the trunk, are you?
9. Gee, that gut sure doesn't inspire confidence.
10. Didn't I see you get your butt kicked on the T.V show Cops?
Why did Stephen Hendry spend s...
Why did Stephen Hendry spend so long at the bus stop? He was at the end of the cue.
Skipping Days
A blonde is terribly overweight, so her doctor put her on a diet. "I want you to eat regularly for two days, then skip a day, and repeat this procedure for two weeks. The next time I see you, you'll have lost at least 5 pounds."
When the blonde returned, she shocked the doctor by losing nearly 20 pounds. "Why, that's amazing!" the doctor said, "Did you follow my instructions?"
The blonde nodded, "I'll tell you though, I thought I was going to drop dead that third day."
"From hunger, you mean?" asked the doctor.
"No, from skipping."
Honey I'm home
Three words women hate to hear when having sex "Honey, I'm home!"
Mimes
Whats black and white and red all over? Mimes in a chainsaw fight.
Two guys in a life raft in the...
Two guys in a life raft in the middle of the ocean. One sees an old bottle floating. He picks it up and rubs it,and a genie comes out.
The genie says, "For letting me out, I will grant you one wish." The guy says, (without thinking) "Turn this ocean into beer". And the ocean turns into the best beer anybody has ever tasted.
The second guy says to the first, "You idiot, now we'll have to piss in the boat".
You Thought Y2K Would Be Bad...
The businessman dragged himself home and barely made it to
his chair before he dropped exhausted.
His sympathetic wife was right there with a tall cool drink
and a comforting word. "My, you look tired," she said. "You
must have had a hard day today. What happened to make you so
exhausted?"
"It was terrible," her husband said. "The computer broke
down and all
of us had to do our own thinking."
#joke
Poundstretchers and Marks & Sp...
Poundstretchers and Marks & Spencer are to amalgamate to beat the credit crunch. They will be known as Stretchmarks!


Dode Broadleaf, Drylaw

If you have a joke y to share with us e-mail: letters_en @edinburghnews.com



The full article contains 41 words and appears in Edinburgh Evening News newspaper.