Relationships
"Relationships are hard. It's like a full-time job, and we should treat it like one. If your boyfriend or girlfriend wants to leave you, they should give you two weeks' notice. There should be severance pay, and before they leave you, they should have to find you a temp."
"How long have you been drivin...
"How long have you been driving without a tail light?" asked the policeman after pulling over a motorist.
The driver jumped out, ran to the rear of his car, and gave a long, painful groan. He seemed so upset that the cop was moved to ease up on him a bit.
"Come on, now," he said, "you don't have to take it so hard. It isn't that serious."
"It isn't?" cried the motorist. "Then you know what happened to my boat and trailer?"
Funny video of the day - Funny video of the day Wednesday, 03 February 2010
Problems From the Start #joke #humor
John got off the elevator on the 50th floor and nervously knocked on his blind date's door. She opened it and was as beautiful and charming as everyone had said.
"I'll be ready in a few minutes," she said. "Why don't you play with Spot, my dog, while you're waiting?" He does wonderful tricks. He rolls over, shakes hands, sits up and if you make a hoop with your arms, he'll jump through."
The dog followed John onto the balcony and started rolling over. John made a hoop with his arms and Spot jumped through--over the balcony railing. Just then John's date walked out.
"Isn't Spot the cutest, happiest dog you've ever seen?"
"To tell the the truth, " he replied, "Spot seemed a little depressed to me!"
#joke
Wheat farmers ...
Wheat farmers always play the lottery. They want to win now.
A nursery school driver was de...
A nursery school driver was delivering a van full of kids home one day when a fire truck zoomed past. Sitting in the front seat of the truck was a Dalmatian dog. The children started discussing the dog's duties.
'They use him to keep crowds back,' said Tommy.
'No,' said Billy, 'he's just for good luck.'
Peter brought the argument to a close. 'They use the dogs, he said firmly, to find the fire hydrants….'
#joke
I urgently needed a few days o...
I urgently needed a few days off work, but I knew the Boss would not
allow me to take leave. I thought that maybe if I acted "CRAZY" then he
would tell me to take a few days off.
So I hung upside down on the ceiling and made funny noises. My co-worker
(who's blonde) asked me what I was doing. I told her that I was
pretending to be a light bulb so that the Boss would think I was
"CRAZY" and give me a few days off.
A few minutes later the Boss came into the office and asked "What are you
doing?" I told him I was a light bulb.
He said, "You are clearly stressed out. Go home and recuperate for a
couple of days." I jumped down and walked out of the office.
When my co-worker (the blonde) followed me, the Boss asked her "...And
where do you think you're going?"
(You're gonna love this.....)
She said, "I'm going home too, I can't
work in the dark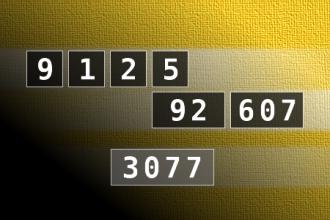 Calculate the number 3077
NUMBERMANIA: Calculate the number 3077 using numbers [9, 1, 2, 5, 92, 607] and basic arithmetic operations (+, -, *, /). Each of the numbers can be used only once.
Redneck Love
Clem drove his pickup alongside the road and showed his buddy Jed where he'd first made love.
"It was right down there by that thar tree. I remember it plain as day. It was a warm summer day." We was madly in love. We made our way down to that thar tree and made love fer hours," explained Clem.
"That sounds amazing," exclaimed Jed.
"Yep, it was goin' real good until I looked up and saw her momma standing right there watching us."
"Damn, what did her momma say when she saw you was makin' love to her daughter?"
"Baaaaaaaaaaaaaaaaaaaaaaah"
#joke
The three wise men are out for...
The three wise men are out for a stroll when they come across a stable. The three of them decide to duck inside.
On the way in one of the wise men hits his head on the low entranceway.
"Jesus Christ!" he says.
Joseph says, "Quick, Mary, write that down! It's a hell of a lot better than Clyde!"
#joke
The Boss and the wife...
A guy leaves the bar, hoping he can get home early enough not to upset his wife for drinking after work. He gets home and finds his boss in bed with his wife.
Later, back at the bar, the guy tells the bartender the story,
"Wow, that's awful, what did you do?"
"Well, I carefully snuck back out the door, and hitailed it back here! Shoot, they we're just getting started, so I figure, I got time for a couple more beers."
A Collection Of Insults
A brief synopsis... When you're at a loss for words but want to tell someone that he or she is stupid, remember some these quips from our collection here at Aha! Jokes.
---
Brain like a hard drive with no read/write head.
Brain permanently in power saving / 8-bit mode.
Brain transplant donor.
Bright as a Zippo lighter without a flint.
Bright as Alaska in December.
Bright as an acetylene torch -- without an oxygen supply.
Brings binoculars to submarine races.
Broadcasts static.
Bubbles/leaks in her think tank.
Built a special showcase for his herd of pet rocks.
Busier than a one-armed paper hanger.
Caboose seems to be pulling the engine.
Cackles a lot, but I ain't seen no eggs yet.
Calling her stupid would be an insult to stupid people.
Calling him a pea brain would be an undeserved compliment.
Rising to the Occasion
A bunch of girls had become upset at an anthropology
professor who had a knack of offending women. They decided
the next time he did something offensive, they would all
stand up and walk out of his class. Sure enough, at the very
next class meeting while discussing a tribe of African
natives. The professor leered and said, "You'll be
interested to know the average tribal warrior there has a
cock twelve inches long."
The girls all rose in a large mass and headed for the door.
The prof sneered and said, "What's your hurry, girls? The
next flight to there isn't until Saturday!"
#joke
Men and the Toilet Seat
Q: How many men does it take to put down a toilet seat?
A: Who knows -- its never been done.
Three sons left home, went out...
Three sons left home, went out on their own and prospered. They discussed the gifts they were able to give their elderly mother.
The first said: "I built a big house for our mother."
The second said: "I sent her a Mercedes with a driver."
The third said: "You remember how our mother enjoys reading the Bible. Now she can't see very well. So I sent her a remarkable parrot that recites the entire Bible. It took elders in the church 12 years to teach him. Mama just has to name the chapter and verse and the parrot recites it."
Soon thereafter, their mother sent out her letters of thanks. "William," she said, "the house you built is so huge. I live only in one room, but I have to clean the whole house.
"Arnold," she said, "I am too old to travel. I stay most of the time at home so I rarely use the Mercedes. And that driver is so rude! He's a pain!"
"But David," she said, "the chicken was delicious!"
#joke
Dating a Nun
Did you hear about the guy who tried to date a nun?
He wanted to take her to the county fair, but she declined on account of she had taken a vow abstaining from Carnival pleasures.
- Joke shared by Beliefnet member BeerLover
Name the animals...
The first-grade teacher was showing pictures of animals to her students to see how many they could name. She held up a picture of a lamb, and a little girl said, "That's a sheep!"
"That's right!" said the teacher. "How about THIS one?" she said, holding up a picture of the king of beasts.
"That's a lion!" answered a little boy.
"Right!" said the teacher. Then she held up a picture of a deer. No one volunteered an answer. She tried to help. "What does your mother call your father?"
Johnny said, "I know! That's a lazy old goat!"
#joke
Bought A Bad Computer
Top Ten Signs You Bought A Bad Computer


Lower corner of screen has the words "Etch-a-sketch" on it.

It's celebrity spokesman is that "Hey Vern!" guy.

In order to start it you need some jumper cables and a friend's car.

It's slogan is "Pentium: redefining mathematics".

The "quick reference" manual is 120 pages long.

Whenever you turn it on, all the dogs in your neighborhood start howling.
The screen often displays the message, "Ain't it break time yet?"
The manual contains only one sentence: "Good Luck!"
The only chip inside is a Dorito.
You've decided that your computer is an excellent addition to your fabulous paperweight collection.

#joke
These days about half the stuf...
These days about half the stuff
In my shopping cart says,
'For fast relief
High Speed Chase
After an intense high speed chase, an officer finally gets the lawbreaker to pull over.
You know, says the cop, I was originally pulling you over to tell you your taillight is out. Why the hell did you take off like that?
Last week my wife ran off with a cop, the man said, and I was afraid you were trying to give her back.
#joke
Cajun Confession
Boudreaux was feeling guilty, so he went to confession.
"Father, I kinda took a little lumber from that new construction site."
Priest: "What did you do with the lumber, my son?"
Boudreaux: "Well, Father, my porch, she's had a hole for a long time. I'm 'fraid someone will break their leg, so I fix the hole."
Priest: "Well, that's not so bad."
Boudreaux: "Well, Father, I had a little lumber left."
Priest: "What did you do with it?"
Boudreaux: "Well, my poor dog, Phideaux, he ain't never had no place to get outta the weather, so I make him his own little doghouse."
Priest: "OK, anything else?"
Boudreaux: "Well, Father, I had a little lumber left. So you know, my truck, she ain't never had no place to get outta de weather either, so I make her a two car garage."
Priest: "Now, this is getting a little out of hand."
Boudreaux: "Well, Father, I still had a little lumber left."
Priest: "Yes?"
Boudreaux: "Well, my wife, she always want a bigger house. So I add two bedrooms and a new bathroom."
Priest: "OK! That's definitely too much. For your penance, you are going to have to make a Novena. You do know how to make a Novena, don't you?"
Boudreaux: "No, Father... But, if you got the plans, I got the lumber."
#joke
Join us on WhatsApp