Customer: Waiter, is this supp...
Customer: Waiter, is this supposed to be coffee or tea?

Waiter: What does it taste like?

Customer: It tastes like gasoline!

Waiter: Well, sir, that would be the coffee. The tea tastes like turpentine.

Eat the Watermelons #joke #humor
A farmer in the country has a watermelon patch and upon inspection he discovers that some of the local kids have been helping themselves to a feast.
The farmer thinks of ways to discourage this profit-eating situation. So he puts up a sign that reads: "WARNING! ONE OF THESE WATERMELONS CONTAINS CYANIDE!"
He smiled smugly as he watched the kids run off the next night without eating any of his melons.
The farmer returns to the watermelon patch a week later to discover that none of the watermelons have been eaten, but finds another sign that reads: "NOW THERE ARE TWO!"
#joke
Funny video of the day - Funny video of the day Wednesday, 10 February 2010
When they are born, we...
When they are born, wee bulls wobble.
Sally was trying hard to get t...
Sally was trying hard to get the ketchup out of the bottle. During her struggle the phone rang so she asked her 5-year-old daughter to answer the phone. "Mommy can't come to the phone to talk to you right now. She's hitting the bottle."
A man wanted to celebrate his ...
A man wanted to celebrate his wife's Birthday by throwing a party. So he ordered a birthday cake. The salesman asked him what message he wanted put on the cake. He thought for a moment and said "put you are getting older but you! are getting better". The salesman asked "how do you want me to put it?" The man said 'Well...put "You are getting older" at the top and "but you are getting better" at the bottom.'
When the cake was unveiled at the party all the guests were agape at the message on the cake. It read: "You are getting older at the top, but you are getting better at the bottom
#joke
City Boy
A life-long city man, tired of the rat race, decided he was going to give up the city life, move to the country, and become a chicken farmer. He found a nice, used chicken farm, which he bought. Turns out that his next door neighbor was also a chicken farmer. The neighbor came for a visit one day and said, "Chicken farming isn't easy. Tell you what. To help you get started, I'll give you 100 chickens."
The new chicken farmer was thrilled. Two weeks later the new neighbor stopped by to see how things were going. The new farmer said, "Not too good. All 100 chickens died."
The neighbor said, "Oh, I can't believe that. I've never had any trouble with my chickens. I'll give you 100 more."
Another two weeks went by, and the neighbor stops in again. The new farmer says, "You're not going to believe this, but the second 100 chickens died too."
Astounded, the neighbor asked, "what went wrong? What did you do to them?"
Well, says the new farmer, "I'm not sure whether I'm planting them too deep or not far apart enough."
#joke
FLEX WORDLE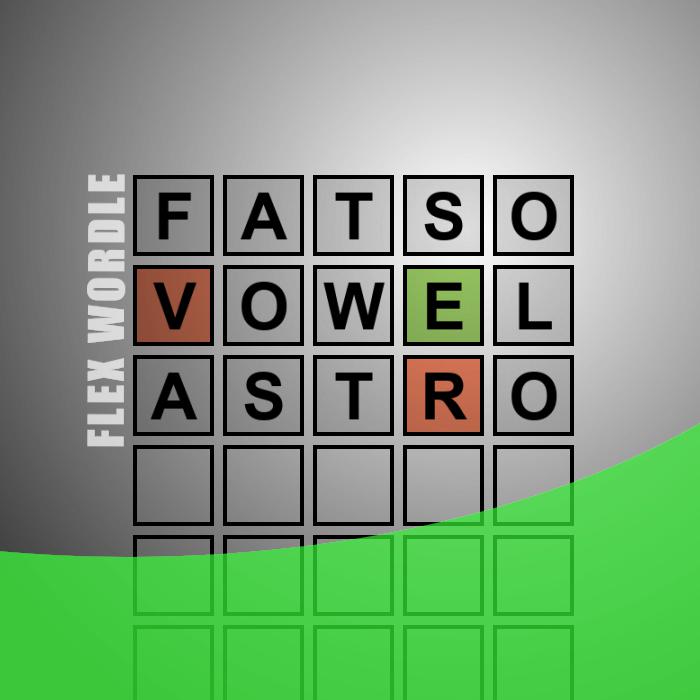 Guess the
WORDLE
in 3 tries. After each guess, the color of the tiles will change to show how close your guess was to the solution.
A man walked into a therapist&...
A man walked into a therapist's office looking very depressed, "Doc, you've got to help me. I can't go on like this."
"What's the problem?" the doctor inquired.
"Well, I'm 35 years old and I still have no luck with the ladies. No matter how hard I try, I just seem to scare them away."
"My friend, this is not a serious problem. You just need to work on your self-esteem. Each morning, I want you to get up and run to the bathroom mirror. Tell yourself that you are a good person, a fun person, and an attractive person. But say it with real conviction. Within a week you'll have women buzzing all around you." The man seemed content with this advice and walked out of the office a bit excited.
Three weeks later he returned with the same downtrodden expression on his face. "Did my advice not work?" asked the doctor.
"It worked alright. For the past several weeks I've enjoyed some of the best moments in my life with the most fabulous looking women."
"So, what's your problem?"
"I don't have a problem," the man replied. "My wife does."
Contemporary art
A tiny but dignified old lady was among a group looking at an art exhibition in a newly opened gallery. Suddenly one contemporary painting caught her eye.
"What on earth," she inquired of the artist standing nearby, "is that?"
He smiled condescendingly. "That, my dear lady, is supposed to be a mother and her child."
"Well, then," snapped the little old lady, "why isn't it?"
#joke
Answering Machine Message 30
Due to the large number of complaints regarding the length of our previous answering machine message, we made a few changes. Very fast: Hi, this is 904-4344. If you want to leave a message, please wait for the tone. If you want to leave your name and number, please press pound, press 3, then dial your name, then press 6 and dial your number. If you want to leave your name and just a message, press star, press 6, ask for extension 4443, then leave your name and message. If you want to leave your number and the time you called, please press star twice, spin in a circle, press 1 twice, talk loud and BEEP
#joke
The power of shifting
Unleash the Power of Shift!
Q: My shift keys have little arrows on them. Does that mean the *real* shift keys are located above them, and these keys are just little signs to point them out?
A: Nope, they're the Real McCoy. The little arrows mean "up", as in "look up at the screen". Your keyboard is telling you to learn to touch type and quit staring at your fingers.
Q: What happens if I press both shift keys?
A: Even bigger letters may show up on your screen. You should not use this feature, however, because these letters are also brighter, and may cause Screen Burn-In, which would be particularly embarrassing if you were typing something naughty at the time. You might consider obtaining the author's Shift Key Burn-In Protector program for only $139.95. Or you might not, it's your computer, but don't say I didn't warn you.
Q: My religion prohibits the use of shift keys. how can i type capital letters and punctuation
A: Discuss alternatives to the shift key with your spiritual advisor. Perhaps your deity would not be angered by repeated use of the Caps Lock key, or maybe you can retain a consultant to depress the shift for you. You might also consider replacing punctuation marks that require the use of shift keys with lower case expressions; replace ? with "huh" and ! with "zowie".
Q: I pressed shift and its stuck down now
A: Do small children with a fondness for peanut butter use your keyboard frequently? If so, you may want to clean it off for more reliable operation. First, disconnect your keyboard by gripping each of its ends firmly and pulling as hard as you can. Next, immerse the keyboard in warm water and scrub thoroughly with your favorite lemon-scented detergent and lots of steel wool. Finally, you need to dry the keyboard. Either dry it to touch with a handheld blowdryer, or place it it the dryer for not less than 60 minutes. Be sure to clean the lint screen when you are finished.
Q: Why are there are no "shift" keys on my keyboard, but there are two keys labelled "hif"?
A: Again, you may want to consider cleaning your keyboard, and washing your hands more frequently for that matter.
Q: Are there shift keys on my Macintosh?
A: Yes, although instead of the notation "shift", the key may be labelled with an excited Mac face, something like :O . Press this key to use shift, and be thankful you're using a friendly Mac instead of a mean old PC with all them confusin' words 'n stuff on it.
Q: I'm sick of pushing the shift key every single time I want big letters. Is there any other way to do this?
A: This is the Modern Age of Convenience, and you may be able to activate the shift key merely with the power of your voice! Check to see whether your computer is equippped with speech-recognition equipment by saying the word "shift" very clearly and slowly into its speaker. Then watch the keyboard closely to see if the Shift key moves down. Note that you may have to repeat this action several times to "train" the computer to recognize your voice before the feature works reliably.
Q: There are two shift keys, which should I use?
A: Avoid unnecessary wear on either shift key by alternating between the two. Keep track of your usage of each key so that you press them in equal amounts. Your keyboard may be equipped with a small notepad; you should use this to make little tally marks in two columns for each time you shift. Remember, it's better to go to a little trouble than wind up with a broken shift key.
Q: Why are the shift keys bigger than the other keys?
A: They aren't. This is simply an optical illusion. Just as the moon appears much larger when it is close to the horizon, your shift keys look larger because of their proximity to other keys. To verify this, go out in a large field at night with your keyboard, place it in an upright position, and view it from a distance of 200 yards. Sure enough, the keys all look the same size!
Q: If I press the shift key at the wrong time, or too many times, will my computer explode?
A: No. Well, generally no. Not unless you are using a NEC laptop. Or vt100 terminal emulation. But even then, hardly ever. Really, don't worry about it. Forget I mentioned it. Just type softly. Move along, next question.
Q: No matter what I do, the shift key just doesn't seem to work. What's wrong?
A: Have you ever considered that the problem may not be your keyboard, the problem may be YOU? Perhaps God Himself has suspended the operation of these keys to send you a Message that you have strayed from the path of righteousness. Use this as an opportunity to reflect on your life.
#joke
Outlet
What did the plug say to the socket?
Socket to me baby!!!
CAT DIARY, 7 entries
DAY 752 - My captors continue to taunt me with bizarre little dangling objects. They dine lavishly on fresh meat, while I am forced to eat dry cereal. The only thing that keeps me going is the hope of escape, and the mild satisfaction I get from ruining the occasional piece of furniture. Tomorrow I may eat another houseplant.
---------
DAY 761 - Today my attempt to kill my captors by weaving around their feet while they were walking almost succeeded, must try this at the top of the stairs. In an attempt to disgust and repulse these vile oppressors, I once again induced myself to vomit on their favorite chair...must try this on their bed.
---------
DAY 762 - Slept all day so that I could annoy my captors with sleep depriving, incessant pleas for food at ungodly hours of the night.
---------
DAY 765 - Decapitated a mouse and brought them the headless body, in attempt to make them aware of what I am capable of, and to try to strike fear into their hearts. They only cooed and condescended about what a good little cat I was...Hmmm. Not working according to plan.
---------
DAY 768 - I am finally aware of how sadistic they are. For no good reason I was chosen for the water torture. This time however it included a burning foamy chemical called "shampoo." What sick minds could invent such a liquid. My only
---------
DAY 771 - There was some sort of gathering of their accomplices. I was placed in solitary throughout the event. However, I could hear the noise and smell the foul odor of the glass tubes they call "beer." More importantly I overheard that my confinement was due to MY power of "allergies." Must learn what this is and how to use it to my advantage.
---------
DAY 774 - I am convinced the other captives are flunkies and maybe snitches. The dog is routinely released and seems more than happy to return. He is obviously a half-wit. The Bird on the other hand has got to be an informant. He has mastered their frightful tongue. (something akin to mole speak) and speaks with them regularly. I am certain he reports my every move. Due to his current placement in the metal room his safety is assured.
But I can wait; it is only a matter of time.
Sister Mary Ann
Sister Mary Ann, who worked for a home health agency, was making her rounds. She was visiting homebound patients when she ran out of gas.
As luck would have it, a gas station was just a block away. She walked to the station to borrow a gas can and buy some gas. The attendant told her that the only gas can he owned had been loaned out, but she could wait until it was returned
Since Sister Mary Ann was on the way to see a patient, she decided not to wait and walked back to her car. She looked for something in her car that she could fill with gas and spotted the bedpan she was taking to the patient. Always resourceful, Sister Mary Ann carried the bedpan to the station, filled it with gasoline, and carried the full bedpan back to her car.
As she was pouring the gas into her tank, two Baptists watched from across the street. One of them turned to the other and said, "If it starts, I'm becoming Catholic."
#joke
Teenage Daughters
There's an Englishman, Irishman & Scotsman all talking about their teenage daughters...
The Englishman says " I was cleaning my daughter's room the other day & I found a packet of cigarettes. I was really shocked as I didn't even know she smokes".
The Scotsman says " That's nothing. I was cleaning my daughter's room the other day when I came across a half full bottle of Vodka. I was really shocked as I didn't even know she drank."
With that the Irishman says " Both of you have got nothing to worry about. I was cleaning my daughter's room the other day when I found packet of condoms. I was really shocked. I didn't even know she had a cock."
#joke
Do you know why the Cincinnati...
Do you know why the Cincinnati Bengals were the last NFL team to get a website?
Because they couldnt put three W's in a row.
Use these words in a sentence....
Children were called upon a classroom to make sentences with words chosen by the teacher. The teacher smiled when Jack, a slow learner, raised his hand to participate during the challenge of making a sentence with the words "Defeat," "Defense," "Deduct," and "Detail."
Jack stood thinking for a while, all eyes focused on him while his classmates awaited his reply. Smiling, he then proudly shouted out, "Defeat of deduct went over defense before detail."
#joke
The children had all been phot...
The children had all been photographed, and the teacher was trying to persuade them each to buy a copy of the group picture. "Just think how nice it will be to look at it when you are all grown up and say, 'There's Jennifer; she's a lawyer,' or 'That's Michael, he's a doctor.'"

A small voice at the back of the room rang out, "And there's the teacher; ...she's dead."
The Smiths were unable to conc...
The Smiths were unable to conceive children and decided to use a surrogate father to start their family. On the day the proxy father was to arrive, Mr. Smith kissed his wife goodbye and said, "Well, I'm off now. The man should be here soon.
"Half an hour later, by chance, a door-to-door baby photographer happened to ring the doorbell, hoping to make a sale. "Good morning, Ma'am", he said, "I've come to...''
"Oh, no need to explain", Mrs. Smith cut in, embarrassed, "I've been expecting you."
"Have you really?", said the photographer. "Well, that's good. Did you know babies are my specialty?"
"Well that's what my husband and I had hoped. Please come in and have a seat ." After a moment she asked, blushing, "Well, where do we start?"
"Leave everything to me. I usually try two in the bathtub, one on the couch, and perhaps a couple on the bed. And sometimes the living room floor is fun. You can really spread out there."
"Bathtub, living room floor? No wonder it didn't work out for Harry and me!"
"Well, Ma'am, none of us can guarantee a good one every time. But if we try several different positions and I shoot from six or seven angles, I'm sure you'll be pleased with the results."
"My, that's a lot !", gasped Mrs Smith. "Ma'am, in my line of work a man must take his time. I'd love to be in and out in five minutes, but I'm sure you'd be disappointed with that."
"Don't I know it.", said Mrs Smith quietly. The photographer opened his briefcase and pulled out a portfolio of his baby pictures.
"This was done on the top of a bus," he said.
"Oh my God!", Mrs Smith exclaimed, grasping at her throat.
"And these twins turned out exceptionally well - when you consider her mother was so difficult to work with."
"She was difficult?", asked Mrs Smith.
"Yes, I'm afraid so. I finally had to take her to the park to get the job done right. People were crowding around four and five deep to get a good look."
"Four and five deep?", said Mrs. Smith, her eyes wide with amazement.
"Yes", the photographer replied. "And for more than three hours, too. The mother was constantly squealing and yelling - I could hardly concentrate, and when darkness approached I had to rush my shots. Finally, when the squirrels began nibbling on my equipment, I just had to pack it all in."
Mrs. Smith leaned forward. "Do you mean they actually chewed on your, um ... equipment?"
"It's true, Ma'am, yes. Well, if you're ready, I'll set-up my tripod and we can get to work right away."
"Tripod?"
"Oh yes, Ma'am. I need to use a tripod to rest my Canon on. It's much too heavy to be held in the hand very long."
With that, Mrs. Smith fainted
#joke
Join us on WhatsApp