Ever Slept with an U
One guy asks the other, "Hey, have you ever gone to bed with an ugly woman?"
The second guy says, "No, but I've woken up with plenty."
Sophie and Shirley, two elderl...
Sophie and Shirley, two elderly widows in a Florida adult community, are curious about the latest arrival in their building a quiet, nice looking gentleman who keeps to himself.
Shirley says, "Sophie, you know I'm shy. Why don't you go over to him at the pool and find out a little about him. He looks so lonely."
Sophie agrees, and later that day at the pool, she walks up to him and says, "Excuse me, mister. I hope I'm not prying, but my friend and I were wondering why you looked so lonely."
"Of course I'm lonely," he says. "I've spent the past 20 years in prison."
"You're kidding! What for?"
"For killing my third wife. I strangled her."
"What happened to your second wife?"
"I shot her."
"And, if I may ask, your first wife?"
"We had a fight and she fell off a building."
"Oh my," says Sophie. Then turning to her friend on the other side of the pool, she yells, "Yoo-hoo, Shirley. He's single."
#joke
Funny video of the day - Funny video of the day Wednesday, 17 February 2010
Elite hunters can kill pigeons...
Elite hunters can kill pigeons with a bow and arrow in pitch darkness. They do it by studying a coo sticks.
A guy walking down a street on...
A guy walking down a street one afternoon passes an old man sitting on the side of the road with a large sack.
The younger guy says to the old man, "Watcha got in the sack?"
The old man responds, "I got some monkeys in that there sack."
The younger man asks, "If I guess how many monkeys you got in the sack, can I keep one?"
The old man replies, "Son, if you guess how many monkeys I got in this sack, I'll give you both of 'em!"
#joke
Teacher: Give me a sentence wi...
Teacher: Give me a sentence with the word "INDISPOSITION" in it.
Pupil : I always play center in baseball because I like playing
"in dis position!"
New Cop
The new metro cop pulled a speeder who was zipping down Maple Avenue. "Can I see your license and registration, bub?", the cop inquired.
"But officer," the fellow started, "I can explain..."
"Shut yer trap, bub!" snapped the officer. "You're going downtown and sit a while till the sarge gets back."
"But, officer, I think you really should know..."
"And I said to shut yer trap! You're going to jail!"
A few hours later the cop looked in on his prisoner and said, "Lucky for you that the sarge is at his daughter's wedding. He'll be in a good mood when he gets back."
"Don't count on it," shot back the sap in the cell. "I'm the groom."
#joke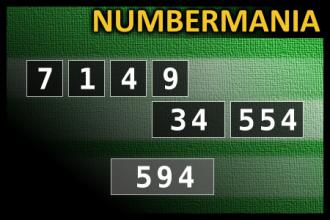 Calculate the number 594
NUMBERMANIA: Calculate the number 594 using numbers [7, 1, 4, 9, 34, 554] and basic arithmetic operations (+, -, *, /). Each of the numbers can be used only once.
Whenever John wanted to have s...
Whenever John wanted to have sex he would say to Mary "Lets do some laundry, honey".

Well one day Mary felt horny so she said to John "Honey, how about doing some laundry?"

John replied "No thanks honey, I only had a small load so I did it by hand.
Super Sex!!!
A woman, completely fed up with her husband's on-line obsession, finally takes matters into her own hands.
One night, as he is sitting at the computer, she goes into the bedroom, takes off all her clothes, puts on a full length mink coat, and posts herself between her husband and the monitor.
She pulls open the coat and yells, "Time for Super Sex!!!"
He ignores her.
So, she repeatedly yells, "Super Sex", "Super Sex", "Super Sex".
Finally, he replies, "Ok, Ok, I'll take the soup".
#joke
Men Writing The Rules
If Men Were to Rewrite "The Rules"
Rule # 1 Anything we said six or eight months ago is inadmissible in an argument. All comments become null and void after seven days.
Rule # 2 If we say something that can be interpreted in two ways, and one of the ways makes you sad or angry, we meant the other way.
Rule # 3 It is in neither your best interest nor ours to make us take those stupid Cosmo quizzes together.
Rule # 4 You can either ask us to do something OR tell us how you want it done -- not both.
Rule # 5 Whenever possible, please say whatever you have to say during commercials or time-outs.
Rule # 6 Christopher Columbus didn't need directions and neither do we.
Rule # 7 When we're turning the wheel and the car is nosing onto the ramp, you saying "This is our exit" is not necessary.
#joke
Government vs. Mafia
Whats the difference between the government and the Mafia? One of them is organized.
Why does the bride always wear...
Why does the bride always wear white? Because it's good for the dishwasher to match the cooker and the fridge.
We noticed that all the waiter...
We noticed that all the waiters in this New York restaurant carried two spoons in their vest pocket. Naturally, we were curious. We asked a waiter why.
'Sir, as a result of an efficiency study by the management, it was determined that the most frequently dropped silverware item was a spoon. Therefore, all the waiters carry two spoons so that the item can be instantly replaced.' As he was explaining that we noticed a string hanging out of the fly of his pants. So, we asked about that.
'Sir, that's another efficiency study result. When we have to go to the bathroom, we use the string to pull ourselves out and aim. Therefore, we do not have to stop to wash our hands.' We replied, 'I understand how you can get yourself out and aim, but how do you get yourself back in.' 'Well,' replied the waiter, 'I don't know about the other guys, but I use the two spoons!'
#joke
Fig Leaf Found
A little boy opened the large old family Bible, and he looked with fascination at the ancient pages as he turned them one by one.
He was still in Genesis when something fell out of the Bible. He picked it up and looked at it closely. It was a very large old tree leaf that had been pressed between the pages of the Bible long ago."Momma, look what I found!" the boy called out.
"What do you have there?" his mother asked.
With astonishment in his voice, the young boy answered, "I think it's Adam's underwear!"
#joke
The Jewish Boy and the Muslim Boy
David, a Jewish boy, and Ali, a Muslim boy, are having a conversation.
Ali: I'm getting operated on tomorrow.
David: Oh? What are they going to do?
Ali: Circumcise me!
David: I had that done when I was just a few days old.
Ali: Did it hurt?
David: I couldn't walk for a year!
#joke
Dave: I got this great new hea...
Dave: I got this great new hearing aid the other day.
Mary: Are you wearing it now?
Dave: Yup. Cost me four thousand dollars, but it's top of the line.
Mary: Wow! What kind is it?
Dave: Twelve-thirty
Wealthy Investors
A wealthy investor walked into a bank and said to the bank manager, "I would like to speak with Mr. Reginald Jones, who I understand is a tried and trusted employee of yours."
The banker said, "Yes he certainly was trusted. And he will be tried as soon as we catch him."
#joke
Police Dog
A police dog responds to an ad for work with the FBI. "Well," says the personnel director, "You'll have to meet some strict requirements. First, you must type at least 60 words per minute."
Sitting down at the typewriter, the dog types out 80 words per minute.
"Also," says the director, "You must pass a physical and complete the obstacle course."
This perfect canine specimen finishes the course in record time.
"There's one last requirement," the director continues; "you must be bilingual."
With confidence, the dog looks up at him and says, "Meow!"
#joke
Q: I heard th...
Q: I heard that french horn players make for good kissers...
A: ...the problem is where they put their right hand.