A man and his wife were sittin...
A man and his wife were sitting in the living room discussing a "Living Will".
"Just so you know," said the man, "I never want to live in a vegetative state, dependent on some machine and fluids from a bottle. If that ever happens, just pull the plug."
His wife got up, unplugged the TV and threw out all the beer.
Having a first child #joke #humor
A man and his wife were making their first doctor visit, the wife being pregnant with their first child.

After everything checked out, the doctor took a small stamp and stamped the wife's stomach with indelible ink.

The couple was curious about what the stamp was for, so when they got home, the husband got out his magnifying glass to try to see what it was.

In very tiny letters, the stamp said, "When you can read this, come back and see me."

Funny video of the day - Funny video of the day Friday, 19 February 2010
The Antartian reported for her...
The Antartian reported for her university final examination which consisted of "yes/no" type questions. She took her seat in the examination hall and stared at the question paper for five minutes. 
In a fit of inspiration, she took her purse out, removed a coin and started tossing the coin and marking the answer sheet - Yes for Heads and No for Tails. Within half an hour she was all done, whereas the rest of the class was still sweating it out.
During the last few minutes, she was seen desperately throwing the coin, muttering and sweating. The moderator, alarmed, approached her and asked what was going on. Her reply was, "I finished the exam in half and hour, but I'm rechecking my answers."
#joke
A grade school teacher was ask...
A grade school teacher was asking students what their parents did for a living. "Tim, you be first," she said. "What does your mother do all day?"
Tim stood up and proudly said, "She's a doctor."
"That's wonderful. How about you, Amie?"
Amie shyly stood up, scuffed her feet and said, "My father is a mailman."
"Thank you, Amie," said the teacher. "What about your father, Billy?"
Billy proudly stood up and announced, "My daddy murders people, steals from them, and drinks."
The teacher was aghast and promptly changed the subject to geography. Later that day she went to Billy's house and rang the bell. Billy's father answered the door. The teacher explained what his son had said and asked if there might be some logical explanation.
Billy's father said, "I'm actually an attorney. But how can I explain a thing like that to a seven-year-old?"
Learn to Speak Southern...
Before heading south for a vacation, it may be a good idea to learn the language of our southern brothers and sisters. And we're here to help...
Hah Tu Spek Suthun:
BARD - verb. Past tense of the infinitive "to borrow."
Usage: "My brother bard my pickup truck."
JAWJUH - noun. A highly flammable state just north of Florida.
Usage: "My brother from Jawjah bard my pickup truck."
MUNTS - noun. A calendar division.
Usage: "My brother from Jawjuh bard my pickup truck, and I taint herd from him in munts."
ALL - noun. A petroleum-based lubricant.
Usage: "I sure hope my brother from Jawjuh puts all in my pickup truck."
FAR - noun. A conflagration.
Usage: "If my brother from Jawjuh doesn't change the all in my pickup truck, that things gonna catch far."
BAHS - noun. A supervisor.
Usage: "If you don't stop reading these Southern words and git back to work, your bahs is gonna far you!"
TAR - noun. A rubber wheel.
Usage: "Gee, I hope that brother of mine from Jawjuh doesn't git a flat tar in my pickup truck."
TIRE - noun. A tall monument.
Usage: "Lord willing and the creeks don't rise, I sure do hope to see that Eiffel Tire in Paris sometime."
RETARD - Verb. To stop working.
Usage: "My granpaw retard at age 65."
RATS - noun. Entitled power or privilege.
Usage: "We Southerners are willing to fight for out rats."
FARN - adjective. Not local.
Usage: "I cudnt unnerstand a wurd he sed ... must be from some farn country."
JU-HERE - a question.
Usage: "Juhere that former Dallas Cowboys' coach Jimmy Johnson recently toured the University of Alabama?"
HAZE - a contraction.
Usage: "Is Bubba smart?" "Nah ... haze ignert."
VIEW - contraction: verb and pronoun.
Usage: "I ain't never seed New York City ... view?"
GUMMIT - Noun. An often-closed bureaucratic institution.
Usage: "Great ... ANOTHER gummit shutdown!"
#joke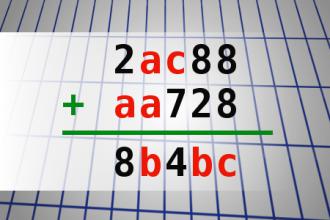 Find number abc
If 2ac88 + aa728 = 8b4bc find number abc. Multiple solutions may exist.
Knock, Knock at the Convent
Did you hear the one about the man who opened a dry cleaning business next door to the convent?
He knocked on the door and asked the Mother Superior if she had any dirty habits.
This joke was reprinted from "The Book of Catholic Jokes" by Deacon Tom Sheridan, with permission of ACTA Publications. Copyright 2008. All rights reserved.
#joke
An elderly man in Florida had ...
An elderly man in Florida had owned a large farm for several years. He had a large pond in the back, fixed up nice: picnic tables, horseshoe courts, a volleyball court, and so me apple and peach trees. The pond was properly shaped and fixed up for swimming. One evening the old farmer decided to go down to the pond and look it over, as he hadn't been there for a while.
He grabbed a five gallon bucket to bring back some fruit. As he neared the pond, he heard voices shouting and laughing with glee. As he came closer he saw it was a bunch of young women skinny-dipping in his pond. He made the women aware of his presence and they all went to the deep end.
One of the women shouted to him, "We're not coming out until you leave!"
The old man frowned, "I didn't come down here to watch you ladies swim naked or make you get out of the pond naked."
Holding the bucket up he said, "I'm here to feed the alligator."
#joke
Missing fingers....
Jon's working at the lumberyard, pushing a tree through the buzz saw, and accidentally shears off all ten of his fingers. He goes to the emergency room.
The doctor says, "Yuck! Well, give me the fingers, and I'll see what I can do."
Jon says, "I haven't got the fingers."
The doctor says, "What do you mean, you haven't got the fingers? It's 1998. We've got microsurgery and all kinds of incredible techniques. I could have put them back on and made you like new. Why didn't you bring the fingers?"
Jon says, "Well, heck, Doc, I couldn't pick 'em up."
Lightbulb Joke Collection 29
Q: How many Lacanians does it take to screw in a light bulb?
A: Three-one to do it, one to desire it, and the ignorant Other.
Note: Jacques Lacan (1901-82) was a prominent French psychoanalyst and theorist who is very influential with literary critics at the moment. This relates to his theories.)
Q: How many blind people does it take to change a light bulb?
A: It depends whether the switch is on or off.
Q: How many blind people does it take to change a light bulb?
A: If the switch is off, one. If the switch is on, any number, until one of them figures out to turn it off.
Q: How many deaf blind people does it take to change a lightbulb?
A: Depends on whether or not you can get them to notice the darkness...
Q: How many librarians does it take to screw in a light bulb?
A: I don't know, but I can look it up for you.
Q: How many cataloguers does it take to screw in a light bulb?
A: One, but the Library of Congress has to do it first.
Q: How many NBC news producers does it take to screw in a light bulb?
A: Three, one to drill a hole in the light bulb so it blows up when he turns it on, one to film it, and one to insist on the truth of the report despite the manipulation.
Q: How many Supreme Court Justices does it take to screw in a light bulb?
A: Nine-three to form a plurality, two to concur in part, two to dissent one to concur in part and dissent in part with the plurality opinion, and the last to concur with the dissenters in part.
#joke
Jingle Gates
'Twas the night before Christmas, when all through the house
Not a creature was stirring, except Papa's mouse.
The computer was humming, the icons were hopping,
As Papa did last-minute Internet shopping.
The stockings were hung by the modem with care
In hope that St. Nicholas would bring new software.
The children were nestled all snug in their beds,
While visions of computer games danced in their heads.
Dark Forces for Billy, and Doom II for Dan,
And Carmen Sandiego for Pamela Ann.
The letters to Santa had been sent out by Mom,
To santaclaus@toyshop.northpole.com -
Which has now been re-routed to Washington State
Because Santa's workshop has been bought by Bill Gates.
All the elves and reindeer have had to skedaddle
To flashy new quarters in suburban Seattle.
After centuries of a life that was simple and spare,
St. Nicholas is suddenly a new billionaire,
With a shiny red Porsche in the place of his sleigh,
And a house on Lake Washington that's just down the way
From where Bill has his mansion. The old fellow preens
In black Gucci boots and red Calvin Klein jeans.
The elves have stock options and desks with a view,
Where they write computer code for Johnny and Sue.
No more dolls or toy soldiers or little toy drums
(ahem - pardon me)
No more dolls or tin soldiers or little toy drums
Will be under the tree, only compact disk ROMS
With the Microsoft label. So spin up your drive,
From now on Christmas runs only on Windows 95.
More rapid than eagles the competitors came,
And Bill whistled, and shouted, and called them by name.
"Now, ADOBE! now, CLARIS! now, INTUIT! too,
Now, APPLE! and NETSCAPE! you are all of you through,
It is Microsoft's SANTA that the kids can't resist,
It's the ultimate software with a traditional twist -
Recommended by no less than the jolly old elf,
And on the package, a picture of Santa himself.
Get 'em young, keep 'em long, is Microsoft's scheme,
And a merger with Santa is a merketer's dream.
To the top of the NASDAQ! to the top of the Dow!
Now dash away! dash away! dash away - wow!"
And Mama in her 'kerchief and I in my cap,
Had just settled down for a long winter's nap,
When out on the lawn there arose such a clatter,
The whirr and the hum of our satellite platter,
As it turned toward that new Christmas star in the sky,
The SANTALITE owned by the Microsoft guy.
As I sprang from my bed and was turning around,
My computer turned on with a Jingle-Bells sound.
And there on the screen was a smiling Bill Gates
Next to jolly old Santa, two arm-in-arm mates.
And I heard them exclaim in voice so bright,
Have a MICROSOFT CHRISTMAS,
and TO ALL A GOOD NIGHT.
Demetri Martin: Revolving Door
I want to make a revolving door that says Pull on it, just see how obedient people are.
Why does the bride always wear...
Why does the bride always wear white? Because it's good for the dishwasher to match the cooker and the fridge.
An Irishman is walking along t...
An Irishman is walking along the beach one day, and he sees a bottle laying in the sand. He picks it up and starts to brush it off, and out pops a genie.
The genie says, "Since you have freed me from the bottle, I will grant you three wishes."
The Irishman thinks for a moment and says, "I'm feeling a might thirsty, I think I'll be wishing for a pint of stout."
POOF! There is a pint of stout in his hand. He drinks it down, and starts to throw the bottle, when the genie says, "I'd look at that bottle again before I threw it if I were you." So he looks at the bottle, and it is magicaly filling back up with stout. The genie told him, "That is a magic bottle, and it will always fill back up after you finish it." The genie then asked, "What other two wishes can I grant for you?"
The Irishman looks at the bottle in his hand and says, "I'll be taking two more of these."
#joke
Two Hindu Puns
Two Hindu swamis were in conversation.
One said to the other, "How did you like my latest book, 'The Art of Levitation'?"
His companion replied, "It kept me up all night."

***
Falling down drunk...
Two men are drinking in a bar at the top of the Empire State Building. One turns to the other and says, "You know, last week I discovered that if you jump from the top of this building, by the time you fall to the 10th floor, the winds around the building are so intense that they carry you around the building and back into the window."
The bartender just shakes his head in disapproval while wiping the bar.
The second man says, "What are you a nut? There's no way that could happen."
The first man responds, "No it's true. Let me prove it to you." So he gets up from the bar, jumps over the balcony, and careens to the street below. When he passes the 10th floor, the high wind whips him around the building and back into the 10th floor window and he takes the elevator back up to the bar.
The second guy tells him, "You know I saw that with my own eyes, but that must have been a one-time fluke."
The first guy says, "No, I'll prove it again," and again he jumps and hurtles toward the street where the 10th floor wind gently carries him around the building and into the window. Once upstairs he urges his fellow drinker to try it.
The second man thinks, "Well why not? It works, I'll try it." So he jumps over the balcony, plunges downward, passes the 11th, 10th, 9th, 8th floors...and hits the sidewalk with a 'splat!'
Back upstairs the bartender turns to the other drinker and says, "You know, Superman, you're a real mean drunk."
#joke
Why do people tend to hate Aus...
Why do people tend to hate Australian Rugby players on sight
Why do people tend to hate Australian Rugby players on sight?
Because it saves time.

Marty wakes up at home with a ...
Marty wakes up at home with a huge hangover. He forces himself to open his eyes, and the first thing he sees is a couple of aspirins and a glass of water on the side table. He sits down and sees his clothing in front of him, all clean and pressed. Marty looks around the room and sees that it is in perfect order, spotless, clean. So is the rest of the house.
He takes the aspirins and notices a note on the table: "Honey, breakfast is on the stove, I left early to go shopping. Love you."
So he goes to the kitchen and sure enough there is a hot breakfast and the morning newspaper. His son is also at the table, eating.
Marty asks, "Son, what happened last night?"
His son says, "Well, you came home after 3 A.M., drunk and delirious. Broke some furniture, puked in the hallway, and gave yourself a black eye when you stumbled into the door."
Confused, Marty asks, "So, why is everything in order and so clean, and breakfast is on the table waiting for me?"
His son replies, "Oh that! Mom dragged you to the bedroom, and when she tried to take your pants off, you said, "Lady, leave me alone, I'm married!"
A self-induced hangover - $100.00
Broken furniture - $200.00
Breakfast - $10.00
Saying the right thing - Priceless
#joke
A Bet Made At The Local Bar
A man walks into a bar, and as he makes his way to the counter, he stops and talks to everyone in the bar. As he finishes with each group of people, they all get up and leave and go stand outside the window, looking in. Finally, the bar is empty except for this guy and the bartender. The man walks up to the counter, and says to the bartender, "I bet you $1,000 that I can spray beer from my mouth into a shot glass from thirty feet away, and not get any outside the glass."
The bartender thinks that this guy is a nutcase, but he wants his $1,000, so he agrees. The bartender gets out a shot glass, paces off thirty feet, and the contest begins. The man sprays beer all over the bar. He doesn't even touch the shot glass. When he finishes, the bartender looks at him and says, "Well, I guess you owe me $1,000, huh?"
The man answers, "Yeah, but I bet all of those people outside the window $500 a piece that I could come in here and spray beer all over the bar."
#joke #walksintoabar
#beer
NOTE
: All jokes on this web site are property of the sites they are collected from. Web site Jokes of the day is not responsible for content of jokes. We are not trying to offend, just looking for a good laugh!! If you are offended by any of the jokes, please complain to the site jokes are coming from.
---
This site uses cookies to store information on your computer. Some are essential to help the site properly. Others give us insight into how the site is used and help us to optimize the user experience. See our
privacy policy
.