Have a great time for
Christmas
, check out our latest
Christmas jokes of 2022
on:
Christmas jokes collection
A boss tells his new employee,...
A boss tells his new employee, "I'll give you 8 bucks an hour starting today and in three months, I'll raise it to 10 bucks an hour. So when would you like to start?"

"In 3 months."

A mother mouse and her three c...
A mother mouse and her three children crept out of their hole into the kitchen and began feasting on some delicious bits of food. Suddenly, out of the corner of her eye, Mother Mouse saw a cat slinking toward them. The cat was between the mice and their hole. The mother muse puffed up her lungs and went, "Woof! Woof!" The cat turned tail and ran. With that, the mother quickly led her children back to safety in their hole. When they were settle and breathing normally, Mother Mouse said to her children. "Now, what's the lesson from that experience?" "We don't know," the baby mice squeaked. "It is this," said Mother Mouse. "It's always good to know a second language."
#joke
Funny video of the day - Funny video of the day Thursday, 25 February 2010
An Aniversary
Husband and his wife were celebrating 50 years together. Their three kids,all very successful, all agreed to a Sunday dinner in their honor.
"Happy Anniversary Mom & Dad" gushed son number one, a surgeon, "Sorry I'm running late. I had an emergency at the hospital with a patient, you know how it is, and didn't have time to get you a gift."
"Not to worry" said the father, the important thing is that we're all together today."
Son number two, a lawyer, arrived and announced "You and Mom look great Dad". I just flew in from Los Angeles between depositions and didn't have time to shop for you".
"It's nothing," said the father. "We're glad you were able to come."
Just then the daughter,a marketing executive, arrived. "Hello and Happy Anniversary! I'm sorry but my boss is sending me out of town and I was really busy packing, so I didn't have time to get you anything."
After they finished dessert, the father said, "There's something your mother and I have wanted to tell you for a long time. You see, we were very poor. Despite this, we were able to send each of you to college. Throughout the years your mother and I knew we loved each other very much, but we just never found the time to get married."
The three children gasped and all said, "You mean we're bastards?"
"Yep," said the father, "and cheap ones too!"
A Yogi Walked into a Pizza Parlor…
What did the Yogi say when he walked into the Zen Pizza Parlor?
"Make me one with everything."
When the Yogi got the pizza, he gave the proprietor a $20 bill. The proprietor pocketed the bill. The Yogi said "Don't I get change?"
The proprietor said, "Change must come from within."

#joke
A female computer consultant w...
A female computer consultant was helping a smug male set up his computer and asked him what word he would like to use as a password to log in with.
Wanting to embarrass the female, he told her to enter penis. Without blinking or saying a word, she entered the password. She then almost died laughing at the computer's response...
PASSWORD REJECTED. NOT LONG ENOUGH!!!
#joke
FLEX WORDLE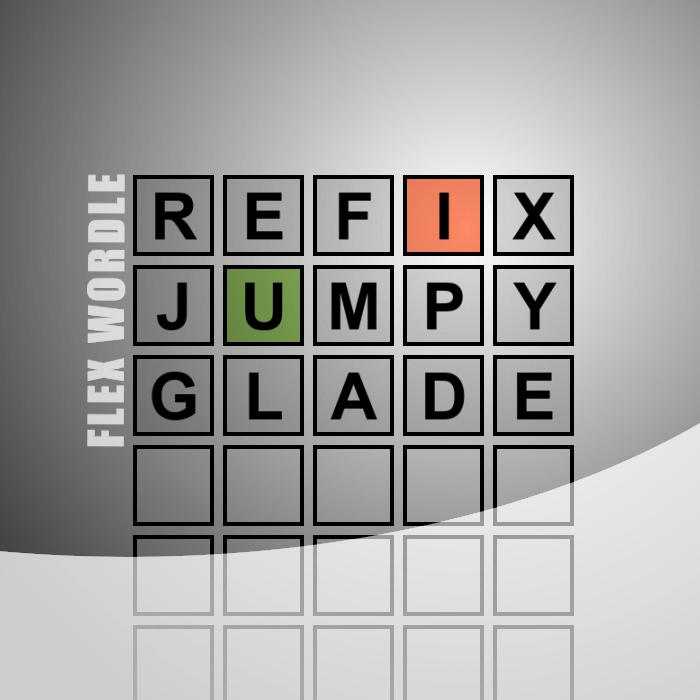 Guess the
WORDLE
in 3 tries. After each guess, the color of the tiles will change to show how close your guess was to the solution.
Walking with a lantern...
Pappy sees Elmer walking with a lantern and asks, "Where ya going boy ?" The son smiled and replied, "I'm a-going courting Peggy-Sue." The Father said, "When I went a-courtin', I didn't need me no dang lantern." "Sure Pa, I know." the boy said. "And look what you got !"
Bank Robber Stealing
The following is supposedly a true story. To be included, besides being true, the story is most likely strange, weird, surprising, or funny.
LOS ANGELES TIMES, December 9:
A man walked into a branch of the Antelope Valley Bank and handed a teller a note demanding money. The man had one hand in his pocket, as if holding a gun, so the teller began handing over the contents of her cash drawer.
When she had forked over $7,000 the robber said, "That's enough" and walked out the door. It's hard to find a bank robber who knows when he's had enough.
God and Eve in the Garden
One day in the Garden of Eden, Eve calls out to God...
"Lord, I have a problem!"
"What's the problem, Eve?"
"Lord, I know you've created me and have provided this
beautiful garden and all of these wonderful animals, and that
hilarious comedic snake, but I'm just not happy."
"Why is that, Eve?" came the reply from above.
"Lord, I am lonely. And I'm sick to death of apples."
"Well, Eve, in that case, I have a solution. I shall create
a man for you."
"What's a 'man,' Lord?"
"This man will be a flawed creature, with many bad traits.
He'll lie,>cheat, and be vainglorious; all in all, he'll give
you a hard time. But, he'll be bigger, faster, and will like
to hunt and kill things. He will look silly aroused, but
since you've been complaining, I'll create him in such in a
way that he will satisfy your ah, physical needs. He'll be
witless and will revel in childish things like fighting and
kicking a ball about. He won't be too smart, so he'll also
need your advise to think properly.
"Sounds great," says Eve, with an ironically raised eyebrow.
"What's the catch, Lord?"
"Yeah, well.... you can have him on one condition."
"What's that, Lord?"
"As I said, he'll be proud, arrogant, and self-admiring . .
. So you'll have to let him believe that I made him first . .
. So, just remember . . . it's our secret . . . Woman to
woman."
#joke
Pete Holmes: I Love New York
There are so many people in this city, so much happening, that its impossible to tell if your apartment is haunted. Think about that, thats true. Cause you can hear anything, at any hour -- theres always something to blame it on.
A man sits down at a bar and o...
A man sits down at a bar and orders a double martini. After he finishes, he peeks inside his shirt pocket, then orders another. After he finishes that, he again peeks inside his shirt pocket and orders another double martini. The barman says: "I'll bring you martinis all night but why do you look inside your shirt pocket before you order a refill." The customer replies: "I'm peeking at a photo of my wife. When she starts to look good, I know it's time to go home."
#joke
An old man was sitting on a be...
An old man was sitting on a bench in the mall when a young man with spiked hair came over and sat down beside him. The boy's hair was bright yellow and green with orange tips, and he had blue makeup around his eyes. The old man kept looking at him. The boy said, "What's the matter, old man, haven't you ever done anything wild in your life?"
The old man answered, "Well yes, actually, I have. I got drunk once and had sex with a parrot. I was just wondering if you were my son."
#joke
An Australian was in Ireland. ...
An Australian was in Ireland. On his way to Belfast, he stopped
at a bar and asked one of the locals, "What's the quickest way
to Belfast?" The Irishmen asked, "Are you walking or driving?"
The Australian replied, "I'm driving!" The Irishman said, "Aye,
that'd be the quickest way!"
Lost in the Service
One Sunday morning, the pastor noticed little Johnny standing in the foyer of the church, looking at a large plaque that hung there. After the young man of seven had stood there for some time, the pastor walked up beside him and said quietly,
"Good morning, son."
"Good morning, Pastor," replied the youngster, not taking his eyes off the plaque. "Can I ask you, Sir, what is this for? Why are all these names listed on here?"
"Well, son, these are all the people who have died in the service," replied the pastor. Soberly, they stood together, staring up at the large plaque.
Little Johnny's voice barely broke the silence when he asked quietly, "Which one, Sir, the 8:30 or the 10:30?"
#joke
Confession booth
Father Larry is in the confession booth one day when he has to go to the bathroom really bad. He Calls over to the janitor. Jim ,the janitor, comes over and Father Larry explains that he has to go to the bathroom and wants Jim to take over in the confession booth for him. Jim explains that he is not even catholic and does not think it would be appropriate for him to take over, Father Larry insist and explains to Jim that if somebody enters the booth to just look up the punishment in the book on the table. Jim agrees and sits down in the booth.
The first sinner comes in and says 'Father I have sinned, I have cursed at my mother' Jim thumbs through the book and finds 'cursing at mother'. Jim reads the note and tells the sinner to say two hail Mary's and they are forgiven.
A minute later another sinner comes into the booth and says 'Father I have sinned, I cheated on my test'. Once again Jim looks it up in the book and tells the sinner to say three "our Father's" and they will be forgiven.
Jim starts top enjoy his new job and becomes more relaxed. The next sinner walks in and say 'Father please forgive me, I have sinned.' Jim says 'My son, What have you done' The sinner replies 'I have had anal sex' Jim, feeling very comfortable goes over to the book and looks up anal sex, not finding anything he checks again, but sure enough they is nothing for anal sex. Jim starts to get worried and then he notices little Billy playing out back. Jim calls out to Billy 'hey Billy what does Father Larry give for anal sex?'
Bill shouts back 'Two twinkies and a coke!
#joke
Deep Thoughts 04
One thing that makes me believe in UFOs is, sometimes I lose stuff.
It's amazing to me that one of the world's most feared diseases would be carried by one of the world's smallest animals: the real tiny dog.
Sometimes, when I drive across the desert in the middle of the night, with no other cars around, I start imagining: What if there were no civilization out there? No cities, no factories, no people? And then I think: No people or factories? Then who made this car? And this highway? And I get so confused I have to stick my head out the window into the driving rain - unless there's lightning, because I could get struck on the head by a bolt.
I guess more bad things have been done in the name of progress than any other. I myself have been guilty of this. When I was a teenager, I stole a car and drove it out into the desert and set it on fire. When the police showed up, I just shrugged and said, "Hey, progress." Boy, did I have a lot to learn.
I think the monkeys at the zoo should have to wear sunglasses so they can't hypnotize you.
The difference between a man and a boy is, a boy wants to grow up to be a fireman, but a man wants to grow up to be a giant monster fireman.
Love can sweep you off your feet and carry you along in a way you've never known before. But the ride always ends, and you end up feeling lonely and bitter. Wait. It's not love I'm describing. I'm thinking of a monorail.
I bet it was pretty hard to pick up girls if you had the Black Death.
#joke
Two physicians board a flight ...
Two physicians board a flight out of Seattle. One sits in the window seat, the other in the middle seat. Just before take-off, an attorney sits in the seat by the aisle. The lawyer kicks off his shoes, wiggle his toes, and starts to settle in, when the physician in the window seat says, "I think I'll get up and get a coke."
"No problem," says the attorney, "I'm by the aisle. I'll get it for you."
While he's gone, one of the physicians picks up the attorney's shoe and spits in it. When he returns with the coke, the other physician says, "That looks good, I think I'll have one too."
Again, the attorney obligingly fetches the drink. While he's gone, the other physician picks up the other shoe and spits in it.
The lawyer comes back and they all sit back and enjoy the flight. As the plane is landing, however, the attorney slips his feet into his shoes and realizes immediately what has happened.
"How long must this go on?" he asks the physicians. "This fighting between our professions? This hatred? This animosity? This spitting in shoes and peeing in cokes?"