Have a great time for
Christmas
, check out our latest
Christmas jokes of 2022
on:
Christmas jokes collection
The first manual transmission ...
The first manual transmission cars were make shift.
Jay went to a psychiatrist. "...
Jay went to a psychiatrist. "Doc, he said, "I've got trouble.
Every time I get into bed I think there is somebody under it.
I get under the bed; I think there's somebody on top of it.
Top, under, under top. I'm going crazy!"
"Just put yourself in my hands for two years," said the shrink.
"Come to me three times a week and I'll cure you."
"How much do you charge?"
"A hundred dollars per visit."
"I'll think about it."
Jay never went back. Some time later he met the doctor on the street.
"Why didn't you ever come to see me again? Asked the psychiatrist.
"For a hundred buck a visit? A bartender cured me for 10 dollars."
"Is that so! How?"
"He told me to cut the legs off the bed."
Funny video of the day - Funny video of the day Wednesday, 24 March 2010
The seven dwarfs went off to w...
The seven dwarfs went off to work in the mine one day, while Snow White stayed at home to do the housework and cook their lunch.
However when she went to the mine to deliver their lunches, she found there had been a cave-in, and there was no sign of the dwarfs.
Tearfully she yelled in to the mine entrance:"hello - is anyone there. Can anyone hear me".
A voice floated up from the bowels of the mine:
" Australia will win the Rugby World Cup"
"Thank god" said Snow White "at least Dopey's still alive"
#joke
What Would Jesus Drive?
Q: Did you know that they had automobiles in Jesus' time?
A: Yes, the Bible says that the disciples were all of one Accord.
This joke was reprinted from "The Book of Catholic Jokes" by Deacon Tom Sheridan, with permission of ACTA Publications. Copyright 2008. All rights reserved.
#joke
Alan and Michael are bungee-ju...
Alan and Michael are bungee-jumping one day. Alan says to Mike, "you know, we could make a lot of money running our own bungee jumping service in Mexico."
Mike thinks this is a great idea, so they pool their money and buy everything they'll need; a Tower, an elastic cord, insurance, etc. They travel to Mexico and begin to set up on the square.
As they are constructing the tower a crowd begins to assemble. Slowly, more and more people gather to watch them work. When they had finished, there was such a crowd they thought it would be a good idea to give a demonstration. So Mike jumps.
He bounces at the end of the cord, but when he comes back up, Alan notices that he has a few cuts and scratches. Unfortunately, Alan isn't able to catch him, and he falls again, bounces again and comes back up again.
This time he is bruised and bleeding. Again Alan misses him. Mike falls again and bounces back up. This time he comes back pretty messed up. He's got a couple of broken bones and is almost unconscious.
Luckily Alan catches him this time and says, "What happened? Was the cord too long?"
Barely able to speak, Michael gasps, "No, the bungee cord was fine. It was the crowd... WHAT THE HECK IS A PIÑATA?"
#joke
We thought you were a ghost!
Two men were walking home after a party and decided to take a shortcut through the cemetery just for laughs. Right in the middle of the cemetery they were startled by a tap-tap-tapping noise coming from the misty shadows. Trembling with fear, they found an old man with a hammer and chisel, chipping away at one of the headstones.
"Holy cow, Mister," one of them said after catching his breath,
"You scared us half to death -- we thought you were a ghost!
What are you doing working here so late at night?"
"Those fools!" the old man grumbled. "They misspelled my name!"
#joke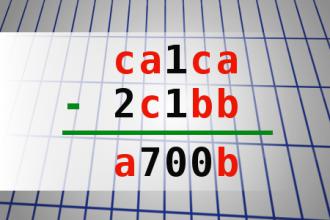 Find number abc
If ca1ca - 2c1bb = a700b find number abc. Multiple solutions may exist.
A Test For Being Drunk
A police officer pulls over this guy who had been weaving in and out of the lanes.
He goes up to the guy's window and says, "Sir, I need you to blow into this breathalyzer tube."
The man says, "Sorry officer I can't do that. I am an asthmatic. If I do that I'll have a really bad asthma attack."
"Okay, fine. I need you to come down to the station to give a blood sample." "I can't do that either. I am a hemophiliac. If I do that, I'll bleed to death."
"Well, then we need a urine sample."
"I'm sorry officer I can't do that either. I am also a diabetic. If I do that I'll get really low blood sugar."
"Alright then I need you to come out here and walk this white line."
"I can't do that, officer."
"Why not?"
"Because I'm too drunk to do that!"
#joke
Penis Comparison
The kings of Spain, France, and England all stand on stage together in front of their nations all ready to see who of the three has the largest penis.
The king of Spain takes his out and as they all see the impressive proportions all the Spanish people shout: "Viva Espania!"
The king of France is next and as his is even larger, all the French scream: "Vive la France!"
Next comes the king of England, and just as he drops his pants and takes his out, everyone exclaims: "God save the Queen!"
Submitted by Glaci
Edited by Curtis
#joke
Donald Glover: New York University
NYUs like a Jurassic Five concert. Its like theres supposed to be black people there, but theyre not.
Mr. Baldwin, the biology teach...
Mr. Baldwin, the biology teacher called on Mary, "Can you tell me the part of the body that, under the right conditions, expands to six times it's normal size, and state the conditions."
Mary gasped and said in a huff, "Why, Mr. Baldwin! That is an inappropriate question and my parents are going to hear of it when I get home!" She sat down, red-faced.
"Susan, can you tell me the answer?" asked Mr. Baldwin
"The pupil of the eye, under dark conditions," said Susan.
"Correct. Now Mary, I have three things to say to you. First, you have not studied your lesson. Second, you have a dirty mind. And third, boy are you going to be disappointed someday!"
#joke
As horny as hell
A guy is horny a hell - but broke. He goes to a whorehouse with $5.00, and begs the Madame to give him whatever she can for it.
She says "I'm sorry, but that will only cover the rent for ten minutes, and none of my hookers work for free!"
The guy gets the room, but has nothing to fuck. He looks out on the ledge of the building and sees a pigeon.
Quietly, he opens the window, grabs the poor bird and just fucks the living shit out of it. Satisfied, he goes home.
Next week, he returns to the whorehouse, with his pay cheque. He says to the Madame, "I got lots of money now...give me a hooker!".
The Madame replies "All of them are busy now, why don't you go to the peep show and get yourself in the mood?".
The guy does, and is enjoying the show, when he turns to the guy next to him and says, "Hey, these chicks really know what they're doing huh?",
The guy responds, "Yeah, but you should have been here last week, there was this guy fucking a pigeon!"
#joke
Calling the Last Rites
A man is struck by a bus on a busy street in New York City. He lies dying on the sidewalk as a crowd of spectators gathers around. "A priest! Somebody get me a priest!" the man gasps. A policeman checks the crowd but finds no priest, no minister, no man of God of any kind.
"A PRIEST, PLEASE!" the dying man says again. Then out of the crowd steps a little old Jewish man of at least eighty years of age."Mr. Policeman," says the man, "I'm not a priest. I'm not even a Catholic. But for fifty years now I'm living behind St. Mary's Catholic Church on Third Avenue, and every night I'm listening to the Catholic litany. Maybe I can be of some comfort to this man."
The policeman agrees and brings the octogenarian over to the dying man. He kneels down, leans over the injured and says in a solemn voice: "B - 4. I - 19. N - 38. G - 54. O - 72."
A blonde, brunette, and redhea...
A blonde, brunette, and redhead went to a church to donate money. The brunette draws a circle around her and throws up all her money.
She says that whatever lands inside the circle is for God, and whatever lands outside of the circle she keeps.
The redhead then draws a line, stands on it, and throws up all of her money. She said that whatever lands on the right side of the line is for God, and whatever lands on the left side she keeps.
The blonde throws up her money, and yells,"God, whatever you catch is yours, and whatever you don't I get to keep."
Sister: Oh, this is terrible! ...
Sister: Oh, this is terrible! I made such a lovely meat pie for dinner and the cat ate it all up! Brother: Don't cry over it ... You know, we can always get another cat.
What do you call a sandwich bo...
What do you call a sandwich box swinging from a bell rope?

The lunchpack of Notre Dame