Slot machine
The old maid walked into the butcher shop and ordered a salami.
The butcher put it on the machine and began slicing.
The old maid yelled, "Hey, what do you think I am, a slot machine?"
Submitted by Curtis
Edited by yisman
Geography Class #humor #joke
Teacher: What is the axis of the earth?
Student: The axis of the earth is an imaginary line which passes from one pole to the other, and on which the earth revolves.
Teacher: Very good. Now, could you hang clothes on that line?
Student: Yes, Sir.
Teacher: Indeed, and what sort of clothes?
Student: Imaginary clothes, Sir.
#joke
Funny video of the day - Funny video of the day Friday, 26 March 2010
Why was Blackbeard chosen to j...
Why was Blackbeard chosen to judge the baking contest? Because he was a pie-rate.
A woman is walking on the road...
A woman is walking on the road and a voice shouts out, "Don't take a step further." She obeys and suddenly a ton of bricks fall on the place where she would have otherwise been. She thinks she imagined it and keeps walking until suddenly the voice calls out again. "Don't take a step further." She stops and a car skids past. Then suddenly she hears the voice saying "I am your guardian angel, and I will warn you before something bad happens to you. Now do you have any questions to ask me?" Yes! Shouts the woman, "Just where were you on my wedding day!"
#joke
A man walks into a bar and say...
A man walks into a bar and says to the bartender, "I bet you fifty dollars that I can bite my right eye." The bartender says, "Yeah, right! I've never seen anyone do that!" So the man takes out his glass eye and bites it.
The angry bartender pays the man his fifty dollars and the man walks away. He comes back half an hour later and says, "I bet you fifty dollars I can bite my left eye." Now the bartender becomes really skeptical. She says, "I just saw you walk in here -- you can't be blind!" So he takes out his fake teeth and bites his left eye. The bartender pays him his money and he walks away.
#joke #walksintoabar
Phone Call
George Bush, Queen Elizabeth, and Vladimir Putin all die and go to hell.
While there, they spy a red phone and ask what the phone is for.
The devil tells them it is for calling back to Earth.
Putin calls Russia and talks for 5 minutes.
When he was finished the devil informs him that the cost is a million dollars, so Putin writes him a check.
Next Queen Elizabeth calls England and talks for 30 minutes.
When she's finished the devil informs her that cost is 6 million dollars, so Queen Elizabeth writes him a check.
Finally George Bush gets his turn and talks for 4 hours.
When he's finished the devil informed him that there would be no charge and feel free to call the USA anytime.
Putin goes ballistic and asks the devil why Bush got to call the USA free.
The devil replied, "Since Obama became president of the USA , the country has gone to hell, so it's a local call."
#joke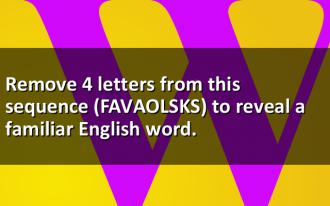 Remove 4 letters from this seq...
Remove 4 letters from this sequence (FAVAOLSKS) to reveal a familiar English word.
"Hello, is this the FBI?&...
"Hello, is this the FBI?"
"Yes. What do you want?"
"I'm calling to report about my neighbor Billy Bob Smith! He is hiding marijuana inside his firewood."
"Thank you very much for the call, sir."
The next day, the FBI agents descend on Billy Bob's house. They search the shed where the firewood is kept. Using axes, they bust open every piece of wood, but find no marijuana. They swore at Billy Bob and left.
The phone rings at Billy Bob's house.
"Hey, Billy Bob! Did the FBI come?"
"Yeah!"
"Did they chop your firewood?"
"Yep."
"Merry Christmas Buddy."
Laughing baby...
A baby is just born. It has all of its parts and looks quite normal. The only problem is, the baby is laughing. Not just laughing, but laughing hysterically. The doctors and nurses examine the little tyke, from top to bottom and from front to back in front of the worried parents. With his tiny fists clenched and tears rolling down his face, the baby just continues to laugh. One by one the pediatrician unfolds the tiny fingers checking to see if the baby's hands are all right. As they open the baby's hand, to their surprise what do they see, but a birth control pill!
What's round and bad tempered?
What's round and bad tempered? A vicious circle.
Question And Answer Blond Jokes

Q: Why do Blondes wear earmuffs?
A: To avoid the draft.
Q: Why did the blonde stare at the can of frozen orange juice for two hours?
A: Because the can said "concentrate" on it.
Q: How do you make a blonde laugh on Saturday?
A: Tell her a joke on Wednesday.
Q: What is the blonde doing when she holds her hands tightly over her ears?
A: Trying to hold on to a thought.
Q: Why don't blondes have elevator jobs?
A: They don't know the route.
Q: Why do blondes work seven days a week?
A: So you don't have to retrain them on Monday.
Q: How does a blonde commit suicide?
A: She gathers her clothes into a pile and jumps off.


The Sklar Brothers: Aggressive Advertising
Jason Sklar: It was the most aggressive advertisement weve ever seen. It was a bus bench ad advertising bus bench ads.
Randy Sklar: It was like the M.C. Escher of advertising
Two blondes were in a parking ...
Two blondes were in a parking lot trying to unlock the door of their Mercedes with a coat hanger. They tried and tried to get the door open, but they couldn't.
The girl with the coat hanger stopped for a moment to catch her breath, and her friend said anxiously, "Hurry up! It's starting to rain and the top is down."
Shark!
There is this atheist swimming in the ocean. All of a sudden he sees a shark in the water, so he starts swimming furiously towards his boat.
As he looks back, he sees the shark turn and head towards him. He's scared to death, and as he sees the jaws of the great white beast open, revealing its horrific teeth, the atheist screams, "Oh God! Save me!"
In an instant, time is frozen and a bright light shines down from above. The man is motionless in the water when he hears the voice of God say, "You are an atheist. Why do you call upon me when you do not believe in me?"
Confused, and knowing he can't lie, the man replies, "Well, that's true I don't believe in you, but how about the shark? Can you make the shark believe in you?"
The Lord replies, "As you wish," and the light retracts back into the heavens. The man feels the water move once again.
As the atheist looks back, he can see the jaws of the shark start to close down on him, when all of sudden the shark stops and pulls back.
Shocked, the man watches as the huge beast closes its eyes, bows its head and says, "Thank you Lord for this food which I am about to receive..."

#joke
Dad: Son, go buy me a soda
...
Dad: Son, go buy me a soda
Son: Coke or Pepsi?
Dad: Coke
Son: Regular or Diet?
Dad: Diet
Son: In can or bottled?
Dad: Bottled
Son: 8oz or the 12oz?
Dad: D@mn you!!! So many questions! JUst buy me water.
Son: Mineral or Distilled?
Dad: Mineral
Son: Cold or warm?
Dad: I don't think you want to run an errand.....
Son: Is it obviuos or not?
Dad: Get out of here!!
Son: Now or later???
#joke
Back seat...
Junior had just received his brand new drivers license. To celebrate, the whole family trooped out to the driveway and climbed into the car for his inaugural drive. Dad immediately headed to the back seat, directly behind the newly minted driver.
"I'll bet you're back there to get a change of scenery after all those months of sitting in the front passenger seat teaching me how to drive," said the beaming boy to his ol' man.
"Nope," came dad's reply, "I'm gonna sit here and kick the back of your seat as you drive, just like you've been doing to me for sixteen years."
#joke
Bill Gates cannot hire houseke...
Bill Gates cannot hire housekeepers, although he has interviewed hundreds.
Everyone he interviews says they don't do windows.
C.E.O. D.U.M.B
One day a secretary is leaving on her lunch break, and she notices her boss standing in front of a shredder with a clueless look on his face. The secretary walks up to him and asks if he needs help.
Yes! he says looking and sounding relieved, This is very important. Glad to help, she turns the shredder on and inserts the paper. Then her boss says, Thanks, I only need one copy.
#joke
Cunning man
Each time the man visits this bar he has a little white box with him.
The lady bartender is finally overcome with interest, and ask: "What's in the box?"
To which he replies "The most amazing frog ever. He loves to go down on women and he is really great."
She suggest she found out how how good the frog is.
In the back room she takes off all her clothes, and spreads her legs apart as the man takes the frog out of the box and places him between her legs.
After several minutes nothing is happening. The man reaches down and picks the frog up, and shaking him says: "Now listen, I am going to show you one more time!"
#joke