Funny video of the day - Funny video of the day Thursday, 22 April 2010
The Vet
One Sunday, in counting the money in the weekly offering, the Pastor of a small churchfound a pink envelope containing $1,000. It happened again the next week!
The following Sunday, he watched as the offering was collected and saw an elderly woman put the distinctive pink envelope on the plate. This went on for weeks until the pastor, overcome by curiosity, approached her.
"Ma'am, I couldn't help but notice that you put $1,000 a week in the collection plate," he stated.
"Why yes," she replied, "every week my son sends me money and I give some of it to the church."
The pastor replied, "That's wonderful. But $1000 is a lot, are you sure you can afford this? How much does he send you?"
The elderly woman answered, "$10,000 a week."
The pastor was amazed. "Your son is very successful; what does he do for a living?"
"He is a veterinarian," she answered.
"That's an honorable profession, but I had no idea they made that much money," the pastor said. "Where does he practice?"
The woman answered proudly, "In Nevada .. He has two cat houses, one in Las Vegas , and one in Reno '
#joke
An Ideal Marriage
Adam and Eve had an ideal marriage. He didn't have to hear about all the men she could have married, and she didn't have to hear about the way his mother cooked.
Lewis Black: Earth Day
We came up with Earth Day so we would have one day every year that would remind us what planet we were living on.
Moral of the story....
A missionary, in Africa, was out taking a walk in the jungle. Suddenly, he heard a noise from the brush in front of him. It was a lion. He started to back up and heard a noise from behind. Sure enough, it was another lion. He looked to his left and then to his right. You guessed it, lions were on both sides. It looked grim, so the missionary sat down where he was and started to read his Bible. Shortly after he started reading, the lions jumped the missionary and ate him.
Moral of the story: Never read between the lions.
#joke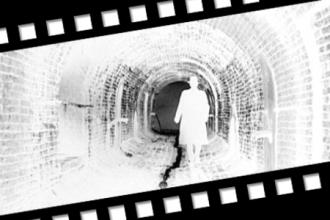 CINEMANIA: Guess the movie title
See negative of movie scene and guess the title. Length of words in solution: 3,5,3
School Collection 14
Father: I hear you skipped school to play football
Son: No I didn't, and I have the fish to prove it!
Teacher: When was Rome built?
Pupil: At night.
Teacher: Why did you say that?
Pupil: Because my Dad always says that Rome wasn't built in a day!
What did the Sheriff of Nottingham say when Robin fired at him?
That was an arrow escape!
A history joke
What did the ghost of Queen Elizabeth say as it floated into the terrified woman's bedroom?
Don't worry, I'm just passing through!
Pupil: My teacher was mad with me because I didn't know where the Rockies were.
Mother: Well next time remember where you put things!
#joke
All I Want for Chris
I'll give you a nice long wet kiss To start off our yule tide bliss Then once I've romanced ya It's time I depantsed ya By whipping your zipper like this!
A husband and wife at a hotel ...
A husband and wife at a hotel asked for a 6am alarm call. On the stroke of 6, the phone rang and a voice said: "This is your wake-up call." The guest said thanks and put the phone down. A minute later the phone rang again and the voice said: "This is your wake-up call." Annoyed, the husband said: "You phoned only a minute ago." "I know," replied the receptionist, "but there are two of you."
#joke
Sherlock Holmes and Dr. Watson
Sherlock Holmes and Dr. Watson go on a camping trip, set up their tent, and fall asleep.
Some hours later, Holmes wakes his faithful friend. "Watson, look up at the sky and tell me what you see."
Watson replies, "I see millions of stars."
"What does that tell you?"
Watson ponders for a minute. "Astronomically speaking, it tells me that there are millions of galaxies and potentially billions of planets. Astrologically, it tells me that Saturn is in Leo. Timewise, it appears to be approximately a quarter past three. Theologically, it's evident the Lord is all-powerful and we are small and insignificant. Meteorologically, it seems we will have a beautiful day tomorrow. What does it tell you?"
Holmes is silent for a moment, then speaks. "Watson, you idiot, someone has stolen our tent."
#joke
Bumper Stickers for the Bush 2...
Bumper Stickers for the Bush 2004 Campaign
Bush/Cheney '04: Four More Wars
Bush/Cheney '04: Leave No Billionaire Behind
Bush/Cheney '04: Deja-Voodoo All Over Again!
Bush/Cheney '04: Compassionate Colonialism
Bush/Cheney '04: Because the Truth Just Isn't Good Enough
Bush/Cheney '04: Making the World a Better Place, One Country at a Time
Bush/Cheney '04: Over a Billion Whoppers Served.
Bush/Cheney '04: Putting the "Con" in Conservative
Bush/Cheney '04: Thanks for Not Paying Attention.
Bush/Cheney '04: The Last Vote You'll Ever Have to Cast
Bush/Cheney: Asses of Evil
Bush/Cheney '04: We're Gooder!
Bush/Cheney '04: This Time, Elect Us!
George W. Bush: The Buck Stops Over There
George W. Bush: A Brainwave Away from the Presidency
Don't think. Vote Bush!
More Trees, Less Bush
It Takes a Village Idiot
One Person, One Vote (*May Not Apply in Certain States)
Bring Back Monica Lewinsky
#joke
Being black
It is hard being black.
We get the bad end of the deal with every sport.
Hockey, you're slappin a black puck around.
Pool, you have a white ball trying to knock you in a hole.
The only thing we have is bowling, where you have a black ball trying to knock down ten rednecks.
Submitted by Curtis
Edited by calamjo
#joke
10 words that do not exist...but should...
1. AQUADEXTROUS (ak wa deks' trus) adj. Possessing the ability to turn the bathtub faucet on and off with your toes.
2. CARPERPETUATION (kar' pur pet u a shun) n. The act, when vacuuming, of running over a string or a piece of lint at least a dozen times, reaching over and picking it up, examining it, then putting it back down to give the vacuum one more chance.
3. DISCONFECT (dis kon fekt') v. To sterilize the piece of candy you dropped on the floor by blowing on it, assuming this will somehow `remove' all the germs.
4. ELBONICS (el bon' iks) n. The actions of two people maneuvering for one armrest in a movie theater.
5. FRUST (frust) n. The small line of debris that refuses to be swept onto the dust pan and keeps backing a person across the room until he finally decides to give up and sweep it under the rug.
6. LACTOMANGULATION (lak' to man gyu lay' shun) n. Manhandling the 'open here' spout on a milk container so badly that one has to resort to the `illegal' side.
7. PEPPIER (pehp ee ay') n. The waiter at a fancy restaurant whose sole purpose seems to be walking around asking diners if they want ground pepper.
8. PHONESIA (fo nee' zhuh) n. The affliction of dialing a phone number and forgetting whom you were calling just as they answer.
9. PUPKUS (pup' kus) n. The moist residue left on a window after a dog presses its nose to it.
10. TELECRASTINATION (tel e kras tin ay' shun) n. The act of always letting the phone ring at least twice before you pick it up, even when you're only six inches away.
#joke
Why did the robber take a bath...
Why did the robber take a bath before he stole from the bank?


He wanted to make a clean getaway.

ATTORNEY: How was your first...
ATTORNEY: How was your first marriage terminated?
WITNESS: By death.
ATTORNEY: And by whose death was it terminated?
WITNESS: Now whose death do you suppose terminated it?

Q: How do you...
Q: How do you know if a woman is a redneck?
A: Her fur coat is homemade.