Life Savers
The children began to identify the flavours by their colour:
Red......................Cherry
Yellow...................Lemon
Green..................Lime
Orange ................Orange
Finally the teacher gave them all HONEY lifesavers. None of the children could identify the taste.
The teacher said, 'I will give you all a clue. It's what your mother may sometimes call your father.'
One little girl looked up in horror, spit her lifesaver out and yelled, 'Oh my God! They're arseholes!
The teacher had to leave the room!
#joke
The iPad is a product of eons ...
The iPad is a product of eons of geology. Specifically, slate tech-tronics.
Funny video of the day - Funny video of the day Sunday, 25 April 2010
A Doctor was addressing a larg...
A Doctor was addressing a large audience in Tampa.. 'The
material we put into our stomachs is enough to have killed most of us
sitting here, years ago. Red meat is awful. Soft drinks corrode your
stomach lining.. Chinese food is loaded with MSG. High fat diets can
be disastrous, and none of us realizes the long-term harm caused by the
germs in our drinking water. However, there is one thing that is the
most dangerous of all and we all have eaten, or will eat it. Can anyone
here tell me what food it is that causes the most grief and suffering
for years after eating it?' After several seconds of quiet, a
75-year-old man in the front row raised his hand, and softly said,
'Wedding Cake.'
Then there's the woman who goe...
Then there's the woman who goes to the dentist.
As he leans over to begin working on her, she grabs his balls.
The dentist says, "Madam, I believe you've got a hold of my privates."
The woman replies, "Yes...And we're going to be careful not to hurt each other, aren't we."
Mitch Hedberg: Emergency Brake
A lot of times, Ill drive for like 10 miles with the emergency brake. That doesnt say a lot for me, but it really doesnt say a lot for the emergency brake.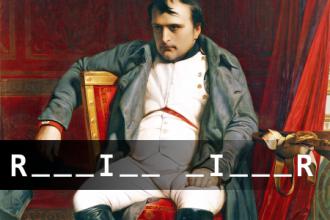 Find the missing text [R***I** *I***R]
Background picture associated with the solution.
We judge on results...
A minister has just died and is standing on line waiting to be judges and admitted to Heaven. While waiting he asks the man in front of him about himself. "I'm a taxi driver from Noo Youk Cidy"
Suddenly the angel standing at the gate calls out next, and the taxi driver steps up. The angel hands him a golden staff and a cornucopia of fruits, cheeses and wine and lets him pass. The taxi driver is quite pleased, and proceeds through the gates.
Next, the minister steps up to the angel and the angel hands him a wooden staff and some bread and water. The minister is very concerned and asks the angel, "That guy is a taxi driver and gets a golden staff and a cornucopia! I spend my entire life as a minister and get nothing! How can that be?"
The angel replies, "Up here we judge on results, all of your people sleep through your sermons, in his taxi, they pray."
#joke
Lightbulb Joke Collection 69
Q: How many tech writers does it take to change a lightbulb?
A: None: "The user can work it out."
Q: How many tech writers does it take to change a lightbulb?
A: Just one, provided there's a programmer around to explain how to do it.
Q: How many tech writers does it take to change a lightbulb?
A: None: It should be obvious to an intelligent user.
Q: How many Technical Support staff does it take to change a lightbulb ?
A: "Well, we have an exact copy of your light bulb here and it seems to be working OK. Can you be more specific about the exact problem ?..."
Q: How many Technical Support staff does it take to change a lightbulb ?
A: I'm sorry, we don't support that kind of lighting technology.
Q: How many WordPerfect support technicians does it take to change a lightbulb?
A: We have an exact copy of the light bulb here, and it seems to be working fine. Can you tell me what kind of system you have? Ok. Now, exactly how dark is it? Ok, there could be four or five things wrong . . . have you tried the light switch?
Q: How many MIS guys does it take to change a light bulb?
A: MIS has received your request concerning your hardware problem, and has assigned your request Service Number 39712. Please use this number for any future reference to this light bulb issue. As soon as a technician becomes available, you will be contacted.
Q: How many first-time computer users does it take to screw in a lightbulb?
A: One, but it takes him three hours and two phone calls to the electrician before he realizes he forgot to turn the switch on.
#joke
Gorilla Chase!
There was a man that owned a giant gorilla and, all its life, he'd never left it on its own.
But eventually he had to go on a business trip and had to leave his gorilla in the care of his next-door neighbor.
So he explained to his neighbor that all he had to do was feed his gorilla three bananas a day at three, six and nine o'clock.
But he was never ever, ever to touch its fur.
So the next day the man came and gave the gorilla a banana and looked at it for a while thinking, "Why can't I touch its fur?" as their didnt seem to be anything wrong with it.
Every day he came in and looked for a little while longer as he still couldnt understand until, about a week later, he'd worked himself into a frenzy and decided that he was going to touch the gorilla.
He passed it the banana and very gently brushed the back of his hand against its fur.
Suddenly the gorilla went ape shit and started to jump around, then it turned and began to running towards the man who, in turn, ran through the front door, over the lawn, across the street, into some one else's sports car and drove off.
In the rear-view mirror, he could see the gorilla in its own sports car, driving right behing him.
He drove for two hours until the engine began to splutter and the car just stopped. He jumped out and began to run down the street, over a brick wall, into someone's front garden and up the apple tree.
He turned around to find the gorilla right behind him beating its chest.
The man jumped down and ran back in to the street screaming, until it became dark and he thought he'd lost the gorilla.
The man ran into an alleyway then, suddenly, he saw a giant shaddow coming down the street ahead.
The gorilla!
It came to the end of the alley, stood and looked striaght into the bloodshoot eyes of the man and came towards him slowly.
This time there was no escape. As the gorilla neared him, the man began to feel faint.
The giant beast came face to face with him, raised its mighty hand and said, "Tag! You're it!"
#joke
A husband and wife at a hotel ...
A husband and wife at a hotel asked for a 6am alarm call. On the stroke of 6, the phone rang and a voice said: "This is your wake-up call." The guest said thanks and put the phone down. A minute later the phone rang again and the voice said: "This is your wake-up call." Annoyed, the husband said: "You phoned only a minute ago." "I know," replied the receptionist, "but there are two of you."
#joke
A man was walking along a Cali...
A man was walking along a California beach and stumbled across an old lamp. He picked it up and rubbed it and out popped a genie.
The genie said "OK, OK. You released me from the lamp... blah, blah, blah... This is the fourth time this month and I'm getting a little sick of these wishes so you can forget about three. You only get one wish!"
The man sat and thought about it for a while and said, "I've always wanted to go to Hawaii but I'm scared to fly and I get very seasick. Could you build me a bridge to Hawaii so I can drive over there to visit?"
The genie laughed and said, "That's impossible! Think of the logistics of that. How would the supports ever reach the bottom of the Pacific?
Think of how much concrete... how much steel!! No. Think of another wish."
The man said OK and tried to think of a really good wish. Finally, he said, "I've been married and divorced four times. My wives always said that I don't care and that I'm insensitive. So, I wish that I could understand women...know how they feel inside and what they're thinking when they give me the silent treatment... to know why they're crying, to know what they really want when they say 'nothing' ... to know how to make them truly happy."
The genie said, "You want that bridge two lanes or four?"
#joke
Moses on His Walkie Talkie
Nine year old Joey was asked by his mother what he had learned at Sunday school.
"Well, Mom, our teacher told us how God sent Moses behind enemy lines on a rescue mission to lead the Israelites out of Egypt.
"When he got to the Red Sea, he had his engineers build a pontoon bridge and all the people walked across safely.
"Then he used his walkie-talkie to radio headquarters for reinforcements. They sent bombers to blow up the bridge and all the Israelites were saved."
"Now, Joey, is that really what your teacher taught you?" his mother asked.
"Well, no. But if I told it the way the teacher did, you'd never believe it!"
#joke
A traveler wandering on an isl...
A traveler wandering on an island inhabited by cannibals comes upon a butcher shop. This shop specialized in human brains sorted out according to source.
The sign in the shop read:
Artists' Brains $9/lb
Philosophers' Brains $12/lb
Scientists' Brains $15/lb
Blondes' Brains $100/lb
Upon reading the sign, the traveler noted, "My, those beekeepers' brains are expensive - they must be very powerful!"
The butcher replied, "Not really. They're expensive because it takes so many Blondes to get one pound of brains!!"
Bloopers from Sunday School Students
The greatest miracle in the Bible is when Joshua told his son to stand still and he obeyed him.

Solomon, one of David's sons, has 300 wives and 700 porcupines.

Jesus enunciated the Golden Rule, which says to do one to others before they do one to you. He also explained, "Man doth not live by sweat alone."

It was a miracle when Jesus rose from the dead and managed to get the tombstone off the entrance.

#joke
ATTORNEY: Do you recall the t...
ATTORNEY: Do you recall the time that you examined the body?
WITNESS: The autopsy started around 8:30 P.M.
ATTORNEY: And Mr. Denton was dead at t he time?
WITNESS: No, he was sitting on the table wondering why I was doing an autopsy on him!

The watch....
Jake is struggling through a bus station with two huge and obviously heavy suitcases when a stranger walks up to him and asks "Have you got the time?"
Jake sighs, puts down the suitcases and glances at his wrist. "It's a quarter to six," he says.
"Hey, that's a pretty fancy watch!" exclaims the stranger.
Jake brightens a little. "Yeah, it's not bad. Check this out" - and he shows him a time zone display not just for every time zone in the world, but for the 86 largest metropoli.
He hits a few buttons and from somewhere on the watch a voice says "The time is eleven 'til six" in a very West Texas accent. A few more buttons and the same voice says something in Japanese. Jake continues "I've put in regional accents for each city". The display is unbelievably high quality and the voice is simply astounding.
The stranger is struck dumb with admiration. "That's not all," says Jake. He pushes a few more buttons and a tiny but very hi-resolution map of New York City appears on the display. "The flashing dot shows our location by satellite positioning," explains Jake. "View recede ten," Jake says, and the display changes to show eastern New York state.
"I want to buy this watch!" says the stranger.
"Oh, no, it's not ready for sale yet; I'm still working out the bugs," says the inventor. "But look at this," and he proceeds to demonstrate that the watch is also a very creditable little FM radio receiver with a digital tuner, a sonar device that can measure distances up to 125 meters, a pager with thermal paper printout and, most impressive of all, the capacity for voice recordings of up to 300 standard-size books," though I only have 32 of my favorites in there so far" says Jake.
"I've got to have this watch!" says the stranger.
"No, you don't understand; it's not ready."
"I'll give you $1000 for it!"
"Oh, no, I've already spent more than..."
"I'll give you $5000 for it!"
"But it's just not...."
"I'll give you $15,000 for it!" And the stranger pulls out a checkbook. Jake stops to think. He's only put about $8500 into materials and development, and with $15 000 he can make another one and have it ready for merchandising in only six months. The stranger frantically finishes writing the check and waves it in front of him. "Here it is, ready to hand to you right here and now. $15,000. Take it or leave it." Jake abruptly makes his decision. "OK," he says, and peels off the watch. They make the exchange and the stranger starts happily away.
"Hey, wait a minute," calls Jake after the stranger, who turns around warily. Jake points to the two suitcases he'd been trying to wrestle through the bus station. "Don't forget your batteries."
#joke
A sales rep. who was on busine...
A sales rep. who was on business in New York City bought a lottery ticket. Unbelievably, before he was to return home, he learned that his numbers were drawn and that he had won $50 million dollars. Excitedly, he phoned his wife and said, "Honey, I just won $50 million dollars in the New York Lottery!! Start packing your bags!!"
The wife was equally excited and began to scream and yell. "What kind of clothes should I pack? Summer clothes, or winter clothes?"
"It really doesn't matter." the husband replied. "Just be gone by the time I get home!"
#joke