I hate waterin...
I hate watering the lawn.  It really irrigates me.

Q: What does every woman ...

Q: What does every woman call an intelligent, attractive, caring, loving and sensitive man?
A: A dream.
Funny video of the day - Funny video of the day Wednesday, 05 May 2010
An organization is like a tree...
An organization is like a tree full of monkeys, all on different limbs at different levels.

Some monkeys are climbing up, some down.

The monkeys on top look down and see a tree full of smiling faces.

The monkeys on the bottom look up and see nothing but assholes.
Pro and Con
If pro- is the opposite of con- then congress must be the opposite of progress.
Documentation Products
The following is supposedly a true story. To be included, besides being true, the story is most likely strange, weird, surprising, or funny.
FrameMaker and Interleaf are competing documentation products. When the spelling checker of FrameMaker 2.1 encounters the word Interleaf in a document, it flags it as a misspelling. What does it offer as the correct spelling? "FrameMaker"!
#joke
Computer Movers
Dick and Dirk are employed in a computer hardware store as movers.
One day both of them are asked to move some computers. Dick being energetic that day doesn't feel the computer to be heavy at all. At the same time he sees that Dirk is struggling very hard to lift his computer.
At this Dick says, "What Dirk, my comp has 500 MB HardDisk and yours has just 250, even then you cannot lift it ???"
At this Dirk thinks for a while and replies, "Thats right, but my HardDisk is full and yours is empty"
#joke
FLEX WORDLE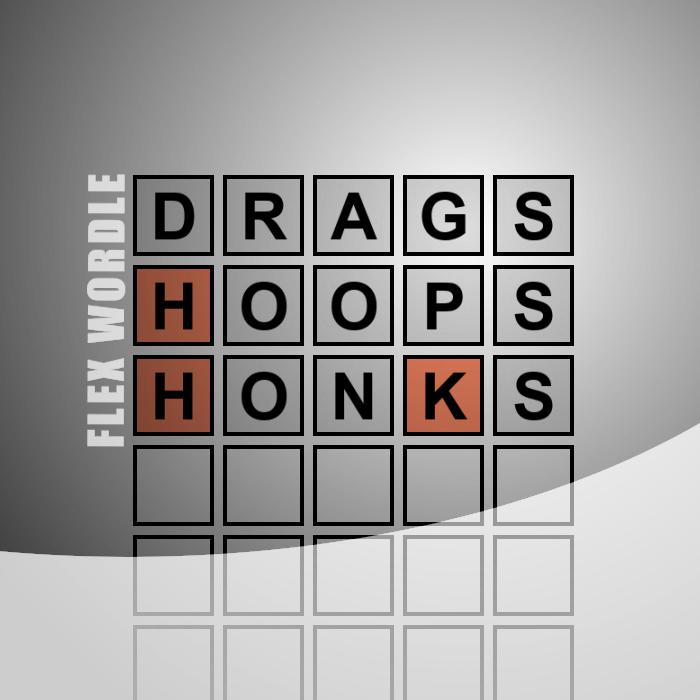 Guess the
WORDLE
in 3 tries. After each guess, the color of the tiles will change to show how close your guess was to the solution.
Felipe Esparza: Coalition Forces
The war in Iraq is still going on. The British are helping. Mexico wants to help, but they need a ride over there.
How do you tell a kebab to be ...
How do you tell a kebab to be quiet?
Shh, kebab
A lady is walking down the str...
A lady is walking down the street to work and see's a parrot in a pet store. She stops to admire the bird. The parrot says to her, "hey lady, you are really ugly."
Well, the lady is furious! She storms past the store to her work.
On the way home she saw the same parrot in the window and the parrot upon seeing her says, "hey lady, you are really ugly."
She was incredibly ticked now. The next day on the way to work she saw the same parrot and once again it said, "hey lady, you are really ugly."
The lady was so furious that she stormed into the store and threatened to sue the store and have the bird killed. The store manager appologized profusely and promised the bird wouldn't say it again.
When the lady walked past the store after work the parrot said to her, "hey lady."
She paused and said," yes?"
The bird said, "you know."
#joke
What do you call an Australian...
What do you call an Australian with a sheep under one arm and a goat under the other?
Bisexual.
Our Favorite Lightbulb Jokes
HOW MANY ZEN BUDDHISTS DOES IT TAKE TO CHANGE A LIGHTBULB?
A: Three. One to change the lightbulb, one NOT to change the lightbulb, and one to neither change nor not change the lightbulb.
HOW MANY EPISCOPALIANS DOES IT TAKE TO CHANGE A LIGHTBULB?
A: Eight. One to call the electrician, and seven to say how much they liked the old one better.
HOW MANY UNITARIANS DOES IT TAKE TO CHANGE A LIGHTBULB?
A: The Unitarians wish to issue the following statement:
"We choose not to make a statement either in favor of or against the need for a lightbulb; however, if in your own journey you have found that lightbulbs work for you, that is fine. You are invited to write a poem or compose a modern dance about your personal relationship with your lightbulb, and present it next month at our annual lightbulb Sunday service, in which we will explore a number of lightbulb traditions, including incandescent, fluorescent, three-way, long-life and tinted, all of which are equally valid paths to luminescence."
HOW MANY PENTECOSTALS DOES IT TAKE TO CHANGE A LIGHTBULB?
A: Ten. One to change the bulb and nine to pray against the spirit of darkness.
#joke
New Lingo for an Old Priest
There was an old priest who got sick of all the people in his parish who kept confessing to adultery. One Sunday, in the pulpit, he said, "If I hear one more person confess to adultery, I'll quit!"Everyone liked him, so they came up with a code word. Someone who had committed adultery would say instead that they had "fallen."
This seemed to satisfy the old priest and things went well until the priest passed away at a ripe, old age.
A few days after the new priest arrived, he visited the mayor of the town and seemed very concerned.
"Mayor, you have to do something about the sidewalks in town. When people come into the confessional, they keep telling me they've fallen."
The mayor started to laugh, realizing that no one had told the new priest about the code word. But, before he could explain, the priest shook an accusing finger at him and shouted, "I don't know what you're laughing about, because your wife has already fallen three times this week!"
#joke
The Perfect Poem...
I have a spelling checker,
It came with my PC;
It plainly marks four my revue,
Mistakes I cannot sea;
I've run this poem threw it,
I'm sure your please to no;
Its letter perfect in it's weigh,
My checker tolled me sew.
Business One-liners 125
Schemmer's Law (Organization & Programs): When an organization faces a 20 year threat, it responds with 15-year programs, organized with 5-year plans, managed by 3-year directors, and funded by 1-year appropriations.
Simmons's Law: The desire for racial integration increases with the square of the distance from the actual event.
SNAFU Equations: 1) Given any problem containing N equations, there will be N+1 unknowns. 2) An object or bit of information most needed will be least available. 3) Any device requiring service or adjustment will be least accessible. 4) Interchangeable devices won't. 5) In any human endeavor, once you have exhausted all possibilities and fail, there will be one solution, simple and obvious, highly visible to everyone else. 6) Badness comes in waves.
Thoreau's Theories Of Adaptation: 1) After months of training and you finally understand all of a program's commands, a revised version of the program arrives with an all-new command structure. 2) After designing a useful routine that gets around a familiar "bug" in the system, the system is revised, the "bug" taken away, and you're left with a useless routine. 3) Efforts in improving a program's "user friendliness" invariable lead to work in improving user's "computer literacy". 4) That's not a "bug", that's a feature!
Thyme's Law: Everything goes wrong at once.
Universal Technical Document Units Law: Characteristics, specifications, dimensions, and any other data included in technical documents must be stated in exotic units, such as "tenth of troy once per barn" for pressures, or "acre times atmosphere per kilogram" for speeds.
Vail's Second Axiom: The amount of work to be done increases in proportion to the amount of work already completed.
#joke
chronic migraine
This guy gets these chronic migraine headaches. One day he sees a doctor about his problem.
The doctor gives him a thorough examination and says, "I can cure your headaches, but I'll have to cut your balls off to do it."
At first the man is horrified at this idea, but the headaches keep getting worse and worse. He can't work or sleep, his sex life is nonexistent, and he's generally miserable. Finally, he goes back to the doctor and says, "I don't care anymore, cut them off. Just get rid of these damned headaches!
The doctor performs the operation, and immediately the headaches go away.
The guy is relatively happy, now. He may not have a sex life, but he figures this is price he has to pay for a life without pain. One day, he decides to get himself a new wardrobe. He goes to this nice new men's shop downtown.
As soon as he walks in the door, the clerk looks carefully at him and says, "You wear a 44 long jacket, don't you?" The guy says, "Yeah, how did you know?"
"It's in the eye," says the clerk. "Your neck is seventeen and one quarter inches, but given your build, medium shirt sleeves should work."
"That is incredible!" the guy says. "Hmm... and you wear a 36 large jockstrap."
"Ah hah! You're wrong," the guy says gleefully. "I wear a 32 small jockstrap."
"No, you have to wear a 36 large," says the clerk.
"Look, I'm sorry, but you're wrong. I wear a 32 small."
That's impossible," says the confused clerk. "A 32 small jockstrap would pinch your balls and give you migraine headaches."
Join us on WhatsApp