Calling the Police
George Phillips of Meridian, Mississippi was going up to bed, when his wife told him that he'd left the light on in the garden shed, which she could see from the bedroom window. George opened the back door to go turn off the light, but saw that there were people in the shed stealing things.
He phoned the police, who asked "Is someone in your house?" He said "No." Then they said "All patrols were busy. You should lock your doors and an officer will be along when one is available." George said, "Okay". He hung up the phone and counted to 30.
Then he phoned the police again.
"Hello, I just called you a few seconds ago because there were people stealing things from my shed. Well, you don't have to worry about them now because I just shot them" and hung up.
Within five minutes, six Police Cars, a SWAT Team, a Helicopter, two Fire Trucks, a Paramedic, and an Ambulance showed up at the Phillips' residence, and caught the burglars red-handed.
One of the Policemen said to George, "I thought you said that you shot them!"
George said, "I thought you said there was nobody available!"
(a True Story)
I love it!!! Don't mess with old people
#joke
Visiting a rural farm #joke #humor
Rush Limbaugh and his chauffeur were out driving in the country and accidentally hit and killed a pig that had wandered out on a country road. Limbaugh told the chauffeur to drive up to the farm and apologize to the farmer.
They drove up to the farm, the chauffeur got out and knocked on the front door and was let in. He was in there for what seemed like hours. When the chauffeur came out, Limbaugh was confused about why his driver had been in there so long.
"Well, first the farmer shook my hand, then he offered me a beer, then his wife brought me some cookies, and his daughter showered me with kisses." explained the driver.
"What did you tell the farmer?" Limbaugh asked.
The chauffeur replied, "I told him I was Rush Limbaugh's driver and I'd just killed the pig."
Funny video of the day - Funny video of the day Saturday, 08 May 2010
Do data miners work at the ...
Do data miners work at the query?
A manager was soliciting resum...
A manager was soliciting resumes through a recruitment agency to fill in a senior staff member who had just resigned. The next day the recruitment agent came in to meet the manager and beaming he handed over a resume and said, "M'am, we have got just the right person you are looking for. The manager after skimming through the resume was visibly upset. Puzzled, the recruitment agent enquired what the matter was. The manager replied, "This candidate on the resume is the best we've got in our department".
#joke
Row, Row, Row Your Boat?
A student was asked if he knew what Roe v. Wade was about. He answered that he thought it was the decision George Washington had to make when he decided to cross the Delaware.
This joke was reprinted from "Laugh Yourself Healthy" by Charles and Frances Hunter, with permission of Strang Communications. Copyright 2008. All rights reserved.
#joke
Little voices...
A guy goes into a bar and orders a beer. As he takes a sip of his beer, he hears a tiny little voice say: "Nice tie." He looks around but sees no one. He take another sip of his beer and hears: "A nice shirt, too." Again he looks around and sees no one.
He signals the bartender over, and hesitantly explains that he's hearing voices talking to him... "Of course," smiles the bartender. "It's the peanuts -- they're complimentary."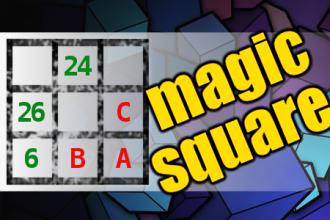 MAGIC SQUARE: Calculate A*B-C
The aim is to place the some numbers from the list (6, 7, 8, 24, 25, 26, 64, 65, 66) into the empty squares and squares marked with A, B an C. Sum of each row and column should be equal. All the numbers of the magic square must be different. Find values for A, B, and C. Solution is A*B-C.
Scary Collection 28
A vampire joke
What do romantic vampires do?
Neck!
A skeleton joke
What's a skeleton's favorite vegetable?
Marrow!
A skeleton joke
What did the old skeleton complain of?
Aching bones!
A vampire joke
What did Dracula say to his new apprentice?
We could do with some new blood around here!
A skeleton joke
What is a skeleton?
Somebody on a diet who forgot to say "when"!
A vampire joke
How does a vampire clean his house?
With a victim cleaner!
A vampire joke
What does a vampire say when you tell him a ghoul joke
?
Ghoul blimey!
#joke
Santa Hates Your Kid
8. Kid's letter to north pole comes back stamped, "Dream on, Chester!"
7. Kid asks for new bike, gets pack of smokes
6. Along with presents, Santa leaves hefty bill for shipping and handling.
5. By the time he gets to your house, all he has left is foam packing.
4. Christmas day, your kid wakes up with a Reindeer head in his bed.
3. Instead of "Naughty" or "Nice", Santa has him on the stupid list
2. Labels on all your kid's toys read "Straight from Craptown."
1. Four words: "Off my lap, Tubby!"
Eddie Gossling: Israeli-Palestinian Conflict
My first impression of the current conflict between the Israelis and Palestinians: Mom, Israels touching me!
How do you tell a kebab to be ...
How do you tell a kebab to be quiet?
Shh, kebab
Three old men were sitting aro...
Three old men were sitting around and talking. The 80 year-old said, "The best thing that could happen to me would just to be able to have a good pee. I stand there for twenty minutes, and it dribbles and hurts. I have to go over and over again."
The 85 year-old said, "The best thing that could happen to me is if I could have one good bowel movement. I take every kind of laxative I can get my hands on and it's still a problem."
Then the 90 year-old said, "That's not my problem. Every morning at 6:00 am sharp, I have a good long pee. At around 6:30 am I have a great bowel movement. The best thing that could happen to me would be if I could wake up before 7:00 am.
#joke
Little Johnny's preschool clas...
Little Johnny's preschool class went on a field trip to the fire station. The firefighter giving the presentation held up a smoke detector and asked the class: "Does anyone know what this is?"
Little Johnny's hand shot up and the firefighter called on him.
Little Johnny replied: "That's how Mommy knows supper is ready!"
#joke
Christmas
Not long ago and far away, Santa was getting ready for his annual trip...but there were problems everywhere.
Four of his elves got sick, and the trainee elves did not produce the toys as fast as the regular ones so Santa was beginning to feel the pressure of being behind schedule.
Then, Mrs. Claus told Santa that her mom was coming to visit. This stressed Santa even more.
When he went to harness the reindeer, he found that three of them were about to give birth and two had jumped the fence and were out, heaven knows where. More Stress.
Then when he began to load the sleigh, one of the boards cracked and the toy bag fell to the ground and scattered the toys.
So, frustrated, Santa went into the house for a cup of coffee and a shot of whiskey. When he went to the cupboard, he found the elves had hidden the liquor and there was nothing to drink. In his frustration, he dropped the coffee pot and it broke into hundreds of little pieces all over the he kitchen floor.
He went to get the broom and found that mice had eaten the straw it was made from.
Just then the doorbell rang and Santa cussed on his way to the door. He opened the door and there was a little angel with a great big Christmas tree. The angel said, "Where would you like to put this tree Santa?"
And that my friends, is how the little angel came to be on top of the Christmas tree.
Submitted by Glaci
Edited by Curtis
Aussies: Believe you should lo...
Aussies: Believe you should look out for your mates.
Brits: Believe that you should look out for those people who belong to your club.
Americans: Believe that people should look out for and take care of themselves.
Canadians: Believe that that is the government's job.

Steven Wright 09
What's another word for Thesaurus?
Why is the alphabet in that order? Is it because of that song? The guy who wrote that song wrote everything.
My grandfather invented Cliff's Notes. It all started back in 1912... Well, to make a long story short ...
I'm writing a book. I've got the page numbers done, so now I just have to fill in the rest.
I'm writing an unauthorized autobiography.
I owed my friend George $25. For about three weeks I owed it to him. The whole time I had the money on me -- he didn't know it. Walking through New York City, 2:30 in the morning and got held up. He said, "Gimme all your money." I said, "Wait a minute." I said, "George, here's the 25 dollars I owe you." The the thief took a thousand dollars out of his own money and he gave it to George. At gunpoint made me borrow a thousand dollars from George.
I'd like to sing you a song now about my old girlfriend. It's called, "They'll Find Her When the Leaves Blow Away 'Cause I'm Not Raking 'Til Spring."
My girlfriend asked me how long I was going to be gone on this tour. I said, "the whole time."
My girlfriend does her nails with white-out. When she's asleep, I go over there and write misspelled words on them.
#joke
Did you ever wonder...
Why is the man who invests all your money called a broker?
If people from Poland are called 'Poles' why aren't people from Holland called 'Holes?'
Why do we say something is out of whack? What's in whack?
Do infants enjoy infancy as much as adults enjoy adultery?
If a pig loses its voice, is it disgruntled?
Why do women wear evening gowns to nightclubs? Shouldn't they be wearing nightgowns?
If love is blind, why is lingerie so popular?
When someone asks you, 'A penny for your thoughts,' and you put your two cents in, what happens to the other penny?
Why do croutons come in airtight packages? It's just stale bread to begin with!
When cheese gets its picture taken, what does it say?
Why is a person who plays the piano called a pianist but a person who drives a race car not called a racist?
Why are a wise man and a wise guy opposites?
Why do overlook and oversee mean opposite things?
If horrific means to make horrible, does terrific mean to make terrible?
Why isn't 11 pronounced onety one?
'I am' is reportedly the shortest sentence in the English language. Could it be that 'I do' is the longest sentence?
Do Roman paramedics refer to IV's as '4's?'
Why is it that if someone tells you that there are 1 billion stars in the universe, you will believe them, but if they tell you a wall has wet paint, you will have to touch it to be sure?
If Fed Ex and UPS were to merge, would they call it Fed UP?
Do Lipton Tea employees take coffee breaks?
What hair color do they put on the drivers licenses of bald men?
I was thinking how people seem to read the Bible more as they get older, then it dawned on me . . . they're cramming for their final exam.
I thought about how mothers feed their babies with tiny little spoons and forks so I wondered, what do Chinese mothers use? Toothpicks?
Why do they put pictures of criminals up in the Post Office? What are we supposed to do, write to them!? Why don't they just put their pictures on the postage stamps so the mailmen could look for them while they delivered the mail!?
How much deeper would oceans be if sponges didn't live there?
If it's true that we are here to help others, then what exactly are the others here for?
You never really learn to swear until you learn to drive.
No one ever says 'It's only a game' when their team is winning.
Ever wonder what the speed of lightning would be if it didn't zigzag?
If a cow laughed, would milk come out its nose?
If olive oil comes from olives, where does baby oil come from?
#joke
What do you get when you cross...
What do you get when you cross a galaxy with a toad?


Star Warts!