Welfare Dog
This morning I went to sign my Dog up for welfare. At first the lady said, "Dogs are not eligible to draw welfare". So I explained to her that my Dog is a mix in color, unemployed, lazy, can't speak English and has no frigging clue who his Daddy is. He expects me to feed him, provide him with housing and medical care, and feel guilty because he is a dog.
So she looked in her policy book to see what it takes to qualify. My Dog gets his first check next Friday.
Damn this is a great country.
Passing gas takes courage, aka...
Passing gas takes courage, aka intestinal fartitude.
Funny video of the day - Funny video of the day Thursday, 13 May 2010
A Saudi Prince went to Germany...
A Saudi Prince went to Germany to study.
A month later, he sends a letter to his dad saying: "Berlin is wonderful, people are nice and I really like it here,but I'm a bit ashamed to arrive to school with my gold Mercedes when all my teachers travel by train."
Sometime later he gets a letter from his dad with a ten million dollar check saying: "Stop embarrassing us, go and get yourself a train too"!
#joke
Smarter than he seems...
There was a little boy named Johnny who used to hang out at the local corner market. The owner didn't know what Johnny's problem was, but the boys would constantly tease him.
They would always comment that he was two bricks shy of a load, or two pickles short of a barrel. To prove it, sometimes they would offer Johnny his choice between a nickel (5 cents) and a dime (10 cents) and John would always take the nickel -- they said, because it was bigger.
One day after John grabbed the nickel, the store owner took him aside and said, "Johnny, those boys are making fun of you. They think you don't know the dime is worth more than the nickel. Are you grabbing the nickel because it's bigger or what?"
Slowly, Johnny turned toward the store owner and a big grin appeared on his face and Johnny said, "Well, if I took the dime, they'd stop doing it, and so far I've saved $20!"
#joke
Scared Sleeping
Shakey went to a psychiatrist. "Doc," he said, "I've got trouble. Every time I get into bed, I think there's somebody under it. I get under the bed, I think there's somebody on top of it. Top, under, top, under. "you gotta help me, I'm going crazy!"
"Just put yourself in my hands for two years," said the shrink. "Come to me three times a week, and I'll cure your fears."
"How much do you charge?"
"A hundred dollars per visit."
"I'll sleep on it," said Shakey.
Six months later the doctor met Shakey on the street. "Why didn't you ever
come to see me again?" asked the psychiatrist.
"For a hundred buck's a visit? A bartender cured me for ten dollars."
"Is that so! How?"
"He told me to cut the legs off the bed!"
FLEX WORDLE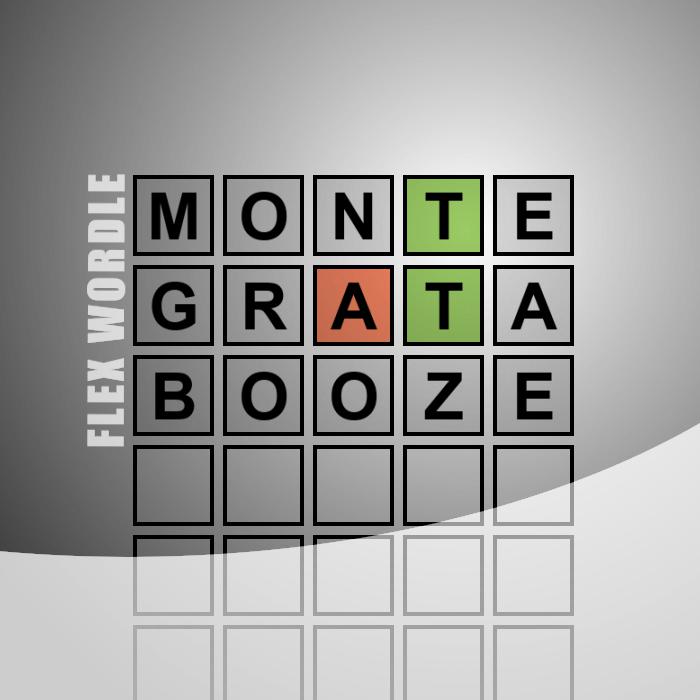 Guess the
WORDLE
in 3 tries. After each guess, the color of the tiles will change to show how close your guess was to the solution.
Rosary and Two Martinis
A priest was sent to a very small church in the backwoods of Alaska. After a couple of years the Bishop decided to pay the priest a visit to see how he was doing. The priest said that it was a really lonely job and that he didn't think that he could have made it without his Rosary and two martinis each day. With that the priest said to the Bishop, "Would you like to have a martini with me?" The Bishop said, "Yes, that would be nice." The priest turned around and hollered toward the kitchen, "Rosary, would you fix us two martinis please?"
#joke
How do you tell a kebab to be ...
How do you tell a kebab to be quiet?
Shh, kebab
A little boy opened the big an...
A little boy opened the big and old family Bible with fascination, he looked at the old pages as he turned them. Then something fell out of the Bible and he picked up and looked at it closely. It was an old leaf from a tree that has been pressed in between pages.
"Momma, look what I found," the boy called out. "What have you got there, dear?" his mother asked. With astonishment in the young boy's voice he answered:
"It's Adam's suit!!!!!"
#joke
Religious Bumper Stickers
...
Religious Bumper Stickers
Jesus Saves, Gretzky Scores!
Jesus is coming, look busy!
If God is your copilot, better change seats!
I believe in the big bang theory, God spoke and bang it happened.
If God created man in His image. Then what's wrong with you?
If you're living like there is no God, you'd better be right.
I get along with God just fine. It's his followers that I can't stand.
I am sorry, all of our angels and saints are busy helping other sinners right now. However, your prayer is important to us and we will answer it in the order it was received. Please stay on the line.
Heaven is a lonely place. Everybody thinks they're the only one going!
Caution: Non Exposure to the Son will cause burning!
Hell... Don't even go there
Welcome to eternity... will that be smoking or non smoking?
As long as there are tests, there will be prayer in school.
The problem with religious texts is that the answers aren't in the back, either.
Militant Agnostic - I don't know and you don't either!
O Lord, Save Me From Your followers.
Wanna come for a drive? It'll scare the hell out of you!
Don't drive faster than your guardian angel can fly.
#joke
There once was a lady who was ...
There once was a lady who was tired of living alone. So she put an ad in the paper which outlined her requirements. She wanted a man who 1) would treat her nicely, 2) wouldn't run away from her, and 3) would be good in bed. Then, one day, she heard the doorbell ring. She answered it, and there on the front porch was a man in a wheel chair who didn't have any arms or legs.
"I'm here about the ad you put in the paper. As you can see, I have no arms so I can't beat you, and I have no legs so I can't run away from you."
"Yes, but are you good in bed?"
"How do you think I rang the doorbell?"
#joke
Ecumenical Greenbacks
My home church welcomes all denominations, but really prefers tens and twenties.
Olive oil....
Trying to control her frizzy and dry hair, Kay treated her scalp with olive oil before washing it. Worried that the oil might leave an odor than that her hair obviously needed it, she washed her hair several times with strong soap.
That night when Kay went to bed, she leaned over to her husband and asked, "Do I smell like olive oil?"
"Why ?" he asked, pulling back. "Do I smell like Popeye?"
#joke
Once, there was a middle-aged ...
Once, there was a middle-aged man named Herman who decided to try a different golf course than his usual.
On the second hole he met up with another man, named Elmer, so they decided to golf together.
As they were teeing off on the 6th hole, a gorgeous naked woman runs past, followed by two men in white coats.
Herman looks in awe at the woman, and a few seconds later another man in a white coat runs by holding two buckets of sand.
Herman then asks Elmer, "What the hell was that?" to which Elmer replies, "There is a mental institution down the street and every day, that woman tries to escape. The men in the white coats are the ones trying to catch her. The person who catches her gets to carry her back."
Herman thought for a moment then said, "OK, but who was the man holding the sand buckets?"
Elmer answered, "He caught her yesterday, the sand is his handicap."
#joke
Obsession
A psychiatrist was conducting a group therapy session with four young mothers and their small children. "You all have obsessions," he observed. To the first mother, Mary, he said, "You are obsessed with eating. You've even named your daughter Candy.
Walks Into a Bar... Frugal Gorilla
A gorilla walks into a bar and says, A scotch on the rocks, please. The gorilla hands the bartender a $10 bill.
The bartender thinks to himself, This gorilla doesnt know the prices of drinks, and gives him 15 cents change.
The bartender says, You know, we dont get too many gorillas in here.
The gorilla replies, Well, at $9.85 a drink, I aint coming back, either.
#joke #walksintoabar
Join us on WhatsApp