A guy walks into a bar and the...
A guy walks into a bar and there is a horse serving drinks. The guy stares until the horse finally says, "What's the problem? Haven't you ever seen a horse serving drinks before?"
The guy says, "No, it's not that. It is just that I never thought the ferret would sell the place."
#joke #walksintoabar
The Jury
A guy was on trial for murder and if convicted, would get the electric chair. His brother found out that a redneck was on the jury and figured he would be the one to bribe. He told the redneck that he would be paid $10,000 if he could convince the rest of the jury to reduce the charge to manslaughter.
The jury was out an entire week and returned with a verdict of manslaughter.
After the trial, the brother went to the redneck's home, told him what a great job he had done and paid him the $10,000.
The redneck replied that it wasn't easy to convince the rest of the jury to change the charge to manslaughter. They all wanted to let him go.
#joke
Funny video of the day - Funny video of the day Sunday, 16 May 2010
My dog wrote a novel. Unfortun...
My dog wrote a novel. Unfortunately, it was terrible. The plot was so arf-fetched.
Biblical Theme Songs
Noah: "Raindrops Keep Falling on My Head"
Adam and Eve: "Strangers in Paradise"
Lazarus: "The Second Time Around"
Esther: "I Feel Pretty"
Job: "I've Got a Right to Sing the Blues"
Moses: "The Wanderer"
Jezebel: "The Lady is a Tramp"
Samson: "Hair"Salome: "I Could Have Danced All Night"
Daniel: "The Lion Sleeps Tonight"
Esau: "Born To Be Wild"
Shadrach, Meshach, and Abednego: "Great Balls of Fire!"
The Three Kings: "When You Wish Upon a Star"
Jonah: "Got a Whale of a Tale"
Elijah: "Up, Up, and Away"
Methuselah: "Stayin' Alive"
Nebuchadnezzar: "Crazy"
#joke
Daniel Tosh: God Does Not Hate Gay People
God does not hate gay people. Hes just mad because they found a loophole in His system.
TOP 10 SIGNS YOUR KID IS SPENDING WAY TOO MUCH TIME ON HIS COMPUTER
TOP 10 SIGNS YOUR KID IS SPENDING WAY TOO MUCH TIME ON HIS COMPUTER
David Letterman, April 23, 1997 10. Named his hamsters 'I' 'B' 'M'
9. Every day after school, eats his weight in silicon chips 'n' salsa
8. He somehow uses morphing technology to make your cat look just like David Duchovny
7. He's been in bed all week with a computer virus
6. Refers to having sex as 'Logging On'
5. His name: Carl. His Nickname: 'Carpal Tunnel Carl'
4. During power outage, paced around house like a caffeinated squirrel
3. He calls you 'WWW.DADDY.COM'
2. Walls of his room covered with printouts of a naked Bill Gates
1. 2 Words: 'Cyber Acne'
#joke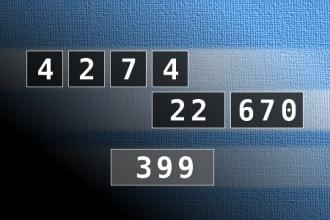 Calculate the number 399
NUMBERMANIA: Calculate the number 399 using numbers [4, 2, 7, 4, 22, 670] and basic arithmetic operations (+, -, *, /). Each of the numbers can be used only once.
Dealing With Trouble
A deputy police officer responded to a report of a barroom disturbance. The "disturbance" turned out to be well over six feet tall and weighed almost 300 pounds. What's more, he boasted that he could whip the deputy and Muhammad Ali too.
Said the policeman, "I'll bet that you're also an escape artist-probably better than Houdini."
The giant nodded.
"If I had some chains," the deputy continued, "you could show us how strong you really are. But all I've got is a set of handcuffs. Why don't you see just how quickly you can break out of them?"
Once in the cuffs, the man puffed, pulled and jerked for four minutes. "I can't get out of these," the giant growled.
"Are you sure?" the deputy asked. The fellow tried again. "Nope," he replied. "I can't do it."
"In that case," said the deputy, "you're under arrest."
Osama in Heaven
After his death, Osama bin Laden went to paradise. He was greeted by George Washington, who slapped him across the face and yelled angrily, "How dare you attack the nation I helped conceive!"
Then Patrick Henry punched Osama in the nose and James Madison kicked him in the groin.
Bin Laden was subjected to similar beatings from John Randolph, James Monroe, Thomas Jefferson and 66 other early Americans. As he writhed in pain on the ground, an angel appeared.
Bin Laden groaned, "This is not what I was promised!"
The angel replied, "I told you there would be 72 Virginians waiting for you! What did you think I said?"
#joke
An Irishman is walking along t...
An Irishman is walking along the beach one day, and he sees a bottle laying in the sand. He picks it up and starts to brush it off, and out pops a genie.
The genie says, "Since you have freed me from the bottle, I will grant you three wishes."
The Irishman thinks for a moment and says, "I'm feeling a might thirsty, I think I'll be wishing for a pint of stout."
POOF! There is a pint of stout in his hand. He drinks it down, and starts to throw the bottle, when the genie says, "I'd look at that bottle again before I threw it if I were you." So he looks at the bottle, and it is magicaly filling back up with stout. The genie told him, "That is a magic bottle, and it will always fill back up after you finish it." The genie then asked, "What other two wishes can I grant for you?"
The Irishman looks at the bottle in his hand and says, "I'll be taking two more of these."
#joke
Q: What do you get if you enro...
Q: What do you get if you enroll in a liberal arts program and the only subject you do well in is music?
A: A natural major.
A Russian party-official arriv...
A Russian party-official arrives late at night to his hotel (in Russia). He is not surprised to find that his reservation has been mislaid but he is more than a little peeved that his status in the party isn't enough to get him a good room anyway. However, the clerk insists, the only bed they have left is the fourth bunk in a 4-bed dorm - he'll have to make do with that. The Russian grumbles but eventually he picks up his suitcase and heads for the dorm. On his way, he meets a chamber-maid and thinking he might as well try to make friends with his room-mates, he asks her to bring them four cups of tea.
As he enters the dorm, he finds that the other three guests are Polish, they are having a fairly wild party and they're very drunk. They also ignore him totally from the moment he enters. After sitting there for several minutes, he realizes he can't stand them anymore and decides to pull a joke on them. He stands up, grasps a floor lamp and speaking into the light-bulb as if it were a microphone he says:
"Comrade Colonel, we would like four cups of tea to our room immediately!" The Poles stare at him in disbelief, which turns to horror as the chamber-maid knocks on the door and delivers the tea a few minutes later. In about 30 seconds the Poles have all packed their bags and fled the hotel. Our Russian gets the entire room to himself. He sleeps very soundly.
The next morning, however, as he's checking out and is about to leave, the desk-clerk calls after him:
"By the way, Sir, the Comrade Colonel said to tell you he appreciated your little joke last night!"
#joke
A lawyer died and arrived at t...
A lawyer died and arrived at the pearly gates. To his dismay, there were thousands of people ahead of him in line to see St. Peter. To his surprise, St. Peter left his desk at the gate and came down the long line to where the lawyer was, and greeted him warmly.
Then St. Peter and one of his assistants took the lawyer by the hands and guided him up to the front of the line, and into a comfortable chair by his desk.
The lawyer said, "I don't mind all this attention, but what makes me so special?"
St. Peter replied, "Well, I've added up all the hours for which you billed your clients, and by my calculation you must be about 193 years old!"
Visiting Grandma...
A grandmother is giving directions to her grown grandson, who is coming to visit with his wife:
"You come to the front door of the apartment complex. I am in apartment 14T. There is a big panel at the door. With your elbow push button 14T. I will buzz you in. Come inside, the elevator is on the right. Get in, and with your elbow hit 14. When you get out I am on the left. With your elbow, hit my doorbell".
"Grandma, that sounds easy, but why am I hitting all these buttons with my elbow"?
"You're coming empty handed"?
#joke
Getting Rid of the Bats
Three pastors were having lunch in a diner.
One said, "You know, since summer started I've been having trouble with bats in my loft and attic at church. I've tried everything--noise, spray, cats--nothing seems to scare them away."Another said, "Me too. I've got hundreds living in my belfry and in the attic. I've even had the place fumigated, and they won't go away."
The third said, "I baptized all mine, and made them members of the church. Haven't seen one back since!"
#joke
Dane Cook: Hardwood Floors
I had to sneak into my living room, and we had hardwood floors. Those floors suck for cheating because every step you take just taunts you. You know, every step youre like, Cheeeeater! Liar! Herpes, herpes, herpes!
Once, a gay man went to heaven...
Once, a gay man went to heaven. At the Great Gate Saint Peter was waiting for him. After reviewing his records Saint Peter decided to let him in. "Follow me." he said, opening the gate and walking in.
After some walk, Saint Peter's keys accidentally fell on the ground. Unaware, he bent over to pick up the keys. That was something the gay man just couldn't resist, so he jumped on him and did his thing. Saint Peter was furious. "If you do that again, you'll go straight to hell! Follow me, we're almost there."
After some more Peter dropped his keys again, and again, the gay man jumped on him. Saint Peter was even more furious than before, but decided to give the gay guy one last chance. Again they walk and for the third time Peter drops his keys, so he bends over and picks them up. The gay guy, having no self control jumps on him.
Peter is now fed up and sends the gay guy straight to hell. A few weeks later, Saint Peter goes down to hell for his routine inspection, but this time something is wrong, it is freezing, no fire, no lava and in one corner, he finds the devil lying under a stack of blankets freezing his ass off. "Why is it so god damn cold down here?" Peter asks.
"Well, you just try bending down for firewood!!" The devil replied.
#joke