Thanksgiving
is coming, be ready, check out our latest
Thanksgiving jokes
and quotes on:
Thanksgiving jokes collection
A doctor broke the bad news to...
A doctor broke the bad news to a man, that his wife would have to be admitted to a psychiatric hospital. "I'm afraid her mind's completely gone," he said. "Makes sense," mumbled the man. "She's been giving me a piece of it every day for the last 15 years."
Quality of pub food is measure...
Quality of pub food is measured by which instrument? A barroom eater
Funny video of the day - Funny video of the day Saturday, 22 May 2010
Learning From Teachers
Eight-year-old Sally brought her report card home from school. Her marks were good...mostly A's and a couple of B's.
However, her teacher had written across the bottom: "Sally is a smart little girl, but she has one fault. She talks too much in school. I have an idea I am going to try, which I think may break her of the habit."
Sally's dad signed her report card, putting a note on the back: "Please let me know if your idea works on Sally because I would like to try it out on her mother."
#joke
A blonde and a brunette are li...
A blonde and a brunette are living together. The brunette came home from work one day and the blonde had a rope around her waist.
The brunette asked why the rope was around her waist. The blonde said that she was trying to commit suicide.
The brunette said, "You put it around your neck!"
The blonde replied, "I tried that but I couldn't breathe!"
Danny Bhoy: French Breakfast
Says a lot about the French, though, the old croissant, doesnt it? It says, We are flaky and a little bit gay.
Two football jocks taking an exam
Two college football players named Bubba and Jed were taking an exam in English Literature. They must pass this exam in order to fulfill the academic requirement. If they fail, they would be dropped from the college varsity team for the whole season.
The exam was relatively easy as it consisted mainly of fill-in-the-blank type of answers. However, Bubba was stumped by one particular item.
The statement read "Complete the nursery phrase ... Ol' MacDonald had a ______." Trying as hard as he could, Bubba could not think of the answer. Seeing the professor was busy reading a book, Bubba took this opportunity to ask his teammate Jed.
"Pssst, Jed," whispered Bubba. "What did Ol' MacDonald have?"
"Gosh, Bubba, that's easy!" said Jed. Looking to make sure the professor wasn't looking, Jed said, "A farm! Bubba! That's what Ol' MacDonald had. Even babies know that!"
"Oh! Right!" nodded Bubba as though it was at the tip of his tongue. But as he proceeded to write down the answer, Bubba stopped to ask Jed again in a low voice.
"Hey, Jed! How do you spell farm?"
"Jeez, you're so dumb, Bubba!" admonished Jed. "Every one knows farm is spelled 'e-i-e-i-o'."
#joke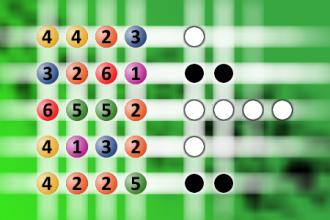 What a winning combination?
The computer chose a secret code (sequence of 4 digits from 1 to 6). Your goal is to find that code. Black circles indicate the number of hits on the right spot. White circles indicate the number of hits on the wrong spot.
A bloke went to his mate's fan...
A bloke went to his mate's fancy dress party with nothing but a naked girl on his back.


"So what the hell are you supposed to be?" the host asked.

"I'm a snail." The bloke replied.

"What a load of rubbish!" the host spat. "How can you be a snail when all you've got is that naked girl on your back?"

"That's not a naked girl, mate," the bloke replied, "that's Michelle".

#joke
SciFi Answerphone Me
STAR TREK / STAR WARS ANSWERING MACHINE MESSAGES
Bridge, Kirk here.
Starship Enterprise, Uhura here, can you hold please? -- Captain, there is a transmission coming in on hailing frequency seven, do you want it on screen?
(Star Trek theme in the background:) (Voice 1:) Room 17, the final frontier. (Voice 2:) These are the messages of Chad's answering machine. Its two semester mission: To seek out your name and your telephone number. (Voice 3:) To boldly inform you to wait for the tone.
Thank you for calling Starfleet Command. No starships are in the quadrant at this time, so at the sound of the subspace tone, tell us your name, the planet you are calling from, and how many Klingons are attacking.
(Bad imitations:) Picard: Assume standard orbit, Mr. LaForge. Sensor readings, Lieutenant? Worf: Scanning, Captain... Strange... No life-forms. Picard: Recommendations, Mr. Data? Data: Intriguing, Captain. Perhaps we should simply leave a message.
(Borg voice:) WE ARE BORG. RESISTANCE IS FUTILE. YOUR PHONE CALL, AS IT HAS BEEN, IS NOW OVER. YOUR MESSAGE WILL BE ASSIMILATED AT THE BEEP. But we're not home right now. So leave a message and we'll assimilate you later. (or) Borg communications router. Unit addressed unavailable. Hails are irrelevant. Messages are irrelevant. You are irrelevant. Nonetheless, leave message if you wish. Wait for indicative, high frequency, acoustic spike... (Background:) Error, error! Wishes are irrelevant. Acoustic spikes are irrelevant.
(Chekov's voice:) Oh Keptin! It was Khan! He made us do things... Say things we did not vant to say... But we vere strong, Keptin! Ve held out until ve heard the beep...
Hello, you've reached 555-1312, the Apartment at the End of the Universe. Please leave your message, name and number at the sound of the tone. Keep your hands, feet, extremities, and obscenities inside the car at all times. Enjoy your ride.
(Darth Vader voice:) Speak, worm!
Alpha Centauri Space Station. Commander Marlin can't come to the phone right now. He's either saving the universe from some dread, unnamed peril, or perhaps taking a nappie. Leave your name and number after the beep and he will return your call.
A bubble in the space-time continuum has connected your line to a channeler in the 23rd century. Any message you leave will be broadcast into the future.
You have reached the offices of the planet Zarton. All our agents are busy undermining the governments of the Earth and cannot come to phone at the moment. However, your name and number can be left at the tone and a representative will gladly contact you shortly to arrange for your assimilation into the new order. Long groblint the ultimate blenstron.
Steve has been captured by a flying saucer and can't come to the phone right now, but if you leave your name, phone number, and a message, I'll have him call you back as soon as he gets away. Read all about it in next week's National Enquirer.
Hello, this is Jim. Unfortunately I can't answer the phone right now because I've just come back from the Mirror Worlds and I'm still made up of antimatter, so if I were to pick up the phone right now, the resulting energy release would make Hiroshima look like a wet firecracker. So leave a message at the tone and I'll get back to you as soon as my component particles have been restored to their normal charges.
#joke
Alphabet Letters
How many letters are there in the alphabet?
Noel, noel, noel, noel ... the angels did say...
E.T. went home.
Get rid of X. There's too many unknowns in the world already!
(Only one vowel left, or is that "Anly ana vawal laft" This may be stretching it a bit, but not unless you consider, as our good friends in Canada say: Good day, A!
And we all know that M&Ms melt in your mouth, so it's safe to count them out.
And of course, Y not.
We might as well put off using U until later in the year: See U in September
TWA just took off!!
#joke
An old man was sitting on a be...
An old man was sitting on a bench in the mall when a young man with spiked hair came over and sat down beside him. The boy's hair was bright yellow and green with orange tips, and he had blue makeup around his eyes. The old man kept looking at him. The boy said, "What's the matter, old man, haven't you ever done anything wild in your life?"
The old man answered, "Well yes, actually, I have. I got drunk once and had sex with a parrot. I was just wondering if you were my son."
#joke
A Darkened Theater
A strained voice called out through the darkened theater, "Please, is there a doctor in the house?!"
Several men stood up as the lights came on.
An older lady pulled her daughter to stand next to her, "Good, are any of you doctors single and interested in a date with a nice, Jewish girl?"
Rabbi in the Catholic Hospital
Rabbi Levy had to spend time in a Catholic hospital. He became friends with the Sister who was a nurse there. One day, she came into his room and noticed that the crucifix on the wall was missing. She asked him good-naturedly, "Rabbi, what have you done with the crucifix?"
"Oh, sister," chuckled Rabbi Levy, "I just figured one suffering Jew in this room was enough."
#joke
The best Norm quotes from "Cheers"!
'What's shaking Norm?'
'All four cheeks & a couple of chins.'
'What's new Normie?'
'Terrorists, Sam. They've taken over my stomach & they're demanding beer.'
'What'd you like Normie?'
'A reason to live. Give me another beer.'
'What'll you have Normie?'
'Well, I'm in a gambling mood Sammy. I'll take a glass of whatever comes out of that tap.'
'Looks like beer, Norm.'
'Call me Mister Lucky.'
'Hey Norm, how's the world been treating you?'
'Like a baby treats a diaper.'
'What's the story Mr. Peterson?'
'The Bobbsey twins go to the brewery. Let's cut to the happy ending.'
'Hey Mr. Peterson, there's a cold one waiting for you.'
'I know; if she calls, I'm not here.'
'Beer, Norm?'
'Have I gotten that predictable? Good.'
'What's going on Mr. Peterson?'
'A flashing sign in my gut that says, 'Insert beer here.''
'Whatcha up to Norm?'
'My ideal weight if I were eleven feet tall.'
'How's it going Mr. Peterson?'
'Poor.'
'I'm sorry to hear that.'
'No, I mean POUR!'
'How's life treating you Norm?'
'Like it caught me sleeping with its wife.'
'Women. Can't live with 'em....pass the beer-nuts.'
'What's going down, Normie?'
'My butt cheeks on that bar stool.'
'Pour you a beer, Mr. Peterson?'
'Alright, but stop me at one....make that one-thirty.'
'How's it going Mr. Peterson?'
'It's a dog eat dog world, Woody & I'm wearing Milk Bone underwear.'
'What's the story Norm?'
'Boy meets beer. Boy drinks beer. Boy meets another beer.'
'What's going on Mr. Peterson?'
'The question is what's going IN, Mr. Peterson?
'A beer please, Woody.'
'Can I pour you a beer Mr. Peterson?'
'A little early isn't it, Woody?'
'For a beer?'
'No. For a stupid question'
Attending a wedding for the fi...
Attending a wedding for the first time, a little girl whispered to her mother,
"Why is the bride dressed in white?"
"Because white is the color of happiness and today is the happiest day of her life,"
" her mother tried to explain, keeping it simple.
The child thought about this for a moment, then said,
"So, why's the groom wearing black?"
#joke
Snake Solves Problem
I was driving down a lonely country road one cold winter day when it began to sleet pretty heavily. My windows were getting icy and my wiper blades were badly worn and quickly fell apart under the strain.
Unable to drive any further because of the ice building up on my front window I suddenly had a great idea. I stopped and began to overturn large rocks until I located two very lethargic hibernating rattle snakes. I grabbed them up, straightened them out flat and installed them on my blades and they worked just fine.
What! You've never heard of . . . wind chilled vipers?
#joke
What has one foot and ...
What has one foot and four legs?

A bed