Who can say this sentence? #joke #humor
The Taco Bell Chihuahua, a Doberman and a Bulldog are in a bar having a drink when a great-looking female Collie comes up to them and says, "Whoever can say liver and cheese in a sentence can have me."
So the Doberman says, "I love liver and cheese." The Collie replies, "That's not good enough."
The Bulldog says, "I hate liver and cheese." She says, "That's not creative enough."
Finally, the Chihuahua says, "Liver alone . . . cheese mine."
#joke
Funny video of the day - Funny video of the day Tuesday, 01 June 2010
What are the 3 most dangerous ...
What are the 3 most dangerous sayings in the Navy???
1. An Ensign saying "I learned this at the Academy"
2. A Lieutenant saying "Based on my experience"
3. A Navy Chief saying "Hey, watch this"
One Last Confession
While a man was dying, his wife was maintaining a candlelight vigil by his side. She held his fragile hand, tears running down her face.
Her praying woke him from his slumber. He looked up, and his pale lips began to move slightly.
"My darling," he whispered.
"Hush, my love," she said. "Rest, don't talk."
He was insistent. "I have something that I must confess," he said in a tired voice.
"There isn't anything to confess," replied his weeping wife. "Everything's ok. Go to sleep."
The man blurted out: "No, no, I must die in peace. I...I slept with your sister, your best friend, her best friend, and your mother!"
"I know," whispered his wife, "that's why I poisoned you."
#joke
heaven
Following a distinguished legal career, a man arrived at the Gates of Heaven, accompanied by the Pope, who had the misfortune to expire on the same day. The Pope was greeted first by St. Peter, who escorted him to his quarters. The room was somewhat shabby and small, similar to that found in a low grade Motel 6 type establishment. The lawyer was then taken to his room, which was a palatial suite including a private swimming pool, a garden, and a terrace overlooking the Gates. The attorney was somewhat taken aback, and told St. Peter, "I'm really quite surprised at these rooms, seeing as how the Pope was given such small accommodations."
St. Peter replied, "We have over a hundred Popes here, and we're really very bored with them. We've never had a lawyer."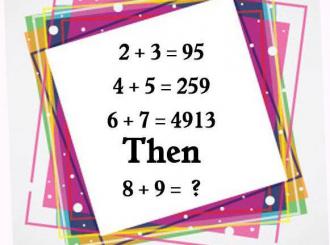 Can you solve this Math Puzzle?
Can you solve this Math Puzzle?
Lewis Black: One Good Headline
I believe that every paper in the country should have one headline that when you read it, you laugh so hard you cant stand it. It has to be that way. What about a headline like this: Hippo Eats Dwarf? How good is that? You read that headline, and you immediately close the paper and say, Wow, its gonna be a great day.
#joke
Trying To Be Impressive
A young lawyer, starting up his private practice, was very anxious to impress potential clients. When he saw the first visitor to his office come through the door, he immediately picked up his phone and spoke into it," I'm sorry, but my caseload is so tremendous that I'm not going to be able to look into your problem for at least a month. I'll have to get back to you then." He then turned to the man who had just walked in, and said, "Now, what can I do for you?"
"Nothing," replied the man. "I'm here to hook up your phone."
An explorer walked into a clea...
An explorer walked into a clearing and was surprised to see a pigmy standing beside a huge dead elephant. "Did you kill that?" he asked. The pigmy answered: "Yes". "How could a little bloke like you kill something as huge as that?"
"I killed it with my club" replied the pigmy.
"That's amazing," said the explorer. "How big's your club?"
The pigmy replied: "There's about 150 of us"
#joke
At NC State University, the...
At NC State University, there were four sophomores taking Organic Chemistry.
They did so well on all the quizzes, midterms and labs, etc., that each had an "A" so far for the semester.
These four friends were so confident, that the weekend before finals, they decided to go up to the University of Virginia and party with some friends there. They had a great time. However, after all the hardy-partying, they slept all day Sunday and didn't make it back to Raleigh until early Monday morning.
Rather than taking the final then, they decided to find their professor after the final and explain to him why they missed it.
They explained that they had gone to UVA for the weekend with the plan to return Sunday to study, but, unfortunately, they had a flat tire on the way back, didn't have a spare, and couldnÂ't get help for a long time. As a result, they missed the final. The Professor thought it over and then agreed they could make up the final the following day. The guys were elated and relieved. They studied that night and went in the next day at the time the professor had told them. He placed them in separate rooms and handed each of them a test booklet, and told them to begin. They looked at the first problem, worth 5 points. It was something simple about free radical formation. "Cool," they thought at the same time, each one in his separate room, "this is going to be easy." Each finished the problem and then turned the page. On the second page was written: For 95 points: Which tire?
A senior citizen said to his e...
A senior citizen said to his eighty-year old buddy:
'So I hear you're getting married?'
'Yep!'
'Do I know her?'
'Nope!'
'This woman, is she good looking?'
'Not really.'
'Is she a good cook?'
'Naw, she can't cook too well.'
'Does she have lots of money?'
'Nope! Poor as a church mouse.'
'Well, then, is she good in bed?'
'I don't know.'
'Why in the world do you want to marry her then?'
'Because she can still drive!'
#joke
At a party, the hostess served...
At a party, the hostess served a politician a cup of punch and told him it was spiked. Next, she served some to a minister. "I would rather commit adultery than allow liquor to pass my lips," he proclaimed.
Overhearing this, the politician poured his punch back and said, "I didn't know we had a choice."
#joke
Kids in Church
Six-year-old Angie and her four-year-old brother Joel were sitting together in church. Joel giggled, sang, and talked out loud. Finally, his big sister had enough of his antics.
"You're not supposed to talk out loud in church."
"Why? Who's going to stop me?" Joel asked.
Angie pointed to the back of the church and said, "See those two men standing by the door? They're hushers."
#joke
The organs of the body were ha...
The organs of the body were having a meeting, trying to decide who was In
charge. Each organ took a turn to speak up:
Brain....... .. I should be in charge because I run all body functions.
Blood....... . I should be in charge because I circulate oxygen for the
brain.
Stomach... I should be in charge because I process food to the brain.
Legs........ . I should be in charge because I take the brain where it
Wants to go.
Eyes........ I should be in charge because I let the brain see where it's
going.
A - - hole..... I should be in charge because I get rid of your waste.
All the other parts laughed so hard and this made the a - -hole very mad.
To prove his point, the a - -hole immediately slammed tightly closed and
Stayed that way for 6 days, refusing to rid the body of any waste
whatsoever.
Day 1 - Brain got a terrible headache and cried out for relief
Day 2 - Stomach got bloated and began to ache terribly
Day 3 - Legs got cramps and became unstable
Day 4 - Eyes became watery and vision became blurred
Day 5 - Blood became toxic and poisoned the body
Day 6 -The other organs agreed to let the a - - hole be in charge.
#joke
Things to ponder...
If a man is standing in the middle of the forest speaking and there is no woman around to hear him - Is he still wrong?
If someone with multiple personalities threatens to kill himself, is it considered a hostage situation?
Is there another word for synonym?
Isn't it a bit unnerving that doctors call what they do 'practice?'
When you open a bag of cotton balls, is the top one meant to be removed?
Where do forest rangers go to 'get away from it all?'
What do you do when you see an endangered animal eating an endangered plant?
If a parsley farmer is sued, can they garnish his wages?
Would a fly without wings be called a walk?
Why do they lock gas station bathrooms? Are they afraid someone will clean them?
If a turtle doesn't have a shell, is he homeless or naked?
Can vegetarians eat animal crackers?
If the police arrest a mime, do they tell him he has the right to remain silent?
Why do they put Braille on the drive-through bank machines?
How do they get the deer to cross at that yellow road sign?
Why did kamikaze pilots wear helmets?
Is it true that cannibals don't eat clowns because they taste funny?
What was the best thing before sliced bread?
Defective nails...?
Two guys were doing construction on a house. One of them who was nailing down siding would reach into his nail pouch, pull out a nail, and then either toss it over his shoulder or nail it into the siding.
The other guy, figuring this was worth looking into, asked, "Why are you throwing those nails away?"
The first guy explained, "If I pull a nail out of my pouch and it's pointed towards me, I throw it away 'cause it's defective. If it's pointed toward the house, then I nail it into the siding."
The second guy was outraged. He yelled, "You moron! The nails pointed towards you aren't defective! They're for the other side of the house!"
#joke
A man and a woman meet on vaca...
A man and a woman meet on vacation and quickly fall in love. At the trip's end, they decide to open up to each other.
"It's only fair to warn you, Jody," Bill says. "I'm a golf nut. I live, eat, sleep, and breathe golf."
"Well, I'll be honest, too," Jody says. "I'm a hooker."
The man looks crestfallen for a moment, then says, "Are you keeping your wrists straight?"
#joke