Old Biker
One Sunday morning an old biker entered a church just before services were to begin.
Although the old man and his clothes were spotlessly clean, he wore jeans, a denim shirt and boots that were very worn and ragged. In his hand he carried a worn out old leather jacket and an equally worn out bible.
The church he entered was in a very upscale and exclusive part of the city. It was the largest and most beautiful church the old biker had ever seen.
The people of the congregation were all dressed with expensive clothes and accessories. As the biker took a seat, the others moved away from him. No one greeted, spoke to, or welcomed him. They were all appalled at his appearance and did not attempt to hide it.
The preacher gave a long sermon about Hellfire and brimstone and a stern lecture on how much money the church needed to do God's work. As the old biker was leaving the church, the preacher approached him and asked the biker to do him a favor. "Before you come back in here again, have a talk with God and ask him what He thinks would be appropriate attire for worship."
The old biker assured the preacher he would.
The next Sunday, he showed back up for the services wearing the same ragged jeans, shirt, boots, and leather jacket.
Once again he was completely shunned and ignored.
The preacher approached the man and said, "I thought I asked you to speak to God before you came back t o our church."
"I did," replied the old biker. "
"If you spoke to God, what did he tell you the proper attire should be for worshiping in here?" asked the preacher.
"Well, sir, God told me that He didn't have a clue what I should wear. He says He's never been here before."
#joke
Things to do @ Wal-Mart while ...
Things to do @ Wal-Mart while the significant other is taking his/her sweet time:
1. Get cans of cat food and randomly put them in people's carts when they don't realize it.
2. Set all the alarm clocks to go off at ten minute intervals throughout the day.
3. Make a trail of orange juice on the floor leading to the rest rooms.
4. Walk up to an employee and tell him in an official tone, "I think we've got a Code 3 in house wares," and see what happens.
5. Tune all the radios to a polka station; then turn them all off and turn the volumes to "10."
6. Challenge other customers to duels with tubes of gift wrap.
7. Put M&M's on layaway.
8. Move "Caution: Wet Floor" signs to carpeted areas.
9. Set up a tent in the camping department; tell others you'll only invite them in if they bring pillows from Bed and Bath.
10. When someone asks if you need help, begin to cry and ask, "Why won't you people just leave me alone?"
#joke
Funny video of the day - Funny video of the day Saturday, 05 June 2010
The Inspired Sermon
The pastor was greeting folks at the door after the service. A woman said, "Father, that was a good sermon."
The priest replied, "Oh, I have to give the credit to the Holy Spirit."
"It wasn't THAT good!" she said.
This joke was reprinted from "The Book of Catholic Jokes" by Deacon Tom Sheridan, with permission of ACTA Publications. Copyright 2008. All rights reserved.
#joke
How much English can you speak?
"Your Honor, I want to bring to your attention how unfair it is for my client to be accused of theft. He arrived in New York City a week ago and barely knows his way around. What's more, he only speaks a few words of English."
The Judge looks at the defendant and says, "How much English can you speak?"
The defendant looks up and says, "Give me your wallet!"
#joke
Knock Knock Collection 020
Knock Knock
Who's there?
Austin!
Austin who?
Austin corrected!
Knock Knock
Who's there?
Avenue!
Avenue who?
Avenue head the good news!
Knock Knock
Who's there?
Avocado!
Avocado who?
Avocado a cold!
Knock Knock
Who's there?
Axel!
Axel who?
Axeldental Tourist!
Knock Knock
Who's there?
Axl!
Axl who?
Axl me nicely and I might just tell you!
#joke
Wonder bra
Do you know why they call it the Wonder Bra? When you take it off you wonder where her tits went.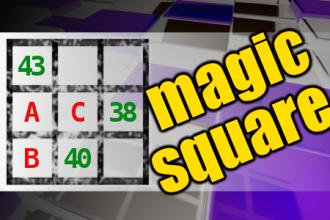 MAGIC SQUARE: Calculate A-B+C
The aim is to place the some numbers from the list (1, 3, 5, 8, 25, 27, 30, 38, 40, 42, 43) into the empty squares and squares marked with A, B an C. Sum of each row and column should be equal. All the numbers of the magic square must be different. Find values for A, B, and C. Solution is A-B+C.
Jon Lajoie: Dreamt of a World
John Lennon imagined a world filled with peace and love. Martin Luther King dreamt of a world free from racial discrimination and oppression. The guy who invented the Frisbee, dreamt of a world where people would throw a fat, circular object at each other in order to pass the time. He succeeded.
An explorer walked into a clea...
An explorer walked into a clearing and was surprised to see a pigmy standing beside a huge dead elephant. "Did you kill that?" he asked. The pigmy answered: "Yes". "How could a little bloke like you kill something as huge as that?"
"I killed it with my club" replied the pigmy.
"That's amazing," said the explorer. "How big's your club?"
The pigmy replied: "There's about 150 of us"
#joke
A blond, a brunette, and a red...
A blond, a brunette, and a redhead walk into a store.
The woman behind the counter looks them over and asks, "Do you girls want to see something?"
Confused they say yes.
The woman pulls out a ceramic pot from behind the counter, and says, "If you stick your head in this pot and say something you think is true, but it is not true you will disapear off the face of the Earth, POOF! But if what you say is true, the pot will turn to gold and it is yours to keep."
The redhead sticks her head in the pot and wispers, "I think I am the smartest girl in the world." And POOF! she disapears.
The brunette sticks her head in the pot and says, "I think I am the most beautiful girl in the world." And POOF! she disapears.
Then the blond sticks her head in the pot and says, "I think..." And POOF! she disapears.
#joke
There was a blonde. She had nev...
There was a blonde. She had never been horseback riding and decided to try, even though she had no prior expierience. So the blonde gracefully mounted the horse. The horse started off at an easy gallop,the blonde thought she was doing quite well. When all of a sudden she began to slip! She tried to grasp the horses mane but it was too slick! So she decided to jump to safety....so she jumped, but her foot was caught in the sturrup! She was at the mercy of the horses feet, and right before she was knocked unconcious.... the manager of wal-mart walked out and turned the horse off
A little old man shuffled slow...
A little old man shuffled slowly into an ice cream parlor and pulled
himself slowly, painfully, up onto a stool.. After catching his
breath, he ordered a banana split.
The waitress asked kindly, 'Crushed nuts?'
'No,' he replied, 'Arthritis.'
Cookies in Heaven?
An elderly man lay dying in his bed. In death's agony, he suddenly smelled the aroma of his favorite chocolate chip cookies wafting up the stairs. He gathered his remaining strength, and lifted himself from the bed. Leaning against the wall, he slowly made his way out of the bedroom, and with even greater effort forced himself down the stairs, gripping the railing with both hands, he crawled down the stairs.
With labored breath, he leaned against the door-frame, gazing into the kitchen. Were it not for death's agony, he would have thought himself already in heaven: there, spread out upon waxed paper on the kitchen table were literally hundreds of his favorite chocolate chip cookies. Was it heaven? Or was it one final act of heroic love from his devoted wife, seeing to it that he left this world a happy man?
Mustering one great final effort, he threw himself toward the table, landing on his knees in a rumpled posture. His parched lips parted: the wondrous taste of the cookie was already in his mouth, seemingly bringing him back to life.
The aged and withered hand trembled on its way to a cookie at the edge of the table, when it was suddenly smacked with aspatula by his wife.
"Stay out of those," she said, "they're for the funeral."
#joke
Father Murphy walks into a pub...
Father Murphy walks into a pub in Donegal, and says to the first
man he meets, "Do you want to go to heaven?" The man said, "I do
Father." The priest said, "Then stands over there against the wall."
Then the priest asked the second man, "Do you want to get to heaven?"
"Certainly, Father," was the man's reply."Then stand over there against
the wall," said the priest. Then Father Murphy walked up to O'Toole and
said, "Do you want to go to heaven?" O'Toole said, "No, I don't Father."
The priest said, "I don't believe this. You mean to tell me that when
you die you don't want to go to heaven?" O'Toole said, "Oh, when I die,
yes. I thought you were getting a group together to go right now."
#joke
How do you expect to get into heaven?
An exasperated mother, whose son was always getting into mischief, finally asked him, "How do you expect to get into heaven?"
The boy thought it over and said, "Well, I'll just run in and out and in and out and keep slamming the door until St. Peter says, 'For heaven's sake, Jimmy, either come in or stay out!'"
#joke
Top Ten Signs You Bought A Bad Computer
10. Lower corner of screen has the words "Etch-a-sketch" on it.
9. It's celebrity spokesman is that "Hey Vern!" guy.
8. In order to start it, you need some jumper cables and a friend's car.
7. It's slogan is "Pentium: redefining mathematics".
6. The "quick reference" manual is 120 pages long.
5. Whenever you turn it on, all the dogs in your neighborhood start howling.
4. The screen often displays the message, "Ain't it break time yet?"
3. The manual contains only one sentence: "Good Luck!"
2. The only chip inside is a Dorito.
1. You've decided that your computer is an excellent addition to your fabulous paperweight collection.
#joke
Blonde Avoiding Trees
A State Trooper pulls a car over on a lonely back road and approaches the blonde lady driver.
"Mam, is there a reason that you're weaving all over the road"?
The woman replied, "Oh officer, thank goodness you're here!! I almost had an accident! I looked up and there was a tree right in front of me. I swerved to the left and there was another tree in front of me. I swerved to the right and there was another tree in front of me!"
Reaching through the side window to the rear view mirror, the officer replied, "Ma'am... that's your air freshener."