Prisoner
The bride tells her husband, "Honey, you know I'm a virgin and I don't know anything about sex. Can you explain it to me first?"
"OK, Sweetheart, putting it simply, we will call your private place 'the prison' and call my private thing 'the prisoner'.
So what we do is: put the prisoner in the prison.
And then they made love for the first time. Afterwards, the guy is lying face up on the bed, smiling with satisfaction.
Nudging him, his bride giggles, "Honey, the prisoner seems to have escaped."
Turning on his side, he smiles. "Then we will have to re-imprison him."
After the second time they spent, the guy reaches for his cigarettes.
But the girl, thoroughly enjoying the new experience of making love, gives him a suggestive smile, "Honey, the prisoner is out again!"
The man rises to the occasion, but with the unsteady legs of a recently born foal. Afterwards, he lays back on the bed, totally exhausted.
She nudges him and says, "Honey, the prisoner escaped again."
Limply turning his head, He yells at her, "Hey, it's not life imprisonment!"
Submitted by Curtis
Edited by Calamjo
#joke
Hear about the just-announced,...
Hear about the just-announced, sleek new pancake-making device from Apple? The iHop.
Funny video of the day - Funny video of the day Tuesday, 08 June 2010
The trumpet player had been bl...
The trumpet player had been blasting away all day, when there was a knock on his door. "I live next door to you," he explained. "Do you know I work nights?" "No," said the trumpet player, "but if you hum a few bars, I'll get the melody."
Used Car
It was a small town and the patrolman was making his evening rounds As he was checking a used car lot, he came upon two little old ladies sitting in a used car. He stopped and asked them if they were stealing the car. They said "Heavens no, we bought it."
He said, "Then why don't you drive it away".
Each of the women said "We can't drive".
The officer momentarily shook his head and then asked "Then why did you buy it?"
They answered, "We were told if we bought a car here, we'd get screwed, so we are just waiting.
#joke
Why Is This Night Different?
During one of his many trips to London, George Burns became friends with a very wealthy, yet very modest, Jewish chap named Hyman Goldfarb. On one visit, Hy told George that because of his large donations to charities through the years, the queen wanted to knight him, but he was going to turn it down.
"That's a great honor," George said. "Why would you turn it down?""Because during the ceremony you have to say something in Latin," he said. "And I don't wish to bother studying Latin just for that."
"So say something in Hebrew. The queen wouldn't know the difference."
"Brilliant," Hy complimented me, "but what should I say?"
"Remember that question the son asks the father on the first night of Passover? ... 'Why is this night different from all other nights?' Can you say that in Hebrew?"
"Of course," he said. "Ma nishtana ha leila hazeh. Thank you, old sport, I shall become a knight."
At the ceremony Hy waited his turn while several of the other honorees went before the queen. Finally they called his name. He knelt before Her Majesty, she placed her sword on one shoulder and then on the other, and motioned for Hy to speak.
Out came "Ma nishtana ha leila hazeh."
The queen turned to her husband and said, "Why is this knight different from all other knights?"
#joke
A woman consulted her physicia...
A woman consulted her physician with the complaint that the insides of her thighs had acquired a greenish color.
After much research and consultation with experts in the field, her physician informed her that he believed he had found a diagnosis, but would have to ask her a rather personal question.
"Is your husband a Greatful Dead fan?"
"Why yes, he is," she replied, "In fact we met at a Dead show and were avid followers of their itinerary right up until the death of Jerry Garcia"
"Well, you can tell your husband" advised the doctor "that his earrings are not real gold!"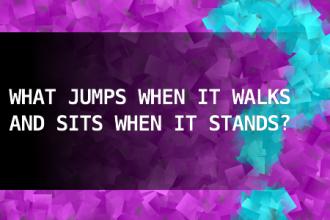 What jumps when it walks and s...
What jumps when it walks and sits when it stands?
The birds and bees...and cows?
A man was helping one of his cows give birth, when he noticed his 4-year-old son standing wide-eyed at the fence, soaking in the whole event. The man thought, "Great...he's 4 and I'm gonna have to start explaining the birds and bees. No need to jump the gun - I'll just let him ask, and I'll answer."
After everything was over, the man walked over to his son and said, "Well son, do you have any questions?"
"Just one." gasped the still wide-eyed lad. "How fast was that calf going when he hit that cow?"
#joke
Farm Jokes 05
What is a cow's favorite TV show?
Dr Moo!
Why was the farmer hopping mad?
Because someone had trodden on his corn!
What would happen if bulls could fly?
You would have to carry an umbrella all the time and beef would go up!
What do you get if a sheep walks under a cloud?
A sheep that's under the weather!
Why do cows like being told jokes?
Because they like being amoosed!
What goes 'peck, bang, peck, bang, peck, bang'?
A bunch of chickens in a field full of balloons!
What do you get if you cross a pile of mud with a pig?
A groundhog!
How do you take a pig to hospital?
By hambulance!
What do you call a joke book for chickens?
A yolk book!
#joke
Aziz Ansari: Rap Producer Boast
I heard this guy going around talking about how he was this big rap producer, and he was just going around and boasting and bragging. And in one of those bragging sessions, I heard him just tell somebody, Hey, hey -- why dont you try making four beats a day for two summers? What a dangerously specific challenge that is.
#joke
An explorer walked into a clea...
An explorer walked into a clearing and was surprised to see a pigmy standing beside a huge dead elephant. "Did you kill that?" he asked. The pigmy answered: "Yes". "How could a little bloke like you kill something as huge as that?"
"I killed it with my club" replied the pigmy.
"That's amazing," said the explorer. "How big's your club?"
The pigmy replied: "There's about 150 of us"
#joke
Picking a punishment #joke #humor
This guy dies and is sent to Hell. Satan meets him and shows him the doors to three rooms and says he must choose one of the rooms to spend eternity in.
So Satan opens the first door. In the room there are people standing in cow manure up to their necks. The guy says "No, please show me the next room".
Satan shows him the next room and this has people with cow manure up to their noses. And so he says no again.
Finally, Satan shows him the third and final room. This time there are people in there with cow manure up to their knees drinking cups of tea and eating cakes.
So the guy says, "I'll choose this room". Satan says O.K.
The guy is standing in there eating his cake and drinking his tea thinking, "Well, it could be worse", when the door opens.
Satan pops his head around, and says "O.K. tea-break is over. Back on your heads!"
#joke
A blonde, brunette and redhead...
A blonde, brunette and redhead are in a desert.
The brunette says, "I brought some water so we don't get dehydrated."
The redhead says, "I brought some suntan lotion so we don't get sunburned."
Then the blonde says I brought a car door." The other girls said, "Why did you bring that?" Then the blonde says, "So I can roll down the window if it gets hot."
Brain transplant
"How can I ever thank you?" gushed a woman to Clarence Darrow, after he had solved her legal troubles.
"My dear woman," Darrow replied, "ever since the Phoenicians invented money there has been only one answer to that question."
First time in the big city...
Two small-town merchants were visiting New York City for the first time to attend a conference. There was a large party thrown, with lots of food and drink. At the end of the party, they both staggered outside. One guy crossed the street, while the other stumbled into a subway entrance. When the first guy reached the other side of the street, he noticed the other emerging from the subway stairs.
"Where ya been?" he slurred.
"I don't know," gushed the other guy, "but you should see the train set that guy has in his basement!"
#joke
WIFE VS. HUSBAND
A cou...
WIFE VS. HUSBAND
A couple drove down a country road for several miles, not saying a word.
An earlier discussion had led to an argument and neither of them wanted to concede their position. As they passed a barnyard of mules, goats, and pigs, the husband asked sarcastically, "Relatives of yours?"
"Yep," the wife replied, "in-laws"
#joke
A Bible story....
A father was reading Bible stories to his young son.
He read, "The man named Lot was warned to take his wife and flee out of the city. But his wife looked back and was turned to salt."
His son asked, "What happened to the flea?"
Business One-liners 108
Hugh Downs' Four Rules for Investigating the Universe: Rule 1 - When confronted with an apparent infinite or infinitely repeating pattern, expect some variant that keeps it from being infinite. Rule 2 - When all investigation supports Rule 1, look for a situation which violates it. Rule 3 - Be prepared for an infinite oscillation between Rules 1 and 2. Rule 4 - Apply Rule 1.
Drew's Law of Highway Biology: The first bug to hit a clean windshield lands directly in front of your eyes.
Ducharme's Axiom: If you view your problem closely enough you will recognize yourself as part of the problem.
Ducharme's Precept: Opportunity always knocks at the least opportune moment.
Emersons' Law of Contrariness: Our chief want in life is somebody who shall make us do what we can. Having found them, we shall then hate them for it.
Estridge's Law: No matter how large and standardized the marketplace is, IBM can redefine it.
Fett's Law: Never replicate a successful experiment.
#joke