Happiest day of your life...
Congratulations my boy!" said the groom's uncle. "I'm sure you'll look back and remember today as the happiest day of your life."
"But I'm not getting married until tomorrow." Protested his nephew.
"I know," replied the uncle. "That's exactly what I mean."
Swerve to avoid a box #jokes #humor
Driving to work, a gentleman had to swerve to avoid a box that fell out of a truck in front of him. Seconds later, a policeman pulled him over for reckless driving. Fortunately, another officer had seen the carton in the road. The policmen stopped traffic and recovered the box. It was found to contain large upholstery tacks.
"I'm sorry sir," the first trooper told the driver, "but I am still going to have to write you a ticket."
Amazed, the driver asked for what.
The trooper replied, "Tacks evasion."
Funny video of the day - Funny video of the day Thursday, 17 June 2010
A very rich and famous dwarf p...
A very rich and famous dwarf passed away recently. He was low dead.
A plane was taking off from Ke...
A plane was taking off from Kennedy Airport. After it reached
a comfortable cruising altitude, the captain made an announcement
over the intercom, "Ladies and gentlemen, this is your captain
speaking. Welcome to Flight Number 293, non-stop from New York to Los
Angeles. The weather ahead is good and, therefore, we should have a smooth and
uneventful flight. Now sit back and relax - OH, MY G-D!" Silence followed, and after a few minutes the captain came back on the intercom and said, "Ladies and Gentlemen,
I am so sorry if I scared you earlier; but, while I was talking, the flight attendant brought
me a cup of coffee and spilled the hot coffee in my lap. You should see the front of my pants!"
A passenger in Coach said, "That's nothing. He should see the back of mine!"
#joke
Divorce Court
A judge was interviewing a woman regarding her pending divorce, and asked, "What are the grounds for your divorce?"
She replied, "About four acres and a nice little home in the middle of the property with a stream running by."
"No," he said, "I mean what is the foundation of this case?"
"It is made of concrete, brick and mortar," she responded.
"I mean," he continued, "What are your relations like?"
"I have an aunt and uncle living here in town, and so do my husband's parents."
He said, "Do you have a real grudge?"
"No," she replied, "We have a two-car carport and have never really needed one."
"Please," he tried again, "is there any infidelity in your marriage?"
"Yes, both my son and daughter have stereo sets. We don't necessarily like the music, but the answer to your questions is yes."
"Ma'am, does your husband ever beat you up?"
"Yes," she responded, "about twice a week he gets up earlier than I do."
Finally, in frustration, the judge asked, "Lady, why do you want a divorce?"
"Oh, I don't want a divorce," she replied. "I've never wanted a divorce. My husband does. He said he can't communicate with me!"
#joke
A Recently Spotted Bumper Sticker:
"Don't make me come down there!" --GOD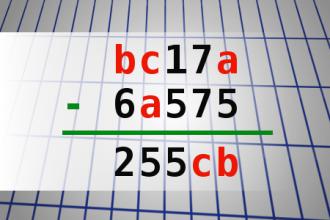 Find number abc
If bc17a - 6a575 = 255cb find number abc. Multiple solutions may exist.
A young man named John receive...
A young man named John received a parrot as a gift. The parrot had a bad attitude and an even worse vocabulary. Every word out of the bird's mouth was rude, obnoxious and laced with profanity.
John tried and tried to change the bird's attitude by consistently saying only polite words, playing soft music and anything else he could think of to "clean up" the bird's vocabulary.
Finally, John was fed up and he yelled at the parrot. The parrot yelled back. John shook the parrot and the parrot got angrier and even John, in desperation, threw up his hand, grabbed the bird and put him in the freezer. For a few minutes the parrot squawked and kicked and screamed. Then suddenly there was total quiet. Not a peep was heard for over a minute.
Fearing that he'd hurt the parrot, John quickly opened the door to the freezer. The parrot calmly stepped out onto John's outstretched arms and said "I believe I may have offended you with my rude language and actions. I'm sincerely remorseful for my inappropriate transgressions and I fully intend to do everything I can to correct my rude and unforgivable behaviour."
John was stunned at the change in the bird's attitude. As he was about to ask the parrot what had made such a dramatic change in his behaviour, the bird continued, "May I ask what the turkey did?"
#joke
Technology Is Too Good
The following is supposedly a true story. To be included, besides being true, the story is most likely strange, weird, surprising, or funny.
Seattle, Washington:
The new U.S. Weather Service radar on Camano Island and atmospheric profiler at Sand Point began to pick up a mysterious 20 mile per hour wind out of the south each night about a month ago, a wind that started about sunset and ended at dawn.
Forecasters finally realized the new instrument is almost too accurate for its own good: It was detecting no wind, but the annual nighttime migration of thousands of birds towards the north, said a meteorologist.
#joke
John Heffron: School Luggage
They dont have backpacks anymore; they all have that rolling luggage crap now. Every time they get home, it looks like theyre checking into a hotel. Hi, how are ya? What time does the shuttle leave for soccer?
A three-legged dog walks into ...
A three-legged dog walks into a saloon in the Old West. He sidles up to the bar and announces: "I'm looking for the man who shot my paw."

A little boy asked his teacher...
A little boy asked his teacher if he could go to the bathroom,so she said yes. When he went to wipe his bum there was no toilet paper so he used his hands. When he got back to class his teacher asked, 'What do you have in your hand.'The boy said, 'A little leprechaun and if I open my hand he'll get scared away.'
He was then sent to the principals office and the principal asked him, 'What do you have in your hand.'
So the little boy said, 'A little leprechaun and if I open my hands he'll get scared away.' He was sent home and his mom asked him 'What do you have in your hand.'
So the little boy said, 'A little leprechaun and if I open my hands he'll get scared away.' He was sent to his room and his dad came in and said, 'What do you have in your hand.' So again the little boy said, 'A little leprechaun and if I open my hands he get scared away.'
Then his Dad got really mad and yelled, 'Open your hands!'
And the little boy said, 'Look Dad you scared the crap out of him.'
#joke
Molested
A woman rushes into a police station and cries, "Help, help! I've been molested by a virgin!"
Calming the woman down, an officer asks, "How do you know it was a virgin?"
The woman gasps, "Because I had to help him."
Submitted by Curtis
Edited by Calamjo
#joke
My memory's not as sharp as it...
My memory's not as sharp as it used to be.
Also, my memory's not as sharp as it used to be
Socks...
A young man and a young woman were soon to be married, but they both had a problem they had never told anyone else about. The man approached his father one day before the wedding and told him about his problem. His feet REALLY stunk, even if he washed them constantly, he was worried that this would scare off his new bride, so he needed a solution, fast. His father pondered the situation and finally told his son to wear socks constantly (even to bed) and always wash his feet whenever he got a chance. The son thought about this and went along happy.
The same day the young lady approached her mother and told her about her problem. Her morning breath was horrid. Her mother reassured her and told her everyone had bad morning breath. The young woman told her mother that this was not normal morning breath but easily the worst in the world. The mother thinks about this and comes up with this bright idea. She tells her daughter to get up earlier than everyone else and don't say a thing, go make breakfast and then brush her teeth while the others are eating. The young woman thinks and then runs off to get ready for the wedding, happy.
The couple is married and they are happy, him with his perpetual socks and her with her morning silences. One morning about 5:30 am the young man wakes up to find one sock missing. He starts rustling around in the bed looking for it, which of course wakes up his wife, who without thinking asks what's wrong.
With a look of shock on his face the young man says, "OH MY GOD! You've swallowed my sock!"
#joke
Hang your @
Home is where you hang your @.
Answering Machine Message 68

You have reached the Des Moines chapter of the Iowa Procrastination Society. Please leave a message after the tone and we'll get around to it...


What's orange and sounds like ...
What's orange and sounds like a parrot?


A carrot!

A secretary was leaving the of...
A secretary was leaving the office one Friday evening when she encountered Mr. Jones, the Human Resources manager, standing in front of a shredder with a piece of paper in his hand.
"Listen," said Mr. Jones, "this is important, and my secretary has already left. Can you make this thing work?"
"Certainly," said the secretary. She turned the machine on, inserted the paper, and pressed the start button.
"Excellent, excellent!" said Mr. Jones as his paper disappeared inside the machine. "I just need one copy."