Halloween
Is Coming, Be prepared for Halloween, check out our latest
Halloween jokes
on:
Halloween jokes collection
Chinese Dinner
A couple go for a meal at a Chinese restaurant and order the 'Chicken Surprise', the waiter brings the meal, served in a lidded cast iron pot.
Just as the wife is about to serve herself, the lid of the pot rises slightly and she briefly sees two beady little eyes looking around before the lid slams back down.
'Good grief, did you see that?' she asks her husband. He hasn't, so she asks him to look in the pot. He reaches for it and again the lid rises, and he sees two little eyes looking around before it slams down.
Rather perturbed, he calls the waiter over, explains what is happening, and demands an explanation.
'Please sir,' says the waiter, 'what you order?'
The husband replies, 'Chicken Surprise.'
'Ah! So sorry,' says the waiter, 'I bring you Peeking Duck
#joke
Safe to fish here? #jokes #humor
While sports fishing off the Florida coast, a tourist capsized his boat. He could swim, but his fear of alligators kept him clinging to the overturned craft. Spotting and old beachcomber standing on the shore, the tourist shouted,"Are there any gators around here?!"
"Naw," the man hollered back, "they ain't been around for years!"
"Feeling safe, the tourist started swimming leisurely toward the shore.
About halfway there he asked the guy,"How'd you get rid of the gators?"
"We didn't do nothin'," the beachcomber said.
"The sharks got 'em."
#joke
Funny video of the day - Funny video of the day Monday, 12 July 2010
If Jesus had been a chiropract...
If Jesus had been a chiropractor, would there have been millions of disc I pulls?
A man went to visit a friend a...
A man went to visit a friend and was amazed to find him playing chess with his dog. He watched the game in astonishment for a while. "I can hardly believe my eyes!" he exclaimed. "That's the smartest dog I've ever seen."
"Nah, he's not so smart," the friend replied. "I've beaten him three games out of five."
#joke
Which condom would you use.......
Which condom would you use....
Nike Condoms: Just do it.
Toyota Condoms: Oh what a feeling.
Diet Pepsi Condoms: You got the right one, baby.
Pringles Condoms: Once you pop, you can't stop.
Mentos Condoms: The freshmaker.
Flintstones Vitamins Condom Pack: Ten million strong and growing.
Secret Condoms: Strong enough for a man, but made for a woman.
Macintosh Condoms: It does more, it costs less, its that simple.
Ford Condoms: The best never rest.
Chevy Condoms: Like a rock.
Dial Condoms: Aren't you glad you use it? Don't you wish everybody did?
New York Lotto Condoms: Cause hey -- you never know.
California Lotto Condoms: Who's next?
Avis Condoms: Trying harder than ever.
KFC Condoms: Finger-Licking Good.
Coca Cola Condoms: Always a Real Thing.
Lays Condoms: Betcha can't have just one.
Cambells Soup Condoms: Mm, mm good.
The Carl's Jr. Condom: If it doesn't get all over the place, it doesn't belong in your face...
General Electric: We bring good things to life!
AT&T condom: 'Reach out and touch someone.'
Bounty: The quicker picker upper.
Microsoft: where do you want to go today ?
Energizer: It keeps going and going and going....
M&M condom: 'It melts in your mouth, not in your hands!'
Chevron: use them? people do.
Taco Bell: get some; make a run for the border
MCI: for friends and family
Double Mint: Double your pleasure, double your fun!
The Sears latex condom: One coat is good for the entire winter
Delta Airlines travel pack: Delta's ready when you are
United Airlines travel pack: Fly United
The Star Trek Condom: To Boldly Go Where No Man Has Gone Before
Wendy Condoms: Where's the beef?
Denny's Condoms: $1.99 Grand Slam
Mazda Condom: It Just Feels Right!
Maxwell House: Good to the last drop!
McDonalds condom: Over 99 billion served
Hewlett Packard condoms: Expanding Possibilities
Burger King: Have it your way
Dairy Queen: We treat you right
AOL: So easy to use, no wonder it's #1
#joke
Quiet
A father and son went hunting together for the first time. The father said "Stay here and be very quiet. I'll be across the field." A little while later the father heard a blood curdling scream and ran back to his son asking, "What's wrong? I told you to be quiet."
The son answered, "Look, I was quiet when the snake slithered across my feet. I was quiet when the bear breathed down my neck. But when the two chipmunks crawled up my pant legs and said 'Should we eat them here or take them with us?' I panicked..."
#joke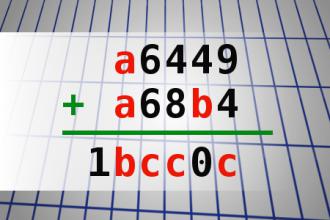 Find number abc
If a6449 + a68b4 = 1bcc0c find number abc. Multiple solutions may exist.
Jesus Is Watching You!
There was a burglar who broke into a home and started to gather the items he wanted to take. All of a sudden he heard, "Jesus is watching you!" He didn't see anything in the dark house, so he went on with what he was doing.
He heard, "Jesus is watching you!" again and then he really wondered who wassaying that. He turned on the flashlight, scanned the room, and finally saw a parrot.
"Did you say that?" asked the burgler.
"Yes," replied the parrot.
"By the way, what's your name?" the burgler inquired."Moses," answered the parrot.
"That's a strange name for a parrot. Who named you that?"
"The same people who named their rotweiller Jesus!"
#joke
Kevin Hart: No Longer Safe
Ever argue with a female and, in the middle of the argument, you no longer feel safe because of her actions? She may start pacing back and forth real fast, breathing out her nose. You know what my girl do? When she get mad, she start talking in the third person. Thats scary as hell because thats her way of telling me that from this point on, she is not responsible for none of her actions.
#joke
A sweet little boy surprised h...
A sweet little boy surprised his grandmother one morning and brought her a cup of coffee. He made it himself and he was so proud. Anxiously, he waited to hear the verdict. The grandmother in all her life had never had such a bad cup of coffee. As she forced down the last sip, his grandmother noticed three of those little green army guys were in the bottom of the cup.
She asked, "Honey, why would three of your little army men be in the bottom of my cup?"
Her grandson replied, "You know grandma, it's like on TV. 'The best part of waking up is soldiers in your cup'."
#joke
Christmas
Not long ago and far away, Santa was getting ready for his annual trip...but there were problems everywhere.
Four of his elves got sick, and the trainee elves did not produce the toys as fast as the regular ones so Santa was beginning to feel the pressure of being behind schedule.
Then, Mrs. Claus told Santa that her mom was coming to visit. This stressed Santa even more.
When he went to harness the reindeer, he found that three of them were about to give birth and two had jumped the fence and were out, heaven knows where. More Stress.
Then when he began to load the sleigh, one of the boards cracked and the toy bag fell to the ground and scattered the toys.
So, frustrated, Santa went into the house for a cup of coffee and a shot of whiskey. When he went to the cupboard, he found the elves had hidden the liquor and there was nothing to drink. In his frustration, he dropped the coffee pot and it broke into hundreds of little pieces all over the he kitchen floor.
He went to get the broom and found that mice had eaten the straw it was made from.
Just then the doorbell rang and Santa cussed on his way to the door. He opened the door and there was a little angel with a great big Christmas tree. The angel said, "Where would you like to put this tree Santa?"
And that my friends, is how the little angel came to be on top of the Christmas tree.
Submitted by Glaci
Edited by Curtis
Teacher : "Now, Sam, tell me f...
Teacher : "Now, Sam, tell me frankly do you say prayers before eating?"
Sam : "No sir, I don't have to, my mom is a good cook."

Password Problem
A guy did system support in a law firm. One day, he had to
log a user off and then back on. He entered her initials and
then she gave me her password.
Her password was "genius".
After three tries and the system telling him "access
denied," he asked her how to spell it.
She said, "G - E - N - I - O - U - S."
#joke
Long-Distance Calls
A man in Topeka, Kansas decided to write a book about churches around the country. He started by flying to San Francisco and worked east from there. Going to a very large church, he began taking photographs and notes. He spotted a golden telephone on the vestibule wall and was intrigued by a sign which read: "$10,000 a minute." Seeking out the Pastor he asked about the phone and the sign. The Pastor explained that the golden phone was, in fact, a direct line to Heaven and if he paid the price he could talk directly to God. The man thanked the Pastor and continued on his way. As he continued to visit churches in Seattle, San Diego, Chicago, Greensboro, Tampa and all around the United States, he found more phones with the same sign and got the same answer from each Pastor.
Finally, he arrived in Texas. Upon entering a church in Dallas, behold, he saw the usual golden telephone. But THIS time, the sign read: "Calls: 35 cents." Fascinated, he asked to talk to the Pastor.
"Reverend, I have been in cities all across the country and in each church I have found this golden telephone. I have been told it is a direct line to Heaven and that I could talk to God, but, in the other churches the cost was $10,000 a minute. Your sign reads 35 cents. Why?"
The Pastor, smiling benignly, replied, "Son, you're in Texas now... It's a local call."
#joke
You might be a redneck if 50
You might be a redneck if...
You think cur is a breed of dog.
People hear your car long before they see it.
Your four-year-old is a member of the NRA.
Your satellite dish payment delays buying school clothes for the kids.
Your most expensive shoes have numbers on the heels.
Your wife has ever burned out an electric razor.
Your birth announcement included the word "rug rat".
You've ever hitchhiked naked.
You're turned on by a woman who can field dress a deer.
Your wife keeps a can of Vienna sausage in her purse.
#joke
Drinking Too Much
A man sat down at a bar, looked into his shirt pocket, and ordered a double scotch.
A few minutes later, the man again peeked into his pocket and ordered another double. This routine was followed for some time, until after looking into his pocket, he told the bartender that he's had enough.
The bartender said, "I've got to ask you - what's with the pocket business?"
The man replied, "I have my lawyer's picture in there. When he starts to look honest, I've had enough."
There once was a woman from Ee...
There once was a woman from Eeling,
Who had a peculiar feeling.
She layed on her back,
And opened her crack
And pissed all over the ceiling!