Happy New Year 2021!!
Panic On Interstate 280
As a senior citizen was driving down the freeway, his cell phone rang.
Answering, he heard his wife's voice urgently warning him,
"Herman, I just heard on the news that there's a car going the wrong way on Interstate 280".
"Please Be Careful!"
"It's not just one car," said Herman.
"It's hundreds of them!"
#joke
Parenting evolution #jokes #humor
My wife and I are both the youngest child. Combine that with our own experience as parents and we often satirically talk about how things change as you have more children:
Feeling the Baby Move
First Child: I placed my hand on my wive's tummy every chance I could for two months waiting for that first time when I could feel the baby move. Hours upon hours I waited until that magic moment when, I felt this little movement. We called all of our relatives to tell them about the blessed experience.
Second Child: When it first happened, my wife called me at the office. I quickly ran home and felt the baby move. We included the experience in all of our letter to our family.
Third Child: She told me the baby moved. I told her I would check it our during the next commercial break. I missed out because her mother called on the telephone so I went on watching Monday night football. By the end of the third quarter, I finally felt the baby move.
Fourth Child: We were in bed and I was trying to sleep. I turned to her and said "Cant you make your tummy stay still? I'm trying to sleep." When it became clear that the baby would be jumping around for a while, we called the pizza man for a delivery.
The Trip to the Hospital
First Child: Every time we felt the slightest B&H contraction, we rushed to the hospital. I would carry my wife to the car and lay her down in the back seat surrounded by pillows.
Second Child: We timed the contractions. By the time she had three in thirty minutes, we rushed to the hospital. She sat in the front seat, with it leaned back and a pillow behind her head and another at her feet.
Third Child: I came home from the office as soon as she started having regular contractions. When they were five minutes apart and hard, we went to the hospital. I gave her a pillow to hold along the way.
Fourth Child: When she called me at the office and told me that she was having contractions hard and five minutes apart, I told her to drive to the hospital. I would meet her there as soon as I finished the set of correspondence I was working on. I reminded her not to forget the pillows.
The First Step
First Child: My wife grabbed the camera. I grabbed the Video Camera. My wife took four rolls of film. We immediately ran out to the one-hour developing place and had all four rolls developed with double prints. We had the best picture blown up to 24" X 36" and framed. We hung it up in the entry hall. I had a professional studio turn the four hours of video I taped into a one-hour documentary complete with voice-over by a local anchor-man.
Second Child: We took one roll of film and five minutes worth of video. The next day we took the film and had it developed by a twenty-four hour developing center. I took the best picture and put it into my wallet.
Third Child: We couldn't find the video-camera and we only had five shots left on the roll of film. We took all five shots but I don't remember if we ever got the roll developed.
Fourth Child: I quickly got up and grabbed the camera. I placed it up high so the child wouldn't grab it.
The First Time the Child Fell and Got a Cut
First Child: My wife and I frantically ran over to the child. We swept him up and rushed him to the emergency room. No stitches were needed but we spent the night with him in his room just in case the bleeding started again.
Second Child: We walked over to her, picked her up and quickly bandaged her up. We spent the next two hours rocking her in the living room to comfort the pain.
Third Child: I told my wife that if he was still crying in a couple of minutes, we should go over and make sure he isn't hurt too badly. When he didn't stop crying, we bandaged up the cut and laid him in his bed for a while but we went on about our business.
Fourth Child: Put a bandage on the cut and told him it'd get better after he stopped crying.
Funny video of the day - Funny video of the day Tuesday, 13 July 2010
This World Cup was one for the...
This World Cup was one for the Guinness Book of Redcards.
Harry asked his wife: Did you...
Harry asked his wife: Did your leave a tip for the boy who delivers our paper?
His wife replies: Yes, dear. I put some of it in the bushes, some of it on the roof, and some of it in the front yard.

How many does it take?
How many members of your horoscope sign does it take to change a light bulb?
Part 1:
Aries: Just one. You want to make something of it?
Taurus: One, but just "try" to convince them that the burned-out bulb is useless and should be thrown away.
Gemini: Two, but the job never gets done--they just keep arguing about who is supposed to do it and how it's supposed to be done.
Cancer: Just one. But it takes a therapist three years to help them through the grief process.
Leo: Leos don't change light bulbs, although sometimes their agent will get a Virgo to do the job for them while they're out.
Virgo: Approximately 1.0000000 with an error of +/- 1 millionth.
#joke
For his birthday, Little Johnn...
For his birthday, Little Johnny asked for a 10-speed bicycle. His father said, "Son, we'd give you one, but the mortgage on this house is $280,000 & your mother just lost her job. There's no way we can afford it."
The next day the father saw Little Johnny heading out the front door with a suitcase. So he asked, "Son, where are you going?"
Little Johnny told him, "I was walking past your room last night and heard you telling Mom you were pulling out. Then I heard her tell you to wait because she was coming too. And I'll be damned if I'm staying here by myself with a $280,000 mortgage & no bike."
#joke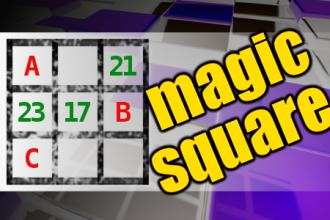 MAGIC SQUARE: Calculate A*B*C
The aim is to place the some numbers from the list (10, 17, 19, 20, 21, 22, 23, 33, 36, 37, 49) into the empty squares and squares marked with A, B an C. Sum of each row and column should be equal. All the numbers of the magic square must be different. Find values for A, B, and C. Solution is A*B*C.
Viagra...
An elderly gentleman went to the local drug store and asked the pharmacist for Viagra. The pharmacist said "That's no problem. How many do you want?"
The man answered" Just a few, maybe 4, but cut each one in 4 pieces."
The pharmacist said "That wont do you any good."
The elderly gentleman said "That's alright. I don't need them for sex anymore as I am over 80 years old. I just want it to stick out far enough so I don't pee on my shoes."
#joke
Virgin
What do you call a virgin in Arkansas?
A 12 year old that can run faster than her daddy.
Submitted by curtis
Edited by calamjo
Daniel Tosh: Airport Phone Fun
So when I get a phone call at the airport, Ill admit it, I like to have a little fun. Go ahead. Gate 47 is completely clear. People notice in a hurry. Honey, something is going on. That guy has a wire hanging down, maybe we shouldnt be standing right here. Stand down, blue team! Stand down, blue team! Honey, there is a sting going down at the airport. I am not feeling safe. Please, lets move. Stand down, down blue team! Dont -- hold on, the subjects approaching. Hes in a business suit with a briefcase. I repeat, the briefcase is in his hand. And I find some random businessman. I run, and I just beat the crap out of him. And everybody starts clapping, Thank you for making our airways safe. And then I go get on my plane, and that guy just has a weird story to tell for the rest of his life.
#joke
A dentist was getting ready to...
A dentist was getting ready to clean an elderly lady's teeth. He noticed that she was a little nervous, so he began to tell her a story as he was putting on his surgical gloves...
"Do you know how they make these rubber gloves?" She said, "No?"
"Well", he spoofed, "down in Mexico they have this big building set up with a large tank of latex, and the workers are all picked according to hand size. Each individual walks up to the tank, dips their hands in, and then walk around for a bit while the latex sets up and dries right onto their hands! Then they peel off the gloves and throw them into the big 'Finished Goods Crate' and start the process all over again."
And she didn't laugh a bit!!! Five minutes later, during the procedure, he had to stop cleaning her teeth because she burst out laughing.
The old woman blushed and exclaimed, "I just suddenly thought about how they must make condoms!"
#joke
A little boy comes down for br...
A little boy comes down for breakfast and his mother asks if he had done his chores. "Not yet," says the little boy.
His mother tells him that until he completes them, he won't be getting any breakfast.
Well, he's a little angry, so he goes to feed the chickens and kicks one. He goes to feed the cows, and kicks a cow as well. He goes to feed the pigs, and he kicks a pig.
He goes back in for breakfast and his mother gives him a bowl of dry cereal. "How come I don't get any eggs and bacon? Why don't I have any milk in my cereal?" he asks.
"Well," his mother says, "I saw you kick a chicken, so you don't get any eggs for a week. I saw you kick the pig, so you don't get any bacon for a week either. I also saw you kick the cow, so for a week you aren't getting any milk."
Just then, his father comes down for breakfast and kicks the cat half way across the kitchen.
The little boy looks up at his mother with a smile and says, "Are you going to tell him, or shall I?"
#joke
Shark!
There is this atheist swimming in the ocean. All of a sudden he sees a shark in the water, so he starts swimming furiously towards his boat.
As he looks back, he sees the shark turn and head towards him. He's scared to death, and as he sees the jaws of the great white beast open, revealing its horrific teeth, the atheist screams, "Oh God! Save me!"
In an instant, time is frozen and a bright light shines down from above. The man is motionless in the water when he hears the voice of God say, "You are an atheist. Why do you call upon me when you do not believe in me?"
Confused, and knowing he can't lie, the man replies, "Well, that's true I don't believe in you, but how about the shark? Can you make the shark believe in you?"
The Lord replies, "As you wish," and the light retracts back into the heavens. The man feels the water move once again.
As the atheist looks back, he can see the jaws of the shark start to close down on him, when all of sudden the shark stops and pulls back.
Shocked, the man watches as the huge beast closes its eyes, bows its head and says, "Thank you Lord for this food which I am about to receive..."

#joke
Which motor vehicle figured pr...
Which motor vehicle figured prominently in the Bible? Honda, because the apostles were all in one Accord.
A guy says, "I remember the fi...
A guy says, "I remember the first time I used alcohol as a substitute for women."
"Yeah what happened?" asked his friend.
The first guy replies, "Well, er, I got my p*nis stuck in the neck of the bottle
Next time someone asks you if ...
Next time someone asks you if they can "sneak by you," ask them how the hell they plan to do that when you know they are going by.
Tell them that next time they should not warn you, and maybe, just maybe, they could sneak by.
One god
What's the difference between a nurse and a nun?
A nun only serves one god.
Submitted by calamjo
Edited by yisman