Rachel Feinstein: Whore Friends
Were at this bar, and Im talking to this guy. Hes kind of leaning in like maybe hes intrigued by me, or something. All of a sudden, I look up and I notice, out of the corner of my eye, my friend that I came there with is doing some sort of a titty dance on the bar, right above us. And you cant really compete with that. Cause I think that every man hopes and prays that a titty jig is just going to erupt at any moment in their lives.
#joke
Cleanliness #jokes #humor
Two roaches were munching on garbage in an alley. "I was in that new restaurant across the street," said one. "It's so clean! The kitchen is spotless, the floors are gleaming white. It's so sanitary the whole place shines." "Please," said the other roach, frowning. "Not while I'm eating!"
Funny video of the day - Funny video of the day Tuesday, 27 July 2010
A stage mother cornered the co...
A stage mother cornered the concert violinist in his dressing room and insisted he listen to a tape of her talented son playing the violin. The man agreed to listen, and the woman switched on the tape player. "What music'" the violinist thought. A difficult piece, but played with such genius that it brought tears to his eyes. He listened spellbound to the entire recording. "Madam," he whispered is that your son?" "No, she replied. "That's Jascha Heifetz. But my son sounds just like him."
#joke
Locker Room
A group of guys are in a locker room, when a cell phone rings. One of them picks it up.
Man: " Hello "
Woman: " Honey it's me. Are you at the club ? "
Man: " Yes "
Woman: " Well, I have news. The house we wanted is back on the market. They are asking $950,000."
Man: " Well then, go ahead and make an offer, but make it $1.2 million so we'll be sure to get it."
Woman: " Okay, I'll see you later. I love you ! "
Man : " Bye, I love you too. "
The man hangs up. Then he asks, " Anyone know who's phone this is ? "
#joke
We Wish You a Merry...Chrismukah?
Continuing the current trend of large-scale mergers and acquisitions, it was announced today at a press conference that Christmas and Hanukkah will merge. An industry source said that the deal had been in the works about 1300 years. While details were not available at press time, it is believed that the overhead cost of having twelve days of Christmas and eight days of Hanukkah was becoming prohibitive for both sides. By combining forces, we're told, the world will be able to enjoy consistently high-quality service during the Fifteen Days of Chrismukah, as the new holiday is being called.
Massive layoffs are expected, with lords a-leaping and maids a-milking being the hardest hit. As part of the conditions of the agreement, the letters on the dreidel, currently in Hebrew, will be replaced by Latin, thus becoming unintelligible to a wider audience.
Also, instead of translating to "A great miracle happened there," the message on the dreidel will be the more generic: "Miraculous stuff happens." In exchange, it is believed that Jews will be allowed to use Santa Claus and his vast merchandising resources for buying and delivering their gifts.
One of the sticking points holding up the agreement for at least three hundred years was the question of whether Jewish children could leave milk and cookies for Santa even after having eaten meat for dinner. A breakthrough came last year, when Oreos were finally declared to be Kosher. All sides appeared happy about this.
Fortunately for all concerned, he said, Kwanzaa will help to maintain the competitive balance. He then closed the press conference by leading all present in a rousing rendition of "Oy Vey, All Ye Faithful."
I stopped at a florist shop af...
I stopped at a florist shop after work to pick up roses for my wife. As the clerk was putting the finishing touches on the bouquet, a young man burst through the door, breathlessly requesting a dozen red roses.
"I'm sorry," the clerk said. "This man just ordered our last bunch."
The desperate customer turned to me and begged, "May I please have those roses?"
"What happened?" I asked. "Did you forget your wedding anniversary?"
"It's even worse than that," he confided. "My wife's a redhead. I broke her hard drive!"
#joke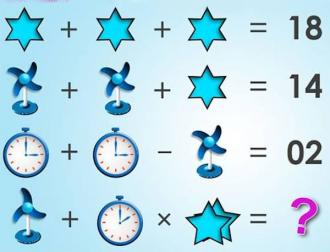 Can you replace the question mark with a number?
MATH PUZZLE: Can you replace the question mark with a number?
I saw the light!
Mr. and Mrs. Thomas were both 102 years old. They had been married 74 years. The local television station sent a news crew out to interview them.
"What we need to do," the reporter explained, "is to interview you separately. It just seems to make for a better write-up, when we do it that way. So, if you don't mind waiting, Mrs. Thomas, we'll go out on the porch with your husband and visit with him for a few moments first."
After they were settled on the porch, the reporter began his interview. "Mr. Thomas, I know you get tired of people asking you this, but what do you think is the cause of your longevity?"
"Well..." Mr. Thomas drawled thoughtfully. "I get up early every morning. I eat pretty good, you know, garden food and such....and...oh, yeah! God talks to me!"
The reporter stared up at him to see if he was kidding. "You mean God actually talks to you?"
"Yep," the old-timer replied sincerely. "We're pretty close. In fact, when I have to get up and go to the bathroom during the night, God even turns the light on for me."
The reporter quickly excused himself and went in search of Mrs. Thomas. "I don't mean anything unkind by this, Ma'am, but is Mr. Thomas okay...mentally, I mean?"
"Why?" she asks curiously.
"Well, he says that when he goes to the bathroom at night, God turns on the light for him," the reporter explained.
"Oh, damn!" Mrs. Thomas said, irritably. "Has that old fart been pissin' in the refrigerator again?"
#joke
A sister and brother are talki...
A sister and brother are talking to each other when the little boy gets up and walks over to his Grandpa and says, "Grandpa, please make a frog noise."
The Grandpa says, "No."
The little boy goes on, "Please .. please make a frog noise."
The Grandpa says, "No, now go play."
The little boy then says to his sister, "Go tell Grandpa to make a frog noise."
So the little girl goes to her Grandpa and says, "Please make a frog noise."
The Grandpa says, "I just told your brother 'no' and I'm telling you 'no'." The little girl says, "Please .. please Grandpa make a frog noise." The Grandpa says, "Why do you want me to make a frog noise?"
The little girl replied, "Because mommy said when you croak we can go to Disney World!"
#joke
A Texan farmer goes to Austral...
A Texan farmer goes to Australia for a vacation. There he meets an Aussie farmer and gets talking. The Aussie shows off his big wheat field and the Texan says, "Oh! We have wheat fields that are at least twice as large".
Then they walk around the ranch a little, and the Aussie shows off his herd of cattle. The Texan immediately says, " We have longhorns that are at least twice as large as your cows".
The conversation has, meanwhile, almost died when the Texan sees a herd of kangaroos hopping through the field. He asked, "And what are those"?
The Aussie replies with an incredulous look, "Don't you have any grasshoppers in Texas"?
#joke
Husband and wife had a bitter ...
Husband and wife had a bitter quarrel on the day of their 40th wedding anniversary.
The husband yells, "When you die, I'm getting you a headstone that reads, 'Here Lies My Wife - Cold As Ever.'"
"Yeah?" she replies. "When you die, I'm getting you a headstone that reads, "Here Lies My Husband - Stiff At Last.'"
#joke
Morris, an 82 year-old man, we...
Morris, an 82 year-old man, went to the doctor to get a physical.
A few days later, the doctor saw Morris walking down the street
with a gorgeous young woman on his arm.
A couple of days later, the doctor spoke to Morris and said,
You're really doing great, aren't you?'
Morris replied, 'Just doing what you said, Doc: 'Get a hot mamma
and be cheerful.''
The doctor said, 'I didn't say that. I said, 'You've got a heart
murmur; be careful.'
Why did the whale cross the oc...
Why did the whale cross the ocean? To get to the other side!
Church Bulletin Bloopers: Peace and Pancakes
Our youth basketball team is back in action Wednesday at 8 PM in the recreation hall. Come out and watch us kill Christ the King.
Ladies, don't forget the rummage sale. It's a chance to get rid of those things not worth keeping around the house. Don't forget your husbands.
The peacemaking meeting scheduled for today has been cancelled due to a conflict.
The Lutheran men's group will meet at 6 pm. Steak, mashed potatoes, green beans, bread, and dessert will be served for a nominal feel.
Ladies Bible Study will be held Thursday morning at 10. All ladies are invited to lunch in the Fellowship Hall after the B.S. is done.
This afternoon, there will be a meeting in the south and north ends of the church. Children will be baptized at both ends.
Tuesday at 4:00 pm there will be an ice cream social. All ladies giving milk will please come early.
Bertha Belch, a missionary from Africa, will be speaking tonight at Calvary Methodist. Come hear Bertha Belch all the way from Africa.
The pastor would appreciate it if the ladies of the congregation would lend him their electric girdles for the pancake breakfast next Sunday.
Due to weather conditions, there will not be any "Women Worth Watching" this week.
The church is glad to have with us today as our guest minister the Rev. Shirley Green, who has Mrs. Green with him. After the service, we request that all remain in the sanctuary for the Hanging of the Greens.
Don't miss this Saturday's exhibit by Christian Martian Arts.
- Joke shared on Beliefnet's Religious Humor page
#joke
You Might Be A Redneck If 04
You might be a redneck if...
The taillight covers of your car are made of tape.
Your car has never had a full tank of gas.
Any of your kids were conceived in a car wash.
Your momma has ever been involved in a cuss fight with the principal.
You think a subdivision is part of a math problem.
You've ever bathed with flea and tick soap.
Your good deed for the month was hiding your brother for a few days.
Your wheelbarrow breaks and it takes four relatives to figure out how to fix it.
You stand under the mistletoe at Christmas and wait for Granny and cousin Sue-Ellen to walk by.
Your favorite T-shirt is offensive in thirteen states.