How to be a Gunfighter
Marvin had always wanted to be a gunfighter. He grew up in the old West. As a child he read everything about gunfighters he could find. His hero was Billy the Kidd. He dreamed of being just like his hero. One day he went to town and bought himself a black hat, some black clothes, a black horse and two pistols. He went home and every day he went out behind his barn, and practiced shooting.
After two weeks he was getting to be quite a good shot. He decided it was time to show off. He put on his black clothes and hat, strapped on his guns and rode into town. When he walked into the saloon, standing at the bar he saw Billy the Kidd. He was so excited! He walked up and said, "Mr. Kidd, I am your biggest fan. I have always wanted to be just like you. Look at me. Do I look like a gunfighter?"
Billy looked him over and said, "Well, you have the right clothes and you have a nice black hat, and I see you rode up on a black horse. But, can you shoot?"
Marvin looked around the room and said, "See that piano player over there?" He drew his pistol and fired, shooting the cufflink off the piano player's shirt.
Billy said, "Not bad. Can you shoot with your left hand? A gunfighter's got to be able to shoot with both hands."
Marvin drew his other pistol and fired, shooting off the piano player's other cufflink. Billy said, "That's mighty fine shooting. I just have one piece of advice for you."
Marvin was bubbling with excitement, "What is it? What else should I do?"
Billy spoke slowly, "Well, go back into the kitchen there and get a big tub of lard. Take both of your pistols and rub them around in the lard, get them good and slick."
Marvin was puzzled. He asked, "Why is that important? What good will rubbing my pistols in lard do?"
Billy replied, "It won't help your shooting at all, but when Wyatt Earp finishes playing the piano over there he's going to shove both of your pistols up your ass."
#joke
Have you been drinking? #jokes #humor
A policeman pulls a man over for speeding and asks him to get out of the car. After looking the man over he says, "Sir, I couldn't help but notice your eyes are bloodshot. Have you been drinking?"
The man gets really indignant and says, "Officer, I couldn't help but notice your eyes are glazed. Have you been eating doughnuts?"
Funny video of the day - Funny video of the day Wednesday, 11 August 2010

A cocky State Highways em...
A cocky State Highways employee stopped at a farm and talked with an old farmer. He told the farmer, "I need to inspect your farm for a possible new road."
The old farmer said, "OK, but don't go in that field." The Highways employee said, "I have the authority of the State Government to go where I want. See this card? I am allowed to go wherever I wish on farm land."
So the old farmer went about his farm chores.
Later, he heard loud screams and saw the State Highways employee running for the fence and close behind was the farmer's prize bull. The bull was madder than a nest full of hornets and the bull was gaining on the employee at every step!!
The old farmer called out, "Show him your card!!"
#joke
A barber gave a haircut to a p...
A barber gave a haircut to a priest one day. The priest tried to pay for the haircut, but the barber refused, saying, 'you do God's work.' The next morning the barber found a dozen bibles at the door to his shop.
A policeman came to the barber for a haircut, and again the barber refused pay, saying, 'you protect the public.' The next morning the barber found a dozen doughnuts at the door to his shop.
A lawyer came to the barber for a haircut, and again the barber refused payment, saying, 'you serve the justice system.' The next morning the barber found a dozen lawyers waiting for a free haircut.
Proud daddy...
A Texan bought a round of drinks for all in the bar and announced that his wife had just produced a typical Texas baby, weighing a whopping twenty pounds.
"WOW!" was the response from everyone at the bar.
A few days later the Texan returned to the bar. The bartender recognized him and asked, "Aren't you the father of the baby that weighed twenty pounds at birth? How much does he weigh now?"
The proud father answered, "10 pounds."
The bartender said, "Why? I know that babies lose some weight after birth, but ten pounds? He did weigh twenty pounds, didn't he? What happened?
The proud Texas father said, "Just had him circumcised!"
#joke
Business one-liners 17
Beware the fury of a patient man. - John Dryden
Beware the man of one book. - St. Thomas Aquinas
Beware the wrath of a patient person.
Blessed are those who go around in circles, for they shall be known as wheels.
Blessed is he who expects no gratitude, for he shall not be disappointed.
Blessed is he who has reached the point of no return and knows it for he shall enjoy living.
Boldly going forward because we cannot find reverse.
Build a system that even a fool can use, and only a fool will want to use it.
Build something foolproof and every fool will use it.
Bureaucracy: a method for transforming energy into solid waste.
#joke
FLEX WORDLE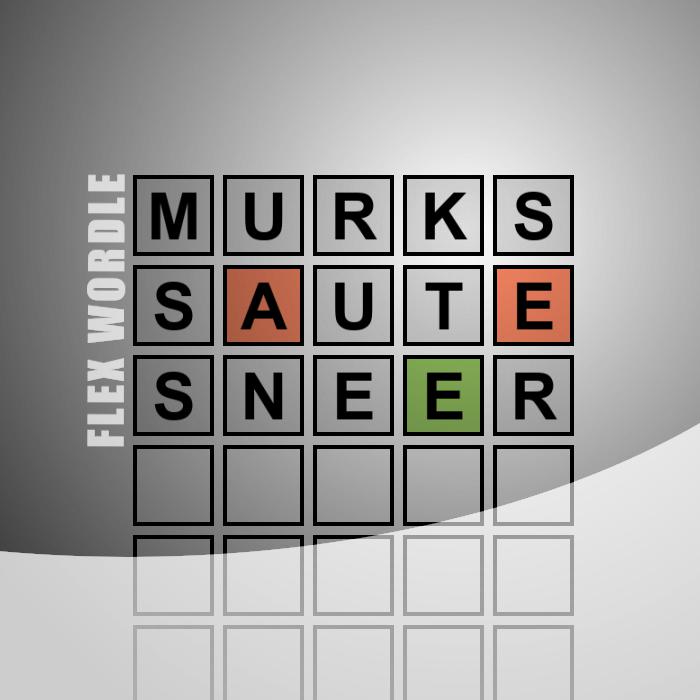 Guess the
WORDLE
in 3 tries. After each guess, the color of the tiles will change to show how close your guess was to the solution.
Whitney Cummings: Stand-Up and Sex
Stand-up is a lot like sex. Theres a lot of crying involved and I get paid to do it.
Problems Driving
Two elderly women were out driving in a large car-both could barely see over the dashboard. As they were cruising along they came to an intersection. The stoplight was red but they just went on through. The woman in the passenger seat thought to herself "I must be losing it, I could have sworn we just went through a red light."
After a few more minutes they came to another intersection and the light was red again and again they went right though. This time the woman in the passenger seat was almost sure that the light had been red but was really concerned that she was losing it. She was getting nervous and decided to pay very close attention to the road and the next intersection to see what was going on.
At the next intersection, sure enough, the light was definitely red and they went right through and she turned to the other woman and said, "Mildred! Did you know we just ran through three red lights in a row! You could have killed us!"
Mildred turned to her and said, "Oh, am I driving?"
#joke
This duck walks into a conveni...
This duck walks into a convenience store and asks the clerk, "Do you have any grapes?"
The clerk says no, and the duck leaves. The next day, the duck returns and asks, "Do you have any grapes?" The clerk again says no, and the duck leaves.
The day after that, the duck walks in the store again and asks "Do you have any grapes?" The clerk screams at the duck, "You've come in here the past two days and asked if we had any grapes. I told you no every time that we don't have any grapes!
I swear if you come back in here again, and ask for grapes, I'll nail your webbed feet to the floor!!" The duck left, and returned the next day. This time he asked, "Do you have any nails?"
The clerk replied, "No," and the duck said, "Good! Got any grapes?"
#joke
A Bunny Story
Once upon a time there was a man who was peacefully driving down a windy road. Suddenly, a bunny skipped across the road and the man couldn't stop. He hit the bunny head on. The man quickly jumped out of his car to check the scene. There, lying lifeless in the middle of the road, was the Easter Bunny.
The man cried out, "Oh no! I have committed a terrible crime! I have run over the Easter Bunny!"
The man started sobbing quite hard and then he heard another car approaching. It was a woman in a red convertible. The woman stopped and asked what the problem was.The man explained, "I have done something horribly sad. I have run over the Easter Bunny. Now there will be no one to deliver eggs on Easter, and it's all my fault."
The woman ran back to her car. A moment later, she came back carrying a spray bottle. She ran over to the motionless bunny and sprayed it. The bunny immediately sprang up, ran into the woods, stopped, and waved back at the man and woman. Then it ran another 10 feet, stopped, and waved. It then ran another 10 feet, stopped, and waved again. It did this over and over and over again until the man and the woman could no longer see the bunny.
Once out of sight, the man exclaimed, "What is that stuff in that bottle?"
The woman replied, "It's harespray. It revitalizes hare and adds permanent wave."
#joke
An Englishman wanted to become...
An Englishman wanted to become an Irishman, so he visited a doctor to find out how to go about this. "Well" said the doctor, "this is a very delicate operation and there is a lot that can go wrong. I will have to remove half your brain". "That's OK" said the Englishman. "I've always wanted to be Irish and I'm prepared to take the risk".
The operation went ahead but the Englishman woke to find a look of horror on the face of the doctor. "I'm so terribly sorry!!" the doctor said. "Instead of removing half the brain, I've taken the whole brain out". The patient replied, "No worries, mate!!"
On a tropical island
On a beautiful deserted island in the middle of nowhere, the following people are stranded:
Two Italian men and one Italian woman
Two French men and one French woman
Two German men and one German woman
Two Greek men and one Greek woman
Two English men and one English woman
Two Polish men and one Polish woman
Two Japanese men and one Japanese woman
Two American men and one American woman
Two Australian men and one Australian woman
Two New Zealand men and one New Zealand woman
Two Irish men and one Irish woman
One month later the following things have occurred:
One Italian man killed the other Italian man for the Italian woman.
The two French men and the French woman are living an sleeping happily together.
The two German men have a strict weekly schedule of when they alternate with the German woman.
The two Greek men are sleeping with each other and the Greek woman is cleaning and cooking for them.
The two English men are waiting for someone to introduce them to the English woman.
The two Polish men took a long look at the endless ocean and one look at the Polish woman and they started swimming.
The two American men are contemplating the virtues of suicide, while the American woman keeps on bitching about her body being her own, the true nature of feminism, how she can do everything that they can do, about the necessity of fulfillment, the equal division of household chores, how her last boyfriend
respected her opinion and treated her much nicer and how her relationship with her mother is improving - but at least the taxes are low and it's not raining.
The two Japanese men have faxed Tokyo and are waiting for further instructions.
The two Australian men beat each other senseless for the Australian woman, who is checking out all the other men after calling them both 'bloody wankers'.
Both the New Zealand men are searching the island for sheep.
The Irish began by dividing the island into North and South and by setting up a distillery. They do not remember if woman is in the picture because it gets sort of foggy after the first few bottles of coconut whisky, but they are satisfied in that at least the English are not getting any.
#joke
A guy is stranded on a desert ...
A guy is stranded on a desert island all alone for ten years. One day he sees a speck on the horizon. He thinks to himself, "It's not a ship." The speck gets a little closer and he thinks, "It's not a boat." The speck gets even closer and he thinks, It's not a raft. Then, out of the surf comes this gorgeous blonde woman wearing a wet suit and scuba gear.
She comes up to the guy and she says, "How long has it been since you've had a cigarette?"
"Ten years!," he says.
She reaches over, unzips this waterproof pocket on her left sleeve and pulls out a pack of fresh cigarettes. He takes one, lights it, takes a long drag and says, "Man, oh man! Is that good!"
Then she asked, "How long has it been since you've had a drink of whiskey?"
He replies, "Ten years!" She reaches over, unzips her waterproof pocket on the right, pulls out a flask and gives it to him. He takes a long swig and says, "Wow! That's fantasti Then she starts unzipping this long zipper that went down the >front of >her wet suit and she says to him, "And how long has it been since you've had some REAL fun?"
And the man replies, "My God! Don't tell me you've got a computer in there?"
Take Off My Clothes
My wife came home the other night and told me to take off her blouse.
Then she told me to take off her skirt.
Then she told me not to wear her clothes anymore.
Another...
Another Lesson in Managment
A crow was sitting on a tree doing nothing all day.
A small rabbit saw the crow and asked him, "Can I also sit like you and do nothing all day long?"
The crow answered, "Of course, help youself."
So the rabbit sat on the ground below the crow and rested.
Suddenly a fox appeared, jumped on the rabbit and ate it.
Management Lesson: To be sitting and doing nothing you must be sitting very, very high up.
#joke
One day in Contract Law class,...
One day in Contract Law class, Professor Jepson asked one of his better students, 'Now if you were to give someone an orange, how would you go about it?'
The student replied, 'Here's an orange.'
The professor was livid. 'No! No! Think like a lawyer!'
The student then recited, 'Okay, I'd tell him, 'I hereby give and convey to you all and singular, my estate and interests, rights, claim, title, claim and advantages of and in, said orange, together with all its rind, juice, pulp, and seeds, and all rights and advantages with full power to bite, cut, freeze and otherwise eat, the same, or give the same away with and without the pulp, juice, rind and seeds, anything herein before or hereinafter or in any deed, or deeds, instruments of whatever nature or kind whatsoever to the contrary in anywise notwithstanding...'
Join us on WhatsApp