100 Pounds of Dynamite
The body builder takes off his shirt and the blonde says, "What a great chest you have!"
He tells her, "That's 100 lbs. of dynamite, Baby."
He takes off his pants and the blonde says,' "What massive calves you have!" The body builder tells her, "That's 100 lbs. of dynamite, Baby."
He then removes his underwear and the blonde goes running out of the apartment screaming in fear. The body builder puts his clothes back on and chases after her. He catches up to her and asks why she ran out of the apartment like that.
The blonde replies, "I was afraid to be around all that dynamite after I saw how short the fuse was!"
The haircut #jokes #humor
The story of someone getting a haircut.
Women's version:
Woman2: Oh! You got a haircut! That's so cute!
Woman1: Do you think so? I wasn't sure when she gave me the mirror. I mean, you don't think it's too fluffy looking?
Woman2: Oh God no! No, it's perfect. I'd love to get my hair cut like that, but I think my face is too wide. I'm pretty much stuck with this stuff I think.
Woman1: Are you serious? I think your face is adorable. And you could easily get one of those layer cuts - that would look so cute I think. I was actually going to do that except that I was afraid it would accent my long neck.
Woman2: Oh - that's funny! I would love to have your neck! Anything to take attention away from this two-by-four I have for a shoulder line.
Woman1: Are you kidding? I know girls that would love to have your shoulders. Everything drapes so well on you. I mean, look at my arms - see how short they are? If I had your shoulders I could get clothes to fit me so much easier.
Men's version:
Man2: Haircut?
Man1: Yeah.
#joke
Funny video of the day - Funny video of the day Friday, 13 August 2010
When Albert Einstein was makin...
When Albert Einstein was making the rounds of the speaker's circuit, he usually found himself eagerly longing to get back to his laboratory work. One night as they were driving to yet another rubber-chicken dinner, Einstein mentioned to his chauffeur (a man who somewhat resembled Einstein in looks & manner) that he was tired of speechmaking.
"I have an idea, boss," his chauffeur said. "I've heard you give this speech so many times. I'll bet I could give it for you." Einstein laughed loudly and said, "Why not? Let's do it!" When they arrive at the dinner, Einstein donned the chauffeur's cap and jacket and sat in the back of the room. The chauffeur gave a beautiful rendition of Einstein's speech and even answered a few questions expertly.
Then a supremely pompous professor asked an extremely esoteric question about anti-matter formation, digressing here and there to let everyone in the audience know that he was nobody's fool. Without missing a beat, the chauffeur fixed the professor with a steely stare and said, "Sir, the answer to that question is so simple that I will let my chauffeur, who is sitting in the back, answer it for me."
#joke
Build Me a Bridge
A man walking along a California beach was deep in prayer. Suddenly the sky clouded above his head and, in a booming voice, the Lord said, "Because you have TRIED to be faithful to me in all ways, I will grant you one wish."
The man said, "Build a bridge to Hawaii so I can drive over anytime I want."The Lord said, "Your request is very materialistic. Think of the enormous challenges for that kind of undertaking. The supports required to reach the bottom of the Pacific! The concrete and steel it would take! It will nearly exhaust several natural resources. I can do it, but it is hard for me to justify your desire for worldly things. Take a little more time and think of something that would honor and glorify me."
The man thought about it for a long time. Finally he said, "Lord, I wish that I could understand my wife. I want to know how she feels inside, what she's thinking when she gives me the silent treatment, why she cries, what she means when she says 'nothing's wrong,' and how I can make a woman truly happy."
The Lord replied, "You want two lanes or four on that bridge?"
#joke
A major network is planning th...
A major network is planning the show "Survivor" this winter. In response, Texas is planning "Survivor, Texas Style." The contestants will start in Dallas, travel through Waco, Austin, San Antonio, over to Houston, and down to Brownsville. They will proceed up to Del Rio, on to El Paso, then to Midland/Odessa, Lubbock, and Amarillo. From there, they proceed to Abilene, and on to Ft. Worth and back to Dallas.
Each will be driving a pink Volvo with a bumper sticker that reads, "I'm gay, I voted for Al Gore, and I'm here to confiscate your guns."
#joke
Answering Machine Message 223
(Noble, aristocratic voice:) Yes, one million dollars could be yours, IF you leave your name, telephone number, and the reason WHY you want to join the ranks of The Rich and Famous! If this is Ross Perot, Bill Gates, or Michael Jordan, just leave your VISA number and expiration date, and we will definitely get back to you!
#joke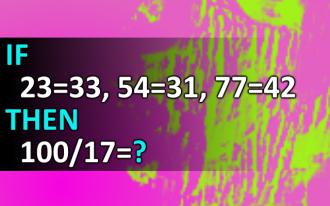 Calculate 100/17
IF 23=33, 54=31, 77=42 THEN 100/17=? Express result to the accuracy of 3 decimal.
Wedding night
Three guys who have just got married are sitting in their hotel bar after all the receptions having a beer. As they talk, it transpires that all three are virgins, and are a bit naive about how many times they can expect to have sex with their new bride that evening.
One devises a plan of how they can relay this information to the others at breakfast without getting a slap.
`All we do is order as many rounds of toast for how many times you had it last night,' he says, and the others readily agree.
At breakfast the next morning, all three guys look very happy with themselves. The first bloke orders cornflakes, and in a loud voice asks for four slices of toast, and the others give him a wink and a thumbs-up.
The next guy orders scrambled eggs, and again in a voice so the others can hear, orders six slices of toast. Again, his mates give him a `good-on-yer' look.
The next guy orders a full English breakfast, and then asks for eight slices of toast. His mates give a low whistle of approval, and as the waiter walks away, the guy says to the waiter, `Oh, and could you make two of those brown, please, mate.'
Gilbert Gottfried: Final Straw in "Planet of the Apes"
I wish sometimes that I could lose my temper the way that Charlton Heston did in the original Planet of the Apes, that scene where he says, Take your paws off me, you damn dirty apes! And he did that after they threw a net on him. Its like, before then, everything was OK; something about monkeys throwing a net on him: Thats it. Thats it. Now, Im angry.
#joke
A little boy wanted $100.0...
A little boy wanted $100.00 badly and prayed for two weeks but nothing happened. Then he decided to write GOD a letter requesting the $100. When the postal authorities received the letter addressed to GOD USA, they decided to send it to President Clinton. the President was so impressed, touched, and amused that he instructed his secretary to send the little boy a $5.00 bill. President Clinton thought this would appear to be a lot of money to a little boy. The little boy was delighted with the $5.00 and sat down to write a thank you note to GOD, which read: Dear GOD, Thank you very much for sending the money, however, I noticed that for some reason you had to send it through Washington D.C. and, as usual, those jerks deducted $95.00.
#joke
I pulled up to the drive-thru ...
I pulled up to the drive-thru of a fast-food restaurant and ordered coffee. I asked the clerk to put some ice cubes into the cup so that I could drink the cool coffee quickly. At the window, there was a delay. Finally, the clerk came to the window looking frustrated, and announced, "I'm having a problem. The ice keeps melting."
#joke
The Christmas gift...
A guy bought his wife a beautiful diamond ring for Christmas.
A friend of his said, "I thought she wanted one of those sporty 4-Wheel drive vehicles."
"She did," he replied. "But where in the world was I gonna find a fake Jeep?"
Man Talks to God
Man says to God: "God, why did you make woman so beautiful?"
God says: "So you would love her."
"But God," the man says, "why did you make her so dumb?"
God says: "So she would love you."
The Hid...
The Hidden Meaning of Recruitment Ads:
"Competitive salary rate" - We remain competitive by paying less than our competitors.
"Duties will vary" - Anyone in the office can boss you around.
"Join our dynamic company" - We have no time to train you.
"Casual working environment" - We don't pay enough to expect that you will dress up.
"Must be deadline oriented" - You will be 6 months behind on your first day.
"Some overtime required" - Some time each night, some time each weekend.
"Must have an eye for detail" - We have no quality control.
"Seeking wide experience" - You will need to replace three people who just left.
"Good communication skills" - Management communicates poorly, so you have to figure out what they want and do it.
"Problem solving skills needed" - You are walking into a company in continual chaos.
"Requires team leadership skills" - You will have the responsibilities of a manager without the pay or respect.
#joke
Redneck been here?
Ways to tell if a redneck has been working on a computer
10. The monitor is up on blocks.
9. Outgoing faxes have tobacco stains on them.
8. The six front keys have rotted out.
7. The extra RAM slots have Dodge truck parts installed in them.
6. The numeric keypad only goes up to six.
5. The password is "Bubba".
4. The CPU has a gun rack mount.
3. There is a Skoal can in the CD-ROM drive.
2. The keyboard is camouflaged.
And, The Number One Way To Tell If A Redneck Has Been Working On A Computer...
The mouse is referred to as a "critter".
#joke
i work in a busy office ...
i work in a busy office where a computer going down causes quite an inconvenience. Recently one of our computers not only crashed, it made a noise that sounded like a heart monitor. "This computer has flat-lined," a co-worker called out with mock horror.
"Does anyone here know how to do mouse-to-mouse?"
#joke
>Dear Abby:
I am forty... >Dear Abby:
I am forty-four years old and I would like to meet a man my age with no bad habits.
>Rose

---
>Dear Rose:
So would I.
Abby