Happy New Year 2021!!
Whitney Cummings: On David Hasselhoff
From the Roast of David Hasselhoff: David Hasselhoffs d**k is like a Polaroid picture: nobody uses it anymore and shaking it does not make it appear faster.
Grandma
I was out walking with my 4-year-old Grand daughter. She picked up something off of the ground and started to put it in her mouth. I took the item away from her and I asked her not to do that.
'Why?' my Granddaughter asked.
'Because it's been on the ground; you don't know where it's been, it's dirty, and probably has germs,' I replied. At this point, my Granddaughter looked at me with total admiration and asked, 'Grandma, how do you know all this stuff? You are so smart.'
I was thinking quickly. 'All Grandmas know this stuff. It's on the Grandma Test. You have to know it, or they don't let you be a Grandma.'
We walked along in silence for 2 or 3 minutes, but she was evidently pondering this new information. 'Oh.....I get it!' she beamed, 'So if you don't pass the test you have to be the Grandpa'.
'Exactly,' I replied with a big smile on my face.
#joke
Funny video of the day - Funny video of the day Friday, 20 August 2010
My cat is stupid. I'm ta...
My cat is stupid. I'm taking him to be de-clod.
Embarrassing Situations!
A...
Embarrassing Situations!
A very shy guy goes into a bar and sees a beautiful woman sitting at the other end. After an hour of gathering up his courage he finally goes over to her and asks, tentatively, "Um, would you mind if I chatted with you for a while?" To which she responds by yelling, at the top of her lungs, "No, I won't sleep with you tonight!" By now, the entire bar is staring at them. Naturally, the guy is hopelessly and completely embarrassed and he slinks back to his table. After a few minutes, the woman walks over to him and apologizes. She smiles at him and says, "I'm sorry if I embarrassed you. You see, I'm a graduate student in psychology and I'm studying how people respond to embarrassing situations." To which he responds, at the top of his lungs, "What do you mean $200!"
#joke
Bee Inconspicuous
Two bees ran into each other. The first bee asked the other how things were going.
"Really bad," said the second bee. "The weather has been really wet and damp and there aren't any flowers or pollen, so I can't make any honey."
"No problem," said the first bee. "Just fly down five blocks and turn left. Keep going until you see all the cars. There's a Bar Mitzvah going on and there are all kinds of fresh flowers and fruit."
"Thanks for the tip," said the second bee, and he flew away.
A few hours later, the two bees ran into each other again. The first bee asked, "How'd it go?""Great!" said the second bee. "It was everything you said it would be."
"Uh, what's that thing on your head?" asked the first bee.
"That's my yarmulke," said the second bee. "I didn't want them to think I was a wasp."
#joke
Moth inspector
A man walks in his room after work and is suprised to find his wife lying naked on the bed. After careful examination he spies a pair of bare feet sticking out from underneath the curtains. He rips open the blinds to find a naked man standing there.
'Who the hell are you?' he yells.
The naked guy replies 'I'm the moth inspector'
'Oh yeah! what are you doing naked?'
He looks down and exclaims 'Oh my god! I'm too late!'
#joke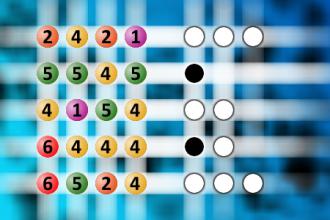 Find the right combination
The computer chose a secret code (sequence of 4 digits from 1 to 6). Your goal is to find that code. Black circles indicate the number of hits on the right spot. White circles indicate the number of hits on the wrong spot.
Angering The Irishman
Three Englishmen were in a bar and spotted an Irishman. So, one of the Englishmen walked over to the Irishman, tapped him on the shoulder, and said, "Hey, I hear your St. Patrick was a drunken loser."
"Oh really, hmm, didn't know that."
Puzzled, the Englishman walked back to his buddies. "I told him St. Patrick was a loser, and he didn't care." The second Englishman remarked, "You just don't know how to set him off...watch and learn." So, the second Englishman walked over to the Irishman, tapped him on the shoulder and said, "Hey, I hear your St. Patrick was lying, cheating, idiotic, low-life scum!"
"Oh really, hmm, didn't know that."
Shocked beyond belief, the Englishman went back to his buddies. "You're right. He's unshakable!"
The third Englishman remarked, "Boys, I'll really tick him off... just watch." So the third Englishman walked over to the Irishman, tapped him on the shoulder and said, "I hear St. Patrick was an Englishman!"
"Yeah, that's what your buddies were trying to tell me."
#joke
Prenuptial Agreement

...
Prenuptial Agreement
Please sign,
I, THE UNDERSIGNED, AGREE THAT...
1. In the unlikely event of my not having an orgasm after you've drunkenly rolled on top of me and pumped away for five minutes, wheezing like an old man with emphysema, I shall politely fake one. And it'll be a really good act too, with me saying stuff like "So THIS is screwing!" and howling like a cat that's being repeatedly jabbed with a compass.
2. I fully understand that a woman's main role in any relationship is to take the blame. So when you stub your toe in the bathroom or your football teams lose, I agree that - by some complex scientific equation incomprehensible to woman - it will be my fault. Even if I wasn't there.
3. Whenever my friends and I get together for a girlie chat, I will tell them that you are better hung than a large-balled Himalayan yak.
4. And I will also mention this to YOUR friends. A lot.
5. After sex (which I will NEVER refer to as "making love"), I will not expect you to cuddle me for hours till your arm goes dead. Nor will I let my hair annoyingly get in your face.
6. I will never, ever give your penis a "cute" nickname.
7. In bed, I will be as keen as mustard to try any novel sexual position you fancy. Especially ones where I do all the work and you just lie there, grinning.
8. I will ruthlessly interrogate my attractive female friends and inform you if any of them have the slightest bisexual tendencies. Then I'll invite them around for dinner. And hide their car keys so they have to stay.
9. After we split up, I will never sleep with any of your friends or colleagues. Or anyone else you have ever met. Or may one day meet. And if men attempt to chat me up, I will solemnly inform them that you have "ruined me for other men".
10. I understand that mechanical objects like cars, computer games, and remote control devices are beyond the comprehension of women. I will only make a fool of myself if I attempt to operate them, so you're in charge of the lot. Except for the iron and the washing machine, of course.
Signed ____________________________________
Date ____________________
#joke
A police officer pulls over th...
A police officer pulls over this guy who's been weaving in and out of the lanes. He goes up to the guy's window and says, "Sir, I need you to blow into this breathalyzer tube."
The man says, "Sorry, officer, I can't do that. I am an asthmatic. If I do that, I'll have a really bad asthma attack."
"Okay, fine. I need you to come down to the station to give a blood sample."
I can't do that either. I am a hemophiliac. If I do that, I'll bleed to death."
"Well, then, we need a urine sample."
"I'm sorry, officer, I can't do that either. I am also a diabetic. If I do that, I'll get really low blood sugar."
"All right, then I need you to come out here and walk this white line."
"I can't do that, officer."
"Why not?"
"Because I'm drunk."
#joke
ATTORNEY: What was the first ...
ATTORNEY: What was the first thing your husband said to you that morning?
WITNESS: He said, 'Where am I, Cathy?'
ATTORNEY: And why did that upset you?
WITNESS: My name is Susan!

Answering Machine Message 19

(MacIntosh Plus with MacIntalk program:) Hello, it's obvious you have bad timing, because nobody is home. Please leave your name, telephone number, and a brief message in a voice similar to mine, and your call will be returned as soon as humanly possible.






Nude Beach
Two parents take their son on a vacation and go to a nude beach. The father goes for a walk on the beach and the son goes and plays in the water.
The son comes running up to his mom and says..."Mommy, I saw ladies with boobies a lot bigger than yours!" The mom says..."the bigger they are, the dumber they are."
So he goes back to play. Several minutes later he comes running back and says..."Mommy, I saw men with dingers a lot bigger than daddy's!" The mom says..."the bigger they are, the dumber they are."
So he goes back to play. Several minutes later he comes running back and says..."Mommy, I just saw daddy talking to the dumbest lady I ever saw and the more and more he talked, the dumber and dumber he got!"
#joke
Atheist in Trouble
An atheist was spending a quiet day fishing when suddenly his boat was attacked by the Loch Ness monster. In one easy flip, the beast tossed him and his boat high into the air. Then it opened its mouth to swallow both.
As the man sailed head over heels, he cried out, "Oh, my God! Help me!"
At once, the ferocious attack scene froze in place, and as the atheist hung in mid-air, a booming voice came down from the clouds, "I thought you didn't believe in Me!"
"Come on God, give me a break!!" the man pleaded. "Two minutes ago I didn't believe in the Loch Ness monster either!"
#joke
Things to do in an elevator...
1) When there's only one other person in the elvator, tap them on the shoulder and then pretend it wasn't you.
2) Push the buttons and pretend they give you a shock. Smile, and go back for more.
3) Ask if you can push the button for other people, but push the wrong ones.
4) Call the Psychic Hotline from your cell phone and ask if they know what floor your on.
5) Hold the doors open and say your saiting for a friend. After a while, let the doors close, and say, 'Hi Greg. How's your day been?'
6) Drop a pen and wait until someone goes to pick it up, then scream, 'That's mine!'
7) Bring a camera and take pictures of everyone in the elevator.
8) Move your desk into the elevator and whenever anyone gets on, ask if they have an apointment.
9) Lay down the twister mat and ask people if they would like to play.
10) Leave a box in the corner, and when someone gets on, ask them if they can hear ticking.
11) Pretend you are a flight attendant and review emergency procedures and exits with the passengers.
12) Ask, 'Did you feel that?'
13) Stand really close to someone, sniffing them occasionally.
14) When the doors close, announce to the others, 'It's okay, don't panic, they open again!'
15) Swat at flies that don't exist.
16) Tell people that you can see their aura.
17) Call out, 'Group Hug!' and then enforce it.
18) Grimace painfully while smacking your forehead and muttering, 'Shut up, all of you, just shut up!'
19) Crack open your briefcase or purse, and while peering inside, ask, 'Got enough air in there?'
20) Stand silently and motionless in the corner, facing the wall, without getting off.
21) Stare at another passenger for a while, then announce in horror, 'Your one of THEM!' and back away slowly.
22) Wear a puppet on your hand and use it to talk to the other passengers.
23) Listen to the elevator walls with your stethoscope.
24) Make explosion noises when anyone presses a button.
25) Stare, grinning at another passenger for a while, then announce, 'I have new underware on'.
26) Draw a little square on the floor with chalk and announce to the other passnegers, 'This is MY personal space!'
#joke
E.T. is short for?
Question: What's E.T. short for?
Answer: Because he has little legs!