DO mathematicians enjoy ron...
DO mathematicians enjoy group sets?
One night a police officer was...
One night a police officer was staking out a particularly rowdy bar for possible DUI violations. At closing time, he saw a fellow tumble out of the bar, trip on the curb, and try his keys in five different cars before he found his. Then he sat in the front seat fumbling around with his keys for several minutes. Everyone else left the bar and drove off. Finally he started his engine and began to pull away. The police officer was waiting for him. He stopped the driver, read him his rights and administered the Breathalyzer test. The results showed a reading of 0.0. The puzzled officer demanded to know how that could be. The driver replied, "Tonight I'm the designated decoy."
#joke
Funny video of the day - Funny video of the day Thursday, 26 August 2010
Blonde Law and Order
The local sheriff in a small suburban town was looking for a deputy. He posted ads in the paper, and sure enough, Lisa, a wonderful looking blonde, went in to try out for the job. She wasn't the sharpest nail in the bucket, but seeing as she had a natural charisma about her, the sheriff gave her an interview...
"Okay," the sheriff drawled, "Lisa, what is 1 and 1?"
"11!" she enthusiastically replied.
The sheriff thought to himself, "That's not what I meant, but she's right in a way..."
"Okay, Lisa. What two days of the week start with the letter 'T'?"
"Shucks, that's easy," the blonde replied. "Today and tomorrow!"
The sheriff was again surprised that Lisa supplied a correct answer that he had never thought of himself.
He thought of his next question carefully to make sure there could be no equivocation about the answer:
"Now Lisa, listen carefully: Who killed Abraham Lincoln?"
Lisa looked a little surprised, thought really hard for a minute and finally admitted, "I don't know."
"Well, why don't you go home and work on that one for a while," the sheriff replied with satisfaction.
So, Lisa wandered over to the salon where her pals were waiting to hear the results of the interview.
"How'd it go?" they all asked.
Lisa was ecstatic. "It went great! First day on the job and I'm already working on a murder case!"
Cowboy in Church
One Sunday a cowboy went to church. When he entered, he saw that he and the preacher were the only ones present. The preacher asked the cowboy if he wanted him to go ahead and preach.
The cowboy said, "I'm not too smart, but if I went to feed my cattle and only one showed up, I'd still feed him."So the minister began his sermon.
One hour passed, then two hours, then two-and-a-half hours. The preacher finally finished and came down to ask the cowboy how he liked the sermon.
The cowboy answered slowly, "Well, I'm not very smart, but if I went to feed my cattle and only one showed up, I sure wouldn't feed him all the hay."
#joke
Generation gap?
During one "generation gap" quarrel with his parents young Michael cried, "I want excitement, adventure, money, and beautiful women. I'll never find it here at home, so I'm leaving. Don't try and stop me!"
With that he headed toward the door. His father rose and followed close behind.
"Didn't you hear what I said? I don't want you to try and stop me."
"Who's trying to stop you?" replied his father. "If you wait a minute, I'll go with you."
#joke
Education For Women
Continuing Education Courses for Women
Silence, the Final Frontier: Where No Woman Has Gone Before.
The Undiscovered Side of Banking: Making Deposits.
Parties: Going Without New Outfits.
Man Management: Discover How Minor Household Chores Can Wait Until After the Game.
Bathroom Etiquette I: Men Need Space in the Bathroom Cabinet Too.
Bathroom Etiquette II: His Razor Is His.
Valuation: Just Because It's Not Important to You . . .
Communication Skills I: Tears-The Last Resort, Not the First.
Communication Skills II: Thinking Before Speaking.
Communication Skills III: Getting What You Want, Without Nagging.
Driving a Car Safely: A Skill You CAN Acquire.
Party Etiquette: Drinking Your Fair Share.
Telephone Skills: How to Hang Up.
Introduction to Parking.
Advanced Parking: Reversing Into A Space.
Overcoming Anal Retentive Behavior: Leaving the Towels on the Floor.
Water retention: Fact or Fat.
Cooking I: Bringing Back Bacon, Eggs and Butter.
Cooking II: Bran and Tofu are Not For Human Consumption.
Cooking III: How Not to Inflict Your Diets on Other People.
Compliments: Accepting Them Gracefully.
Dancing: Why Men Don't Like To.
Classic Clothing: Wearing Outfits You Already Have.
Household Dust: A Harmless Natural Occurrence Only Women Notice.
Integrating Your Laundry: Washing It All Together.
Ballet: For Women Only.
Oil and Gas: Your Car Needs Both.
Appreciating the Humor of the Three Stooges.
"Do These Jeans Make Me Look Fat?" - Why Men Lie.
TV Remotes: For Men Only.
#joke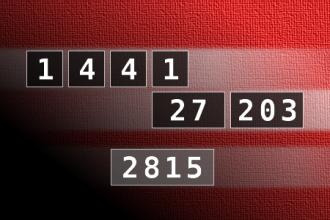 Calculate the number 2815
NUMBERMANIA: Calculate the number 2815 using numbers [1, 4, 4, 1, 27, 203] and basic arithmetic operations (+, -, *, /). Each of the numbers can be used only once.
Liberty Bell
Did you hear the one about the Liberty Bell?
Yeah, it cracked me up!
Tig: Where Would You Go?
I was at a party, and this guy was hitting on me, and hes hitting on me with the most boring questions. One of them was, If you could go anywhere in the world, where would you go? And I was like, Anywhere? He was like, Anywhere. I was like, Uh -- to the other side of the room. Now, please, get out of the way of a woman and her dream.
#joke
At NC State University, the...
At NC State University, there were four sophomores taking Organic Chemistry.
They did so well on all the quizzes, midterms and labs, etc., that each had an "A" so far for the semester.
These four friends were so confident, that the weekend before finals, they decided to go up to the University of Virginia and party with some friends there. They had a great time. However, after all the hardy-partying, they slept all day Sunday and didn't make it back to Raleigh until early Monday morning.
Rather than taking the final then, they decided to find their professor after the final and explain to him why they missed it.
They explained that they had gone to UVA for the weekend with the plan to return Sunday to study, but, unfortunately, they had a flat tire on the way back, didn't have a spare, and couldnÂ't get help for a long time. As a result, they missed the final. The Professor thought it over and then agreed they could make up the final the following day. The guys were elated and relieved. They studied that night and went in the next day at the time the professor had told them. He placed them in separate rooms and handed each of them a test booklet, and told them to begin. They looked at the first problem, worth 5 points. It was something simple about free radical formation. "Cool," they thought at the same time, each one in his separate room, "this is going to be easy." Each finished the problem and then turned the page. On the second page was written: For 95 points: Which tire?
Bill Clinton, Bill Gates, and ...
Bill Clinton, Bill Gates, and Al Gore were in an airplane that crashed. They're up in heaven, and God's sitting on the great golden throne. God addresses Al first.
"Al, what do you believe in?"
Al replies, "Well, I believe that the combustion engine is evil and that we need to save the world from CFC's and that if any more freon is used, the whole earth will become a greenhouse and we'll all die."
God thinks for a second and says "Okay, I can live with that. Come and sit at my left."
God then addresses Bill Clinton. "Bill, what do you believe in?"
Bill Clinton replies, "Well, I believe in power to the people. I think people should be able to make their own choices about things and that no one should ever be able to tell someone else what to do. I also believe in feeling people's pain."
God thinks for a second and says "Okay, that sounds good. Come and sit at my right."
God then address Bill Gates. "Bill Gates, what do you believe?"
Bill Gates said, "I believe you're in my chair."
#joke
ATTORNEY: So the date of con...
ATTORNEY: So the date of conception (of the baby) was August 8th?
WITNESS: Yes.
ATTORNEY: And what were you doing at that time?
WITNESS: Uh.... I was gettin' laid!

How Many Witches. . .
Q: How many witches does it take to change a lightbulb?
A: Into what?
Confucius say: Woman wear thr...
Confucius say: Woman wear three kinds of ring . . . the engagement ring, the wedding ring, and the suffeRing.
Pea Soup vs. Roast Beef
Q: Whats the difference between pea soup and roast beef?
A: Anyone can roast beef.
Bad Drivers
There's a senior citizen driving on the highway. His wife calls him on his cell phone and in a worried voice says, ''Herman, be careful! I just heard on the radio that there was a madman driving the wrong way on Route 280!''
Herman says, ''I know, but there isn't just one, there are hundreds!''
#joke
A Very Special Cow

Q. Have you heard of the dyslexic cow who attained enlightenment?

A. It kept on repeating OOOOMMM!