Stumpy Grinder and his wife Ma...
Stumpy Grinder and his wife Martha were from Portland, Maine. Every year they went to the Portland Fair and every year Stumpy said, "Ya know, Mahtha, I'd like ta get a ride in that theah aihplane." And every year, Martha would say "I know, Stumpy, but that aihplane ride costs ten dollahs .. and ten dollahs is ten dollahs." 
So one year Stumpy says, "By Jeebers, Mahtha, I'm 71 yeahs old, and if I don't go this time I may nevah go." Martha replies, "Stumpy, that there aihplane ride is ten dollahs ... and ten dollahs is ten dollahs." 
So the pilot overhears then and says, "Folks, I'll make you a deal. I'll take you both up for a ride. If you can stay quiet for the entire ride and not say ONE WORD, then I won't charge you. But just ONE WORD and it's ten dollars." 
They agree and up they go... the pilot does all kinds of twists and turns, rolls and dives, but not a word is heard. He does it one more time, and there is still no word... so he lands. 
He turns to Stumpy as they come to a stop and says, "By golly, I did everything I could think of to get you to holler out, but you didn't." 
And Stumpy replies "Well, I was gonna say something when Mahtha fell out ... but ten dollahs is ten dollahs." 
#joke
Speed Limit
One Sunday, sitting on the side of the highway waiting to catch speeding drivers, a State Police Officer sees a car puttering along at 22 MPH.
He thinks to himself, "This driver is just as dangerous as a speeder!" So he turns on his lights and pulls the driver over.
Approaching the car, he notices that there are five old ladies - two in the front seat and three in the back - wide eyed and white as ghosts. The driver, obviously confused, says to him, "Officer, I don't understand, I was doing exactly the speed limit! I always go exactly the speed limit. What seems to be the problem?"
"Ma'am," the officer replies, "you weren't speeding, but you should know that driving slower than the speed limit can also be a danger to other drivers."
"Slower than the speed limit? No sir, I was doing the speed limit exactly! Twenty-two miles an hour!" the old woman says a bit proudly.
The State Police officer, trying to contain a chuckle explains to her that "22" was the route number, not the speed limit.
A bit embarrassed, the woman grinned and thanked the officer for pointing out her error.
"But before I let you go, Ma'am, I have to ask . . . Is everyone in this car OK? These women seem awfully shaken and they haven't muttered a single peep this whole time," the officer asks with concern.
"Oh, they'll be all right in a minute officer. We just got off Route 119."
#joke
Funny video of the day - Funny video of the day Monday, 30 August 2010
Twins...
A woman has twins, and gives them up for adoption. One of them goes to a family in Egypt, and is named "Amal." The other goes to a family in Spain; they name him "Juan."
Years later, Juan sends a picture of himself to his mom. Upon receiving the picture, she tells her husband that she wishes she also had a picture of Amal. Her husband responds, "But they are twins--if you've seen Juan, you've seen Amal."
#joke
Business One-liners 101
When working hard, be sure to get up and retch every so often.
When working on a project, if you put away a tool that you're you're finished with, you will need it instantly.
When working toward the solution of a problem, it always helps if you know the answer, provided of course you know that there is a problem.
When you are confronted by any complex social system, such as an urban center or a hamster, with things about it that you're dissatisfied with and anxious to fix, you cannot just step in and set about fixing with much hope of helping. This realization is one of the sore discouragements of our century. Jay Forrester has demonstrated it mathematically, with his computer models of cities in which he makes clear that whatever you propose to do, based on common sense, will almost inevitably make matters worse rather than better. You cannot meddle with one part of a complex system from the outside without the almost risk of setting off disastrous events that you hadn't counted on in other, remote parts. If you want to fix something you are first obliged to understand, in detail, the whole system, and for very large systems you can't do this without a very large computer. Even then, the safest course seems to be to stand by and wring hands, but not to touch. Intervening is a way of causing trouble. - Lewis Thomas, from the essay "On Meddling" in the collection "The Medusa and the Snail", The Viking Press, New York, 1979
When you are in it up to your ears, keep your mouth shut.
When you are right be logical, when you are wrong befuddle.
When you are sure you're right, you have a moral duty to impose your will upon anyone who disagrees with you.
When you are up to your butt in alligators, it is difficult to keep your mind on the fact that your primary objective was to drain the swamp.
When you dial a wrong number, you never get a busy signal.
Your own car uses more gas and oil than anyone else's.
#joke
Mike Britt: Too Much of Our Business
We tell too much of our business. I dont understand war. Why we tell everything were about to do? Were running around, trying to find out military intelligence on them. They dont need that -- all they do is watch the news, they see everything they need to see. They plan their strategy with the TV on and their maps out.
#joke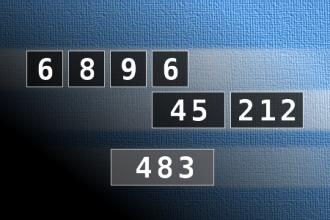 Calculate the number 483
NUMBERMANIA: Calculate the number 483 using numbers [6, 8, 9, 6, 45, 212] and basic arithmetic operations (+, -, *, /). Each of the numbers can be used only once.
Do race car drivers skip ro...
Do race car drivers skip brake fast?
Church Sign Chuckles
Some favorite messages spotted on church signs or billboards, submitted by Beliefnet members:
-Fire Insurance Inside
-This Church Is Prayer Conditioned
-God Answers Knee Mail
-PRAY NOW! Avoid Christmas Rush!
-Sign broken, come inside for message
-This is a ch--ch. What's missing? U R!
-Stop in the name of love and meet the Supreme
-Wal-Mart's not the only savings place
-The best position is on your knees!
There was a blonde. She had nev...
There was a blonde. She had never been horseback riding and decided to try, even though she had no prior expierience. So the blonde gracefully mounted the horse. The horse started off at an easy gallop,the blonde thought she was doing quite well. When all of a sudden she began to slip! She tried to grasp the horses mane but it was too slick! So she decided to jump to safety....so she jumped, but her foot was caught in the sturrup! She was at the mercy of the horses feet, and right before she was knocked unconcious.... the manager of wal-mart walked out and turned the horse off
An old man and old woman had b...
An old man and old woman had been married for about 52 years when one day the old woman died. The entire family showed up to the funeral.
Every day after the funeral, the old man would show up at the grave with his dog and spend a few minutes out there.
About two months later, a priest saw the old man out there with his dog and decided to go talk to the old man.
"Hello, there. You know, we see you come out here every day to visit your wife's grave, and we just think that's so sweet. We were all wondering if the dog is something that was special to your wife since you always bring it out here with you."
"No, actually I bring the dog out here to piss on the grave. I'd do it myself, but I'd get arrested for indecent exposure!"
#joke
So you want to marry a millionaire ?
A very rich man met a beautiful lady and he decided he wanted to marry her right away. She said, But we dont know anything about each other. He said,Thats all right, well learn about each other as we go along. So she consented, and they were married, and went on a honeymoon to a very nice resort. So one morning they were lying by the pool, when he got up off of his towel, climbed up to the 10-meter board and did a two and a half tuck gainer, this followed by a three rotations in jackknife position, where he straightened out and cut the water like a knife. After a few more demonstrations, he came back and lay down on the towel.
That was incredible! she said.
I used to be an Olympic diving champion. You see, I told you wed learn more about ourselves as we went along. So she got up, jumped in the pool, and started doing laps. After about thirty laps she climbed back out and lay down on her towel hardly out of breath.
That was incredible! he said. Were you an Olympic endurance swimmer?
No, she said, I was a hooker in Venice and I worked both sides of the canal.
#joke
On the first day of Spring Tra...
On the first day of Spring Training, a baseball scout brings a race horse with him to add to the starting lineup. The coach asks, "What the heck did you bring that horse here for?"
The scout replies, "Wait until you see him bat."
All the players are laughing, until the horse comes to bat. At this point, the horse grabs the bat and everyone quiets down. They stare at the horse.
The pitcher, just shrugs his shoulders, and throws the ball toward home plate, when astonishingly, the horse hits the ball deep into the outfield.
The horse just stands there and does not move. The manager then yells at the baseball scout to tell the horse to run to first base.
The scout looks back at the manager and yells back, "If he could run, he'd be at Belmont!"
#joke
How do you define "subdued"? T...
How do you define "subdued"? That's, like, a guy who, like, works on one of those, like, submarines, man!
Idiot one liners
Lets face it, there are a lot of dumb people out there. Sometimes you want to express how stupid they really are and here's how...
An intellect rivaled only by garden tools.
As smart as bait.
Doesn't have all his dogs on one leash.
Doesn't know much, but leads the league in nostril hair.
Elevator doesn't go all the way to the top floor.
Forgot to pay his brain bill.
His belt doesn't go through all the loops.
If he had another brain, it would be lonely.
Missing a few buttons on his remote control.
Proof that evolution CAN go in reverse.
Receiver is off the hook.
Surfing in Nebraska.
An experiment in Artificial Stupidity.
A few beers short of a six-pack.
A few peas short of a casserole.
The cheese slid off his cracker.
Warning: Objects in mirror are dumber than they appear.
Couldn't pour piss out of a boot with instructions on the heel.
He fell out of the stupid tree and hit every branch on the way down.
Not the sharpest knife in the drawer.
The little girl was SO proud o...
The little girl was SO proud of her Christmas presents, her first watch and her first perfume. She really made a pest of herself throughout the morning, going up to all the relatives and sticking that watch in their ear and insisting that they smell her perfume.
The preacher was coming for lunch, but before his arrival, the girl's mother had said, "If you mention that watch or that perfume just once more, I'm going to send you to your room for the rest of the day."
The meal went rather well, and the little girl held her tongue until just when the desert was being served. She wanted to make sure that the preacher, too, knew about her new watch and her perfume: "If you hear anything or smell anything ... it's me!"